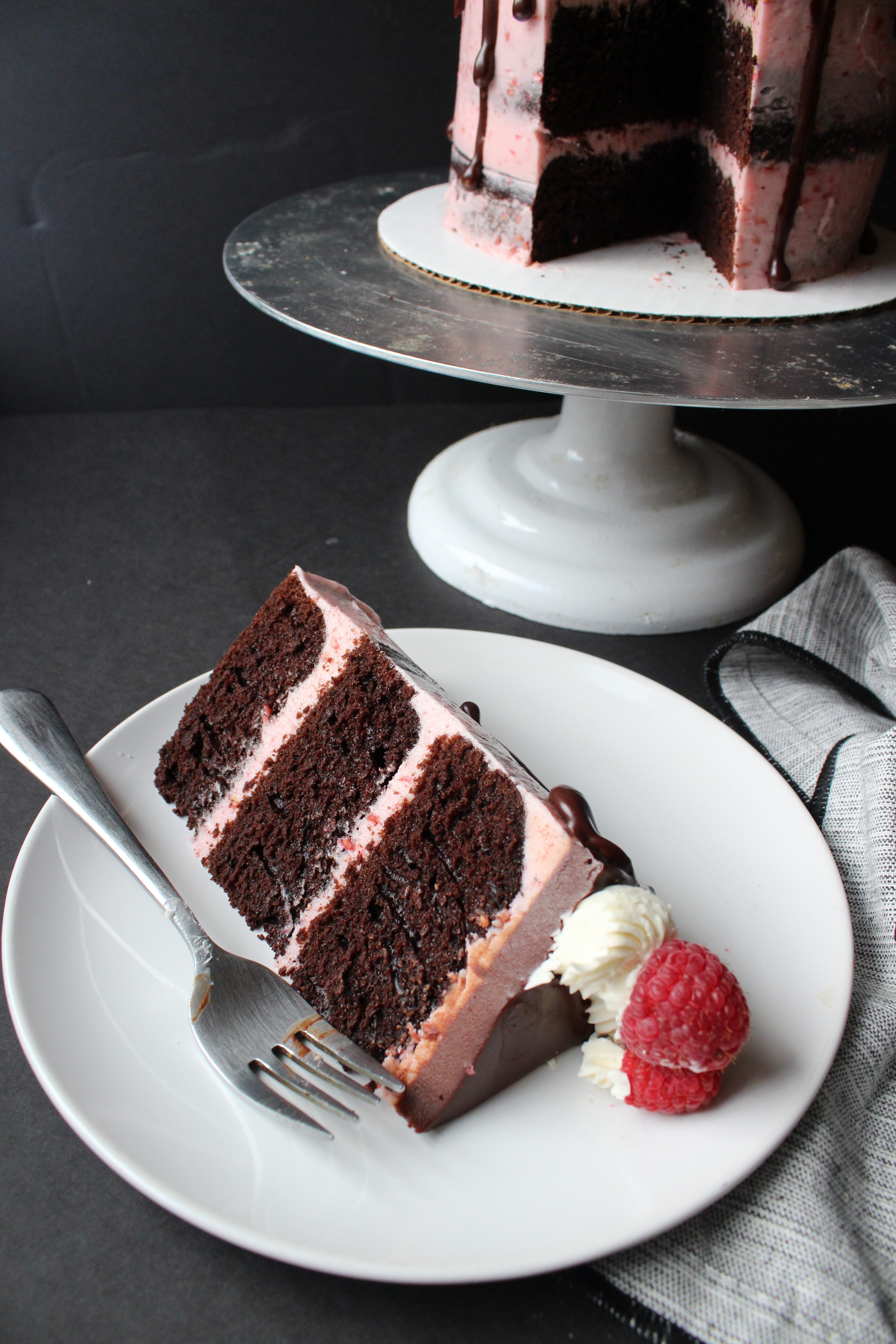 I recall as a kid, I would get visibly angry if upon cutting into a cake at someone's birthday party, the interior revealed a pale cake with fruit wedged between the layers. I mean c'mon! Save the fruits for the healthy afterschool snack. If I'm dressing up and buying you a present, the least you can do is serve up some decadent chocolately goodness. I mean as I kid I wasn't on the hunt for swiss chocolate or anything, heck I'd be happy if they served the Entenmann's double chocolate cake over any of those cakes from my childhood. The one exception I make: raspberries. But only when smothered in chocolate, no less. Chocolate and raspberry will forever be one of my favorite flavor combinations.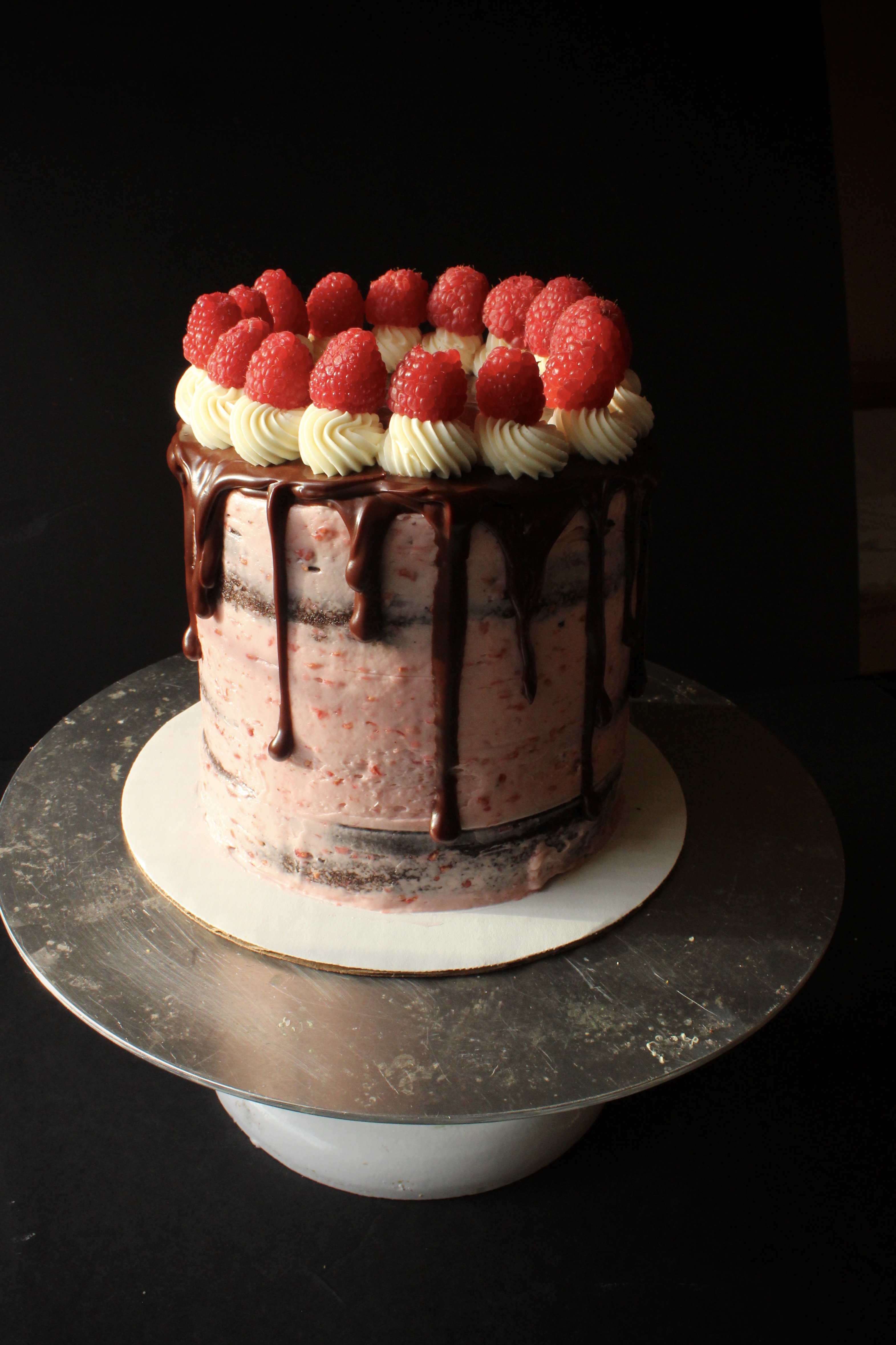 The chocolate/raspberry mousse cake from my local bakery was a long time favorite of mine, until my palette changed and only my homemade chocolate cake will do. So I created this homemade version, using swiss meringue buttercream instead of mousse as they are similar in texture and sweetness. In traditional Naureen style this is chocolate ganache dripping all over the cake, the perfect accent to the raspberry and chocolate layers underneath.
This recipe makes enough to frost a three layer 6 in round cake in the semi naked style.
Ingredients
6oz. fresh raspberries
1 1/4 cups granulated sugar, divided
1 tsp lemon juice
3 egg whites
18 tbsp room temperature unsalted butter, cut into tbsps
1 tsp vanilla extract
Directions
In a small saucepan over medium heat combine raspberries, 1/2 cup sugar and lemon juice. Stir and allow to come to a boil. Once it comes to a boil, lower the heat to low and allow to reduce and thicken, about 10 minutes. Remove from heat and mash with fork. Allow to cool.
In another small saucepan bring a small (about 1in thick) amount of water to simmer. In the bowl of your stand mixer or in a large heat proof mixing bowl, whisk together egg whites with 3/4 cup sugar.
Place over the simmering water and whisk occasionally until the sugar has dissolved and mixture is quite warm to the touch (you shouldn't feel any granules when you stick your finger in). Remove from heat and start beating with the whisk attachment at medium speed. Beat for a few minutes, until the mixture cools down to room temperature and the mixture is thick and glossy. When the bowl no longer feels warm (test the temperature by placing the back of your hand on the side of the bowl), start adding the butter, 1 tbsp at a time. It will look weird. Feel free to stop and scrape down the bowl.
Continue beating at medium to high speed until the mixture looks curdled. Keep beating until it comes together into a homogenous, smooth buttercream. Lower the mixing speed and add vanilla and cooled raspberry compote. Use immediately, or store in the refrigerator, covered for 2 weeks. To use after thawing, re-beat with a whisk attachment until smooth.