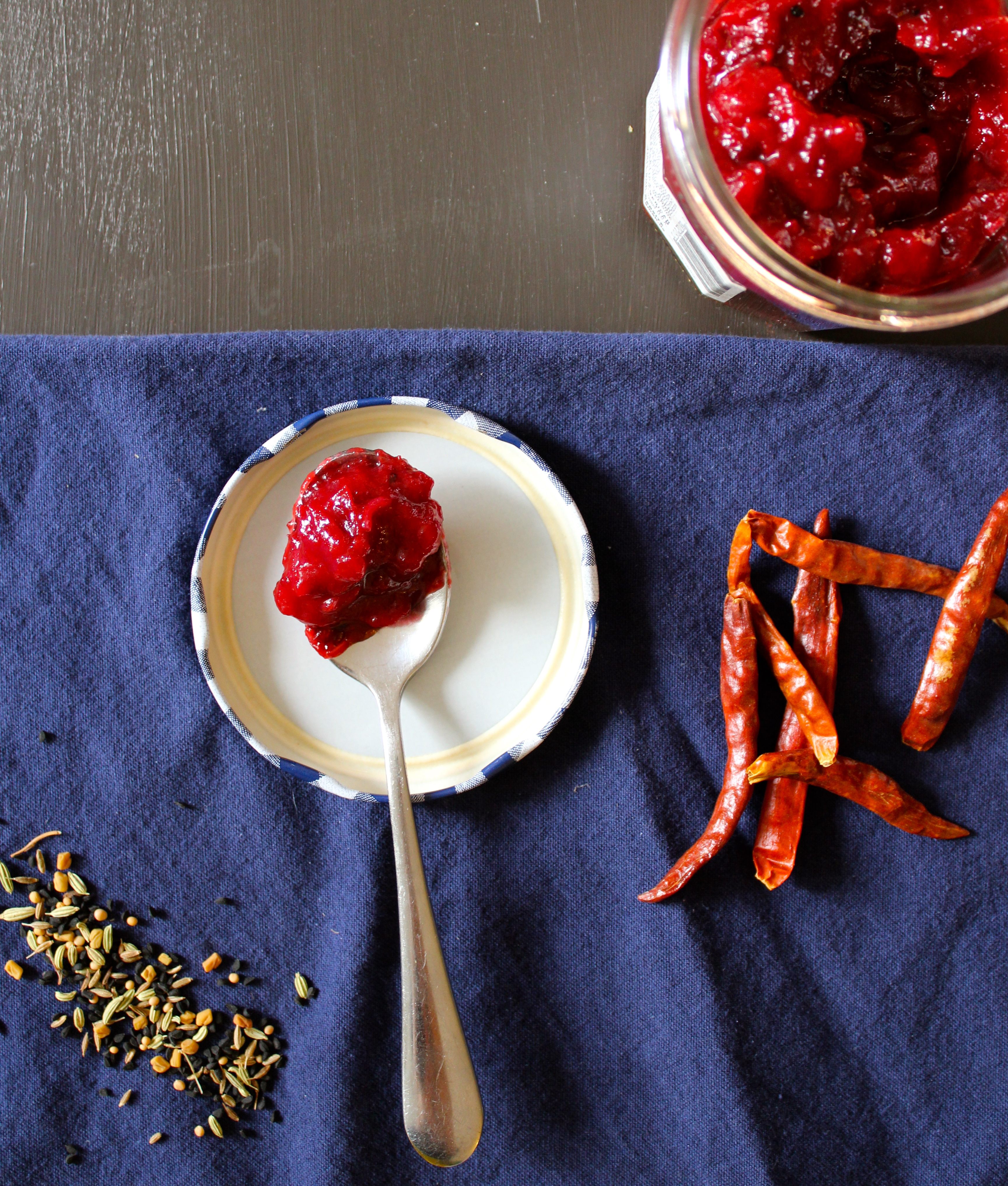 I'm not a pickle/relish/chutney person. My husband is not a turkey-with-all-the-fixin's kind of guy. So this is how I strive to compromise. You see, I am hosting Thanksgiving dinner this year. It will be pretty small, just my family and his. But there are a few characters in this production who absolutely do not enjoy anything outside the rice and curry/biryani paradigm. So, my spread will look something like this: roast turkey (brined in buttermilk, stuffed with orange, garlic, thyme and sage flavorings), my mother in law's khichuri, mashed potatoes, salad, either a green bean casserole or sweet potato dish, and this relish. I love cranberry sauce, but in order to make it more palatable for my husband, his brother, and my dad, I thought I'd prepare it according to the traditional Bengali method for achar (non vinegar based relish). It's sweet, spicy, and tart all at the same time. Obviously cranberries aren't available in Bangladesh, but they remind me of this other berry like fruit that they do use for achar. The result was pretty good!
Mustard oil is not so common in American grocery stores, but if you've made the trip to an Asian grocery to get any of the other ingredients required in this (dried red peppers, pach forom), you'll definitely find the mustard oil. The second it hits the heat, a wonderful aroma fills the whole house. If you can't find it – don't fret. Make it with vegetable or olive oil. The result will be a much more mellow relish. Then come all the other aromatics: pach forom, garlic, and red pepper. The seeds will start to pop once they get heated through…time to quickly add the other ingredients!
When working with the red peppers, simply snap them in two with your fingers and dump all the seeds out onto the cutting board. Then, when you add them to the hot oil, stand back and prepare for a pepper onslaught on your sinuses! Make sure your vent is going and windows are open, otherwise you'll find yourself and the rest of your family members in a coughing fit. At this point, I know what you're thinking: this is really, really weird. And I'll admit – it's not for everybody. But if occasionally you find yourself longing for the sweet and spicy relishes of your childhood, this will definitely hit the spot! 
We would normally serve this with rice or luchi, but I'm sure it would be great on toast. You can make this with pach forom (which I've discussed before here) or with anise or fennel seed (which I actually prefer, since the black seeds in pach forom are a bit strong for me). Hope you try this if you're looking to spice up the usual cranberry sauce! I would love to hear about your Thanksgiving traditions!
Ingredients
12 oz fresh cranberries
1 cup water or orange juice
1 tbsp mustard oil (or olive oil)
1 pinch pach forom or anise seeds or fennel seeds
2 cloves garlic, minced
3 dried red peppers, cut in half, de-seeded
2 tsp salt (or to taste)
5 tbsp sugar or molasses (or to taste)
1 pinch chili powder
Directions
Place the cranberries and juice/water in a medium saucepan and bring to a boil. As soon as the cranberries start to pop, remove from heat.
In a medium (9 or 10in) nonstick skillet, heat the msutard oil over medium high heat. Add the pach form or anise/fennel seeds. Once they start to pop, add garlic and chili. Heat through, until fragrant (about 30 seconds). Add all of the cranberries, along with the juices to the skillet. Season with salt, sugar, and chili powder. Give it all a stir and lower the heat to medium. Let it cook through, until liquid reduces and mixture thickens (not completely: it will continue to thicken off the heat), about 5-7 minutes. Check for seasoning.
Remove from heat. Let it cool. Store in a glass jar or other container. Refrigerate. Consume within two weeks.