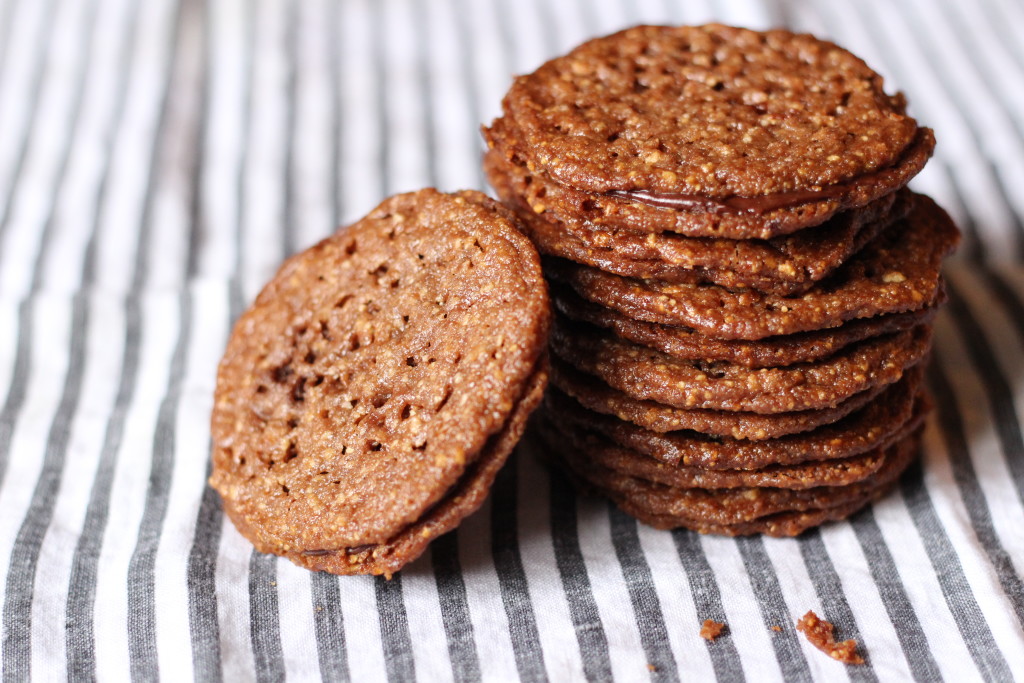 Oh no – I was supposed to kick off the new year with a healthy-ish recipe, right?? Gah – you'll have to forgive me. Next post, I promise, something green. In the meantime, enjoy Kitchen3N 3.0! Now with creepy side picture so you can imagine I'm watching you as your read (and salivate at) my material.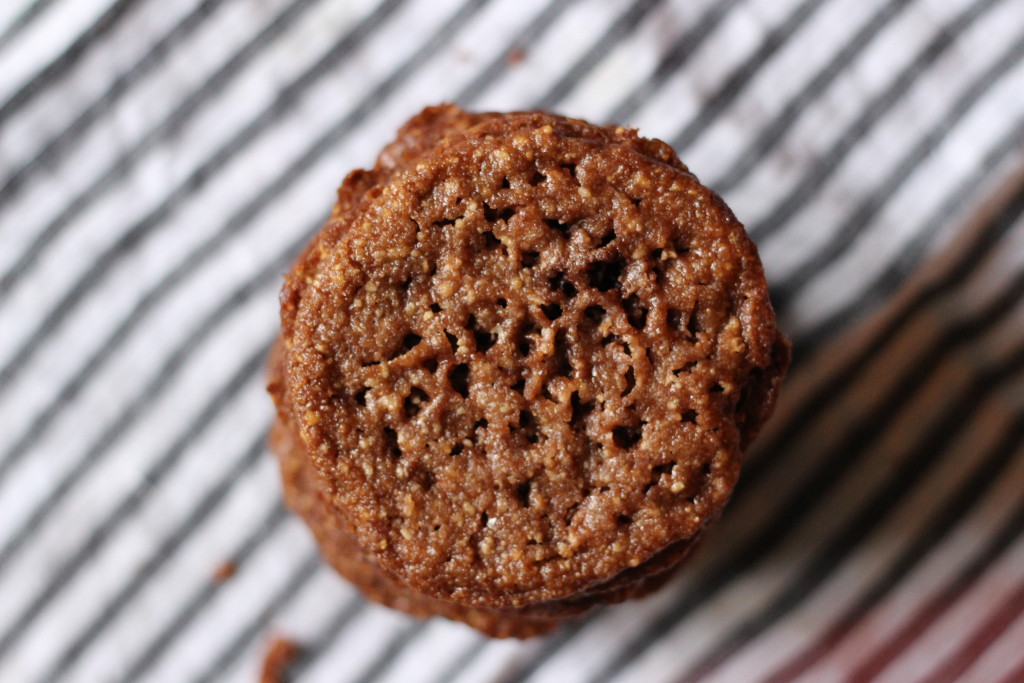 These cookies have many names: almond lace cookies (you can find similar ones at Trader Joe's, except instead of sandwiching them, you'll find them as single cookies dipped in chocolate), bocca di nonna (literally, mouth of grandma but I suppose grandma's kisses sound better), and that's it really. Sorry. They have wonderfully sweet, caramelly, toasty notes and the earl grey ganache just makes ya go, "hmm what IS that?!". Throwback to Rachel Ray and every instance of her adding nutmeg to a cream sauce.
Recipe from BH&G Jan 2010
Ingredients
2/3 cup all-purpose flour
2 tbsp unsweetened dutch-processed cocoa powder
3/4 cup butter, softened
1 cup sugar
3/4 teaspoon, vanilla
1 1/2 cups finely ground almonds (I ground up slivered almonds in the food processor)
1/3 cup heavy cream
4 earl grey tea bags
4 oz semi sweet chocolate, chopped
Directions
Combine flour and cocoa powder in a small bowl. Whisk to combine and set aside.
In your stand mixer (or in a bowl using a handheld electric mixer) cream butter at medium speed for 30 seconds. Slowly add sugar and vanilla extract. Beat until light and fluffy (3 to 4 minutes). Scrape down sides of bowl occasionally. Add ground almonds, then flour and cocoa mixture. Using a rubber spatula, scrap down the sides and bottom, give it a final mix, and dump onto a large piece of saran wrap. Wrap tightly and refrigerate for 1 hour.
Preheat oven to 350 degrees F. Line a baking sheet with parchment paper. Using a cookie scoop, scoop out 1 inch balls onto prepared cookie sheet, 2 inches apart. Press down lightly to flatten.
Bake for 12 to 15 minutes or until centers are firm. Let cool a few minutes on baking sheet, then move to wire rack to cool completely. Continue with the remaining dough.
While they cool, make the ganache: bring the cream to just before boiling (you'll see bubbles around the perimeter). Remove from heat. Add the 4 tea bags, cover and let steep for 15 minutes. After 15 minutes, uncover, squeeze the liquid out of the bags and discard. Heat the cream once again to just barely a boil. Add the chopped chocolate and stir until mixture is homogenous and shiny.
Assemble: Spread half a teaspoon of ganache onto the flat side of one cookie. Place the flat side down of another cookie directly on the ganache. Continue with the rest of the cookies.