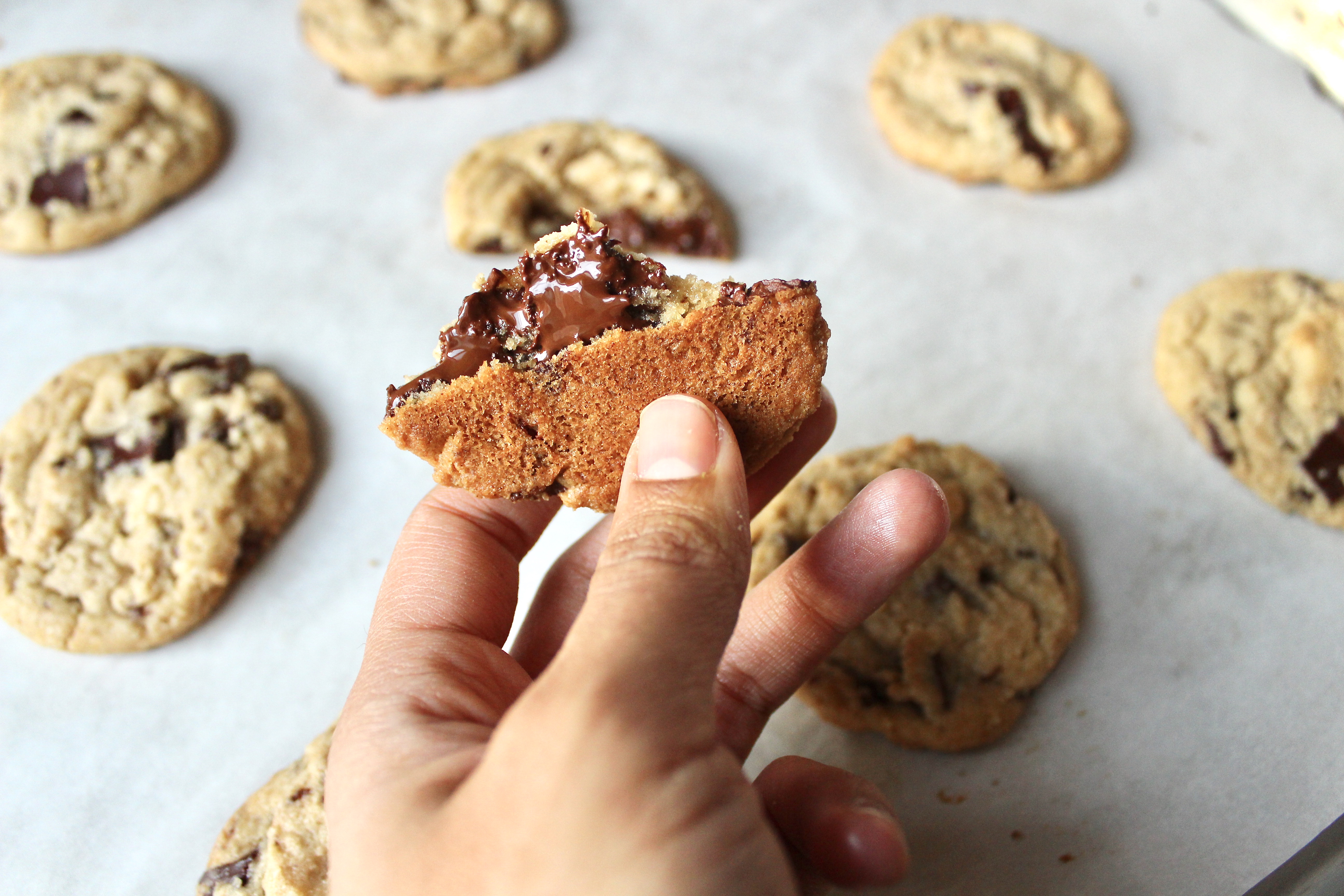 When I die, I want this recipe printed on my tombstone.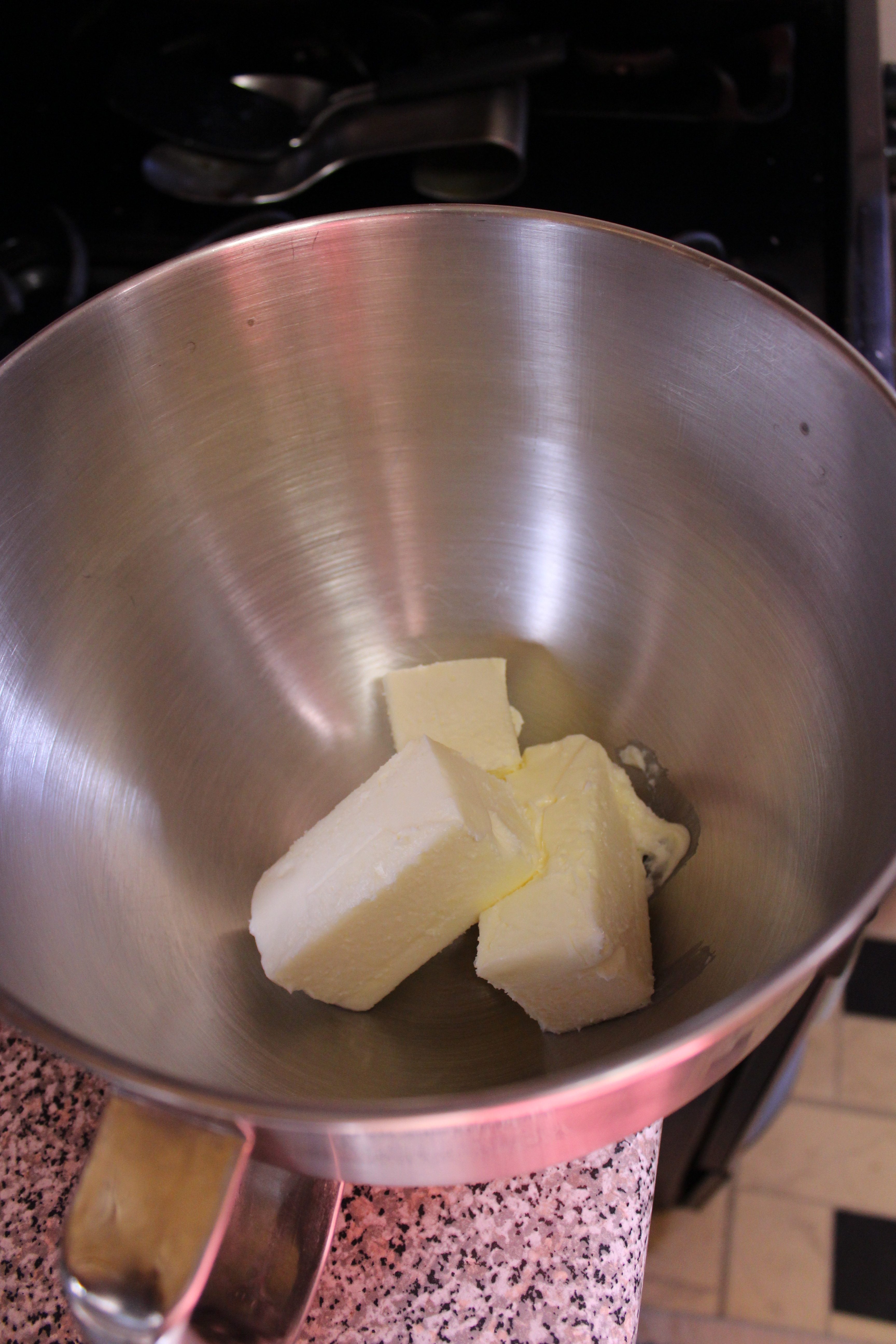 Just kidding, Muslims don't do tombstones.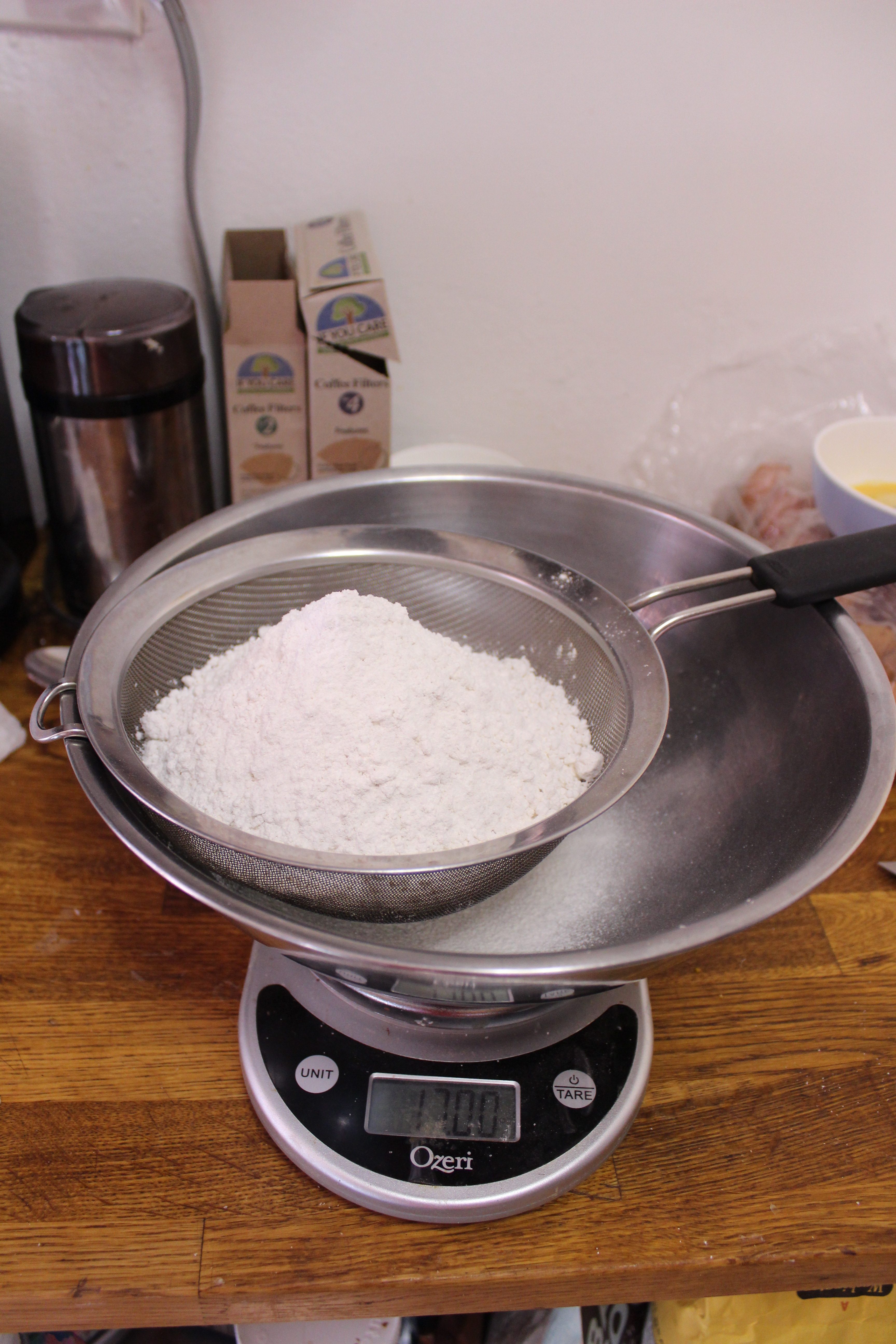 But this really is the cookie I've been searching for all my life. Free of all the silly things people add to chocolate chip cookies (CCC's from here on out) to one up their game like extra SALT on top or TAHINI or the worst of all, NUTS. I don't understand the need to muck up the most brilliant baking invention of all time with things that are not chocolate, flour, sugar, butter, leaveners, salt or vanilla. The original Nestle Toll House recipe, as brilliant as is, is missing a little complexity, and little texture.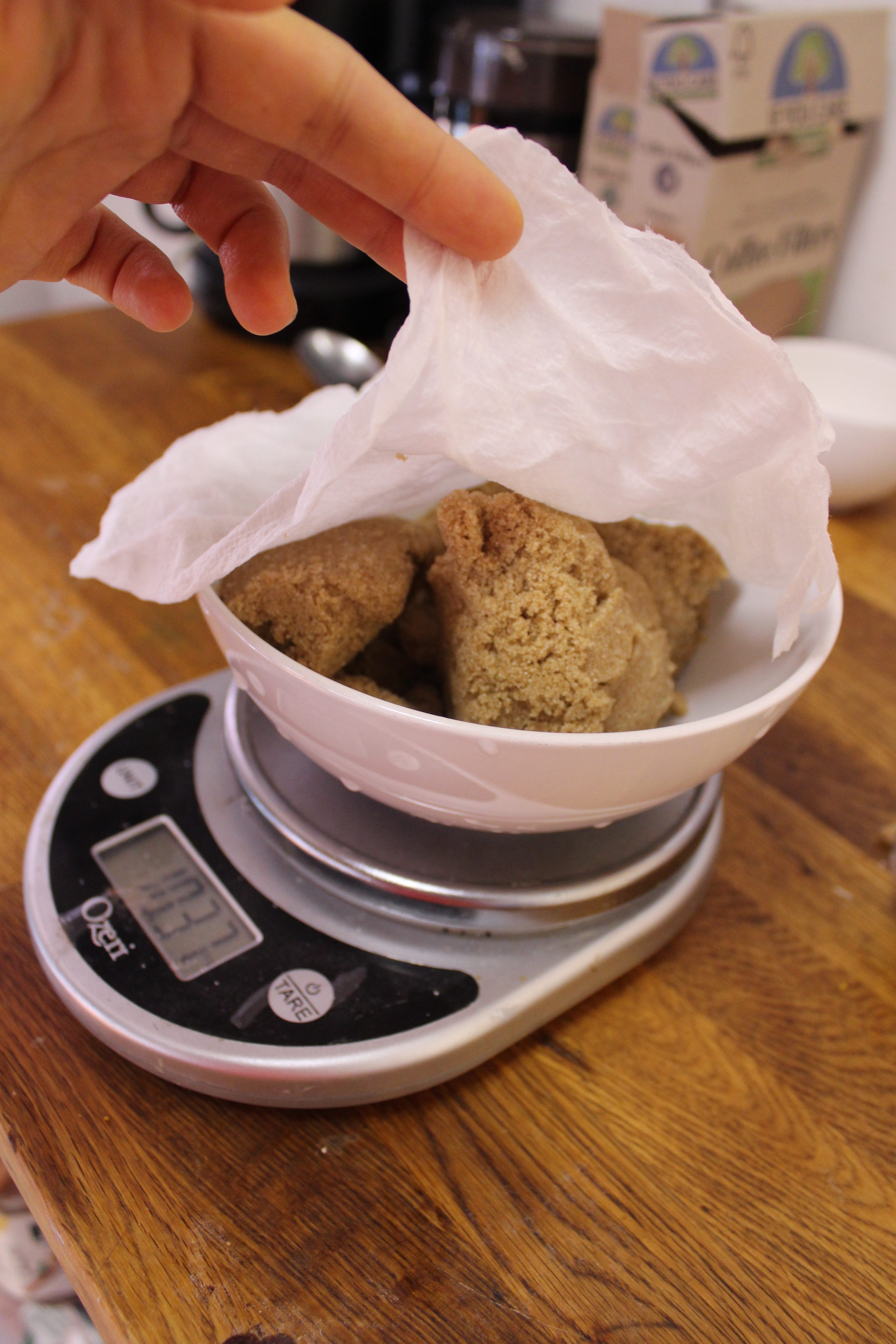 I've tried SO many CCC recipes. Bang on a Pan. The Chewy. The Thin. Something from Buzzfeed. Tahini. Nestle. America's Test Kitchen. And they all have their redeeming qualities. But for me, the NY Times recipe by David Leite is the closest I've come to perfection: a combination of cake flour and bread flour, one makes it tender, the other adds a chewy texture. A full 2 tsp vanilla for extra flavor. Refrigerating the dough to let the gluten relax.


I did need to tweak it to my tastes. I use my trusty OXO medium cookie scoop for perfect sizing. I use chocolate chunks in lieu of chocolate disks/feves/chips and I reduce the amount of chocolate from the original recipe. I know I make fun of my husband a lot for his critiquing the amount of chocolate in the original recipe, but he's kind of right. The 16oz that I have here gives you a generous amount of chocolate (use good quality!) while allowing you to taste the nutty, buttery, chewy cookie.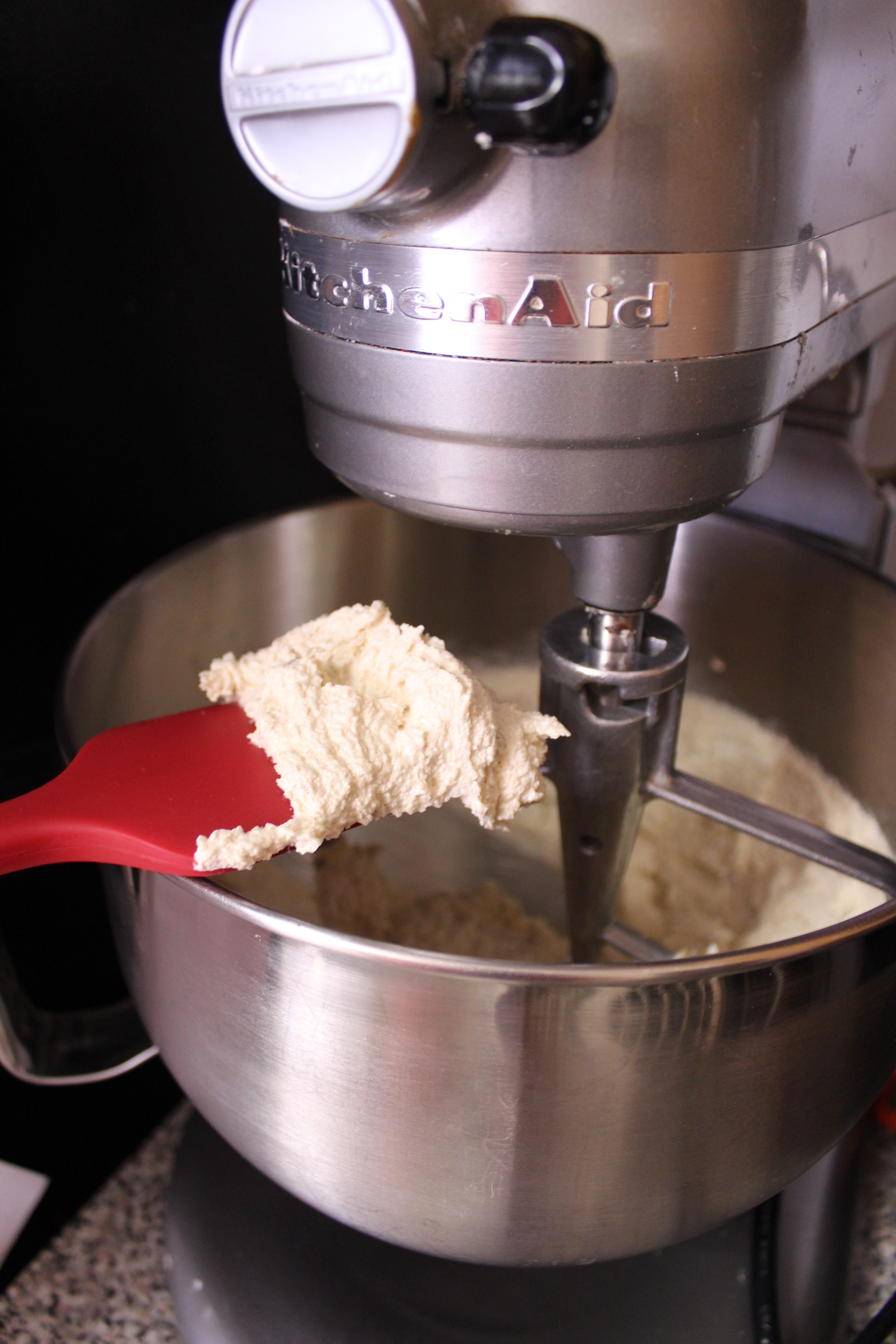 This is the only recipe I use my scale for, mainly because the measurements are so fussy otherwise, with so many cup measures, plus or minus tablespoons. But this recipe is worth the fuss. Think of every delectable high quality CCC you've had at the best bakery – this one is it. Everything from the size (it's big enough so the centers are chewy, the edges are crispy), to the proportions, to the wait time – it's sheer perfection.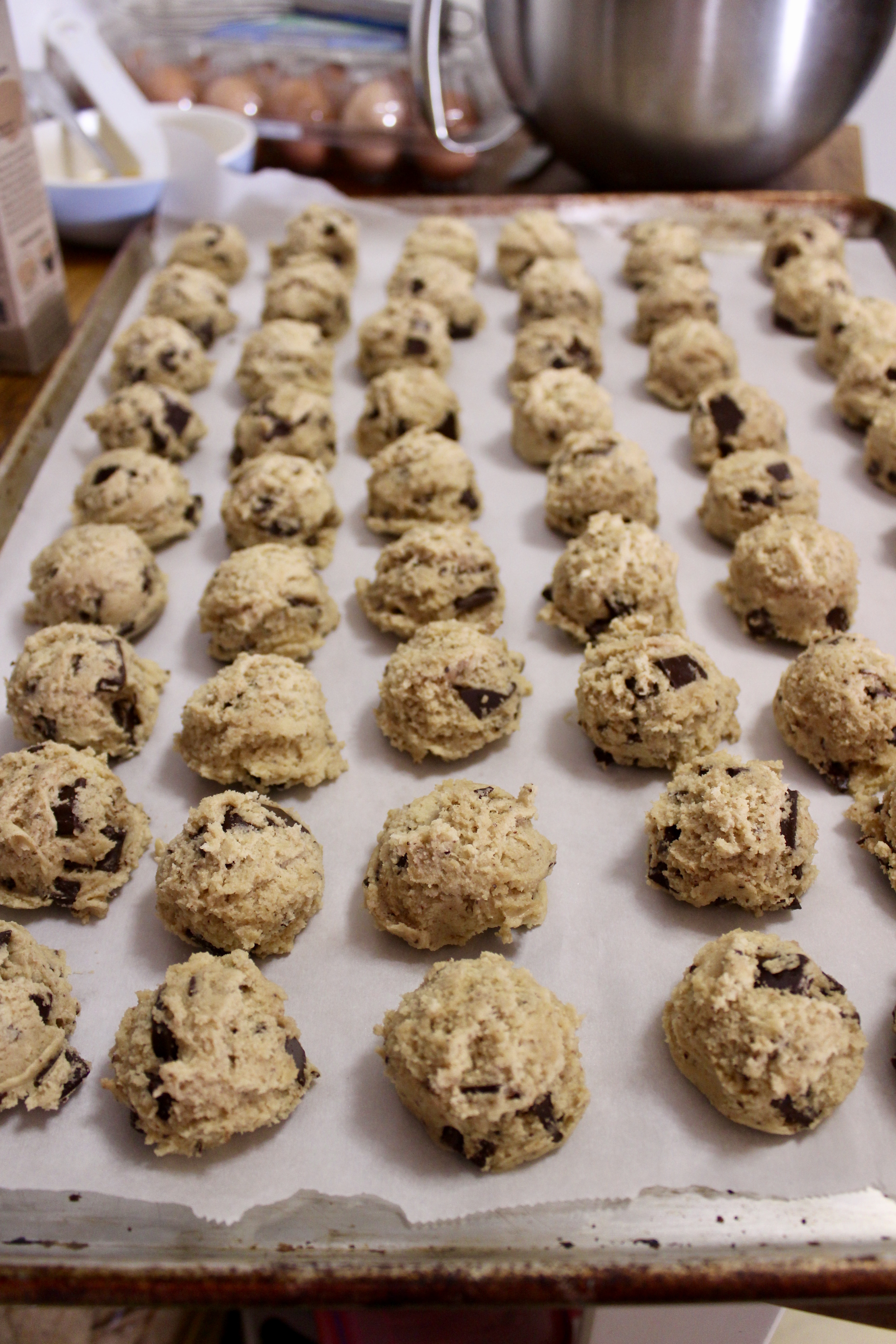 Pro tip – if your brown sugar hardens, don't toss it! Place in a microwave safe bowl, cover with a damp paper towel and microwave at 30 second intervals at medium power until softened.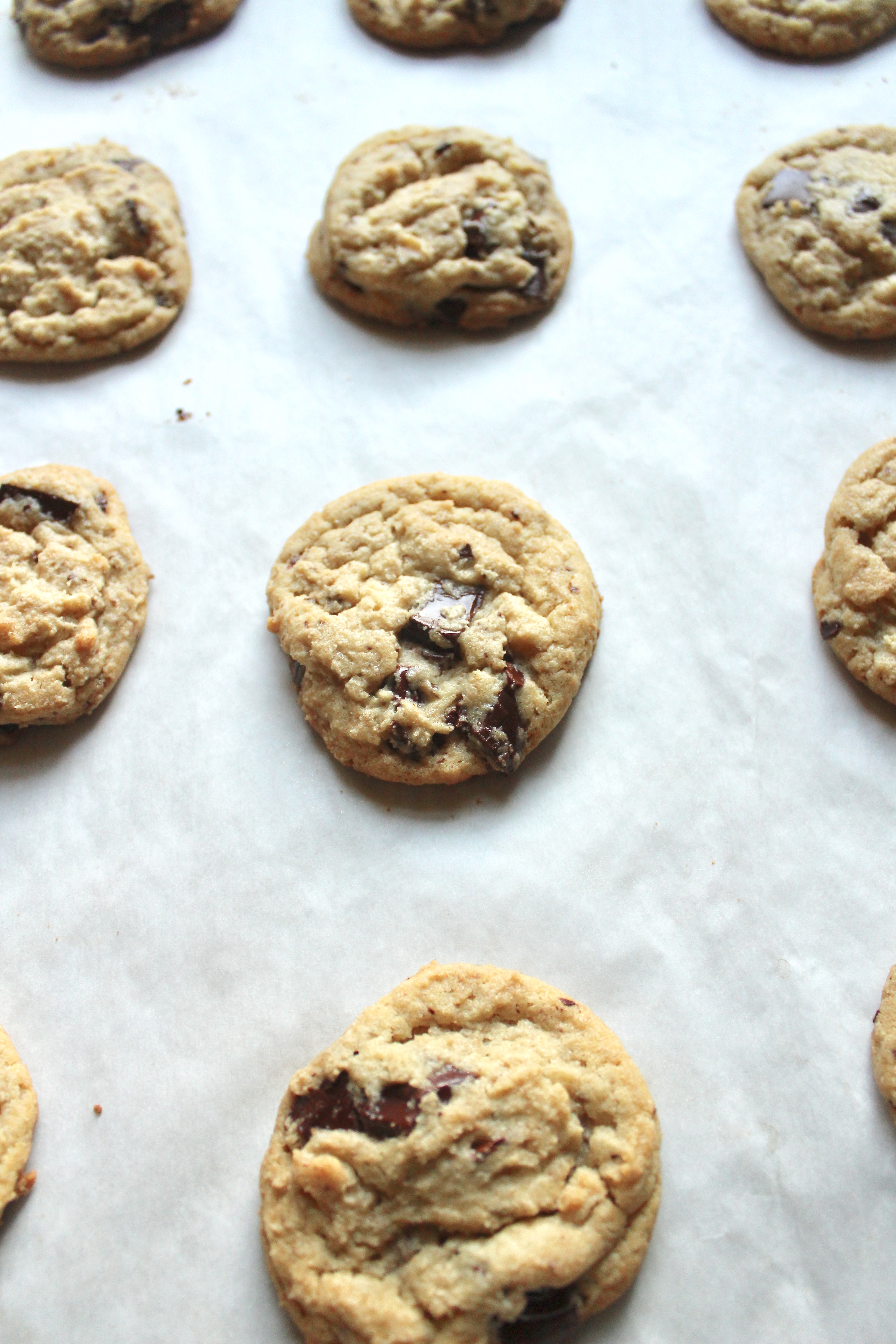 Final tip, I don't know about your sieve, but salt doesn't go through mine. So I usually sift the flours and leaveners together, then add the salt. Whisking to combine. Don't let the butter get too soft, and that's it. Happy baking!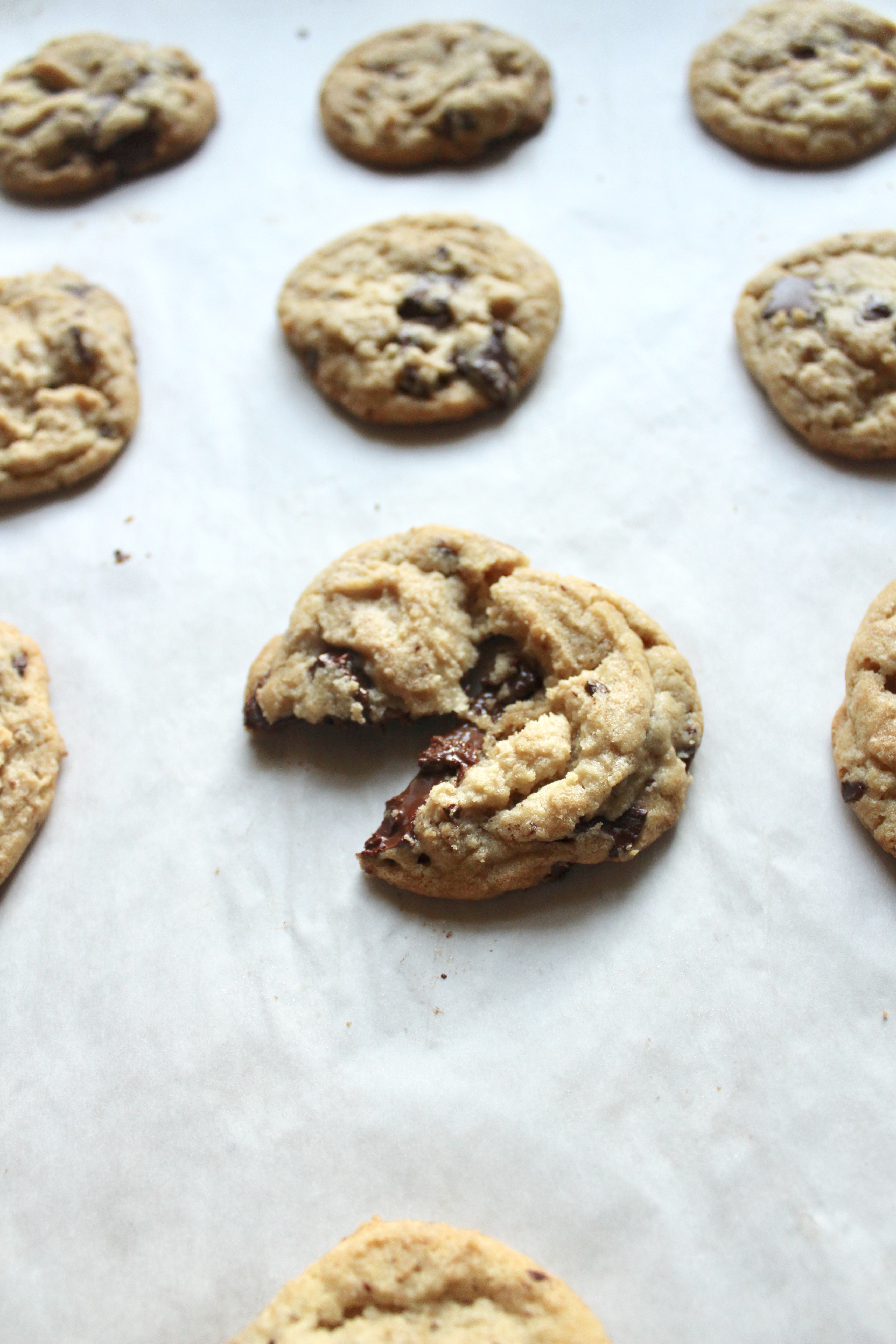 Ingredients
2 cups minus 2tbsp cake flour (8 1/2oz)
1 2/3 cup flour bread flour (8 1/2oz)
1 1/4 tsp baking soda
1 1/2 tsp baking powder
1 1/2 tsp kosher salt
2 1/2 sticks (1 1/4 cups) unsalted butter
1 1/4 cups (10oz) light brown sugar
1 cup plust 2 tbsp (8oz) granulated sugar
2 large eggs
2 tsp vanilla
16 oz chopped bittersweet or semisweet chocolate, or a combination of both
Directions
In a large bowl, sift together the flours, baking soda, baking powder and salt. Set aside.
In the bowl of your stand mixer or in a large bowl using an electric hand mixer cream the butter and sugars together at medium speed for 5 minutes. It should be light and fluffy. Add one egg at a time. Stop to scrape down the bowl before turning on mixer again. Add vanilla. Then, with the mixer on low add the dry ingredients, stopping occasionally to scrape down the bowl. Finally, add the chopped chocolate and stir with the mixer if it can handle it, if not, use a wooden spoon.
Line a large baking sheet with parchment paper. Using a 1 3/4in cookie dough scoop (I use the OXO medium scoop), scoop out balls of dough until sheet is full. Flash freeze for 30 minutes. Take out then plop them into large ziploc bags or plastic containers. I recommend sticking them in the fridge to let the dough rest and the gluten to relax, as well as the flours to absorb some of the flavors/moisture. Refrigerate between 24 and 72 hours or freeze them if you'd like to bake them a week or two later*.
When ready to bake, preheat oven to 350 degrees F. Place on a parchment paper or silpat lined baking sheet with plenty of space between each. Bake in preheated oven for 12-14 minutes, at least 15 if taking directly out of freezer. Bottoms should be caramelized, nutty brown. Tops may look underdone but that's ok as it continues to cook on the pan, even after taking out from the oven. After they cool completely, store in an airtight container and consume within 2 days.**
*I know I can't help but bake some off right away, so please go ahead and do so (after the 30 minute freeze), but do save some for baking later so you can taste the difference!
**It loses freshness after that, but probably still edible dipped in milk.