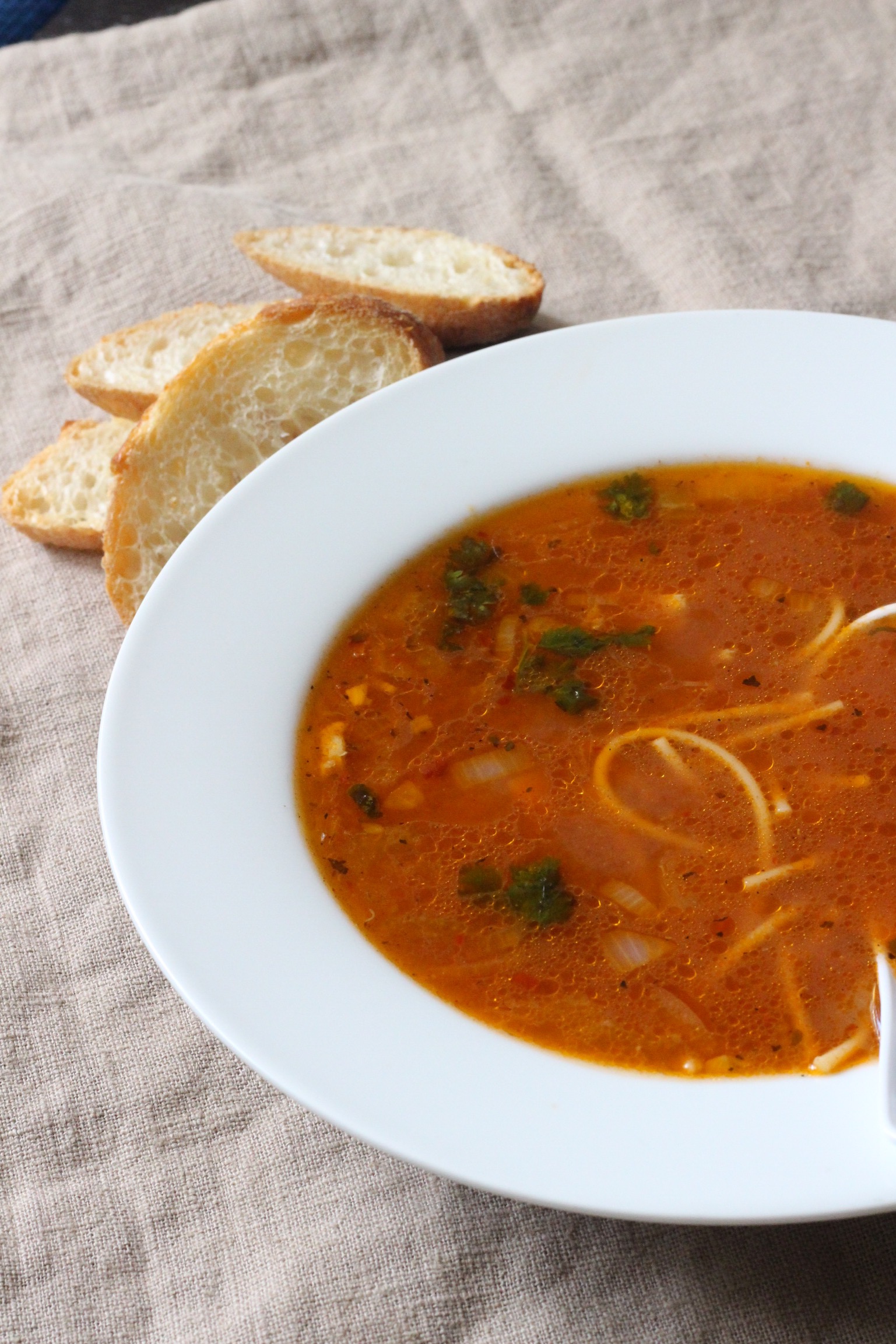 The first thing I do when someone sneezes in the house, is submerge a chicken in a pot of boiling water to make chicken stock for soup. That's a normal, knee-jerk reaction, right?
Ok, perhaps I exaggerate. But there's just something about the thought of clear, warming chicken noodle soup that makes me feel like it will banish all the ickiness of a cold away. And while the classic has a special place, this tomato paste and spice spiked version will carry you over from your sick days to your top o' the mornin', heel clickin' days. Because for some reason, the weather is still dipping below freezing here in NYC in the middle of spring and the kids have caught strep throat while the hubby and I work our way through the common cold. Un-believable.
Back to the soup. It was the perfect dish for my crusty-bread obsessed husband to dip his baguette into. It was the only thing my preschool aged son has ever declared his love for, apart from trains and well, me. And it was one of the few items I did not have to struggle to finish from the fridge as a leftover.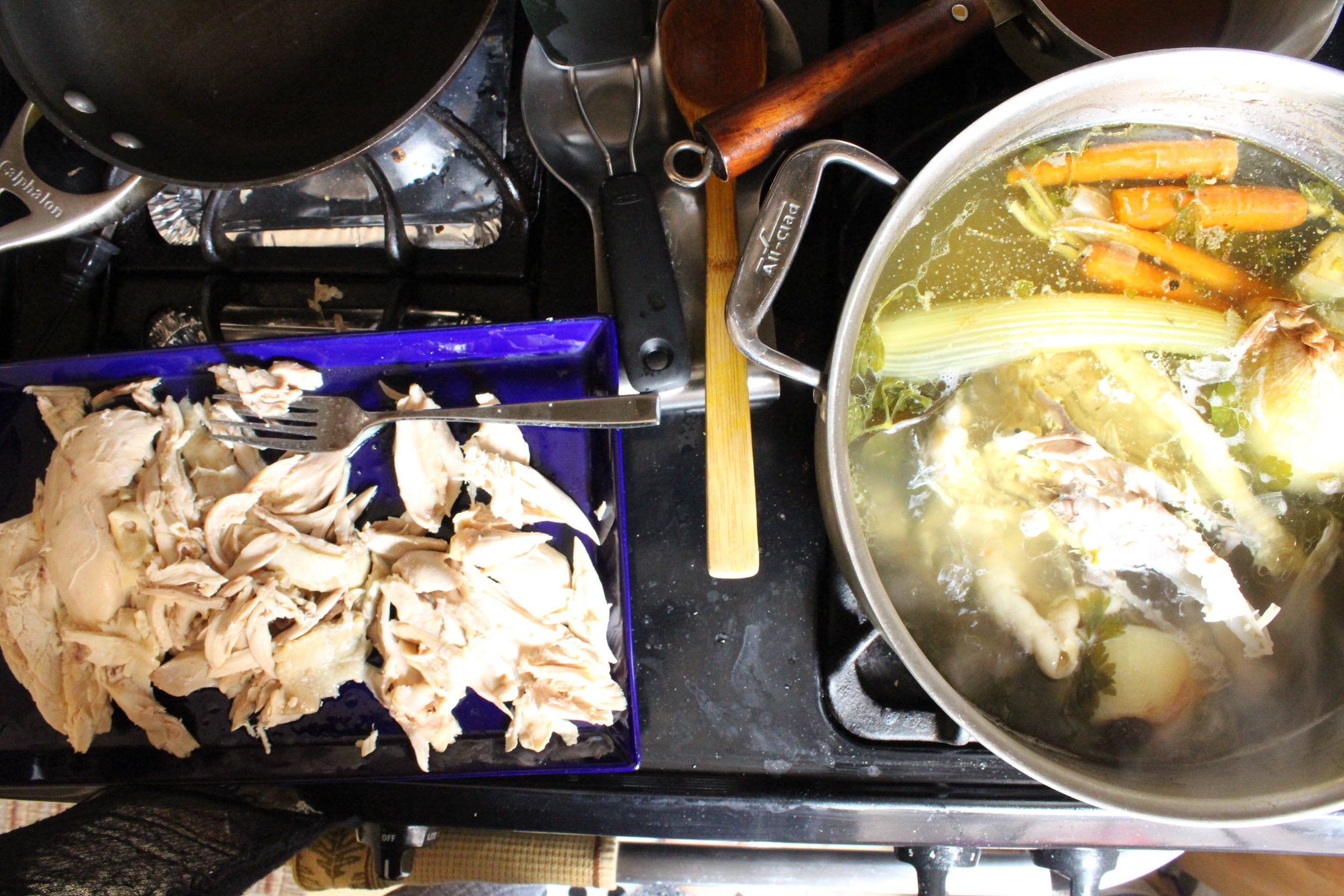 If I make my own chicken stock, I usually boil away chicken with veggies (onion, garlic, carrot, celery), aromatics (parsley, dill, thyme, bay leaf) and seasoning (salt, whole peppercorns). However, unlike most, I take the chicken out about an hour into the process, strip the meat off the bones, and re-submerge the carcass. That way the bones continue to flavor the stock for about 2 more hours and I don't have to waste the meat. Does that make me crazy?
If you are using store bought stock, it comes together SO fast. When I don't have homemade on hand (which is quite often) I use Saffron Road Halal Artisan Chicken Stock. Awesome flavor and deep golden color. You can tell it's not just one of those salt water in a box chicken stocks. And if you want to make this vegetarian, use vegetable stock and chickpeas in lieu of the chicken. The tomato paste and spices are magical in how they liven up pretty much anything.
Ingredients
2 tbsp olive oil
1 medium yellow onion, diced small
2 carrots, diced small
2 celery stalks, diced small
2 large garlic cloves, minced
1 tsp each of cumin, coriander and paprika
1 1/2 tsp salt plus more to taste
1/4 to 1/2 tsp crushed red chili flakes
14 oz crushed tomatoes (if you have a 15 oz can that's fine)
8 cups chicken broth
1 cup shredded chicken
1/4 lb spaghetti or noodle of choice
1/2 cup chopped cilantro
Directions
In a large pot, heat the olive oil over medium high heat. Add the onions, carrots and celery. Saute for 4-5 minutes, until the vegetables begin to soften. Add the garlic and spices (cumin, coriander, paprika, salt and pepper). Cook for 2 minutes more, allowing the vegetables to get more tender and the spices to toast up a bit.
Add the tomatoes, broth, chicken and pasta. Cook for 9 to 10 minutes, depending on the package directions of your pasta.
Add the cilantro and taste for seasoning.