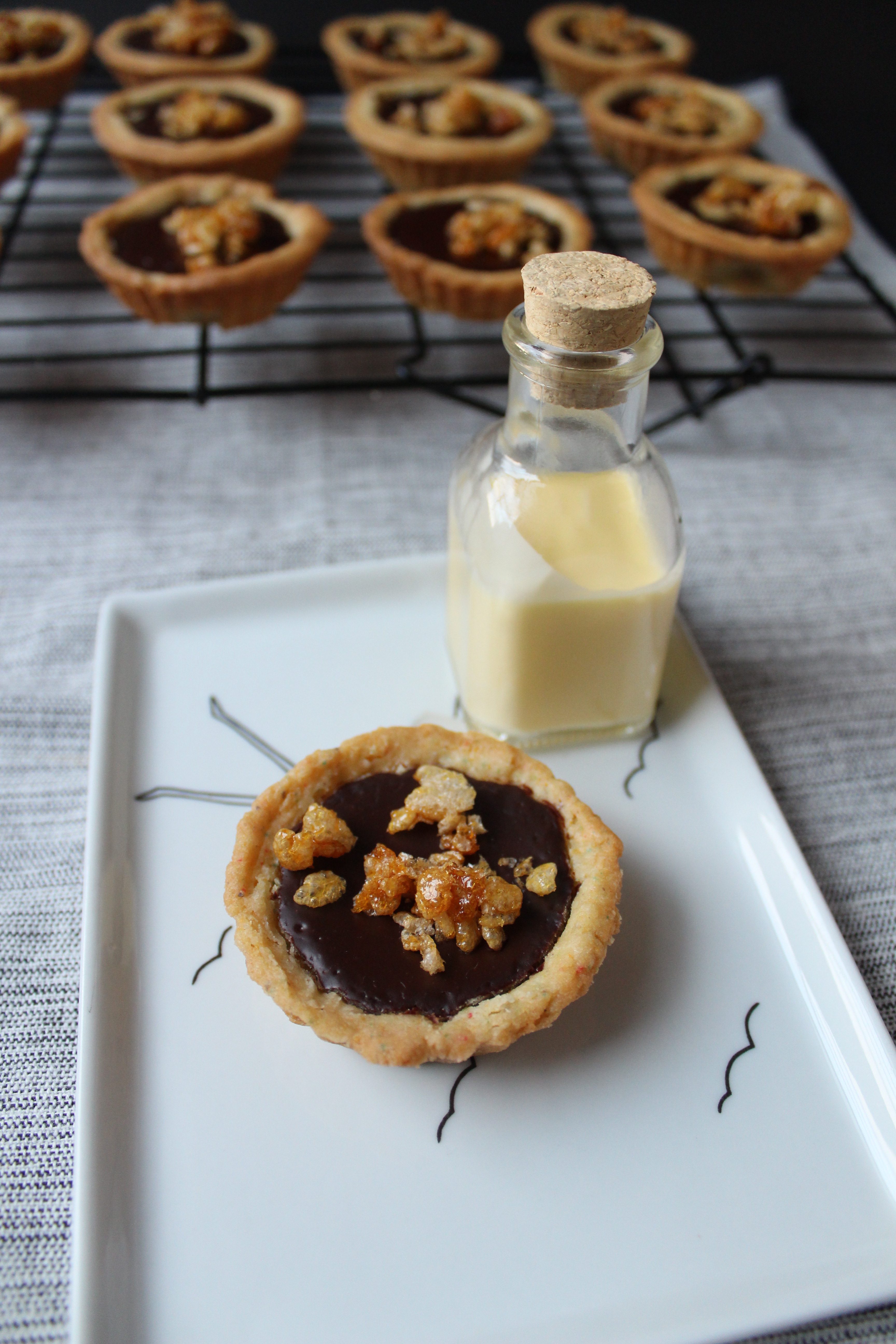 When my friend Jafreen and I entered a bake off during our undergrad years, we thought we had it in the bag. We were both good bakers, definitely spent more time in the kitchen than our peers, and would put together thoughtful, from scratch baked goods. Needless to say, we lost. Terribly. We were outbaked by Duncan Hines. I don't remember who was on the judging panel, but this post is for you.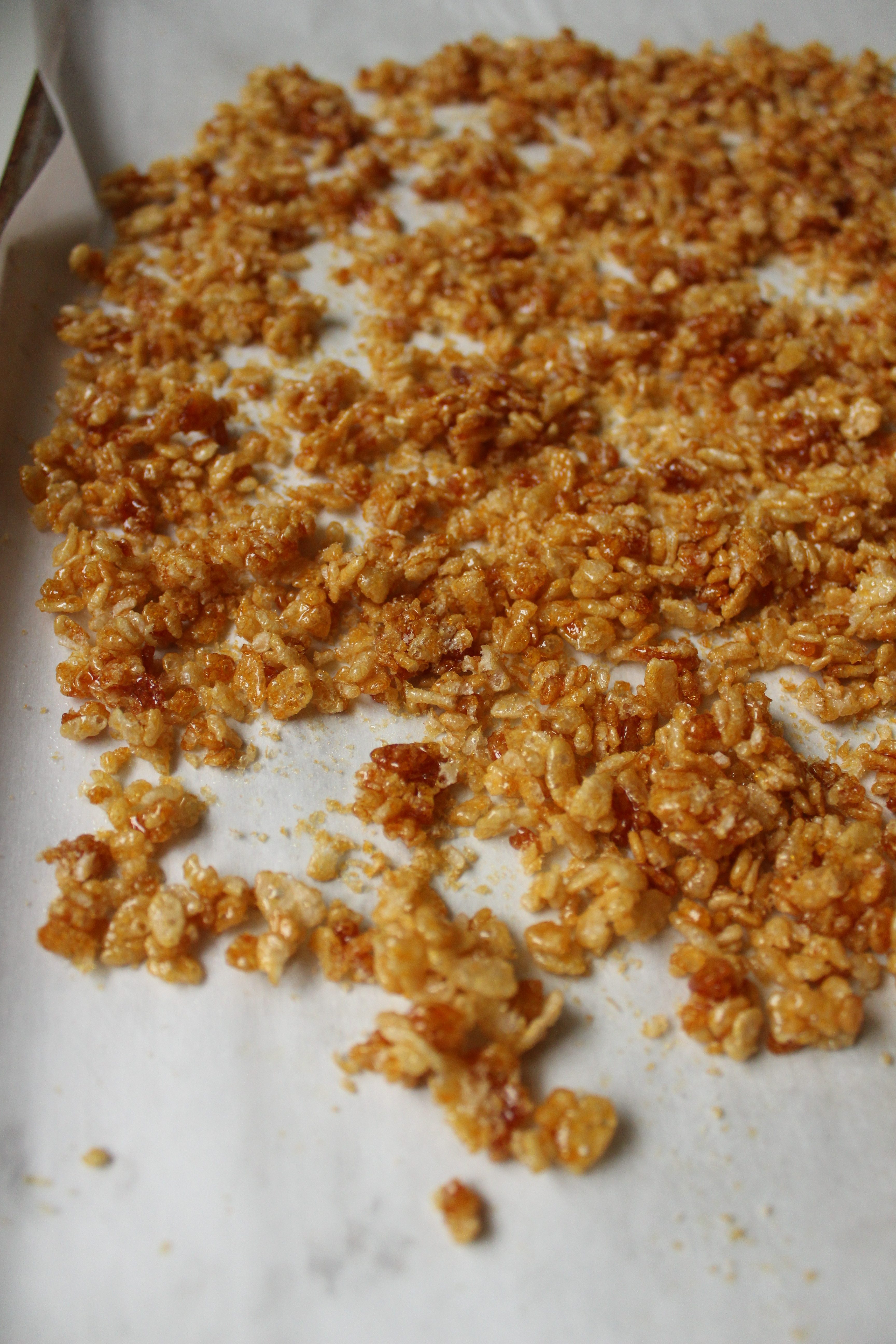 This past weekend we got to compete at the Islamic Center Professionals of NYU's Bake Off. It was so fun. Secret ingredient was revealed 72 hours prior so research and experimenting time was limited. We were split into categories of cake, cookies, pies/tarts and puddings. My partner was the defending champ of the pudding category, with his cranberry creme brulee. This year we were in pies/tarts. So when they revealed the secret ingredient of breakfast cereal, my mind went into overdrive. If the secret ingredient were a single fruit, you'd have a lot less to work with. But there are dozens of cereals to choose from – all with different flavors and textures.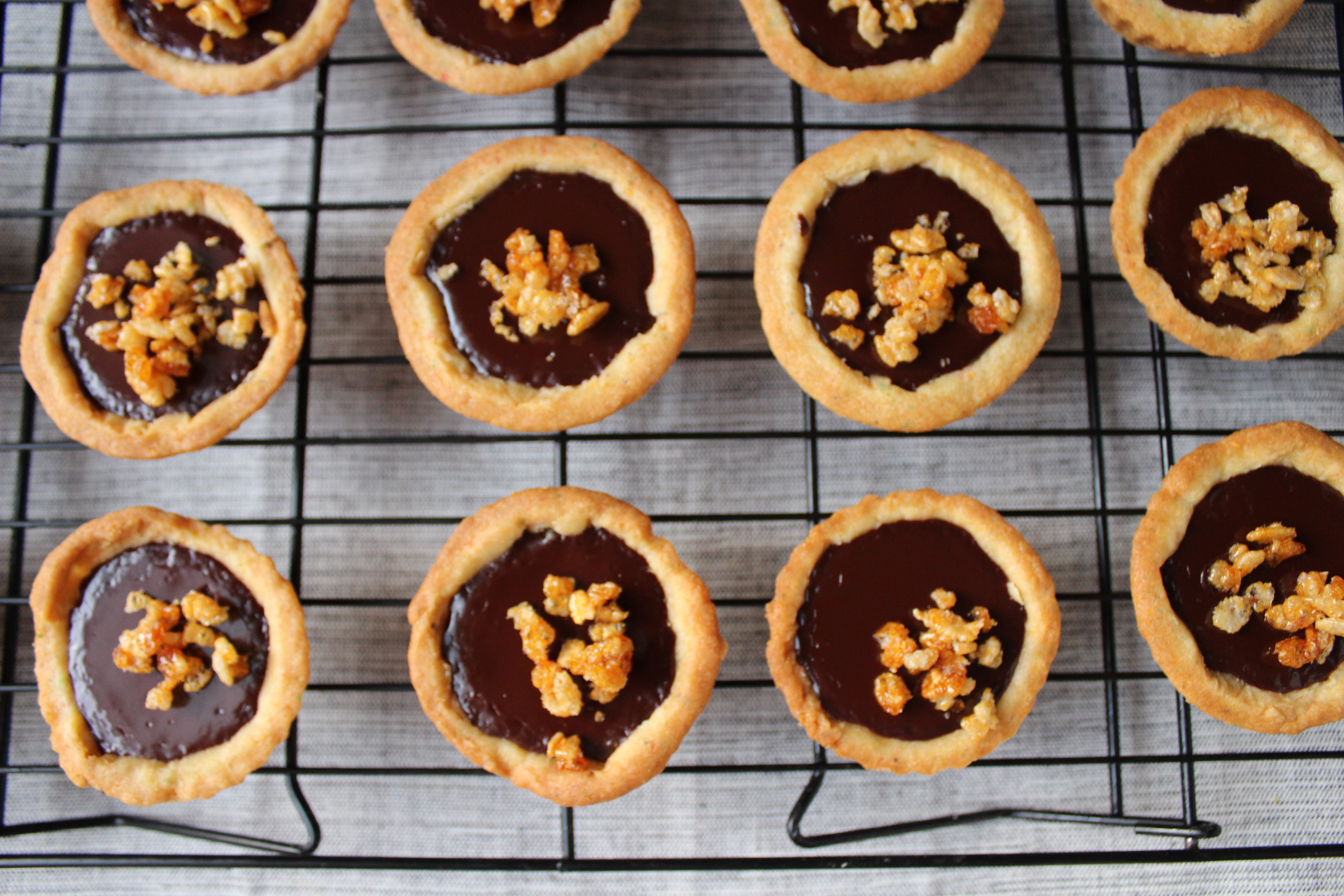 I knew I wanted it to be a tart rather than a pie – pies rely on the flaking crust to be considered a pie and are more often than not made with fruit. Tarts can have a little bit more flexibility – can be made with a shortbread crust, or cookie crust. Then in terms of fillings – should I do pastry cream and fruit? Chocolate and peanut butter? Should I incorporate the cereal in the crust? In the filling? On top?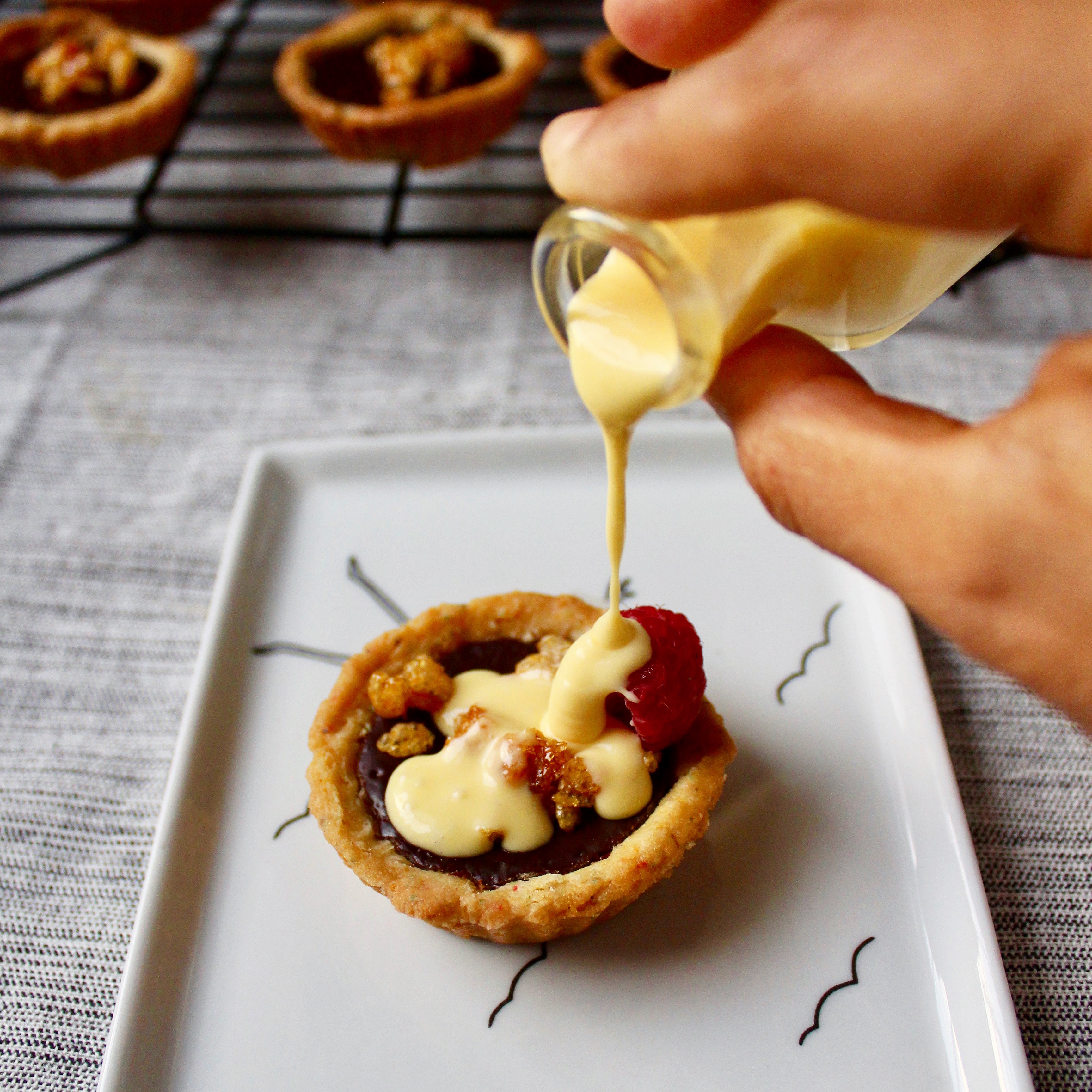 My partner pushed me to go the extra mile. After all, when it comes to bake offs, presentation can be just as important as taste. So we thought of recreating the cereal bowl plus milk pour over experience. What is a pourable topping in dessert? Creme anglaise. What goes well with creme anglaise? Chocolate, souffles and cooked fruit desserts.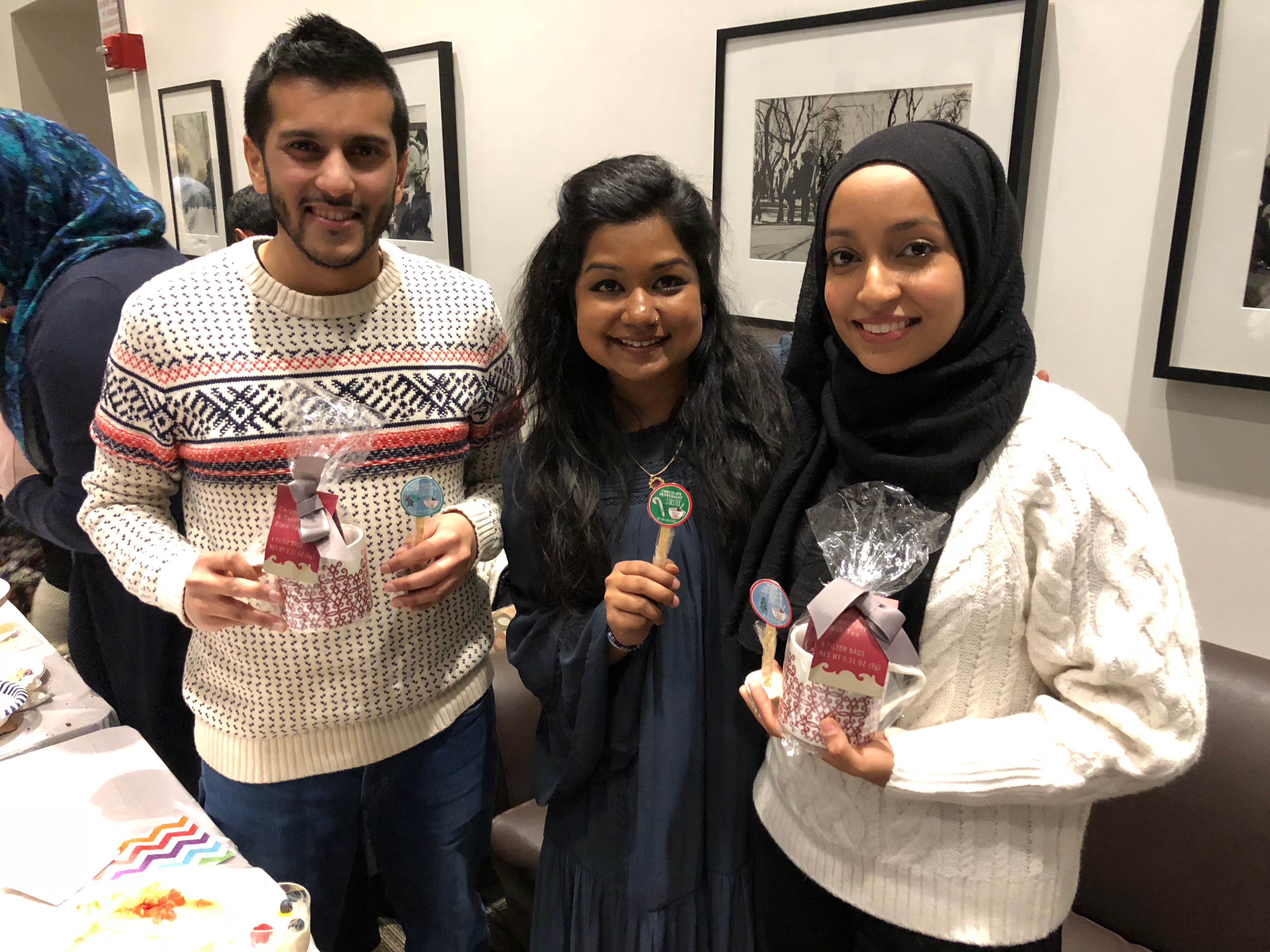 So the chocolate tart was born. Mini because we'd have to make portions for the audience to try (also they are more elegant). And pourable creme anglaise in mini bottles that I found in the wedding favors section of Michael's. Cap'n crunch in the shell. Caramelized rice krispies on top so you have some crunch to balance the smooth chocolate filling. And garnished with a little berry.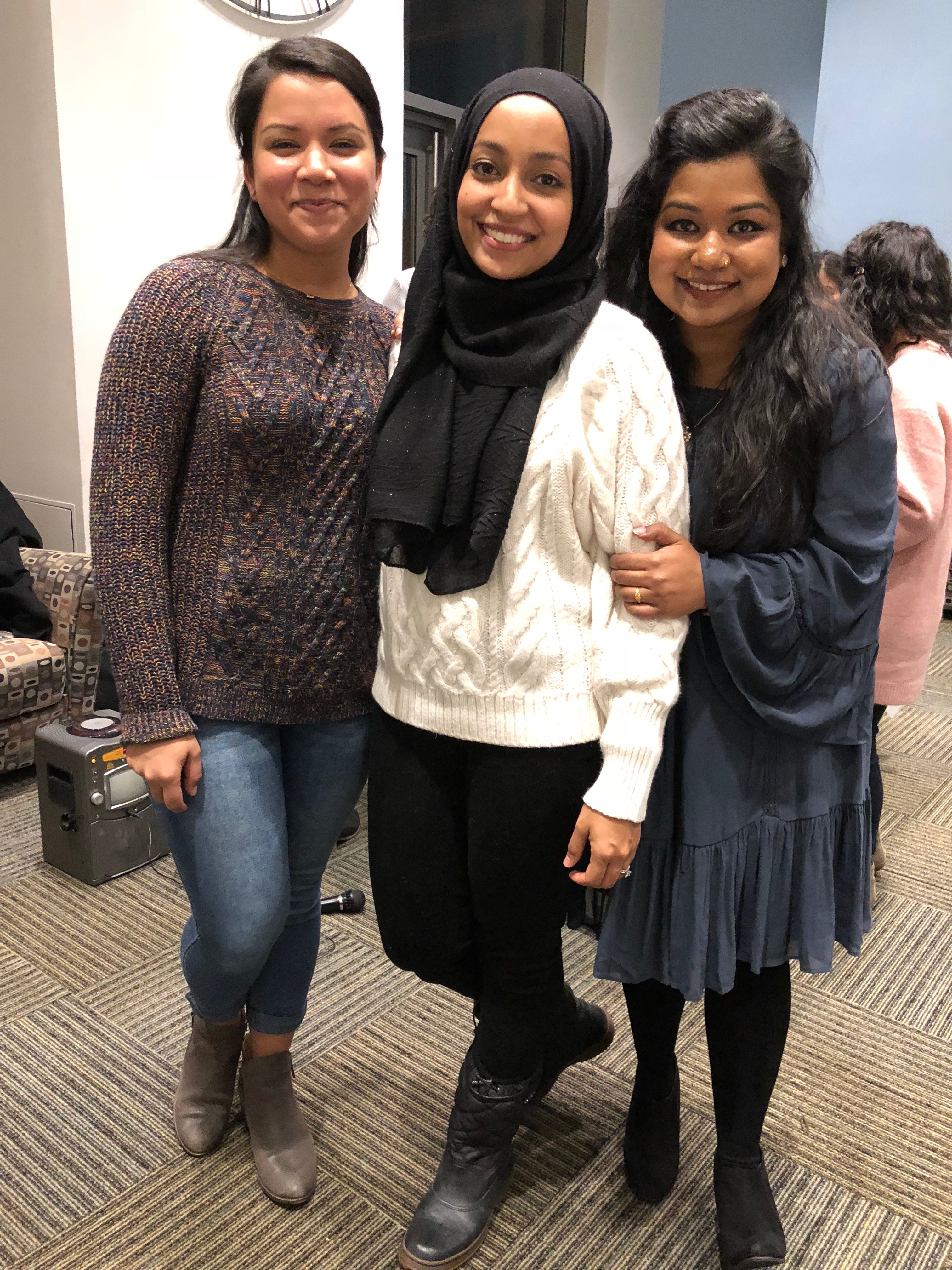 We were proud of our entry. And I was proud of my friends who entered, particularly because they were overcoming challenges of their own to be there. My old friend Jafreen, as well as my new friend, Moni of Moni's Kitchen.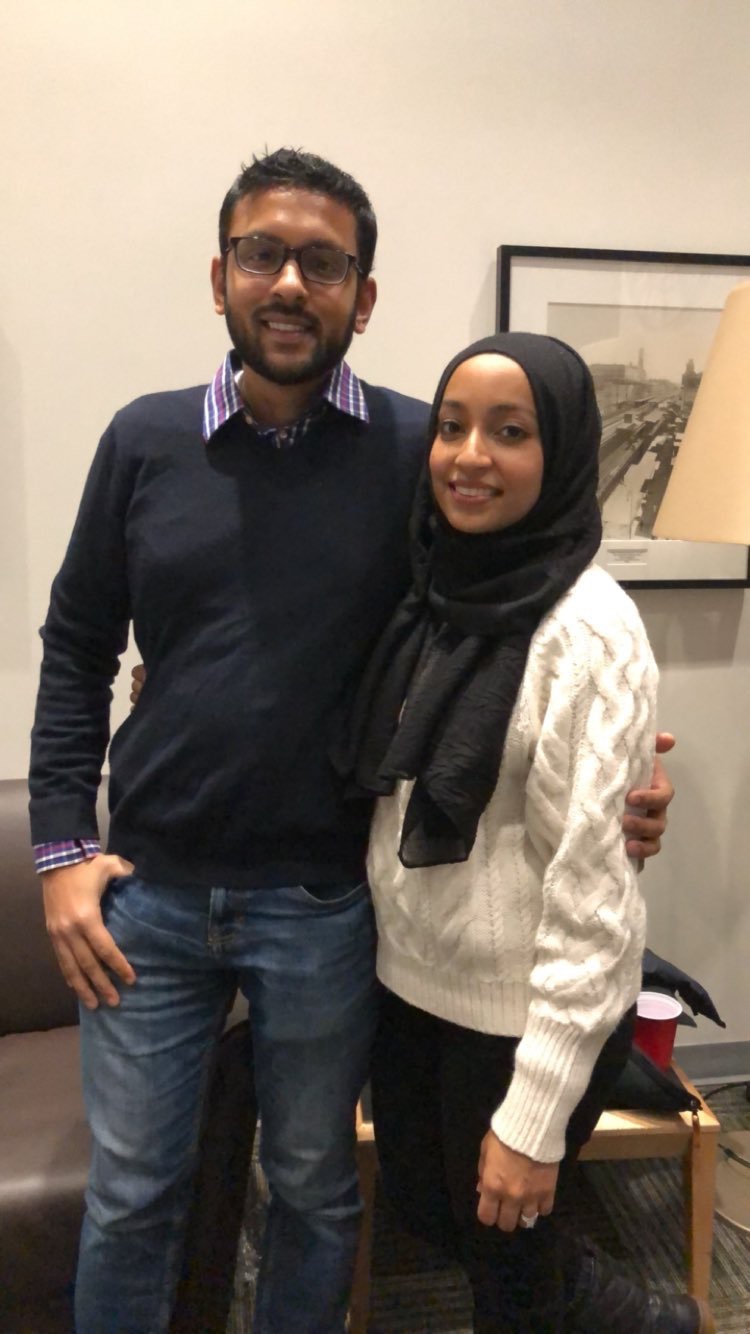 My husband was there for support. Isn't he cute? OK you can stop looking now.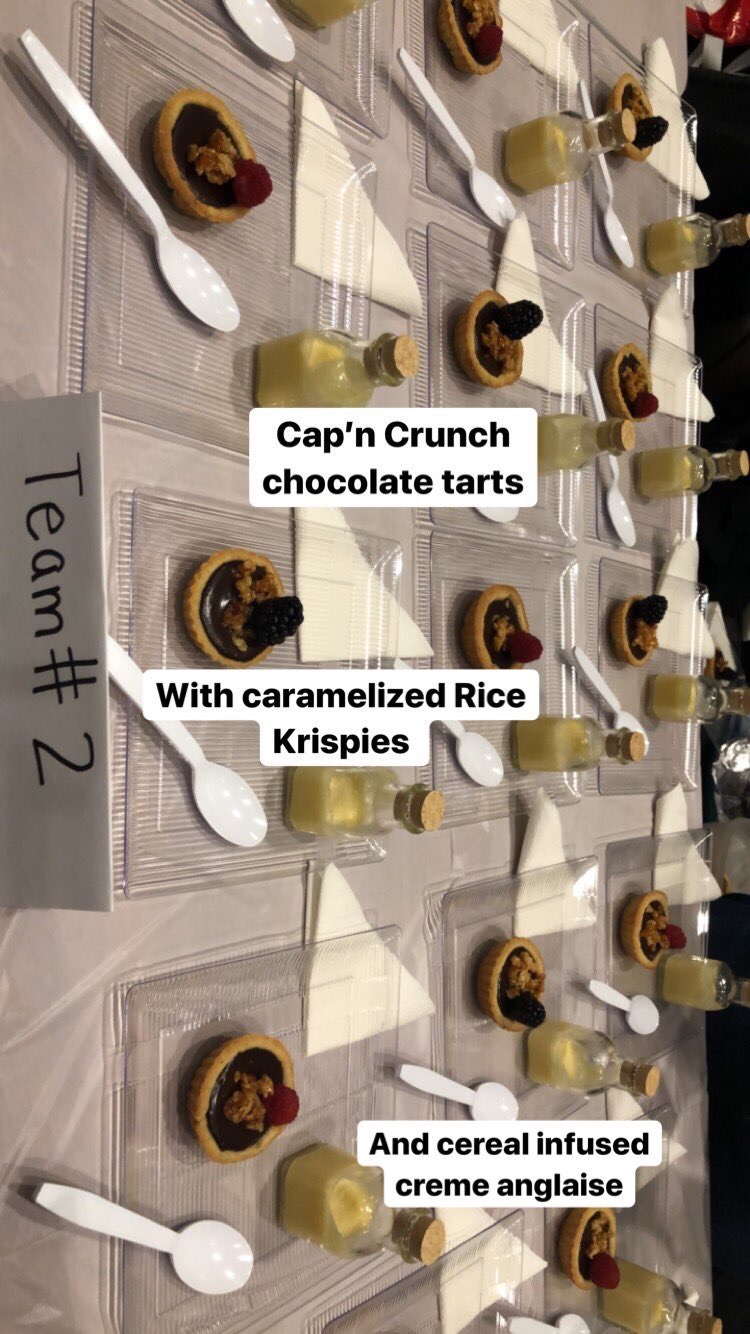 Ultimately, the judges deemed our tart the winning entry for our category, and the audience voted ours the best dessert of the night! Grand prize went to an amazing honey ricotta cheesecake with a Honey Bunches of Oats crust, homemade ricotta and divine salted caramel drizzle. Very well deserved! Can't wait til next year!
Feel free to make this without the addition of Rice Krispies and Creme Anglaise. If you'd like to make a traditional tart without the cereal, simply swap out the Cap'n Crunch for the same amount of flour. And before anyone else tries to take this idea – Salted Caramel Rice Krispies Cereal. I'm calling it! You heard it here first!
Ingredients
For the tart shell (recipe adapted from Dorie Greenspan's Around My French Table):
1 cup Cap'n Crunch Berries or regular Cap'n Crunch
2 cups all purpose flour
18 tbsp unsalted butter, cold, diced
2/3 cup powdered sugar
pinch salt
2 cold large egg yolks
For the filling (recipe from Epicurious):
9 oz bittersweet chocolate (60% cocoa), in small pieces
1 1/4 cups heavy cream
2 large eggs
1 tsp vanilla extract
1/4 tsp salt
For the topping (recipe from Food52:
1/2 cup sugar
2 tbsp water
2 cups Rice Krispies
pinch sea salt or fleur de sel (optional)
For the creme anglaise (recipe from Epicurious):
1/4 cup Cap'n Crunch cereal or cereal of choice (optional)
1/2 cup whole milk
1/2 cup heavy cream
1/4 tsp vanilla extract
3 large egg yolks
3 tbsp sugar
Directions
Make the tart shell: grind the cereal in a food processor until fine (if there are some slightly bigger chunks left, can crush them with fingers, careful to avoid the blade). Add flour, powdered sugar, salt and process until cereal/flour is evenly distributed. Remove the lid, add butter, and pulse 5-6 times to combine. Beat the egg yolks with a fork and with the machine running, drizzle the egg yolk into the dry ingredients. When you see clumps just starting to form, turn the machine off and dump out onto a lightly floured surface. Knead just until it comes together into a ball, divide in two and wrap in plastic wrap. Refrigerate until cool.
Preheat oven to 350 degrees fahrenheit. Grease a mini tart pan with non stick cooking spray. Remove dough from fridge. At this point you can either pull off golf ball sized pieces of dough and press into each of the mini tart molds, or you can roll out onto a floured surface to about 1/4 in thickness and cut out circles. I used a 3in diameter cutter for my tarts that are about 2 1/2 in in diameter. Push dough down and along the side so you get the pattern on the sides.
Cut out little squares of aluminum foil and place in each tart shell. Pour some rice or beans to act as weights and blind bake for 10 minutes. After 10 minutes, remove from oven, remove aluminum and weights, and put back in the oven for 3 minutes. After 3 minutes remove from oven and allow to cool. Repeat with remaining dough. You should have at least 24 mini shells.
Make the chocolate filling: in a medium to large microwave safe bowl, combine chocolate and cream. Heat at 50% power at 1 minute intervals, stirring slightly between intervals until chocolate is mostly melted. Continue stirring until chocolate is fully melted.
Whisk the egg whites with the vanilla and salt. Add a little bit of the chocolate mixture to the eggs to temper them. Then add the eggs to the chocolate mixture and stir or whisk until fully combined. Pour about 1 tbsp of the chocolate mixture into each cooled tart shell, so that it fills it up but doesn't overflow. I use my 1 3/4in diameter cookie scoop for this. Bake for about 10 minutes until sides are set and middle is still jiggly. Remove from oven and allow to cool. Can serve as is or with caramelized Rice Krispies and creme anglaise.
OPTIONAL Make the caramelized Rice Krispies: combine sugar and water in a small saucepan and heat at medium high. Stir only until the sugar dissolves. After it dissolves, only swirl the pan, never stick a spoon in there. Allow it to boil away until it becomes a light amber color. While the sugar boils, line a large baking sheet with parchment paper. Grease with non stick cooking spray, as well as your spatula.
When the sugar has reached the desired color, add the rice krispies and stir very carefully to coat the cereal in the caramel. Dump onto baking sheet and spread and thinly as possible. Sprinkle on salt. Allow to cool, then break apart with hands.
To further break them down, pour into a large ziploc bag, and roll a rolling pin over several times. Sprinkle tarts with desired amount of cereal.
OPTIONAL Make the creme anglaise: Add the cereal to the milk/cream and let it sit for 45min to 1 hour. In a small sauce pan, strain the milk/cream and discard (or eat) the cereal. Heat milk/cream over medium heat until it reaches a simmer (bubbles around the perimeter, but not a roaring boil). While that heats up, whisk egg yolks with sugar until pale yellow. Add vanilla and whisk to combine. When milk/cream is ready, add a little bit to the eggs and whisk. Slowly drizzle in the rest of the milk/cream so as not to curdle the eggs. Pour mixture back into saucepan and cook over low heat, whisking constantly, for about 5 minutes, until mixture is thickened. Refrigerate until cool. Serve alongside tarts so folks can poured their desired amount.