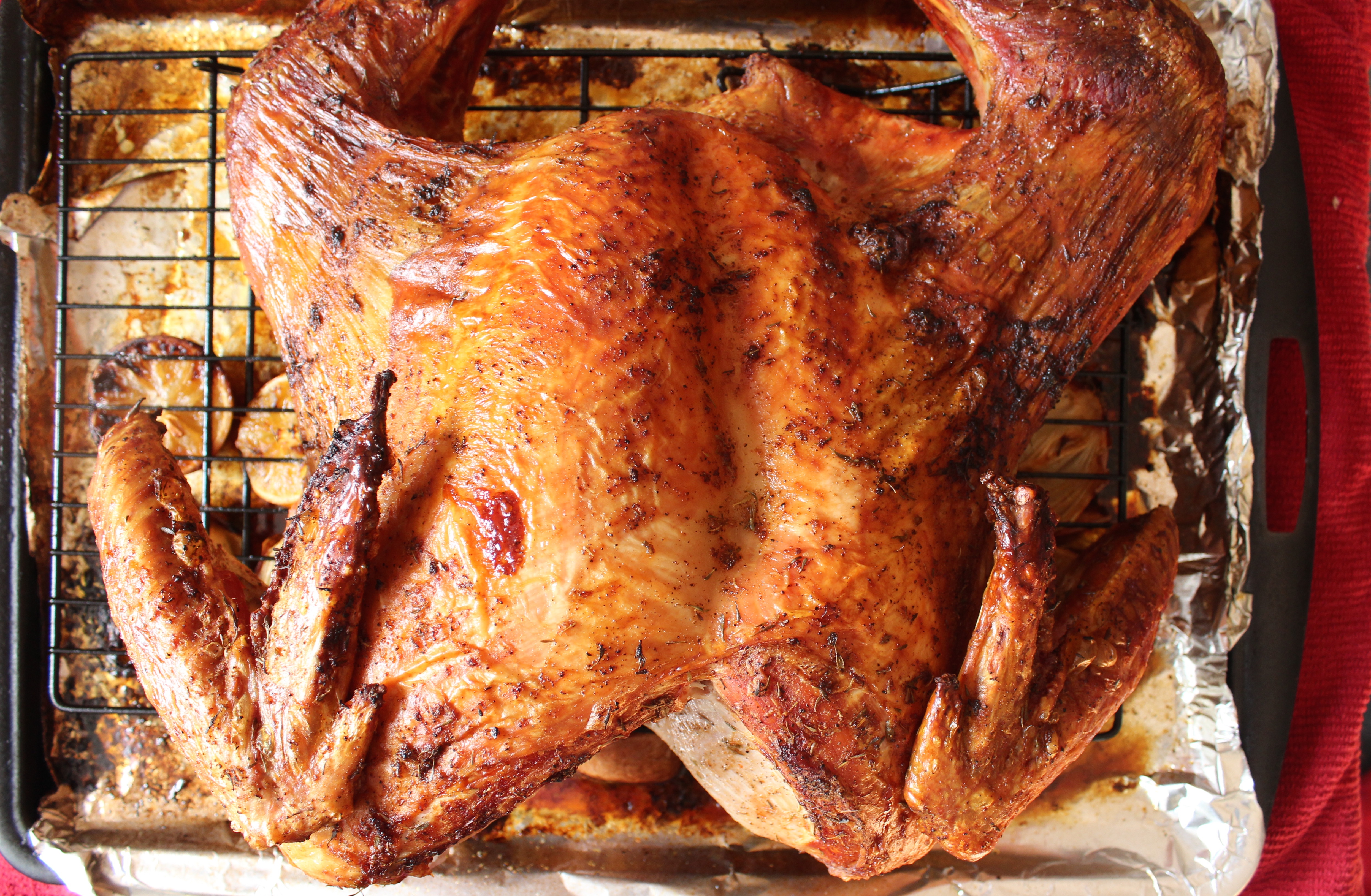 Don't double check your calendar. It is in fact, March. I cooked a whole turkey in March.
What else are you going to do when your buddies over at Honest Chops send you a 17 pound bird? Since we didn't do the whole turkey day shebang last year, I got to try out the spatchcocking technique I read about over at Serious Eats. So you see, it isn't a word I made up for my kids. It's a cooking technique that requires removal of the backbone (seriously, this turkey has seen better days), then pushing the bird down flat to encourage even cooking. People go all kinds of crazy to ensure breast meat doesn't dry out. In past years I've tried brining in a brining bag (thanksgifiasco 2011 – brining bag broke and peppercorns were still being found in corners of my apt six months later). I've flipped the bird half way through the cooking process – starting breast down, the finishing breast up.
This time I really wanted to try dry brining. But ain't nobody got room in their fridge for a 17 lb bird to do its thing for 3 days!! I couldn't even defrost this thing the "proper" way, according to "US Department of Health guidelines". I left it out on my counter for 24 hours and am living to see the light of day. Please don't do the same, then sue me if you get sick. Just do what the Man says and defrost in your fridge for 08765336789 days.
This is not a technique I'd recommend if you're petite like me. Unless, of course, your even more petite desi mom is around to help and manages to whack that bird flat without breaking a sweat. I should've known – plenty of experience with that backhand.
Key takeaways:
It's hard removing the backbone with regular ol' kitchen shears. If this is something you want to try, I'd recommend getting poultry shears.
Once I did get it out, I loved having the backbone available, along with the innards, to make turkey stock. It just bubbled away on the stove top while the bird cooked in the oven. Soups, pastas, quinoa and rice pilafs for dayssssssss.
The cooking temperature was wayyyy too high. I appreciated how fast the thigh meat cooked through, but at 450 degrees, things were smoking up and my smoke alarm kept ringing. I turned the heat down to 425 and carefully poured in some water into the baking sheet to keep the veggies and juices from scorching. Even then, at 1 hour and 10 minutes, the breast meat had dried out. Why oh why?!
I have no idea where this beautiful gravy bowl came from. Does this happen to you? If you're the beautiful soul who gifted this piece to me, please stand up. Thank you! I don't even care for gravy – this is all beautiful, luxurious, reduced pan drippings. Happy Spatchcocking!
Technique from Serious Eats.
Ingredients
2 tbsp salt
1 tsp ground black pepper
1 tsp cayenne pepper
1 tsp garlic powder
1 tbsp paprika
2 tsp dried thyme
olive oil (not extra virgin)
2 lemons, halved
2 onions, halved
2 heads garlic, halved
Directions
Combine all the spices in a bowl and smear all over the spatchcocked turkey.
Placed halved vegetables on an aluminum lined baking sheet. Place wire rack over the veggies. Drizzle the turkey liberally with oil and lay on the wire rack. Bake according to directions. I would go with a lower cooking temperature, say 350 degrees F, for 70-90 minutes depending on the size of your bird. The best way to tell is by sticking a meat thermometer into the deepest part of the thigh and getting a reading of 165 degrees.