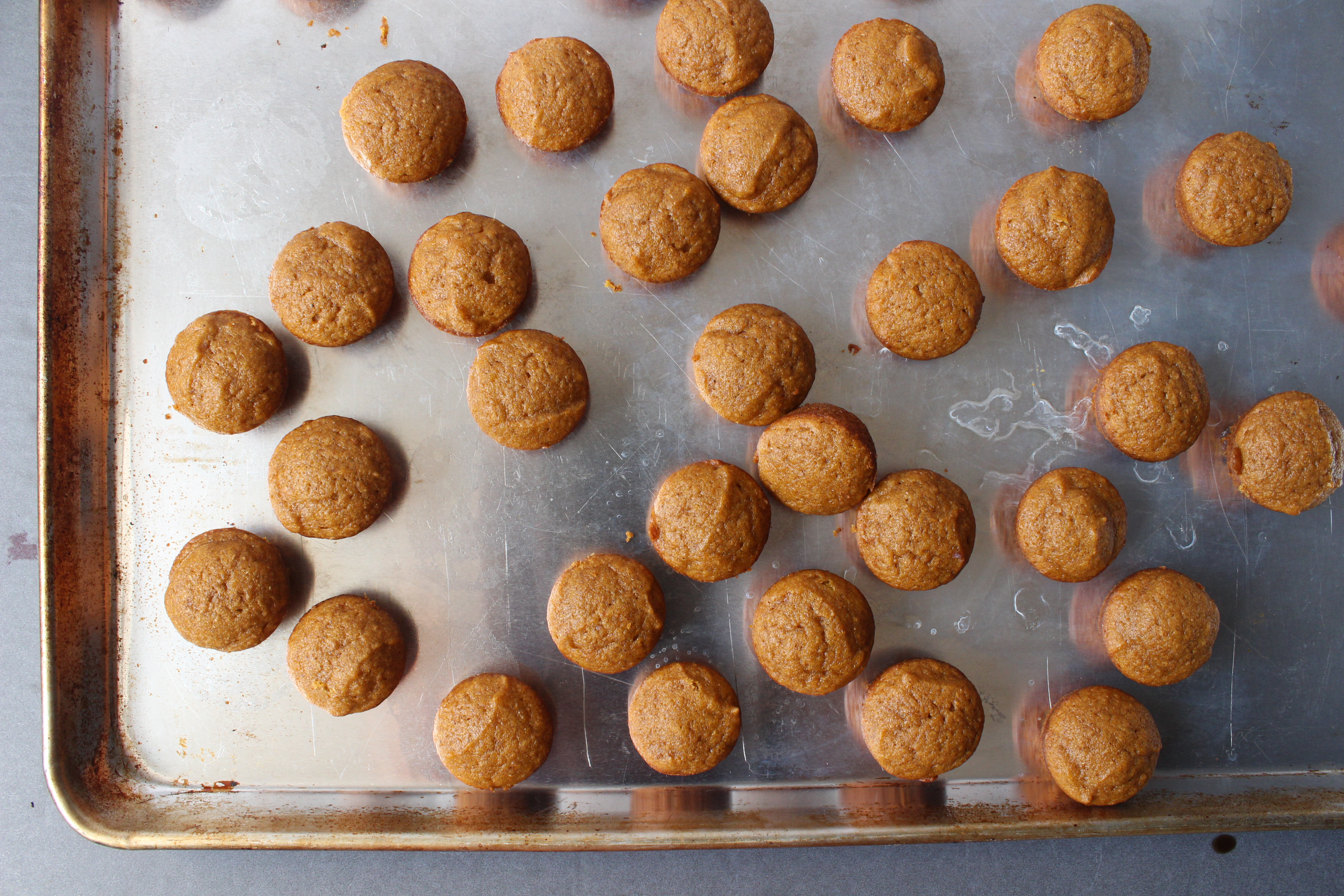 I usually shy away from pumpkin spice anything. It's just not my cup of tea. But a few weeks ago our family went to Wightman Farms in New Jersey, where they attempt to ameliorate the hurt inflicted on your wallet from overpriced hay rides with complimentary pumpkins. Thus, I had 4 pumpkins and a whole lotta cooking to do. I made a pumpkin bread which was a bust (recipe said to bake in two 8×4 loaf pans; I brazenly baked it in a single 10×5 in pan and sadly watched through the oven door as it never rose), a pumpkin pasta which was delish, and finally, these fabulous little bites. Important to note that my homemade pumpkin puree is thinner than the canned ones, but I think since this recipe uses vegetable oil and not butter, you should be fine. 
I whipped these up without a recipe to refer to (hence most of the amounts are 1, 1, 1 [1 cup sugar, 1 cup flour, 1 cup pumpkin, etc.] but hey, it works!) and without even being sure if the end result would be a cupcake or a muffin. Since I wanted to practice my piping, I frosted them with a cream cheese frosting – so I guess they are officially in Camp Cupcake! They are so moist you can serve as a snack without the frosting.
Ingredients
1/2 cup brown sugar
1/2 cup granulated sugar
1/2 cup vegetable oil
1 egg
1 cup pumpkin puree*
1/2 cup all purpose flour
1/2 cup whole wheat flour (could omit this and use all all-purpose flour)
1/4 tsp cinnamon (can increase to 1/2 tsp if you prefer)
1/8 tsp ground clove
1/4 tsp kosher salt
1/2 tsp baking powder (make sure it's fresh! i.e. not older than 3 months)
1/4 tsp baking soda (same)
Directions
Preheat oven to 325 degrees F. Spray either a mini muffin pan or a standard muffin pan with non-stick spray.
In the bowl of a stand mixer (or in a large bowl using a handheld electric mixer), combine both sugars with vegetable oil and beat for a minute. Add egg and continue beating. Add pumpkin puree and continue beating for another minute.
In a separate bowl, combine flours, spices, salt and leavening. Whisk a few times.
With the mixer on low speed, slowly add the dry ingredients just until combined. Scoop batter into prepared pans to about 3/4 way up. If using the mini muffin pan, bake for 15-17 minutes until a toothpick inserted in the center comes out clean. For a standard muffin pan, bake 18 to 20 minutes.
If you choose to frost them, allow them to cool to room temperature. Frost with a cream cheese frosting.
*To make the pumpkin puree, I peel a pumpkin similar to how you would peel a butternut squash – with a big knife, going from top to bottom, around on all sides. Scoop out seeds, chop, then place in a large wok or pot with 1/2 inch of water. Bring to a boil then reduce heat. Simmer until tender. Blend in a food processor.