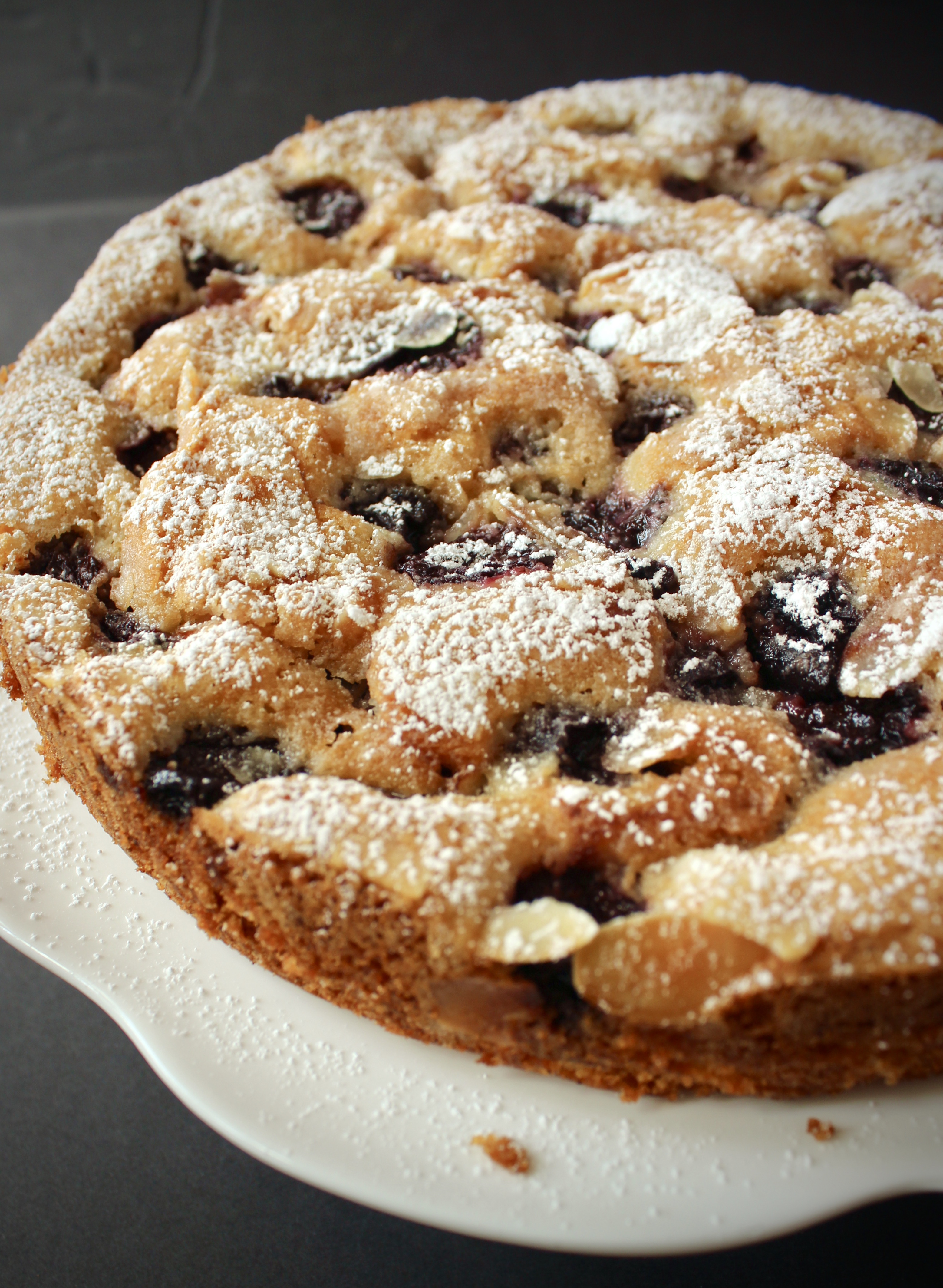 I know, I know. I'm actually posting a non-chocolate recipe. There are few things that I enjoy as much as I enjoy chocolate. Vacations. Lobster truffle mac and cheese (just discovered at cute Sunnyside spot Côté Soleil while out to dinner with the talented and endearing Moni Begum of Moni's Kitchen). Moroccan almond cookies made by La Rose Kitchen. Actually, any almond dessert is fabulous. Rainbow cookies. Marzipan (yup, straight up). Stollen (German holiday sweet bread with marzipan filling).
So cherry almond cake was a no-brainer. Last week I had made a cherry frangipane (fancy word for almond filling) tart. Recipe from NYTimes. It was SO good, but since there's already a perfectly good recipe out there, I wanted to share a less-fussy version of the dessert for those who may not have the time or desire to make pâte sucrée, chill it, roll it out, fit it, trim it, blind bake it, then fill and bake once more.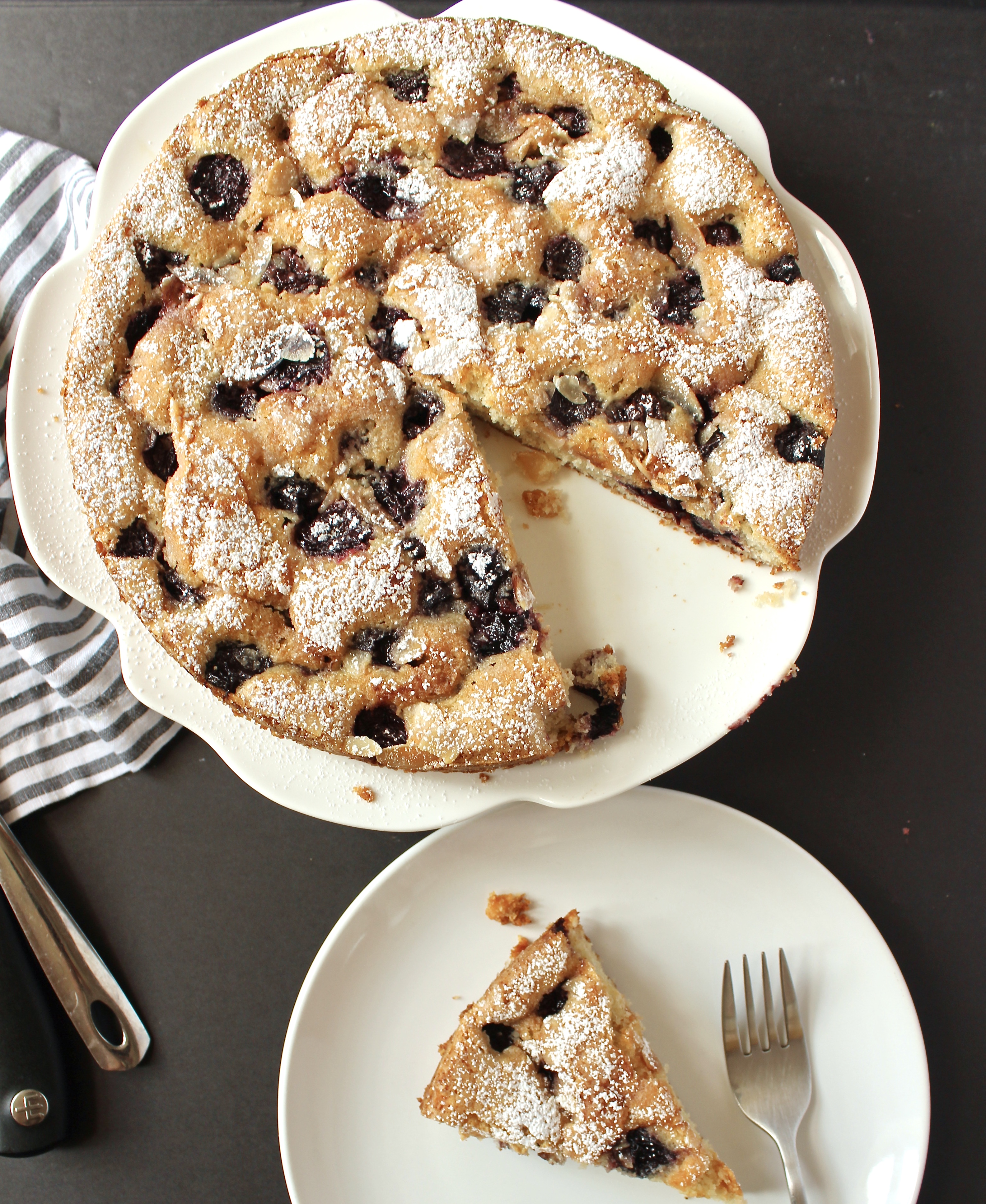 The answer is this single layer cherry almond cake. A standard beginning of creamed butter and sugar with the addition of 2 tbsp of almond paste that has been sitting in my cupboard FOREVER. Thickened with an egg, flavored with almond extract. Finally beefed up with a cup of flour, leavener and salt. I greased and lined a 9 in cake pan with parchment. Then I poured in the batter, smoothed out to the edges, dotted the cherries throughout for an even distribution, topped with slivered almonds and sugar, then baked for about 45 minutes.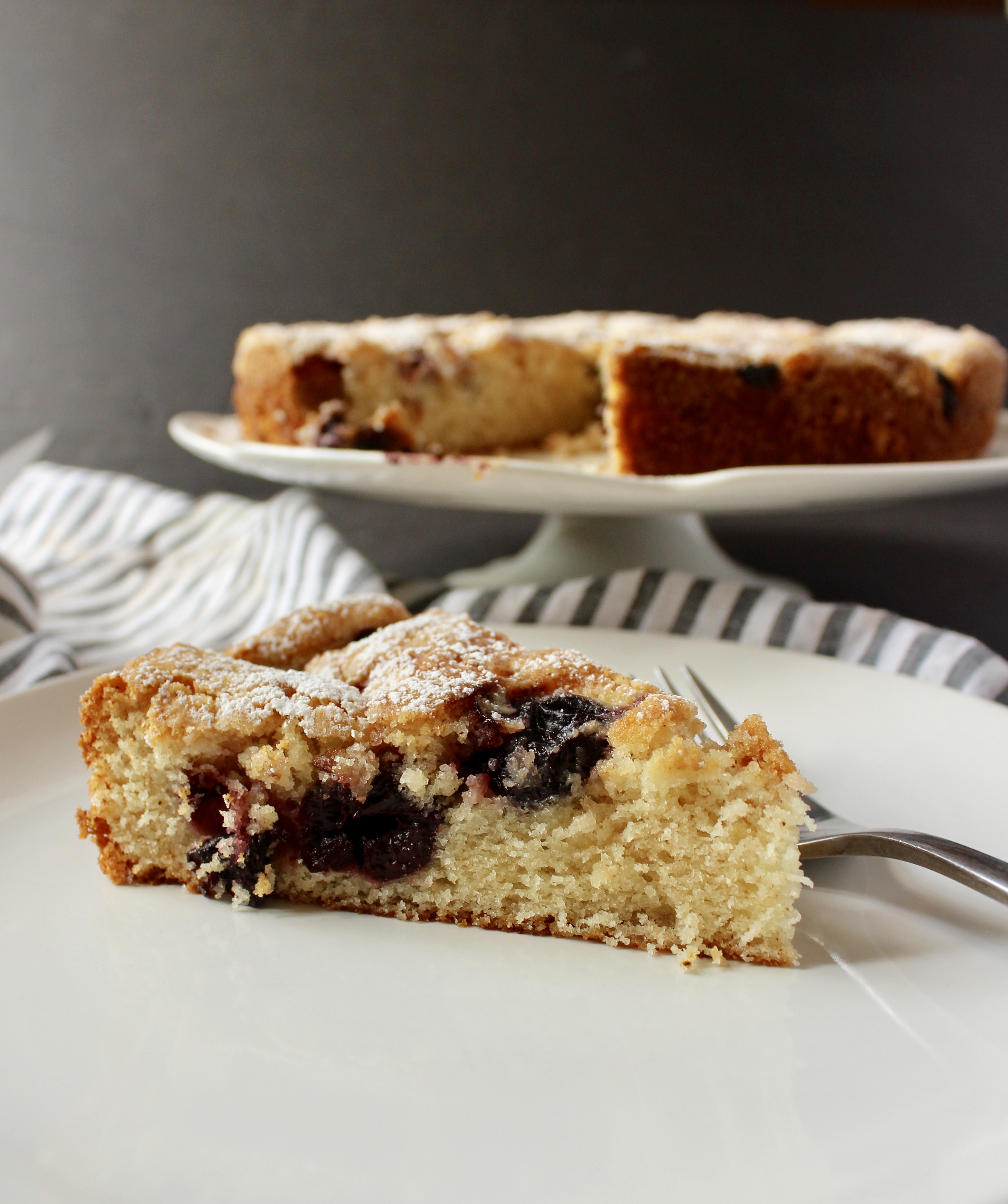 I used defrosted, drained frozen pitted cherries for this. Fresh cherries would have been out of this world, but I wasn't about to try to pit 14oz of cherries! Fresh or frozen, it's a delicious cake, but I would decrease the sweetness next time around. I adapted it from a Cooking Light recipe (I increased the fat content so could use a lower sugar content). Feel free to try it either way!
Ingredients
6 tbsp unsalted butter
2 tbsp almond paste
2/3 cup granulated sugar (would decrease to 1/2 cup next time)
1/4 tsp almond extract (might increase this to 1/2 tsp next time)
1 egg
1 cup flour
1 tsp baking powder
1/8 tsp salt
1/8 tsp cloves
1/3 cup milk
2 tbsp slivered almonds
2 tbsp granulated sugar
14 oz pitted cherries
powdered sugar for sprinkling
Directions
Preheat oven to 350 degrees F. Spray the bottom and sides of a 9in cake pan with cooking spray, Cut out a 9in round piece of parchment and line the bottom of the pan with it. Spray with more cooking spray.
In a medium bowl, sift together the flour, baking powder and clove. Add salt and stir to combine.
In the bowl of a stand mixer or in a medium bowl using an electric hand mixer, cream butter, sugar and almond paste until light and fluffy, about 2 minutes at medium low speed. Stop to scrape down the sides of the bowl. Add egg and almond extract, continue beating until the egg is incorporated, then scraped down the sides of the bowl again. Add half o the flour mixture, then the milk, then the remaining flour. Mix until incorporated, then pour into the prepared cake pan. Dot the top with cherries, almonds and an even sprinkling of the remaining granulated sugar.
Bake in preheated oven for 45-50 minutes until top is golden brown.
After cooling, sprinkle with powdered sugar to serve.