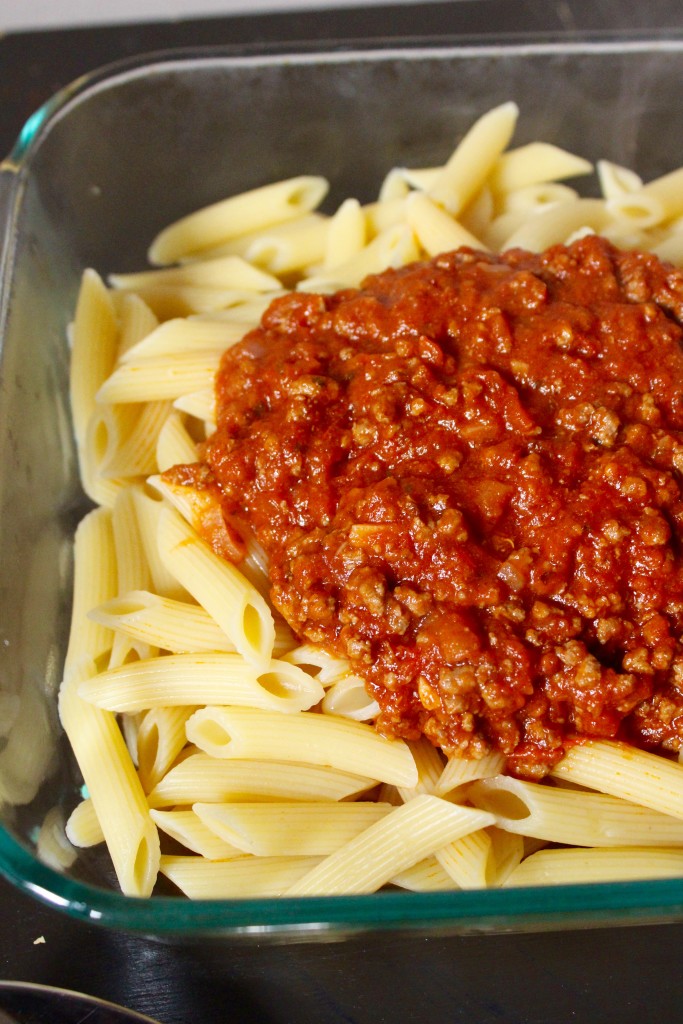 One of my first cookbooks ever was Giada De Laurentiis's "Everyday Italian". From it, I made my first pesto, marinara sauce, bolognese, vegetable bolognese, her fabulous balsamic roasted chicken, and many other Italian classics. For that reason, it will hold a special place in my bookshelf. One thing I noticed though, was that many of the tomato based sauces required celery, onion, and carrots as the base. While I always have onion on hand, the times I bought celery and carrot for those specific recipes, it was a pain to try to finish them off. I'm not a big celery-snacker. I might make a salad out of the celery and carrot (though I much prefer carrot and mushroom salad). So while I appreciate the flavors attributed to the classic mirepoix (sweet onion, sweet earthy carrots, licoricey celery), I needed one that suited my family's needs and my grocery habits.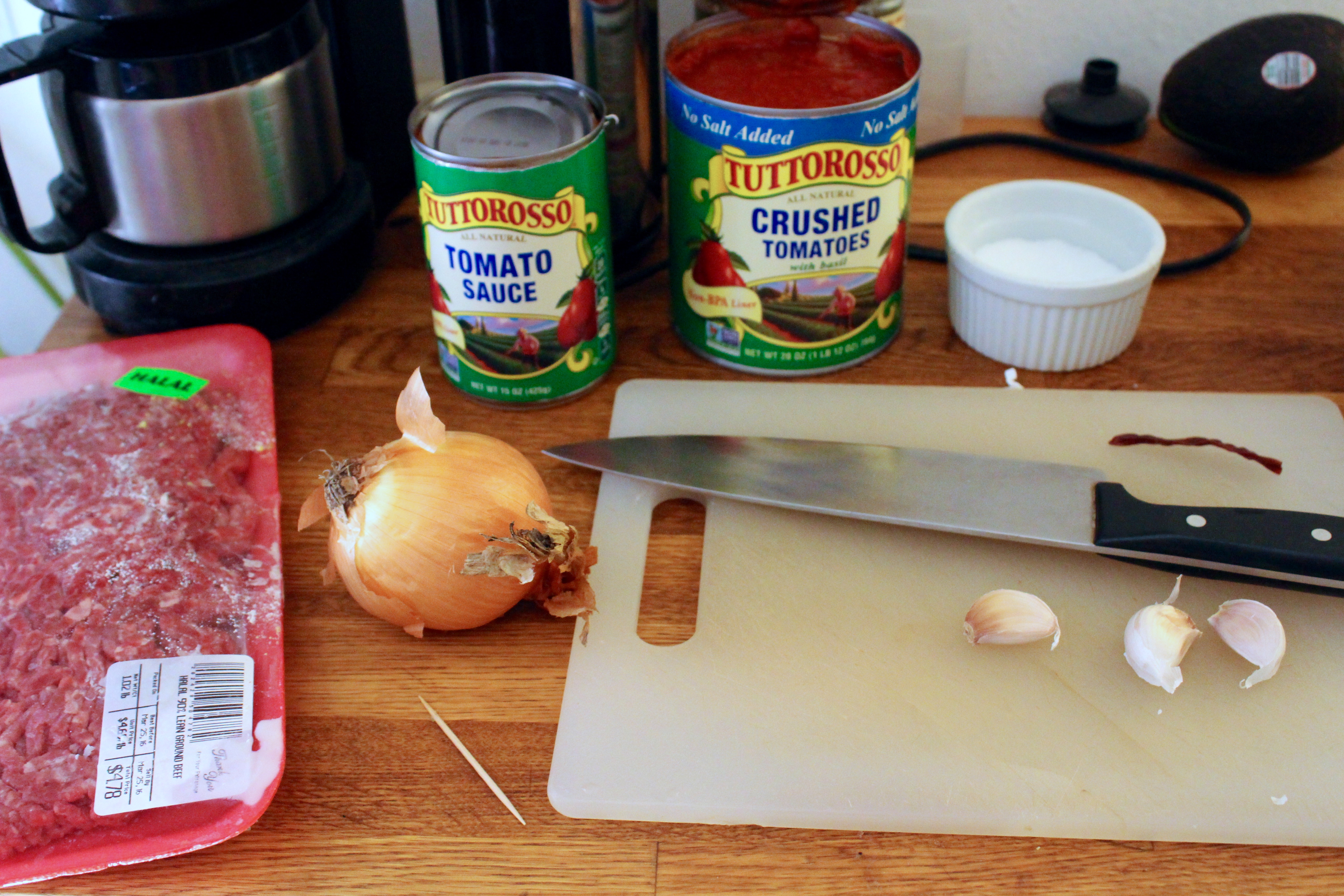 Enter My Go-To Bolognese. Olive oil. Onion. Garlic. Beef. Tomato. Seasonings. Almost all of these things I have on hand – I don't even bother with the fresh herbs. Dried oregano. Basil already in the canned tomato. Done. Deal.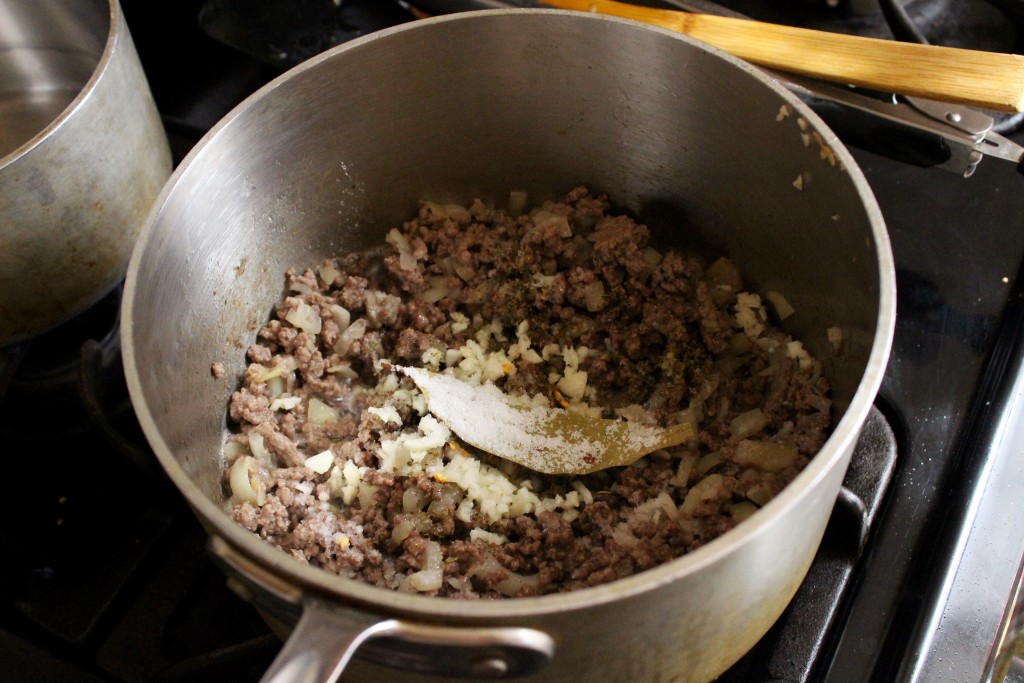 I amp up the flavor with crushed red pepper flakes. I add tomato sauce along with the crushed tomatoes – something I picked up from watching Pioneer Woman. It adds moisture and flavor to the sauce. And the best part is…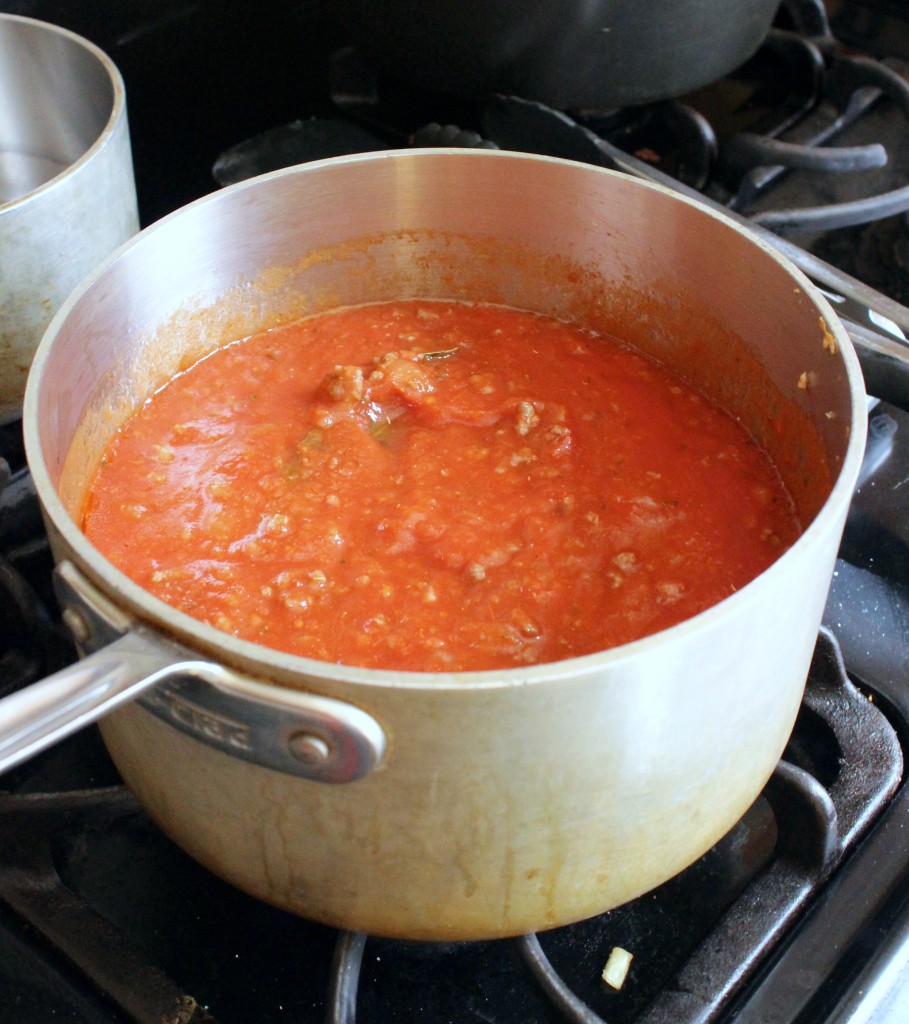 It gets better the longer it sits in the fridge. The first day you taste it, you're like yeah, it's good. But the second day you taste it and you're like wow where did this meaty flavor come from?! And because my family is relatively small (both kids under 6), I can get away with freezing half and thawing it out later in the week when I'm knee deep in frosting for a cake order! One of the few things I don't mind eating out of the freezer.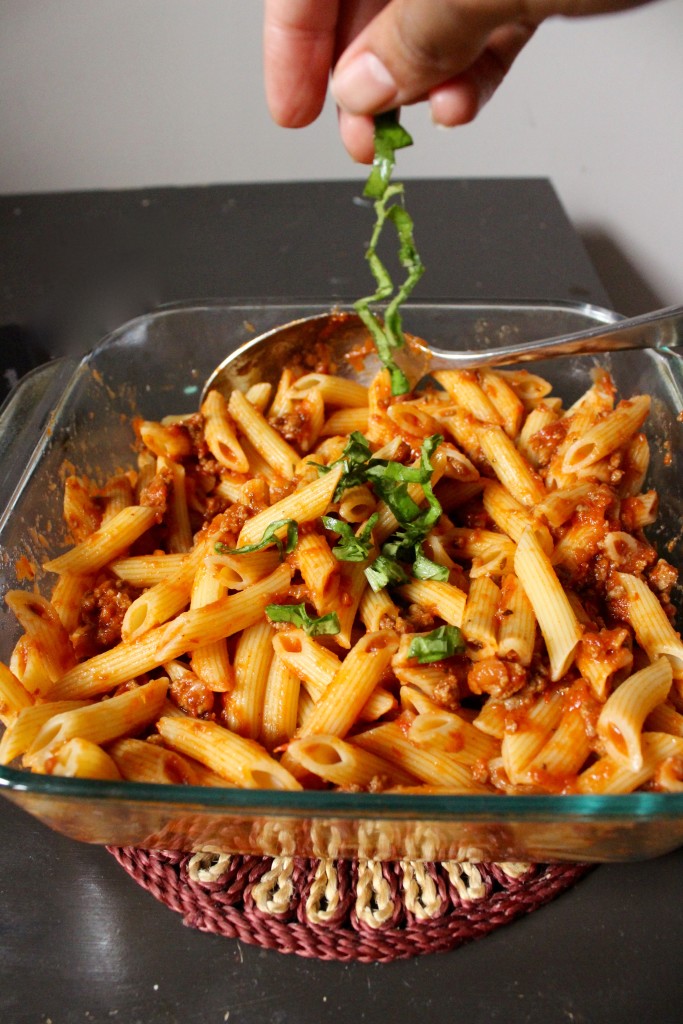 And the cinnamon! It's my not-so-secret-anymore ingredient. Ever since I made Ina's Pastitsio, I fell in love with the flavor combination. It makes you go "hmm what is that?!" – in the best possible way.
Ingredients
2 tbsp olive oil
1 medium yellow onion, diced small
1 pound lean ground beef
3 cloves garlic, minced
1/2 tsp dried oregano
1/2 tsp crushed red pepper flakes
1/2 tsp ground cinnamon
1 1/4 tsp salt plus more to taste
1/4 tsp ground black pepper
1 dried bay leaf
1 tsp sugar
1 28oz can crushed tomatoes
1 15oz can tomato sauce
Directions
In a medium saucepan, warm olive oil over medium high heat. Add onion and ground beef. Cook, stirring frequently, until the onions are soft and the meat is no longer pink. Add the seasonings: garlic, oregano, salt, both peppers, cinnamon, sugar and bay leaf. Stir until fragrant – 30 seconds to 1 minute. Add the crushed tomatoes and tomato sauce. When the sauce comes to a boil, lower the heat to low and cover. Simmer, stirring occasionally for 30 to 45 minutes.
Taste for seasoning and serve with pasta of choice and a grating of fresh parmesan.