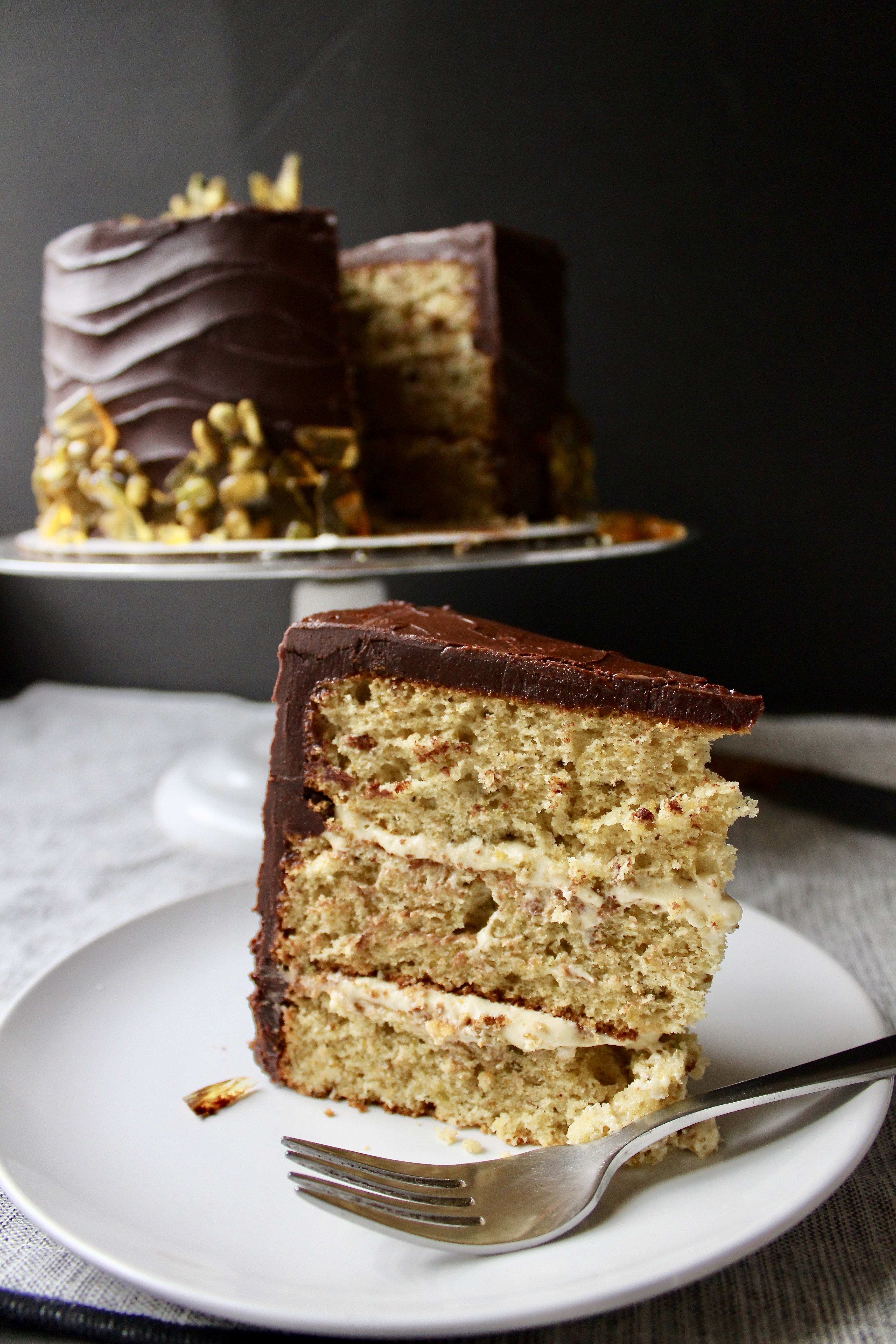 I've been making pistachio cakes in various forms since my friend asked me to make one for her wedding last year. The truth is, it's very difficult to make a strongly pistachio flavored cake. It's not like ice cream where the nuttiness easily comes through the cream and sugar. In cakes, in its attempt to compete with all the flour, eggs and dairy, it struggles to maintain its flavor while maintaining a light, tender crumb we expect in a cake.

I changed this recipe from the original, to include pistachio paste (which you can get online). I looked at peanut butter cake recipes and saw they utilized peanut butter in lieu or in combination with butter, so I thought I'd apply the same principal here. It provides a rich, creamy pistachio flavor. The cake is then lightened with beaten egg whites to add lightness. The result is a light, nutty cake.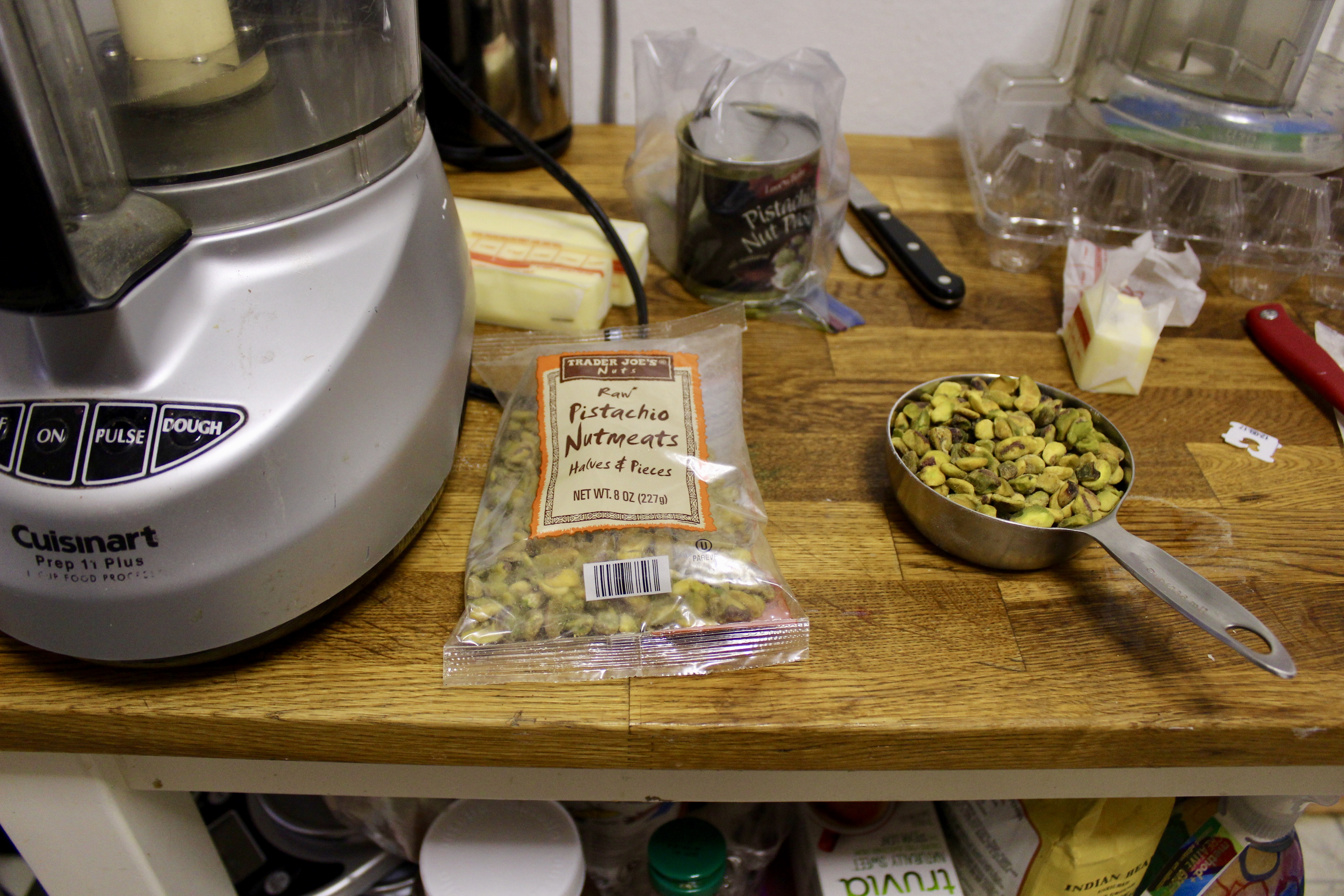 I'm not sharing an accompany frosting recipe, because in all honesty, I haven't got one. I tried making the boiled milk icing from the original recipe, but oh my God did it die on me. It was a runny mess (perhaps my boiled milk/flour/sugar combo was too thin?). I spent all morning trying to salvage it – first by adding some confectioners sugar, then some more cream cheese, then butter, then more confectioners sugar. After removing a small amount to mix with pistachio paste (my last ditch effort to salvage at least some of it), I was able to make a concoction that held up JUST enough to fill the cake.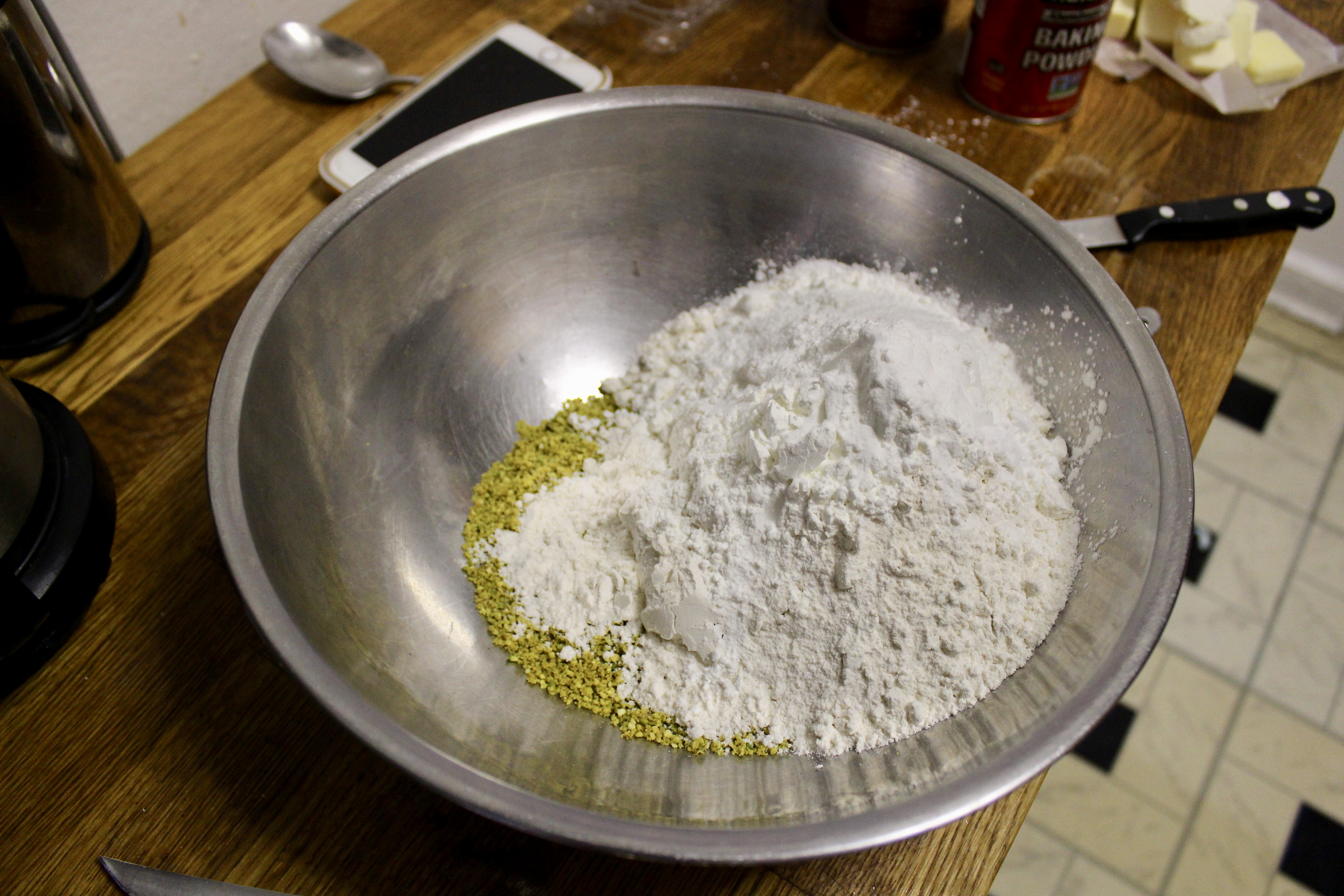 For the outside, I went with a tried and true (and quick) recipe: chocolate ganache. Which isn't much of a recipe at all as it's just some baking chocolate bars, broken up in chunks, then melted in the microwave at medium power with half its weight in heavy cream (so in this case, 24oz chocolate with 12oz heavy cream). Mixing every once in a while until completely melted and smooth. Not to say it's straightforward to make ganache.
There are plenty of ways to muck it up. If you mix it before it is warm enough, it will start to get grainy. If you make it too hot, it will get grainy. Basically you need the Goldilocks temperature to get chocolate ganache just right (between 90 and 110 degrees). I recommend using an instant read thermometer to get your ganache just right, but if you don't, just make sure it's warm to the touch while you are stirring.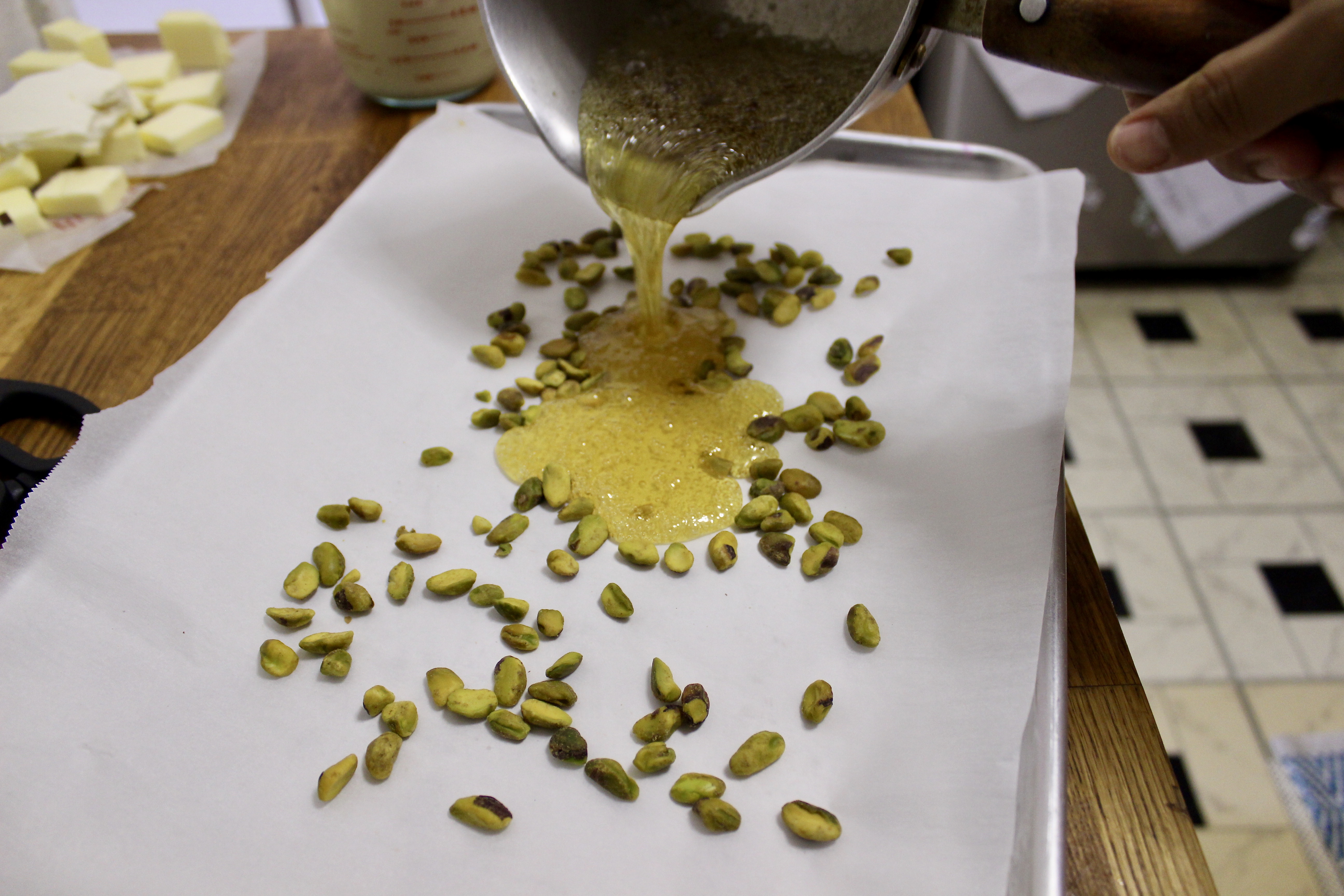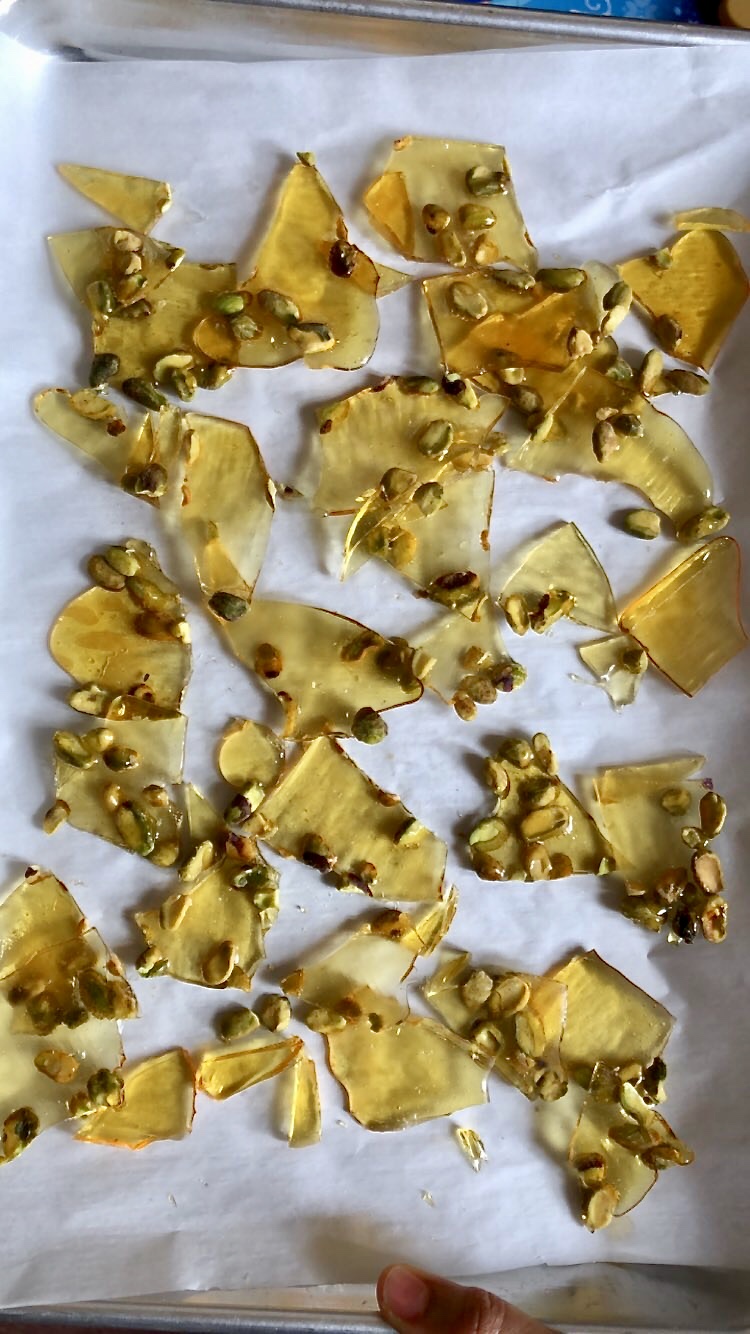 I then placed it over a bowl of ice water, whisking with an electric mixer until it was thick and glossy.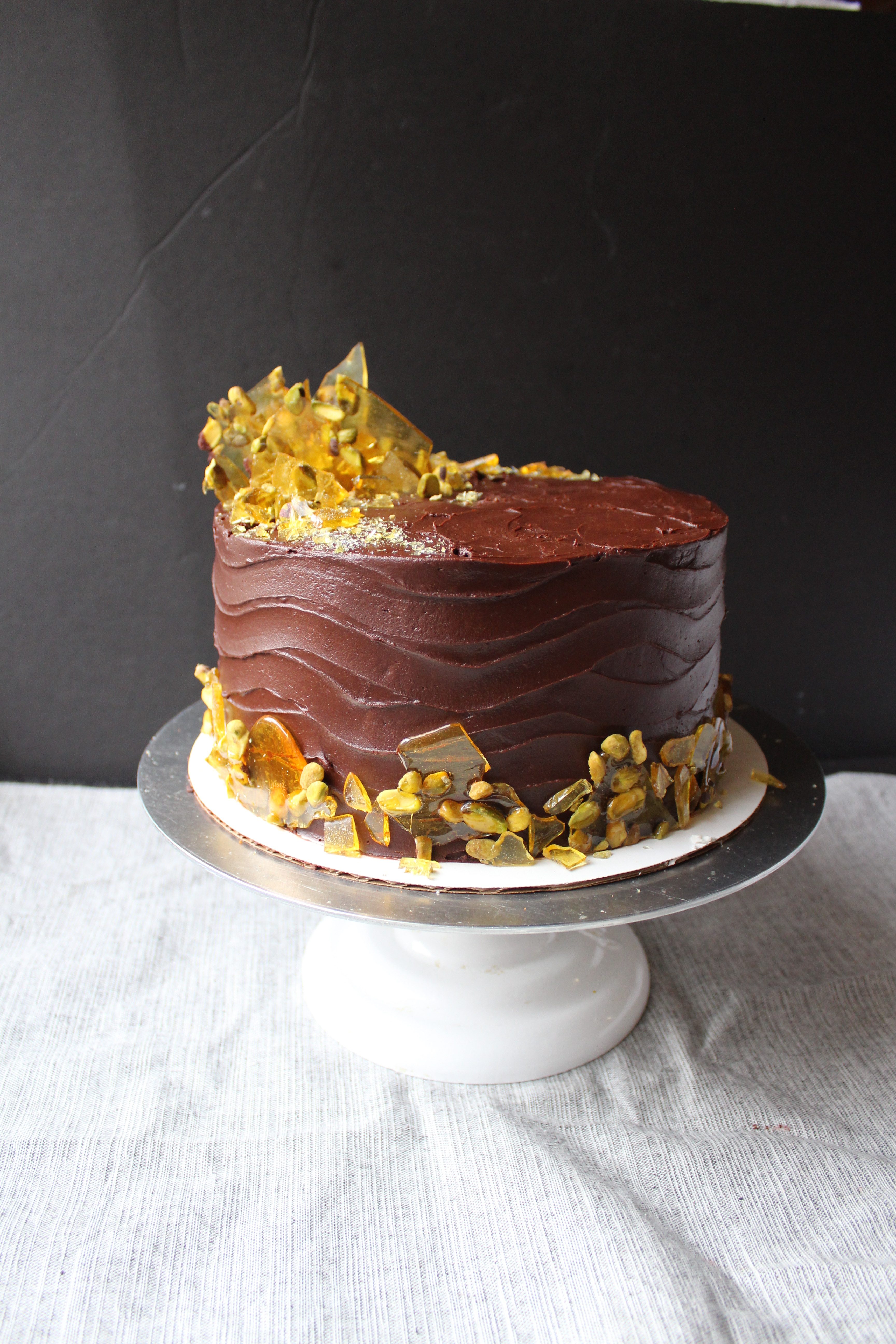 Finally, I decided to try decorating with pistachio sugar shards. I'm not sure if that's what it's called, but it's not quite praline, not quite toffee, not quite caramel either. It's just 1 cup sugar melted with 1/4 cup water until light golden in color. I then poured it over 1/4 cup shelled pistachios on a parchment paper lined baking sheet and let it cool. Once cool enough to handle, I broke it up into big chunks to decorate, then further crushed the remaining chunks with my rolling pin and a ziploc bag.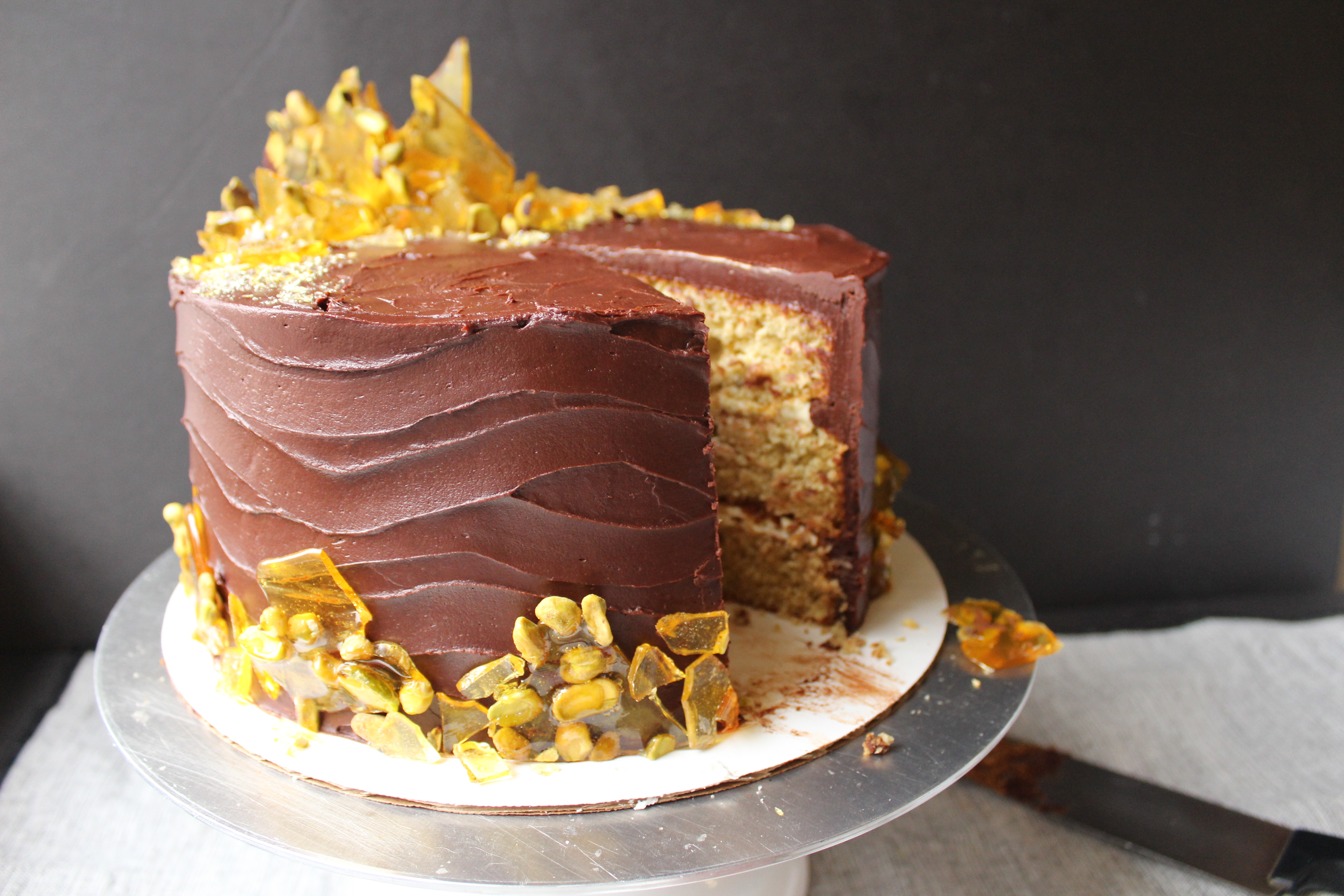 It was surprisingly tasty. Next time, I will definitely add some salt to make them even better!
Recipe adapted from Handle the Heat
Ingredients
1/4 cup pistachio paste
12 tbsp unsalted butter (1 1/2 sticks)
1 3/4 cups granulated sugar
1 cup shelled, raw, unsalted pistachios
3 cups all purpose flour
1 tbsp baking powder
1 tsp baking soda
1/2 tsp salt
1/4 cup cornstarch
1 large egg
1 tsp vanilla extract
1 1/2 cups milk
3 egg whites
1/4 tsp cream of tartar
Directions
Preheat oven to 350 degrees F. Grease 3 8in baking tins with non stick cooking spray and line the bottom with parchment paper (place the pans on top a large sheet of parchment, draw a circle around the circumference with a pencil, and cut out). Set aside.
Pulse the pistachios in a food processor until finely ground. Careful not to let it go for too long, since it will turn into a paste. Pour ground pistachios into a large mixing bowl.
In the bowl of your stand mixer or in a large bowl using an electric hand mixer, cream pistachio paste, butter and sugar for 2 minutes at medium speed.
While that goes, combine the ground pistachios with flour, baking powder, baking soda, salt and cornstarch. Whisk until combined.
Stop the mixer, scrape down the sides and bottom of the bowl, turn mixer back on. Add egg, then vanilla. Then alternately add the dry ingredients with the milk – 1/3 dry ingredients, 1/2 milk, ending in the dry ingredients. Periodically scrape down the sides and bottom of bowl. Stop mixing when dry ingredients are just incorporated in the batter.
In a medium bowl, combine egg whites with cream of tartar. Whisk with an electric mixer at medium speed until stiff peaks form when you pull the beaters up and out of the egg whites. Add a little beat of the beaten egg whites to the batter to thin out the batter. Then add half of the remaining egg white, folding in carefully so as not to deflate them. Add the second half and fold just until you no longer see white streaks.
Divide equally between the three prepared pans and bake for 28-30 minutes until browned on top and a toothpick inserted comes out clean. Cool the cakes and level them before frosting.