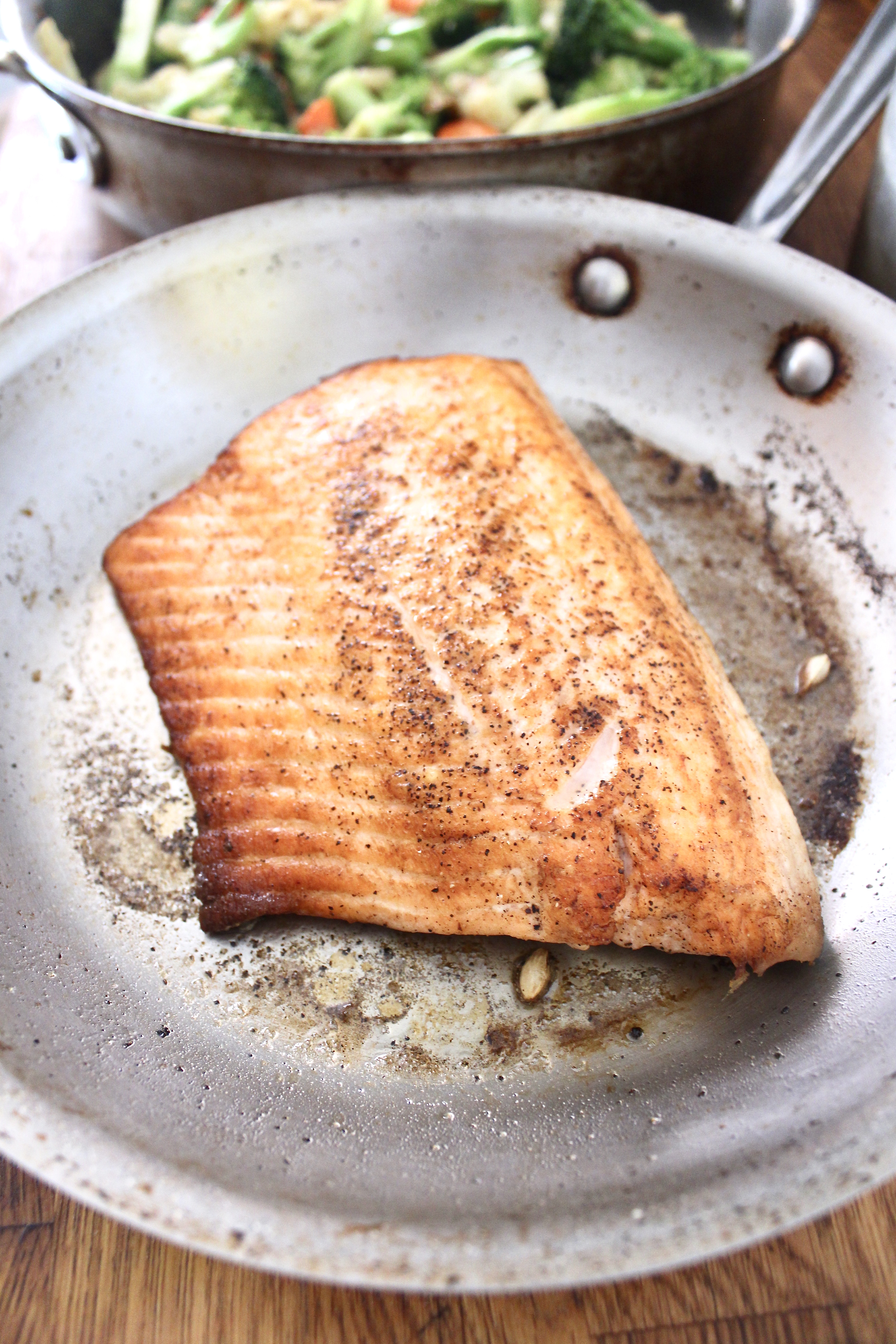 It's January and I know many of us are trying to find ways to eat healthy. I've had a little extra time on my hands so I've been coming up with different ways to eat healthy/less meat/fewer carbs. Not exactly low fat though. Kale caesar salad. Chana dal with veggies and coconut milk. Tomato soup. Today I whipped up this salmon and mixed vegetable sauté. Follow along for inspo on my Instagram!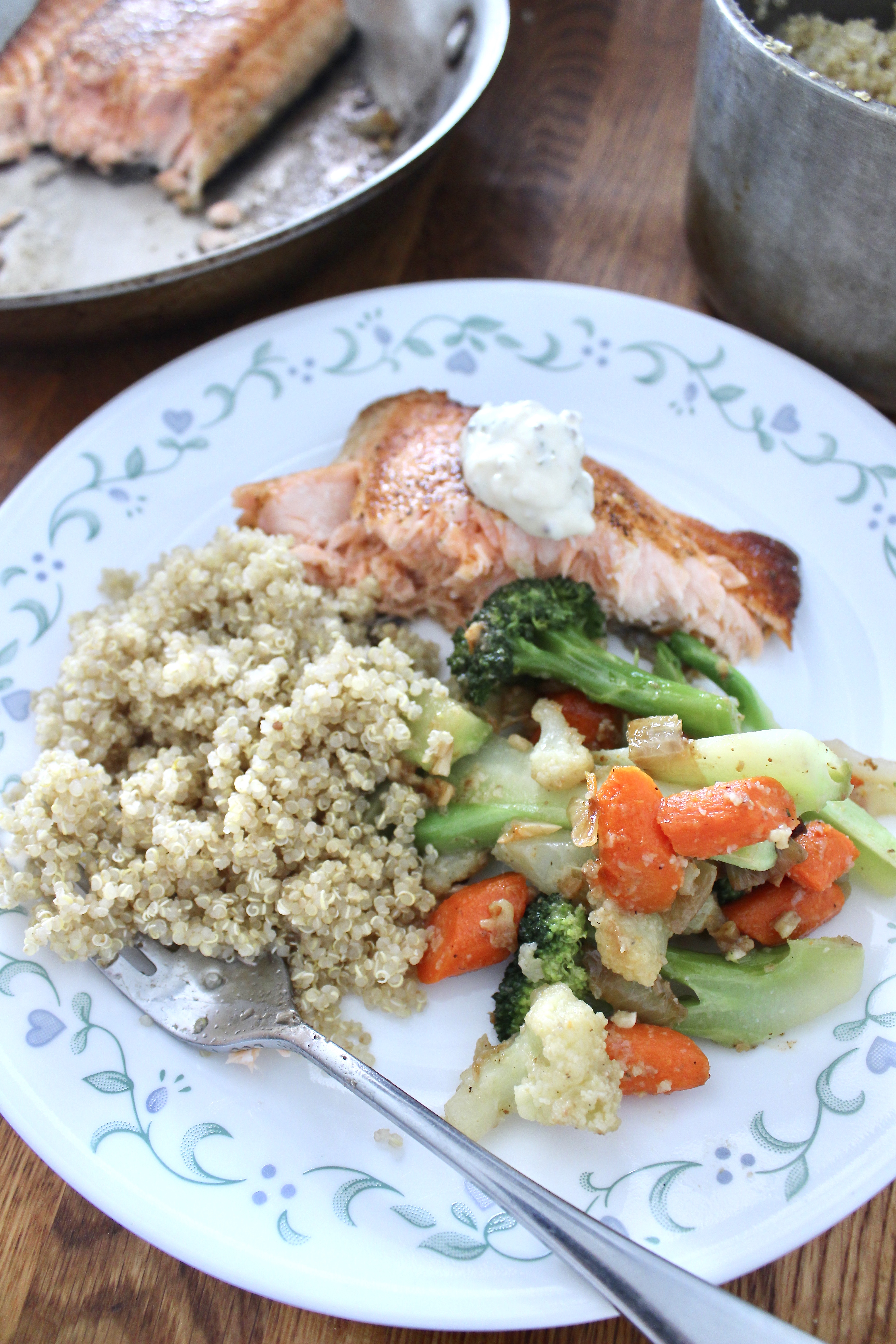 I'm calling this my #baesic salmon because even though it's a basic way to cook it, it's bae in my recipe book. I've tried cooking salmon just on the the stovetop, and it just burns on the outside before cooking through on the inside. If you lower the heat too much you don't get the nice crust. This way, if you sear it on the stovetop, finish it off the oven, you get the best of both worlds. I wasn't sure if it would be done actually, but when I dug into it, it was juuuuuuust slightly pink and rare in the middle. If you prefer it cooked well through, leave in for 2 more minutes.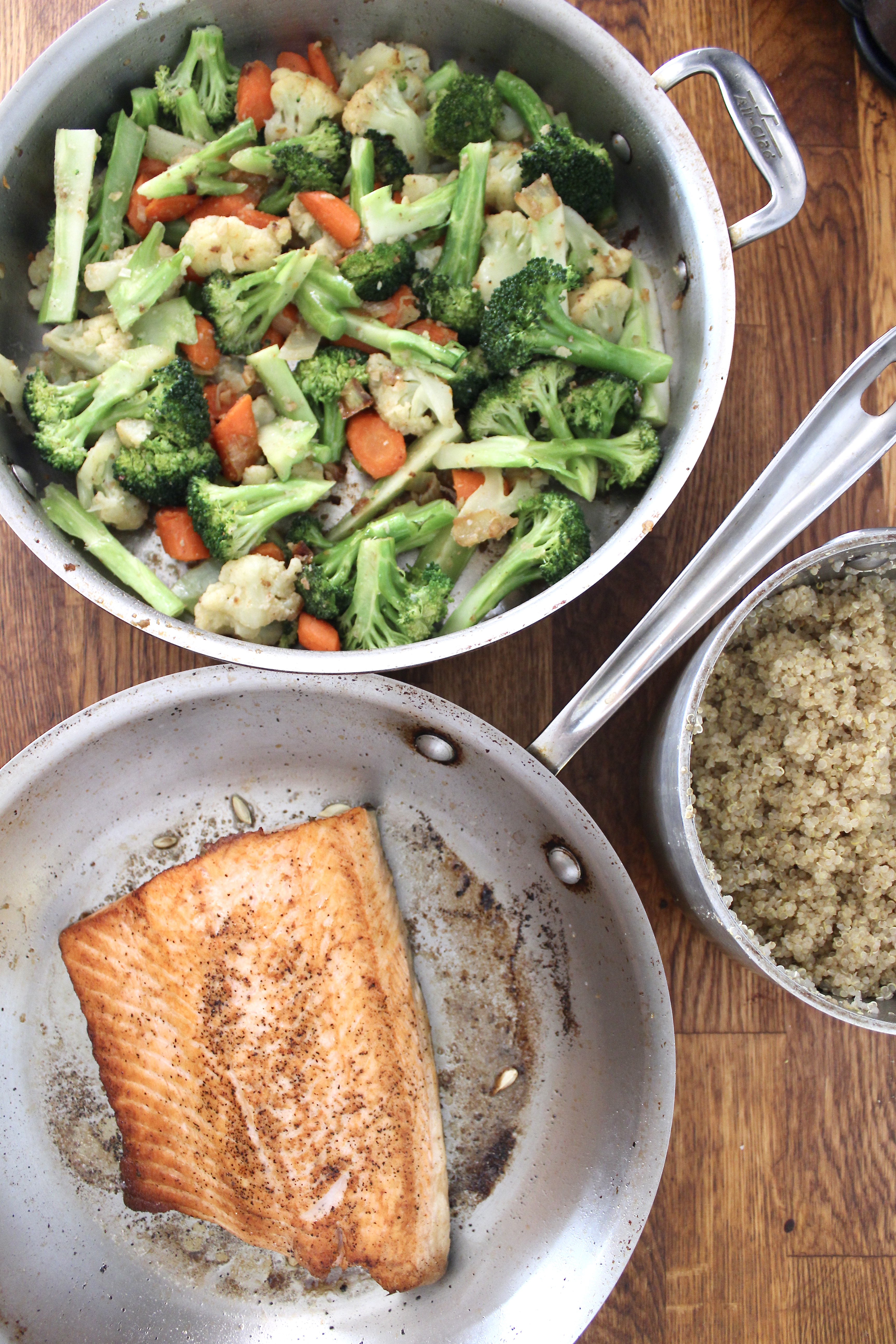 I know we all tryin' to eat more nutritious food, less meat, fewer carbs. And I know salmon isn't exactly the best option either. It's overfished, not sustainable. But I for one need to change things up from beans, lentils and eggs. We still do chicken once a week or so. Red meat once a month maybe. Baby steps.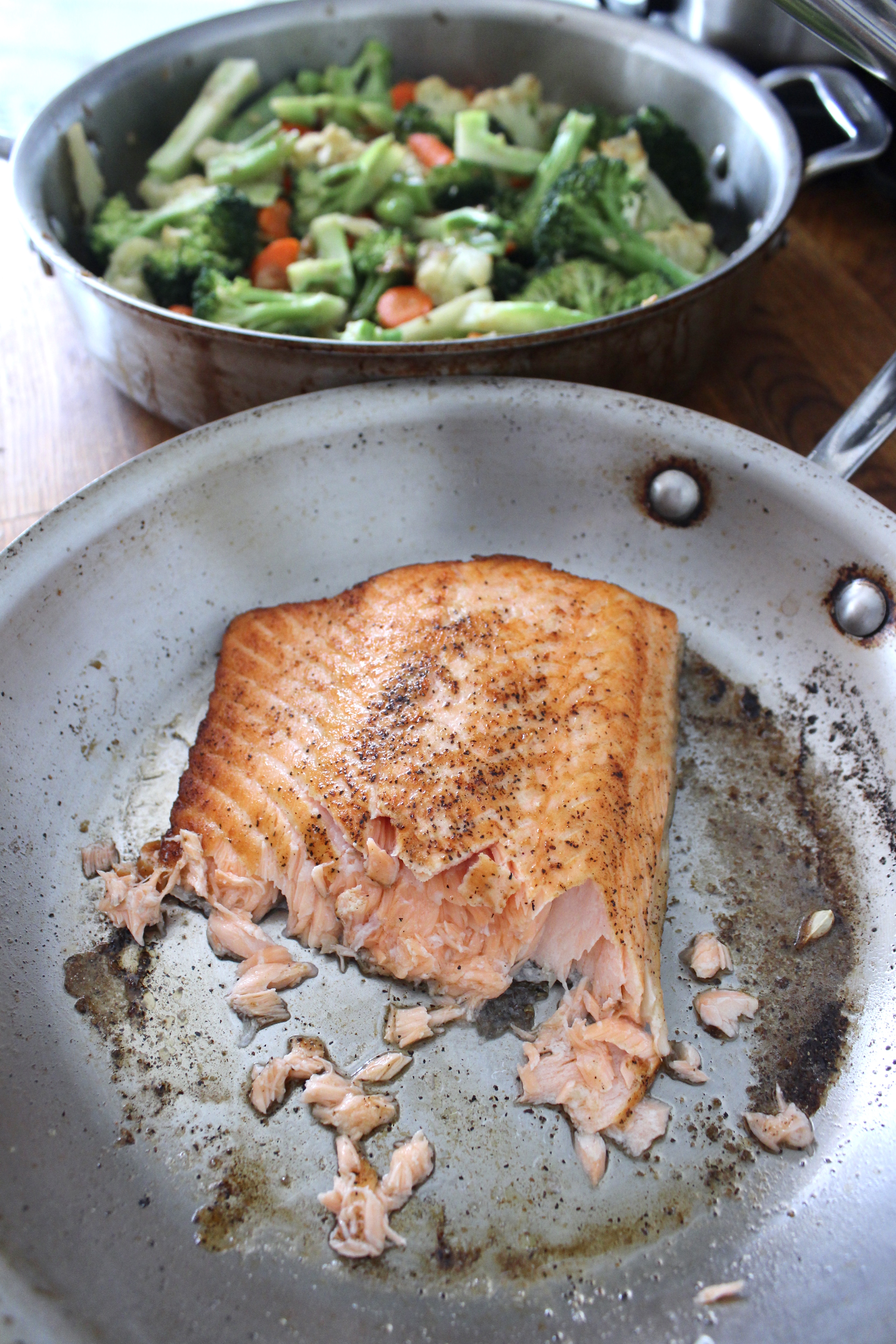 Ingredients
For the mixed vegetable sauté:
3 tbsp olive oil
5 organic carrots (they're smaller, so if using big carrots, use 3-4)
1/2 large onion or 1 medium onion
salt and pepper to taste
3 cloves garlic, minced
12 oz cauliflower florets, or from 1 head of cauliflower
12 oz broccoli florets, or from 1 large head of broccoli (I had two small heads of broccoli)
2 tbsp unsalted butter
more salt and pepper to taste
For the salmon
2tbsp olive oil
2tbsp unsalted butter
12 oz salmon fillet
salt and pepper
a squeeze of lemon
Directions
For the vegetable sauté: heat up oil in a large pan over medium-high heat. Add carrots, saute for 2-3 minutes, then add onions. Season with salt and pepper. Cook for 2-3 minutes more. Add the garlic, then broccoli and cauliflower florets. Add butter and more salt and pepper. If the veggies are starting to brown too easily on the bottom, reduce heat to medium. Continue cooking, stirring occasionally until veggies are crisp tender, 10-15 more minutes. Taste for seasoning.
For the salmon: Preheat oven to 350F. Score the skin side of the salmon – about 3 slits diagonally. Season both sides with salt and pepper. Melt butter and olive oil in at least a 9in round french or other ovenproof skillet. When bubbling stops, add the salmon, skin side down. Don't touch it for at least 2 minutes. When there's a nice crust, it'll lift off easily. Flip over carefully, minimizing splatter of hot oil, using two spatulas if necessary. And cook for an additional 2 minutes. Then insert in preheated oven for 7-8 minutes.
Remove from heat, finish with a squeeze of lemon and let rest for a few minutes before serving. Serve alongside steamed quinoa or brown rice.