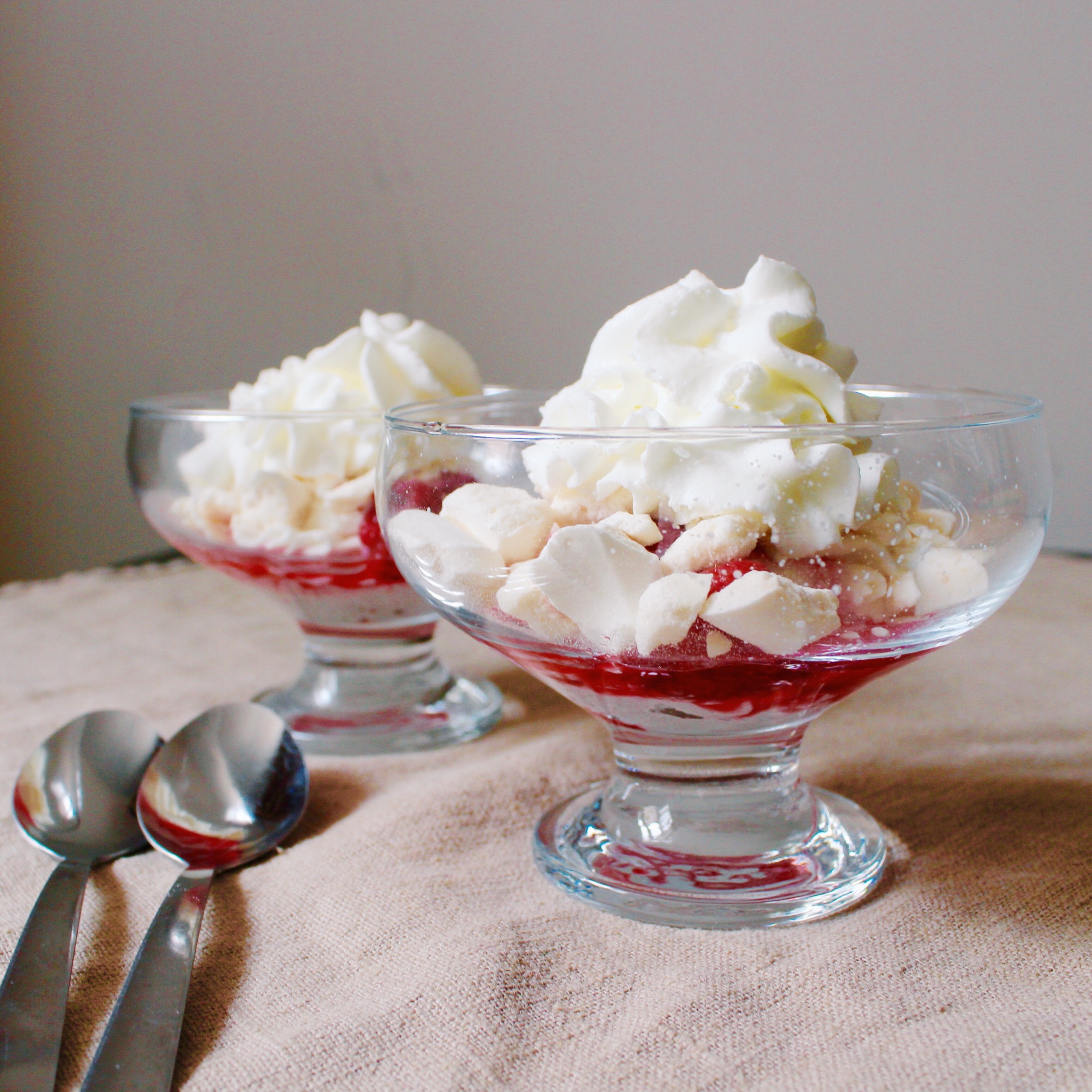 Eton Mess aka Eat-A-Mess. Named for the school where it was first served – Eton College, presumably in the mess hall. For some reason I am surprised when people aren't familiar with this dessert. I mean, didn't everyone watch the episode of Barefoot Contessa when Ina Garten cooked a charity luncheon for Alec Baldwin and the lady from Law and Order?? I mean, she made Alec buy her groceries from a farm stand. CLASSIC INA.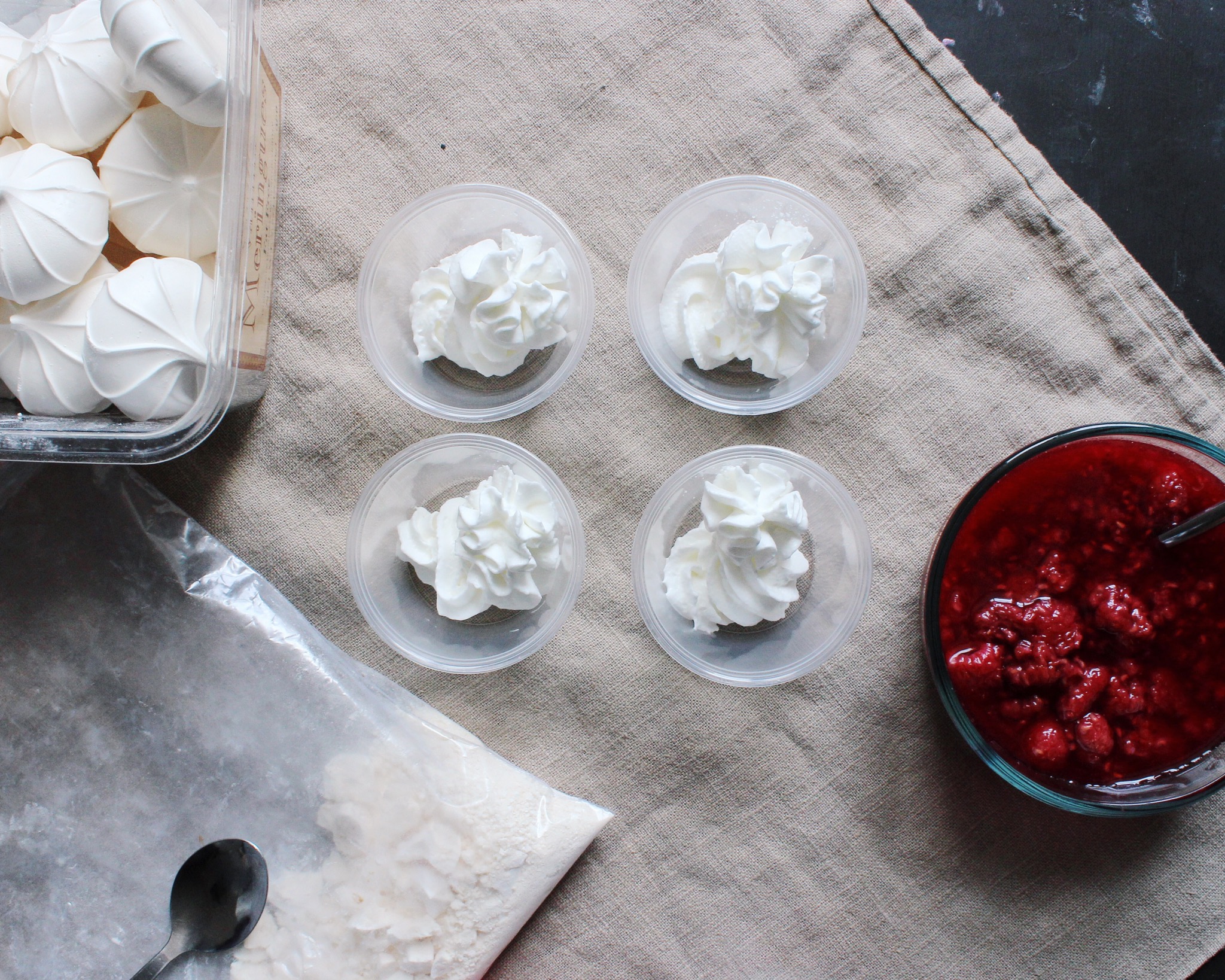 I made this dessert for the first time this week, for a small party I catered for Sukoon Active – a modest athletic wear company. They had their Kickstarter Launch Party and I was there serving up mocktails and small bites. Catering is a lot of work, but so much fun!
Traditionally made with strawberries, Ina adds a twist by making a raspberry compote. I didn't think I was a fan of raspberry desserts until I tried this. Wow – it is so delicious I sometimes steal a spoonful of the stuff when nobody's looking. I omitted the Framboise (raspberry liqueur) from the original recipe, and it still came out great. The tartness from the lemon juice, the flavor of the raspberries, and the sweetness of the sugar all play the most amazing balancing act. Add that to whipped cream and crushed meringues, and it's essentially a play on my pavlova. Nothing beats the textures and flavors of the three ingredients combined. It was definitely a hit at the party!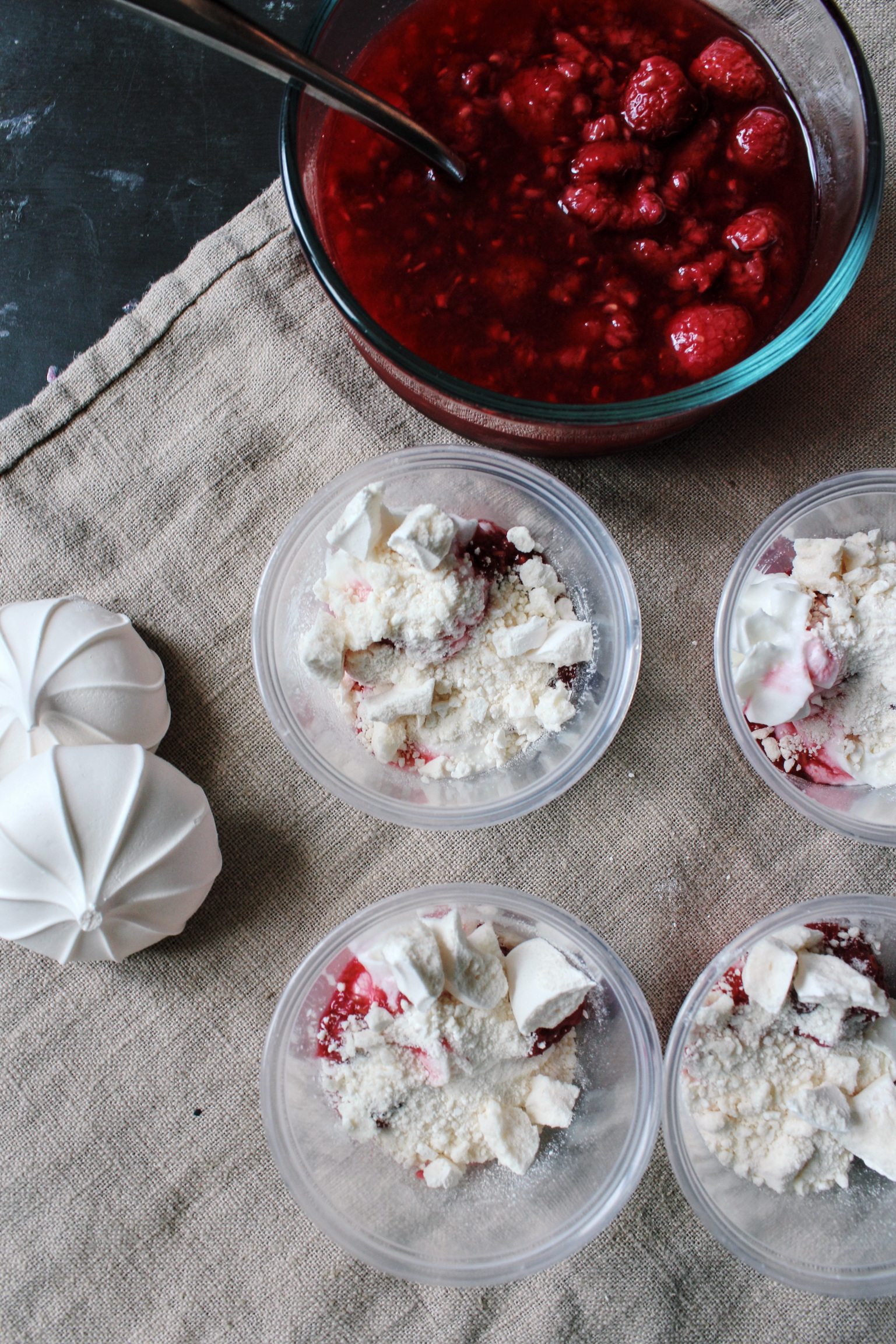 I copped out when making this dessert a second time. I used the whipped cream from a can because I ran out of heavy cream. Don't judge!
Recipe adapted from Ina Garten.
Ingredients
4 6oz. packages of raspberries
1 cup plus 3 tbsp sugar
1 tbsp freshly squeezed lemon juice
1 1/2 cups cold heavy cream
1 tsp vanilla extract
1 cup crushed meringues (available at Trader Joe's and sometimes by the deli section of my local grocery)
Directions
Combine 2 packages raspberries, 1 cup sugar and 1 tbsp lemon juice in a medium saucepan. Crush the berries lightly with a fork and cook over medium high heat until the mixture comes to a boil. Lower the heat and cook for about 10 minutes until the mixture thickens. Turn off the heat and add the remaining two packages raspberries. Fold into the mixture gently then refrigerate until very cold.
In the bowl of your stand mixer or in a large bowl with a handheld mixture, beat cream with 3 tbsp sugar and vanilla until stiff peaks form.
To crush the meringues, place them in a large ziploc bag and close tightly. Bang them with a rolling pin or something similar until you get small pieces.
Layer about 1 tablespoon of the whipped cream, 1 tbsp raspberry compote and 1 tsp crushed meringues in a dessert cup or glass. Top off with whipped cream and enjoy immediately.