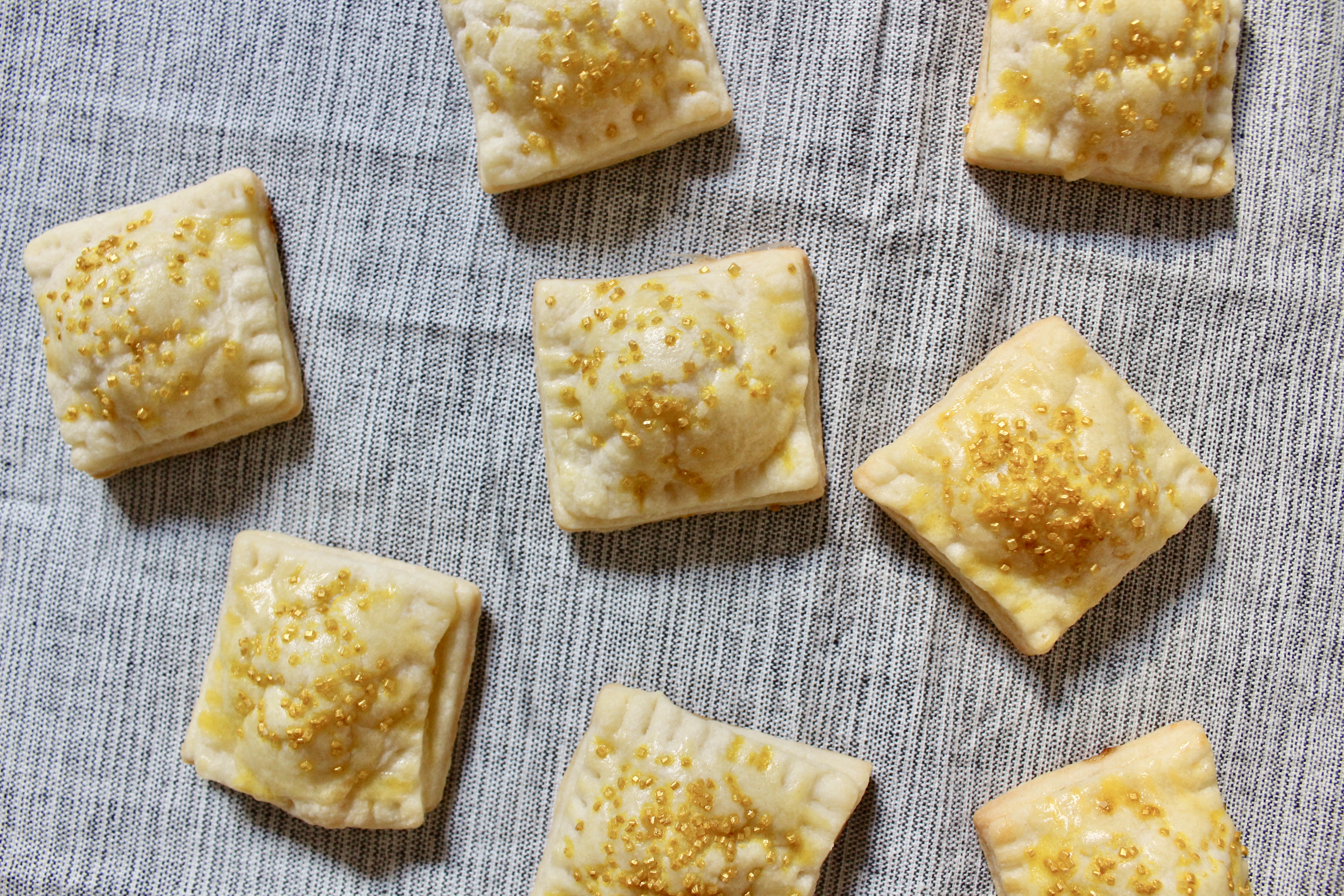 I'm baaaaaaaack! After recovering from hosting Thanksgiving dinner, I'm back in the kitchen making some of my favorite things: small bites, filled with butter, sugar, then topped with more fat and more sugar. Yeah! Just in time for the holiday season, I'm whippin' out my trusty old "100 Best Cookies" catalogue from Better Homes and Gardens that I got way back when I used to live Poughkeepsie (2010). I don't celebrate Christmas, but I love all the holiday baking that comes along with the season.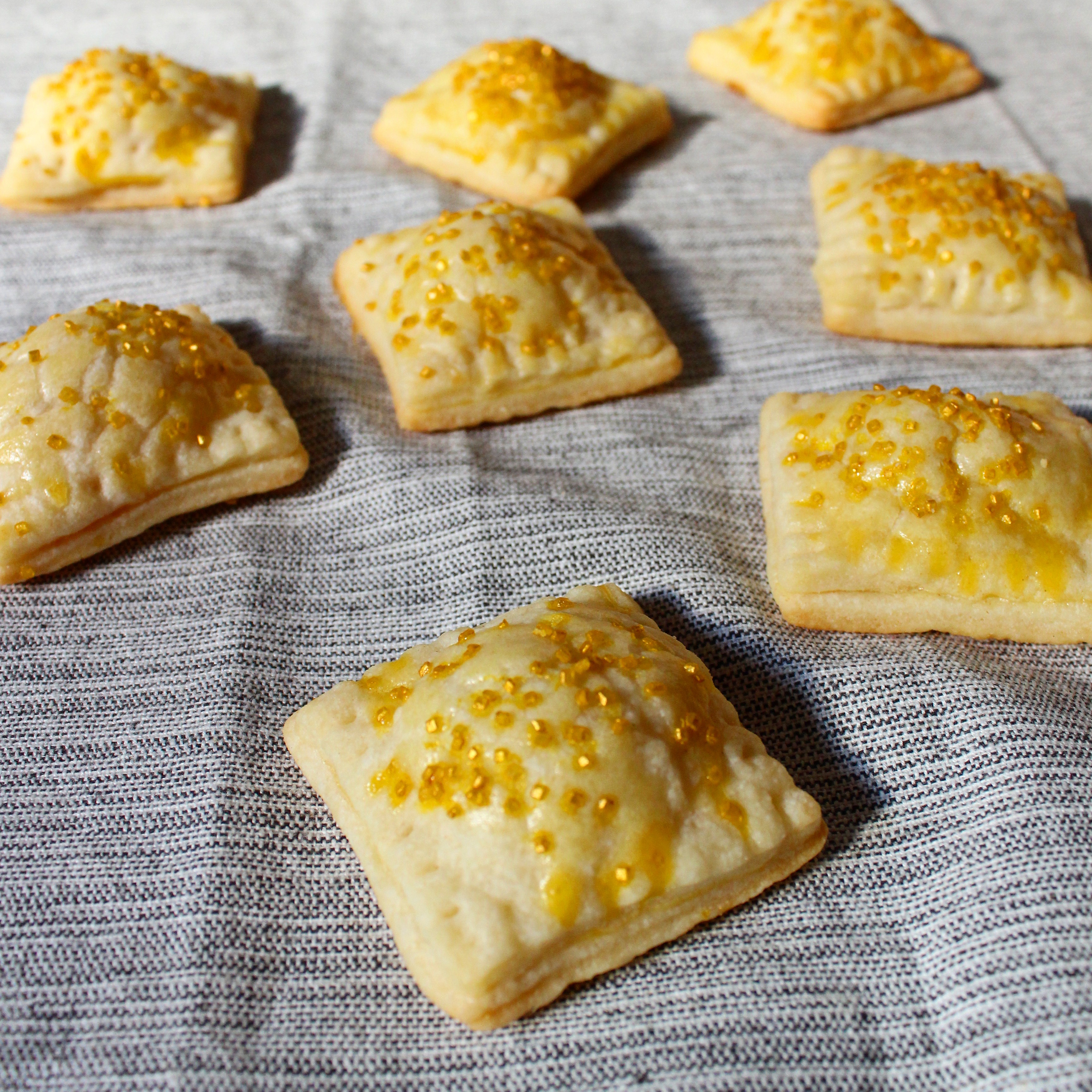 I've also been watching a whole lot of The Great British Baking Show so I'm super inspired by all the different creations I see on the screen. What shall I bake next? A Stollen (a German holiday bread studded with dried fruit with a marzipan center)? A chocolate twist bread? Chocolate revel bars? I'm enjoying the down time to explore cakes' buttery brethren – though I'll be back in the kitchen baking cakes as of tomorrow =).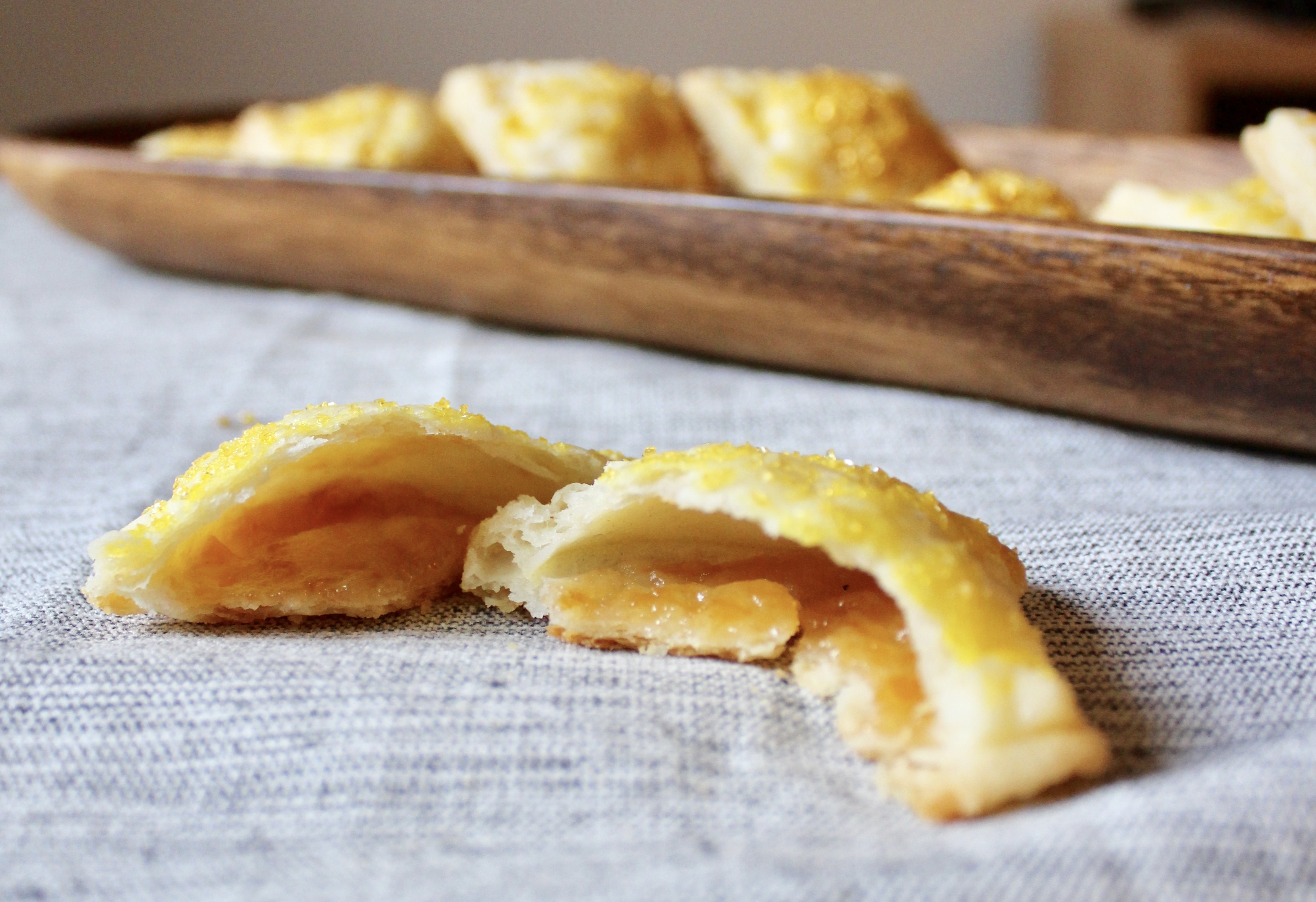 I was fascinated by this recipe. Most pastry dough requires skillful combining of cold butter and flour in order to achieve flaky texture, but this fool proof dough creams together butter and cream cheese and mixes in flour. Somehow they puff up in the oven and look like glorious buttery pillows. The best kind of bedding I'd say! I did something sneaky and subbed mini chocolate chips for the jam in some of my later pillows. Hope you enjoy these as much as my friends and family have!
Recipe adapted from Better Homes and Gardens "100 Best Cookies" 2010.
Ingredients
1 cup butter, at room temp
8oz cream cheese, at room temp
2 cups all purpose flour
1/4 tsp salt
1/4 cup apricot preserves (or any other fruit preserve you like)
1/4 cup almond paste (I used marzipan)
1 egg, lightly beaten
1 tablespoon water
Pearlized, coarse or granulated sugar for sprinkling
Directions
In the bowl of your stand mixer, or in a medium bowl using an electric hand mixer, beat the butter and cream cheese on medium speed for 30 seconds. While that mixes, whisk together flour and salt in a small bowl. Reduce speed to low and add flour mixture to the butter/cream cheese mixture. Mix until just combined, scraping the sides of the bowl occasionally. Divide the dough in half, place each half onto plastic wrap and flatten into disks. Refrigerate for 1 hour or until firm enough to handle.
Preheat oven to 375 degrees F. In a small bowl beat egg with water. Set aside.
Lightly flour your work surface and roll out your dough to 1/8in thick. I like to transfer my dough to a parchment paper lined baking sheet at this point so I can cut out and remove scraps without messing up the shapes. Use a 2in square cookie cutter to cut out an even number of squares. Removed scraps, roll up and wrap in plastic. Refrigerate. Place a scant 1/4tsp preserves and a scant 1/4tsp almond paste on each square. Use a pastry brush to apply a small amount of egg wash around the borders. Set aside.
On a separate work surface, roll out the second dough to 1/8in thickness. Cut out the same number of squares as the first dough. Carefully lift each square (I use a small offset spatula to help with this) and place on top of a square containing apricot/almond. Smooth out the tops so the edges line up with the bottom squares. Crimp the edges closed with a fork. Brush with egg wash (lightly) and dust the tops with pearlized or granulated sugar. Bake in preheated oven for 10-12 minutes. Repeat with scraps.