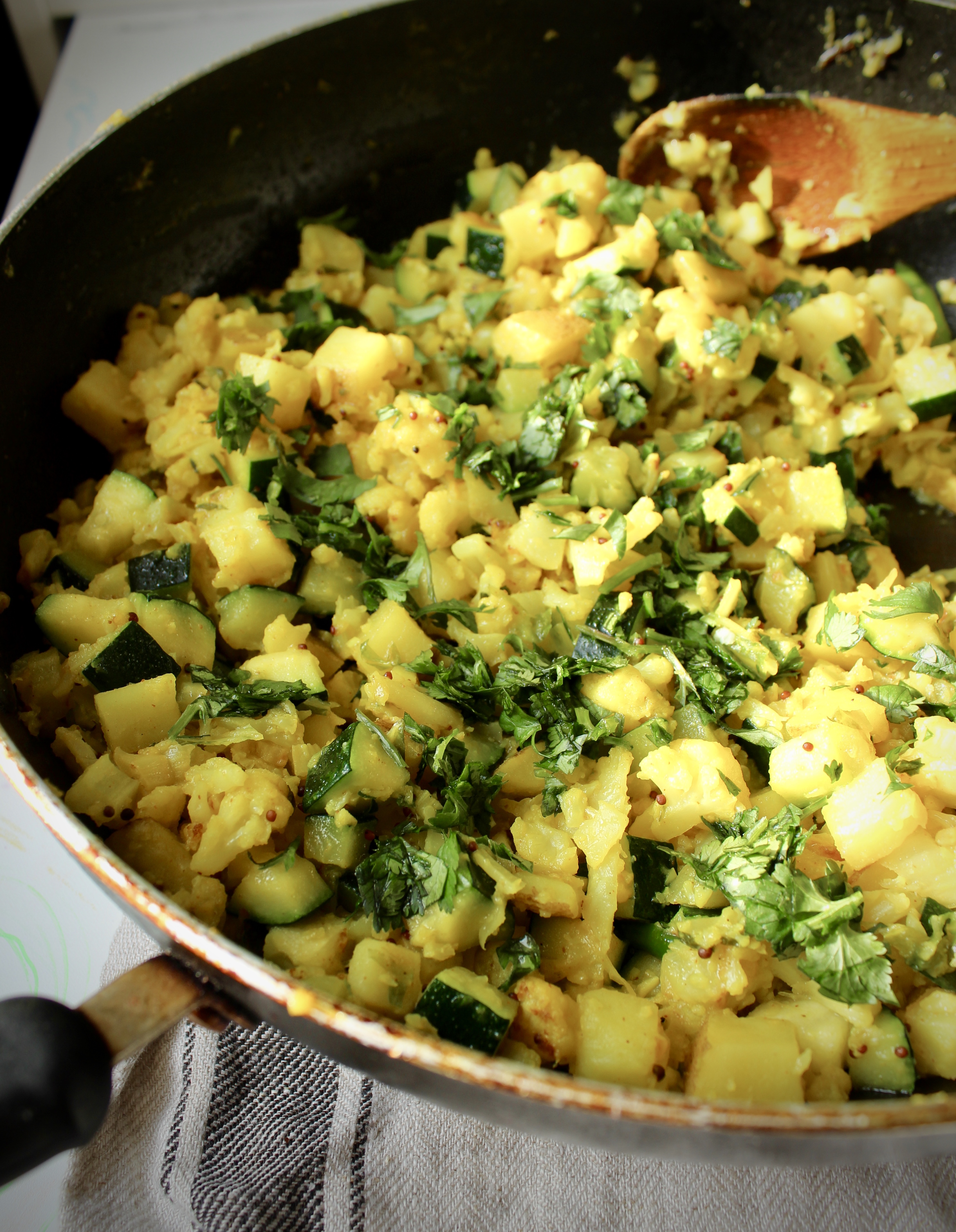 I had to make something vegetarian after my husband made me watch HBO's Vice the other day. This particular episode was on the industrialization of the meat industry and man was it terrifying. The ghastly amounts of meat we eat day in day out. How the farm-to-table movement is essentially our savior if we want to reap the rewards of our earth in any sort of sustainable fashion. Scary stuff! But we can do our part by 1) supporting businesses like Honest Chops and local farmers market vendors that only source from sustainable farms and 2) eating less meat. There's a world of protein out there (eggs! chickpeas! tofu!) explore!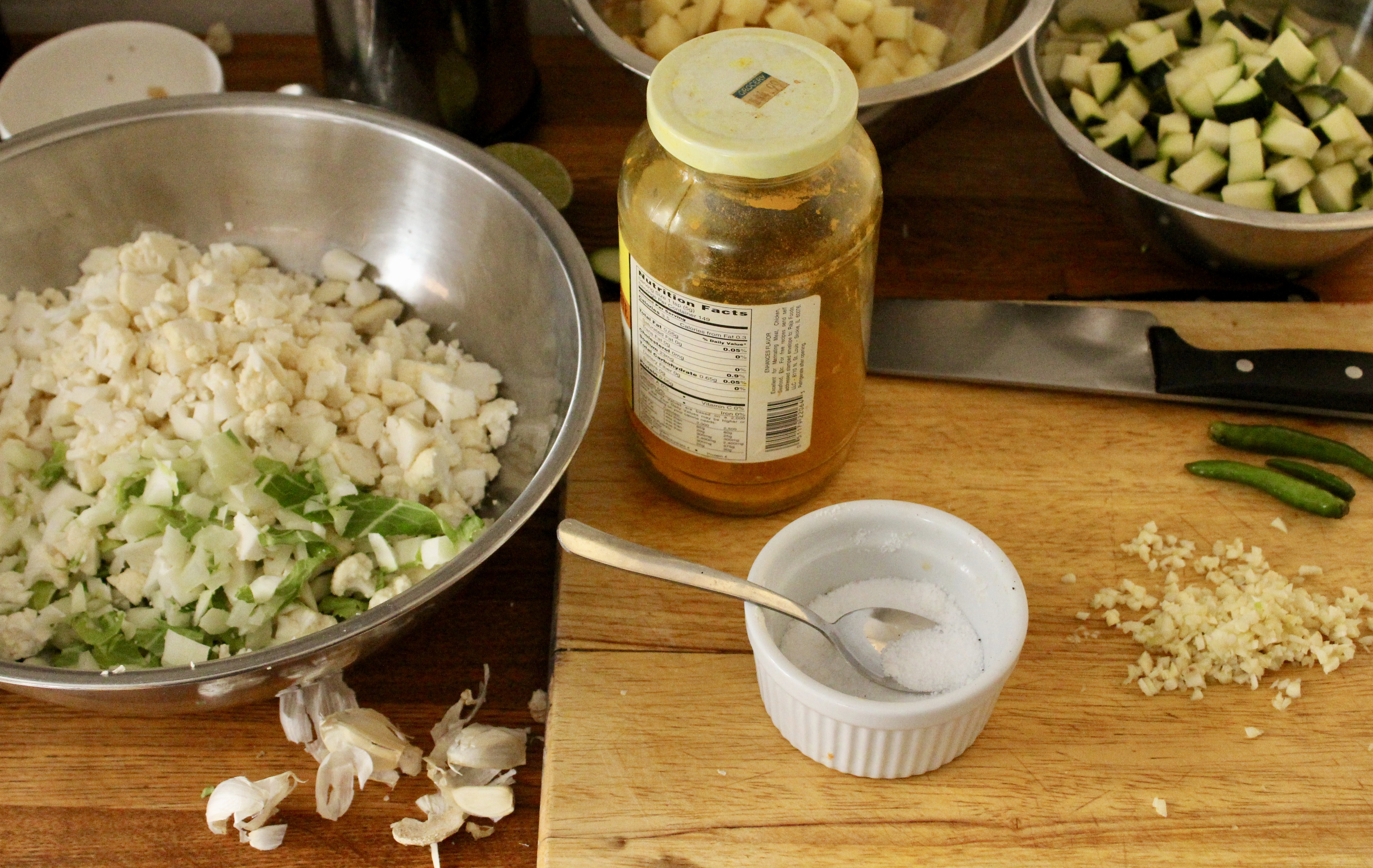 If you've been trying to to eat less meat, or just eat/cook more vegetables at home, I've summarized some pointers for cooking veggies below. Luckily for you I've made so many mistakes when cooking veggies throughout the years I have some words of wisdom to impart, especially when dealing with cauliflower:
Don't waste. I use the outer leaves as well as the florets. It's often discarded in American cooking shows, but why the heck wouldn't you eat it?I just toss the tough inner core, and finely chop the rest. Time consuming, but a worthwhile endeavor.
Dicing it into tiny tiny pieces is major key. Cauliflower can be bland, so the best way to ensure it absorbs as much flavor as possible, is by dicing it super small, increasing its surface area.
Sequence is also key. Once you start cooking vegetables regularly, you get a sense for which ones take longer to cook than others. Root vegetables like carrots, potatoes and turnips always take longest. Then onions, peppers and cruciferous veggies (broccoli, cabbage, cauliflower, collard greens, kale, etc.). Finally, your tender greens (zucchini, spinach, peas).
Garlic is your best friend. With some veggie dishes like spinach or broccoli/mushroom stir fry, I'll fry the garlic in the oil so it the flavor of the garlic diffuses through the dish. I only do this for quick cooking vegetables. If you try to do this in a dish like this, or potato hash, the garlic will simply burn. Thus I add it after the vegetables have had an initial cooking period.
anchovy paste is also a fun way to flavor your vegetables. It's salty and nutty when dissolved in oil. A fun trick I learned in Italy.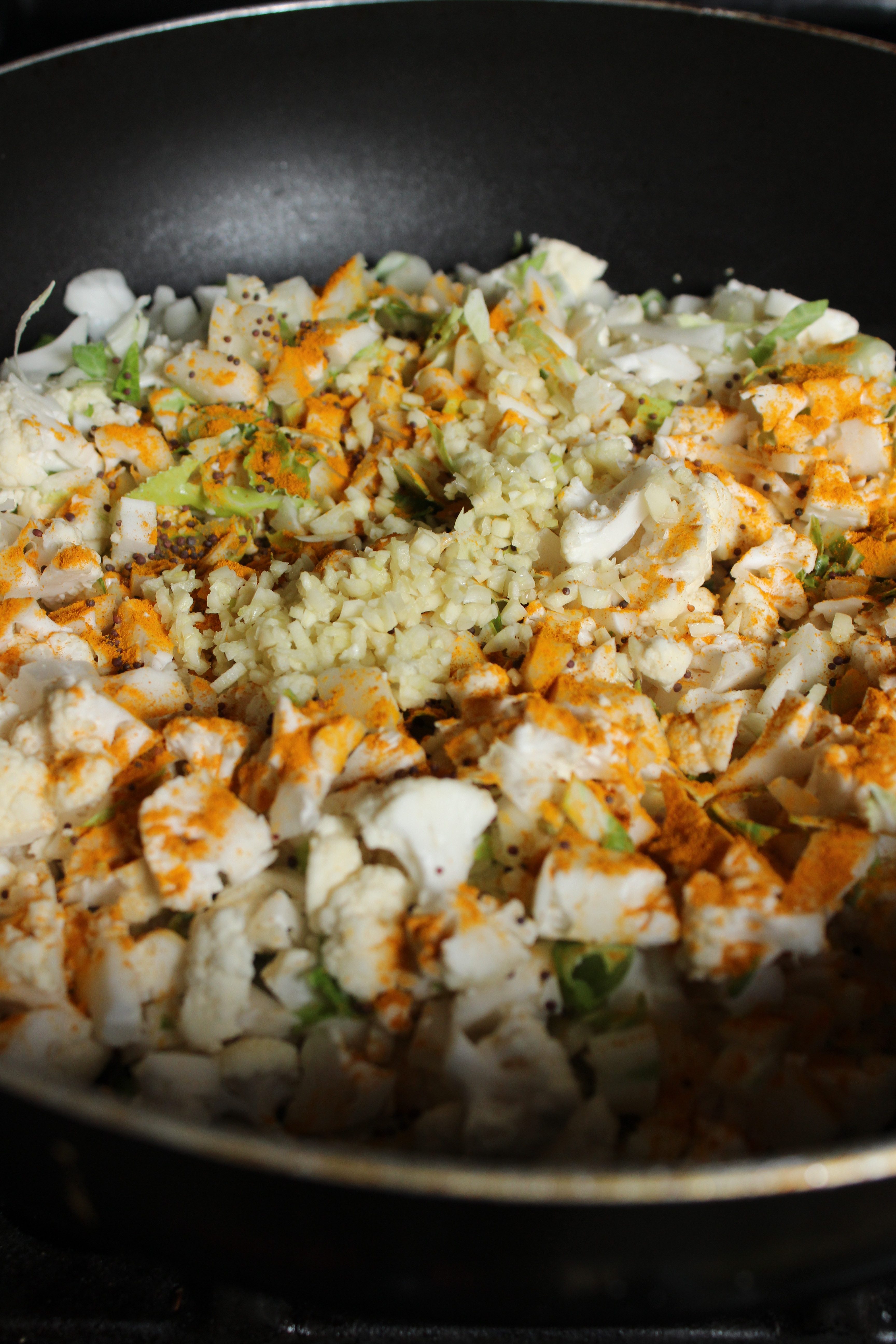 The same guidance I gave for the garlic goes for the mustard seeds. Many recipes will say to first heat mustard seeds or pach phoron (Bengali 5 spice) in oil until they start to pop. Once again, because the total cook time for a stir fry with veggies in this quantity can go over 20 minutes, I wanted to avoid burning any of the elements.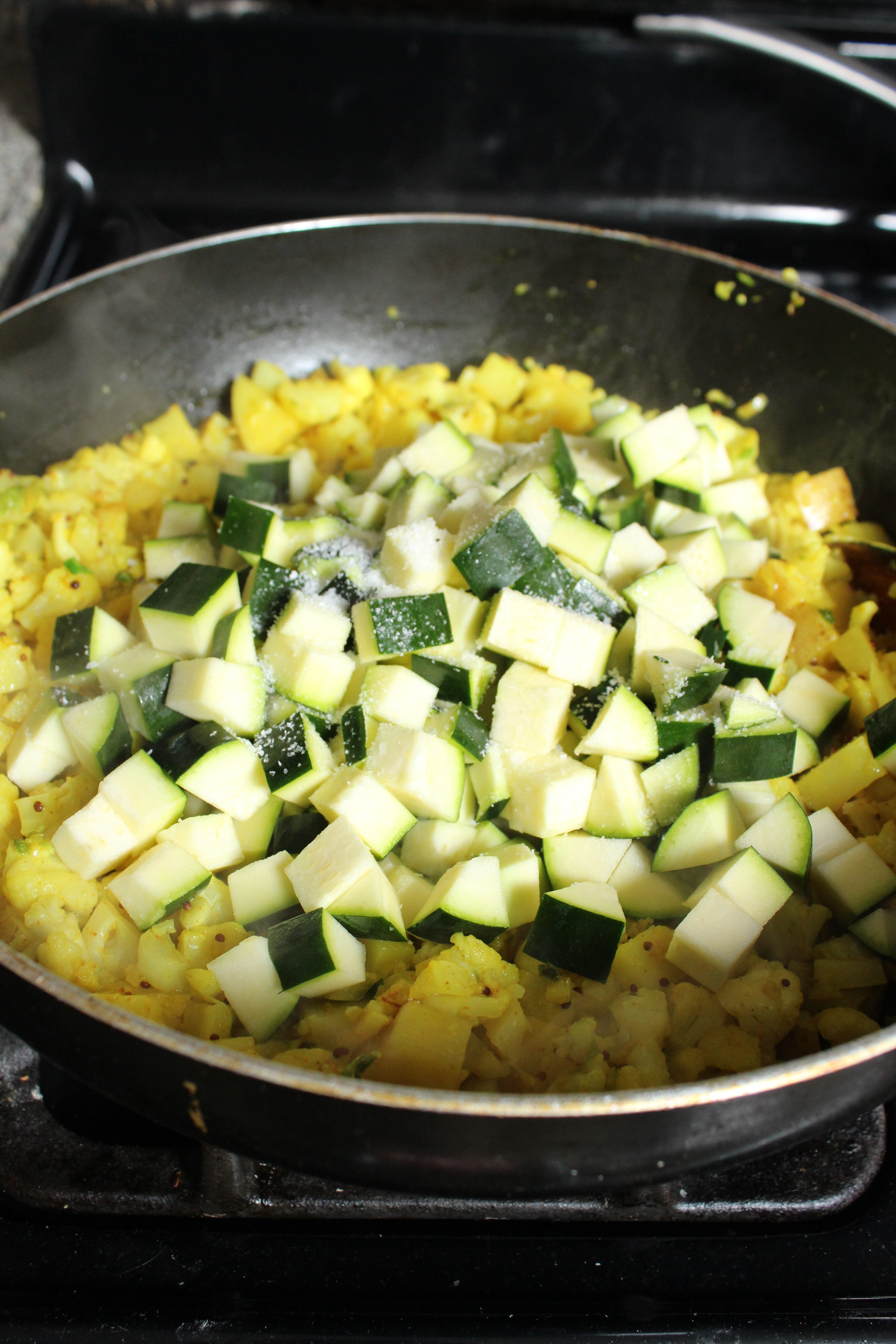 Hope you enjoy this Bengali staple and add it to your Meatless Monday menu. The zucchini at the end can be swapped out for many other vegetables. Growing up my mom would always keep a bag of frozen mixed vegetables, to add to a stir fry like this and really stretch a buck.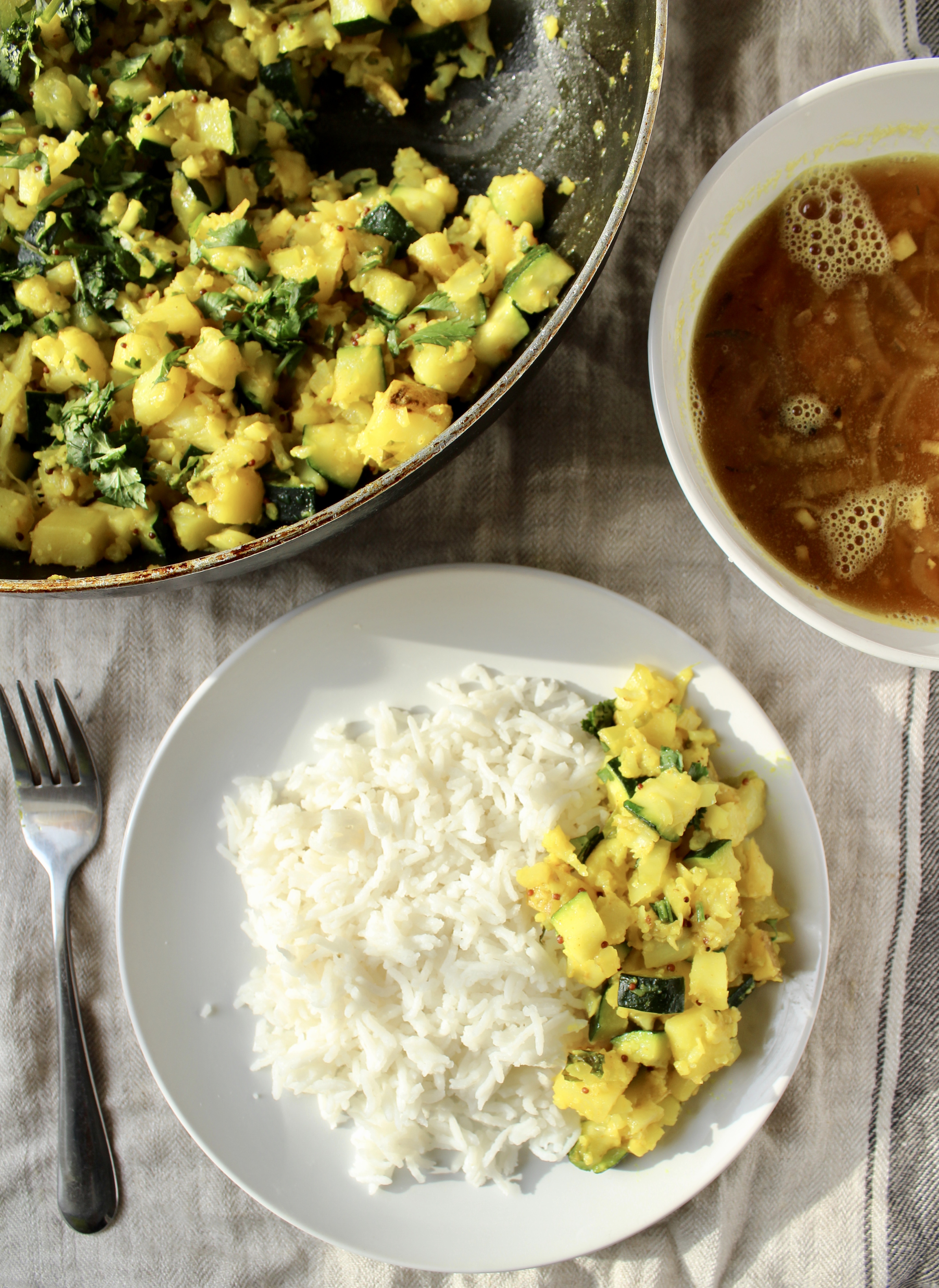 Serve with rice, daal, and any other protein of choice.
Ingredients
1/4 cup olive oil
1 large potato, diced small
1 head cauliflower, diced small
1 tsp mustard seeds
4 cloves garlic, minced
2 tsp salt
1 tsp turmeric
2 zucchini, diced small
2-4 green chilis, split down the middle
1/2 cup chopped cilantro, finely chopped
Directions
In a large wok, heat oil over medium high heat. Add the potatoes in a single layer, then the cauliflower on top of them. Allow to cook for 2-3 minutes without stirring.
After the potatoes have started to cook, stir to evenly distribute the cauliflower and potato, and add the mustard seeds, garlic, salt and turmeric. Depending on whether you like it spicy or not, add the chilis at this stage as well. Stir to combine and cook for 10-12 minutes, stirring occasionally.
Add the zucchini and continue to cook. If you like your feed less spicy, add your chilis now. Cook for an additional 7-8 minutes or until all the vegetables are tender. Take care to moderate the heat, and move the vegetables from the bottom of the wok to the top, so nothing browns excessively and all the veggies cook slowly.
Add the cilantro in the last minute of cooking. Taste for seasoning. I used a total of 2 3/4 tsp salt when I made this dish. Serve with white or brown rice.