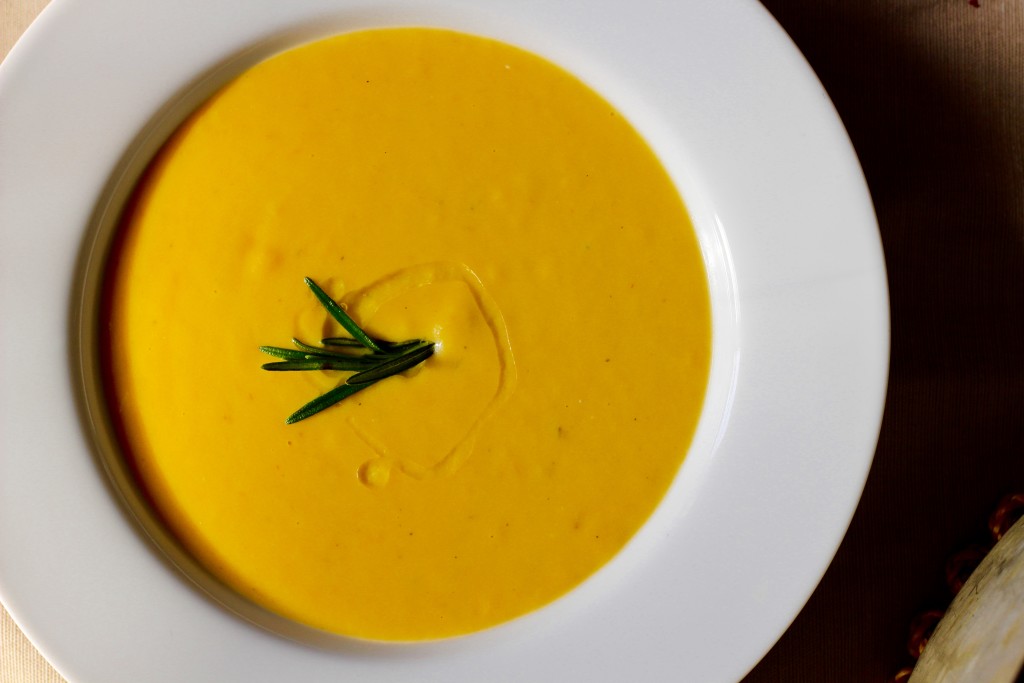 I had a hankering for warm, comforting American dishes the other day. Creamy tomato soup. Potato leek soup. Corn chowder. Pan seared scallops. Flat bread dotted with goat cheese and herbs. Just things I wouldn't usually make since there isn't a huge appetite for these things in our household. Take exhibit A: potato leek soup. Despite my daughter's proclamation that she LOVED THIS SOUP and my husband's accolade, "this soup's good, Jaan!", they each had just one serving. Just one. So guess who else had ALL the remaining servings?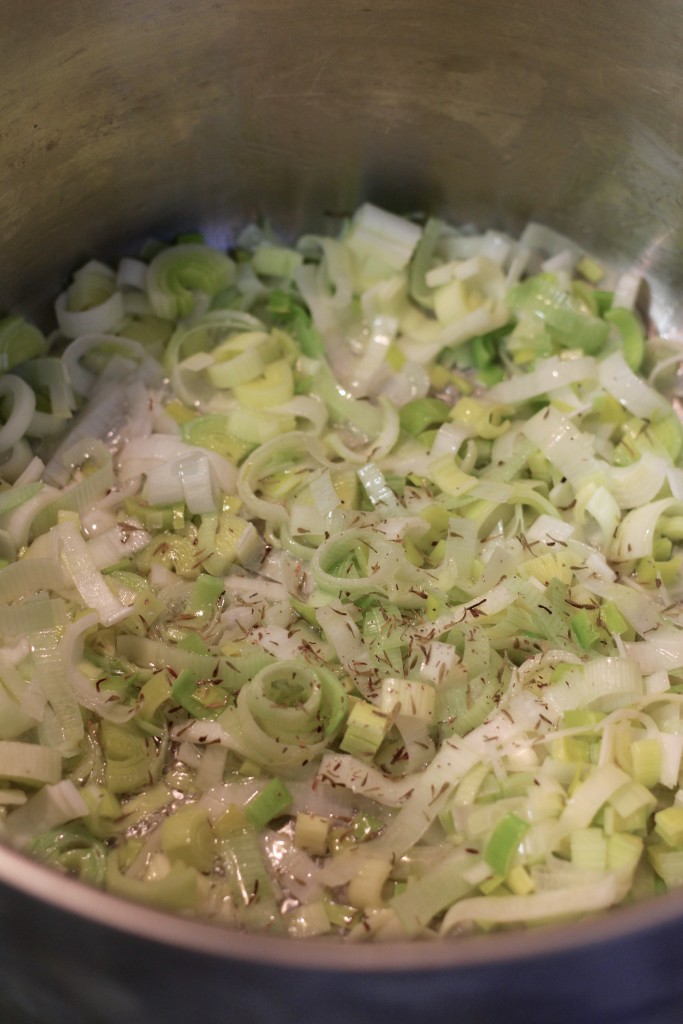 Yours, truly, of course. When I was a work study (undergraduate doing an on-campus job) at Columbia Business School, I would go down to the cafeteria and scope out what I could afford. Back then, a small soup with crackers cost about $4.75. With tax, it came out to almost $6. Which was a lot for me to fork over for lunch. But a girl's gotta eat. Neither the $3.50 muffin nor the $12 sandwiches weren't good alternatives.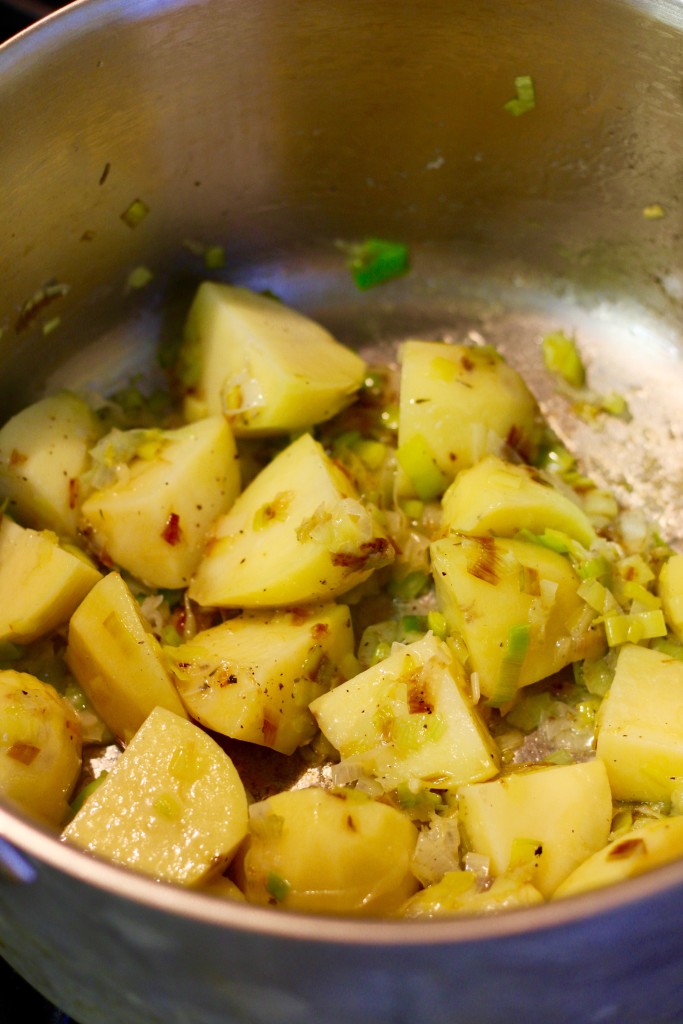 I looked at a bunch of different recipes before diving into this. I knew I wanted to caramelize the leeks a bit. I knew I didn't have chicken stock on hand, and not even the full amount of vegetable stock needed for this amount. I knew despite all the different herbs I read people used, I wanted to use dry thyme (one of my favorite pantry items since it adds such a lovely aroma and flavor and I could sense my kids associating its scent with my cooking), and rosemary. Finally, I knew I didn't want to have a big huge batch because something told me I'd be eating 90% of it.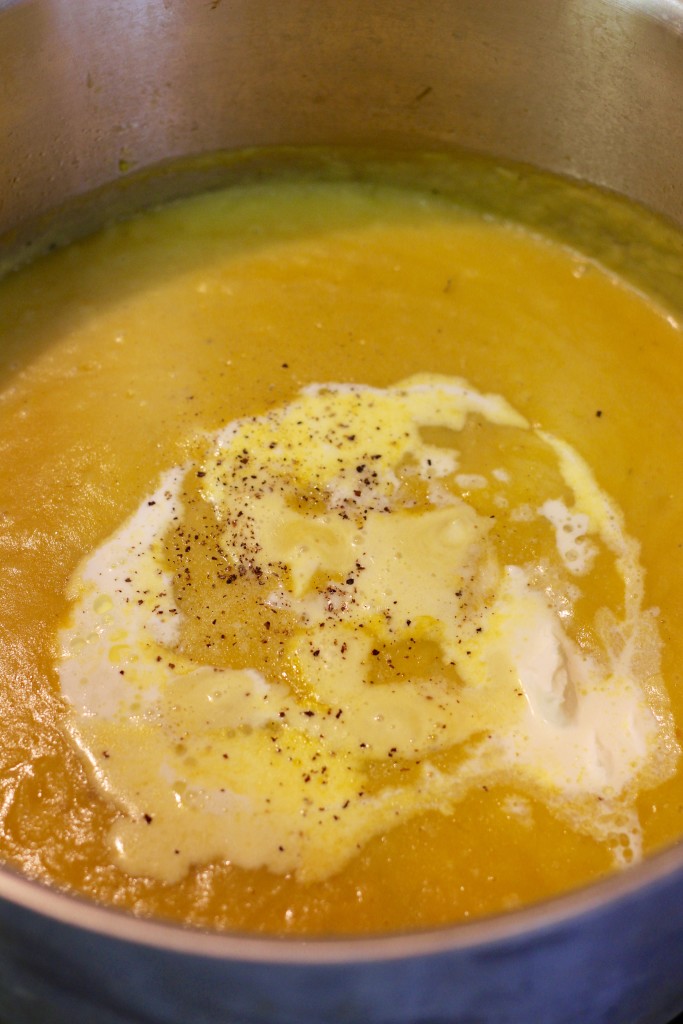 So I halved the amounts I read in other recipes, I sautéed the veggies a bit longer, and I used a combo of vegetable stock and water. Depending on the type of vegetable stock you use, your color will vary. Mine was the low sodium one from Trader Joe's. Made from carrots, tomatoes, among other vegetables. Thus imparting an orange hue to a normally off-white soup.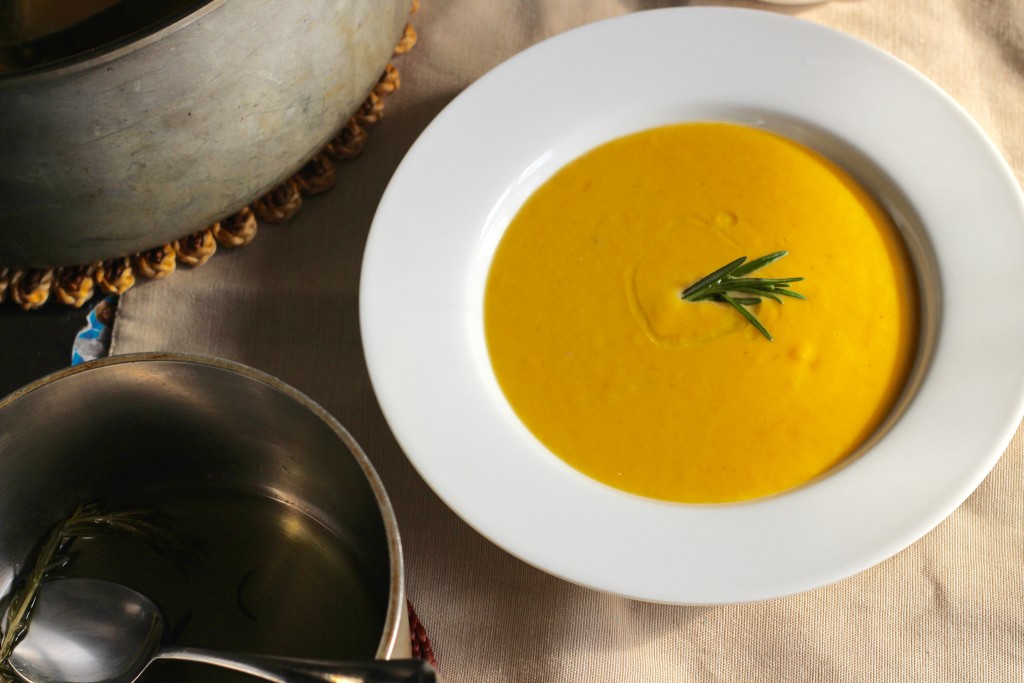 The type of vegetable stock you use will also affect the seasoning required, so make sure to add just enough salt and pepper until it's really really tasty.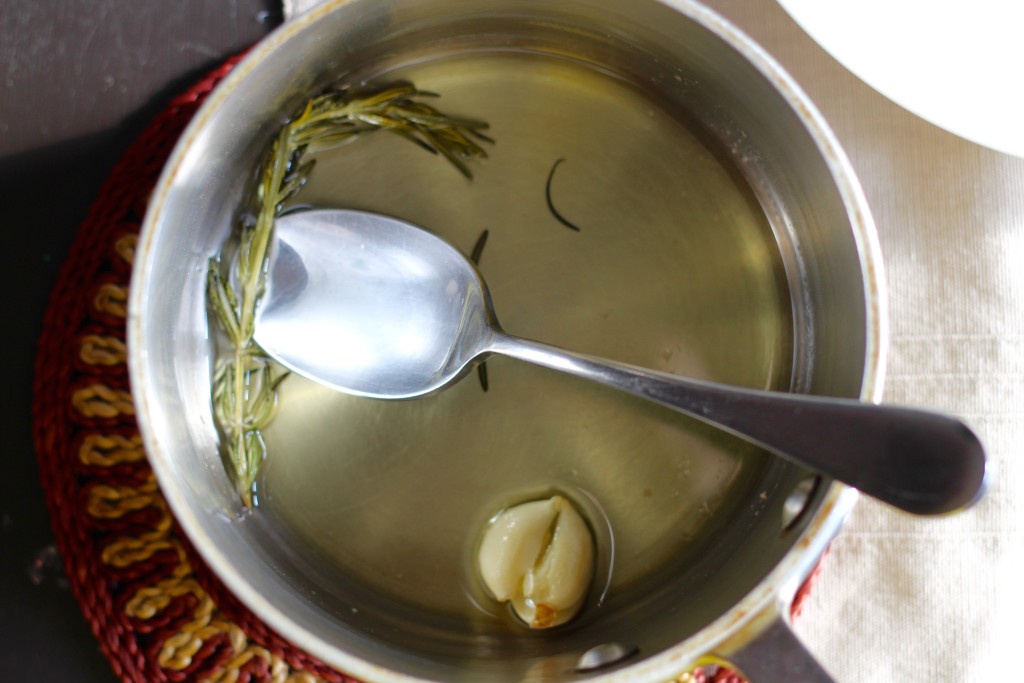 I didn't put rosemary in the soup directly. I thought the presentation and flavor would be more pronounced with an infused oil added at the very end. Take that, winter.
Ingredients
2 tbsp olive oil
2 leeks, dark ends trimmed
4 Yukon gold potatoes (about 1 pound), diced into large chunks
1/2 tsp salt (plus more to taste)
1/2 tsp black pepper
1/2 tsp dried thyme
1 bay leaf
1 1/2 cups vegetable stock*
2 1/2 cups water
1 cup cream
1 tbsp creme fraiche (optional)
1/4 cup olive oil
1 clove garlic
1 sprig rosemary
Directions
Slice ends off of leeks and slice down the middle lengthwise. Rinse well to get rid of the dirt in between all the layers. Thinly slice into about 1/4 strips. Heat oil in a large pot (stainless steel or enameled both work) over medium high heat. Add leeks and dried thyme. Sauté until leeks are softened (6 to 8 minutes). Add the potatoes, salt and pepper. Stir to coat all the vegetables in the seasonings. Add stock, water and bay leaf and bring to a boil. Lower the heat, put the lid on and cook for about 20 minutes, until potatoes are tender.
Once the potatoes are tender, turn off heat and remove the bay leaf. Purée the mixture with an immersion blender, or in batches in a blender. Put the pot with the puree back on medium heat. Add the cream and creme fraiche if using. Stir. When mixture comes to a boil, stir and taste for seasoning. Add more seasoning as required and remove from heat.
Make the rosemary garlic oil: in a small saucepan, combine olive oil, garlic clove (smashed with the palm of your hand or side of a knife) and rosemary. Cook over low heat, allowing the garlic and rosemary to gently infuse the oil. Remove from heat when fragrant, about 5 minutes.
Ladle the soup in a shallow bowl. Drizzle with a bit of oil and a dollop of more creme fraiche, if desired.
*Can use chicken stock. Can nix the water and use all stock instead. One and half cups was how much I had on hand, so that's what I used.