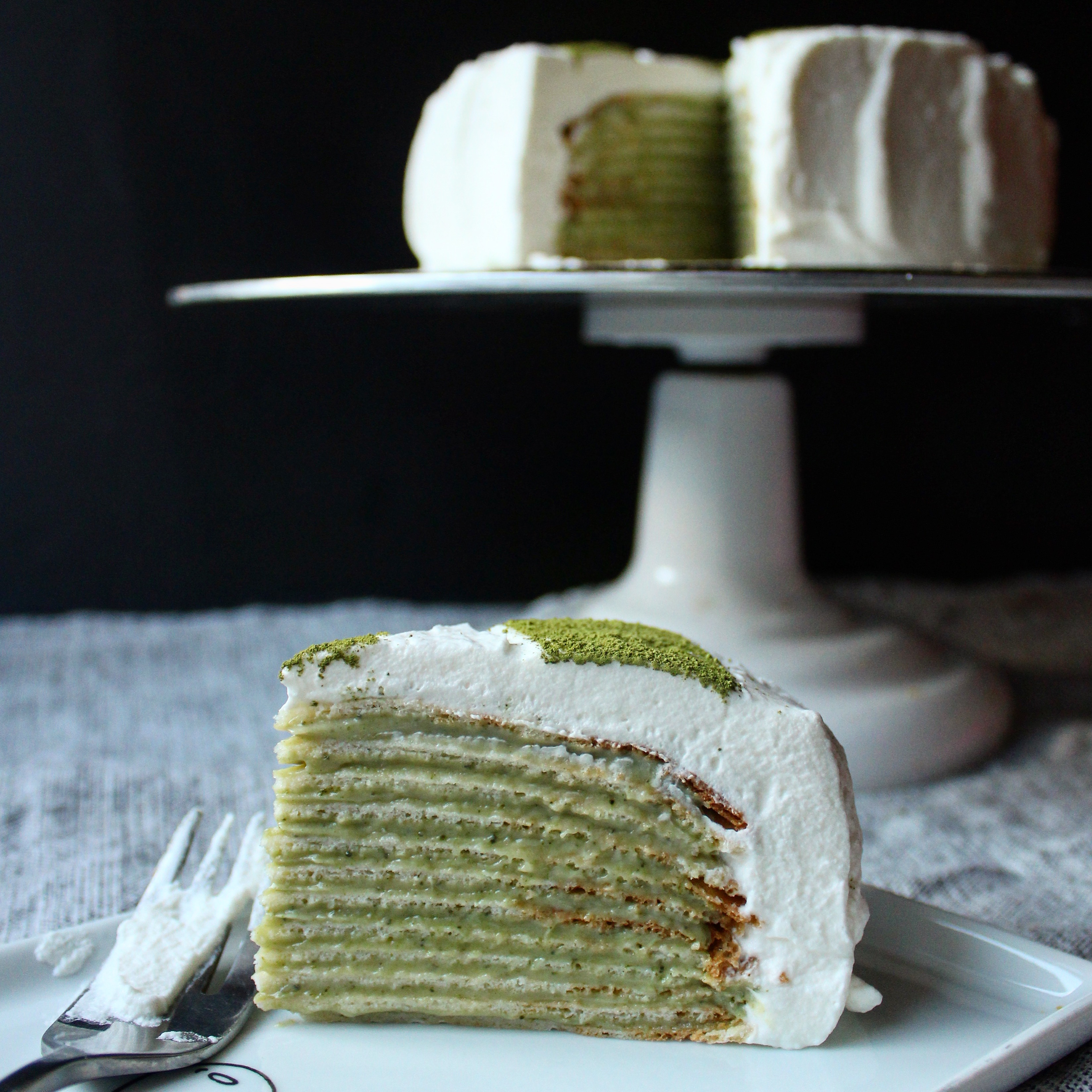 If it looks like a green tea crepe cake, it smells like a green tea crepe cake, and tastes like a green tea cake, it still may not be a green tea crepe cake.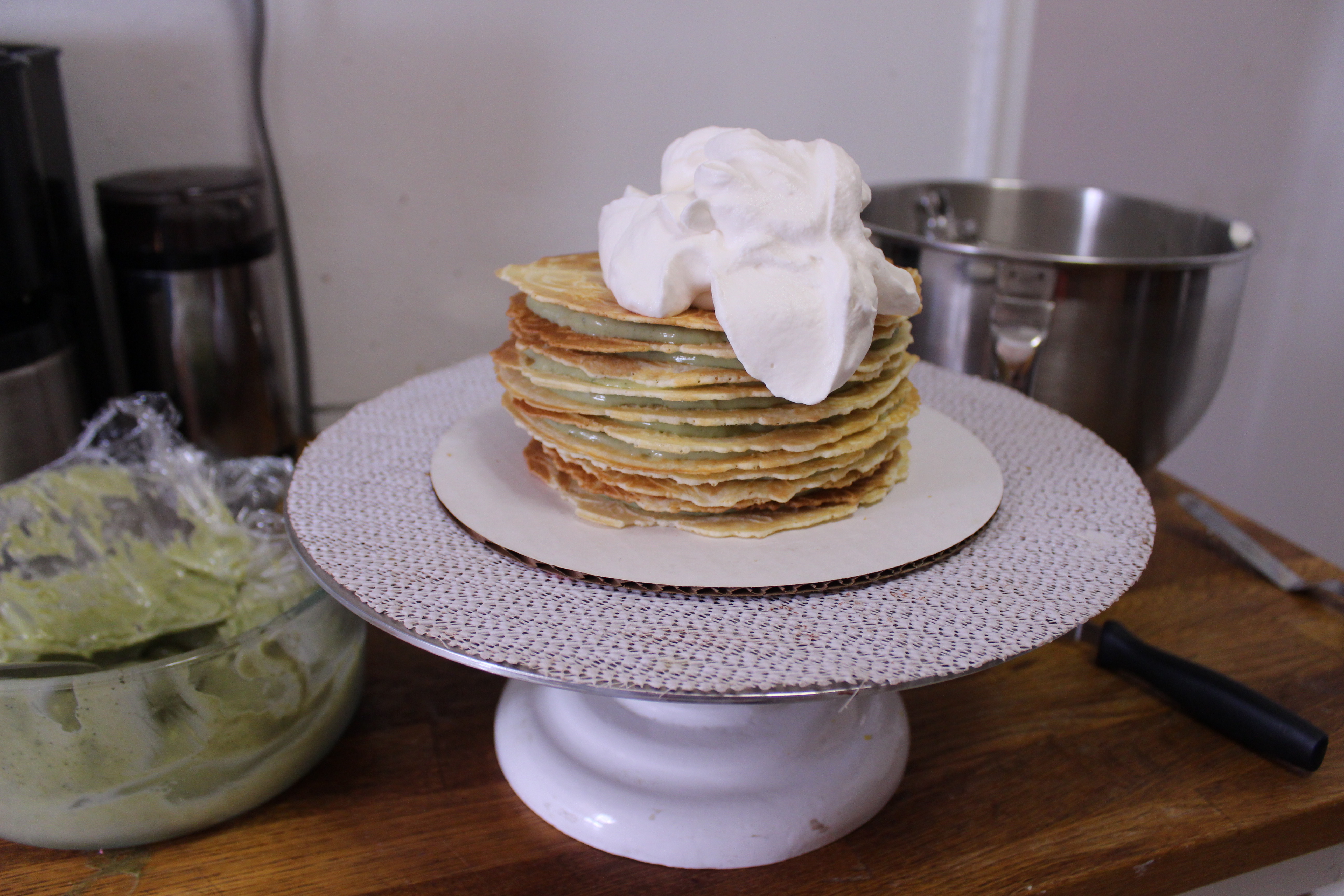 Truth is, I've never had a green tea crepe cake. And even though this looks like the famous Lady M green tea crepe cake, there are no crepes here. Just crisp wafers made with my trusty krumkake maker, matcha pastry cream and whipped cream.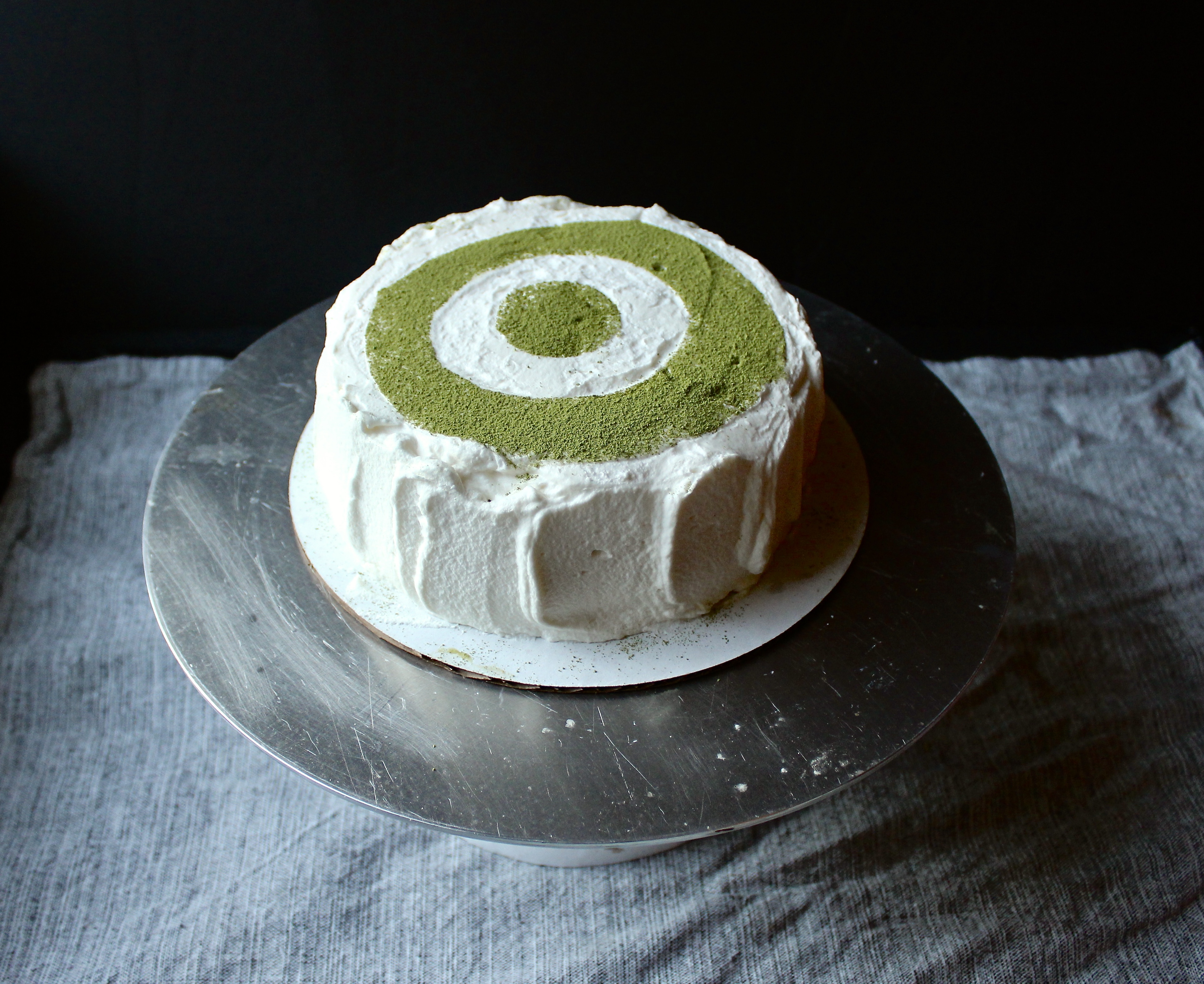 I didn't use any one recipe for this – I kind of threw things together that I thought might work. And while this worked out beautifully (though I did have a near disaster when the whole thing almost slid off as I was transferring it to the fridge! Pastry cream is slick, yo), I'm already dreaming up alternate versions of this: nutella swiss meringue buttercream filling? Salted caramel mousse?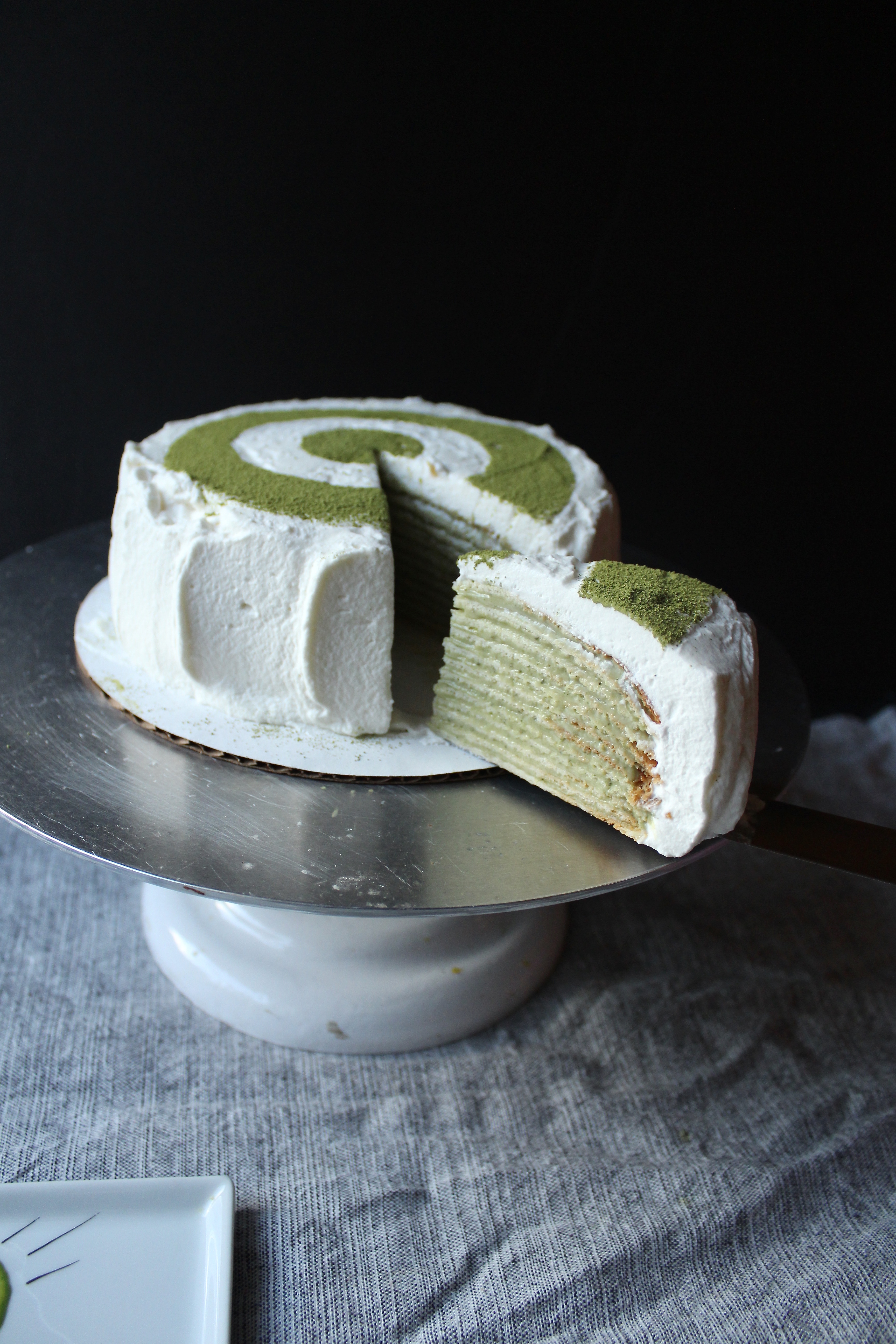 Matcha used to be difficult to find – now you can find it at costco! I don't use it that frequently so I'm still working off of the batch I bought a while ago.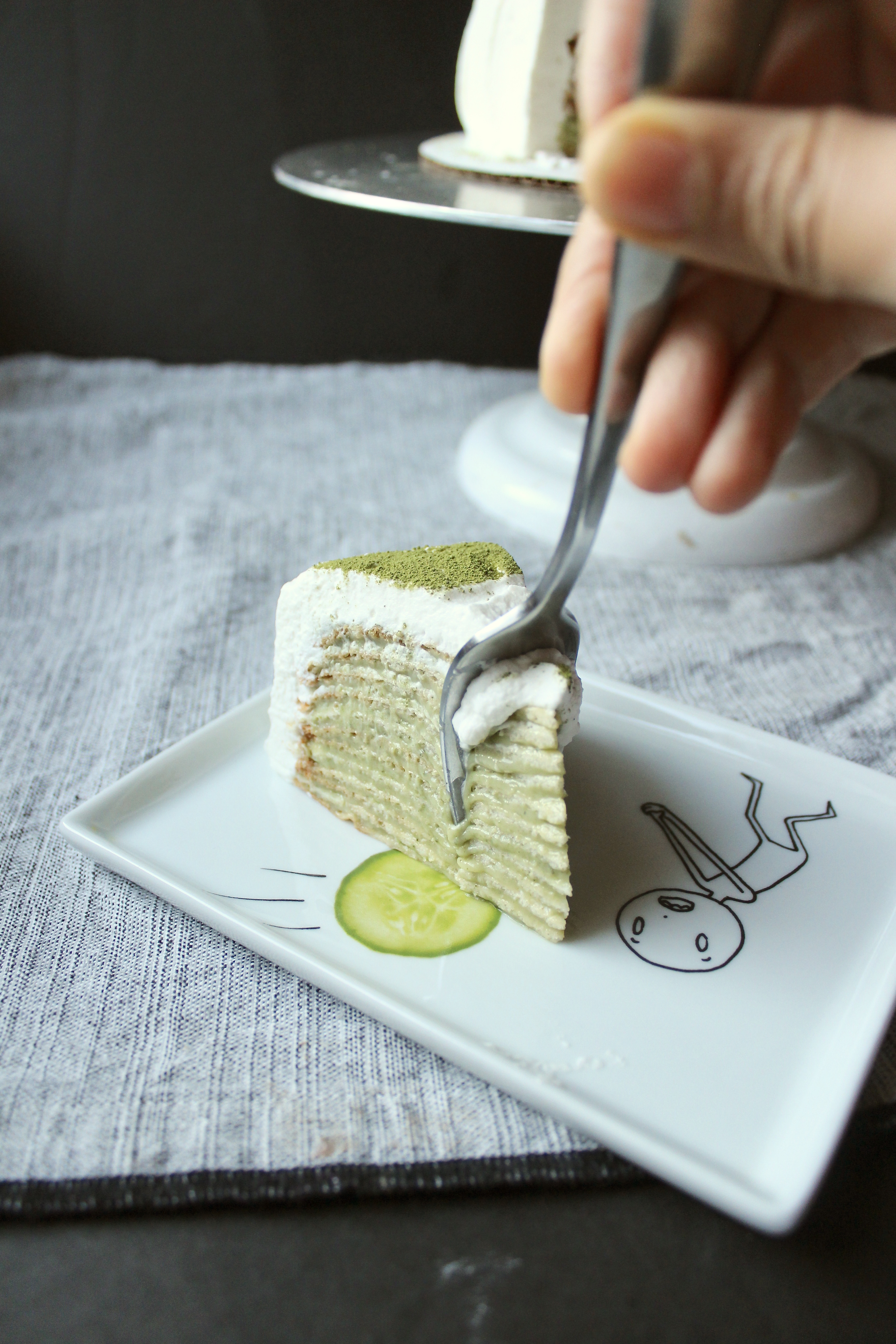 Hope you enjoy! And if you don't have a krumkake maker and don't feel like buying one and make it with crepes instead, please let me know!
Pastry cream recipe adapted from King Arthur Flour.
Ingredients
12-14 6in round wafers
3 cups whole milk
3/4 cup sugar plus 3 tbsp
1/4 tsp salt
2 tsps vanilla extract, divided
1/4 cup cornstarch
1 tbsp all purpose flour
4 egg yolks
4 tbsp unsalted butter
1 1/2 cups heavy cream
1 tbsp matcha plus extra for garnish
Directions
1. Make the pastry cream: heat 2 1/2 cups milk, 3/4 cup sugar and salt in a medium saucepan over medium heat. Stir occasionally until sugar's dissolved. In a medium bowl, whisk together 1/2 cup milk, egg yolks, corn starch and flour. When the milk is hot and sugar is dissolved, slowly add about a cup of the hot milk mixture to the egg mixture, whisking constantly. Add the tempered egg mixture back to the saucepan. Whisk constantly over medium heat until it starts to thicken. Remove from heat, continue stirring, and add the butter one tablespoon at a time. Add the vanilla and one tablespoon of matcha, sifted. Pour into a heat proof bowl, place a piece of plastic wrap over the surface, touching the cream so it doesn't form a skin. Refrigerate until cool and set, several hours or overnight.
2. Make the wafers but instead of rolling into a cone shape, leave flat.
3. On an 8in cake board, place a small amount of cream and spread it thin. Place one wafer on the board, then one tablespoon of the pastry cream and spread it across. Repeat until all the pastry cream is used up. Carefully transfer to refrigerator and chill until set – at least 2 hours.
4. In a large bowl whip cream with 3 tbsp sugar until soft peaks form. Add vanilla and whip until combined. Take out cake from refrigerator and dollop generously on cake, spread to the edges, adding more onto the sides until it's all covered. Garnish with the extra matcha. Cut out concentric circles out of parchment and place atop cake to get the pattern pictured above.