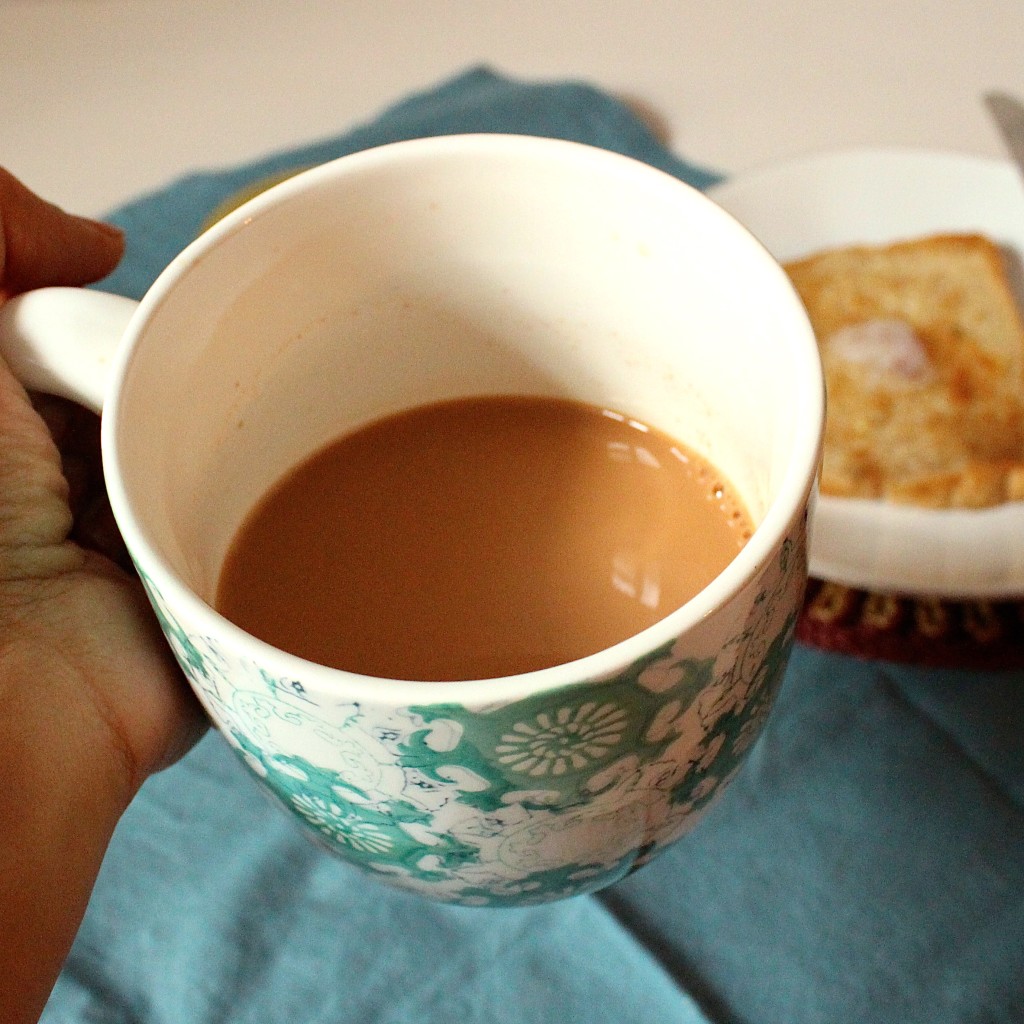 Every South Asian is familiar with the following scenario: impromptu guests late in the afternoon. While you scurry to make your place somewhat presentable, you run through the inventory of sweet and savory snacks to serve. Then they say, "Oh we'll just have some tea and be on our way." Easy enough. Throw some water, milk and tea bags in a pot. Simmer, then sugar. Wait, is that 50/50 water and milk? Or am I supposed to use evaporated milk? How long should I simmer again? Aw, crap, the milk's bubbled over.
A decent cup of milk tea (cha if you're bengali, chai if you're not, venti skinny extra foam chai latte if you're a gringa) should not be a challenging endeavor. But when you're on the go-go-go and Barista B. is serving up your caffeine fix every morning, you might forget the proper ratios, simmering times and techniques. After being consistently disappointed that the tea I concocted each morning did not live up to the $1 cup of tea from the local bengali joint, I decided to experiment with a few different techniques and ingredients to come up with a foolproof, delicious-every-time cup of cha.
First you need a really good tea (if you try this with Lipton, you WILL be disappointed). My tea of choice is PG Tips. The flavor profile is robust; it really stands up well to milk. Any good quality tea sourced from Assam or Darjeeling is ideal. I use 1 tea bag per person (1 tsp loose). Teas that are not as strong (Ceylon comes to mind) will require 1.5 tsp per person.
Second – evaporated milk. I've tried all reduced fat milk, half water, half whole milk, sweetened condensed milk. Nothing delivers quite as consistently as evaporated milk.
Third – a measuring cup helps.
Keep in mind, this will make 2 generous cups (not those teensy tea cups). Adjust sugar according to yourpreference. So, here we go:
Ingredients:
2.5 cups of water
2 bags/pyramids of strong tea (PG Tips, Tetley, etc.)
1/4 cup evaporated milk
2 heaping tsps sugar
Bring the water to a boil. Add tea bags and reduce to a simmer (you still want to see bubbles bursting, just not violently). Add the evaporated milk and set your timer to 5 minutes. This will allow the flavors to develop and the liquids to evaporate a bit, intensifying the flavor and richness. Add sugar and pour through a sieve.
Scaling up: this recipe scales well. To adjust simmering time, keep an eye on the hue. When the liquid has reduced a bit and the color looks like the picture, you're good.
Spicing it up: add a pod of cardamom and/or cinnamon stick per 2 people if desired