This is the quintessential Bengali side dish. The ultimate comfort food. It's on every dinner table…from the most affluent of households to the most modest. When you invite someone near and dear to you, you always entice them with the promise of "daal bhat" (rice and lentils).
I hadn't realized how extensive the ingredient list was for such a simple dish as daal. Mine is a bit heavy on the garlic ('cause let's face it…the lentils themselves don't have much flavor). The tomatoes and cilantro add freshness. To add depth of flavor, daal is traditionally made with panch phoron, added right at the end. Panch phoron is a Bengali blend of five different seeds: mustard, nigella, asafoetida, fenugreek, and cumin. It toasts up in the oil with the fried onion at the end to enhance its flavor. The combination of spicy, licoricey and earthy flavors give it a distinctly Bengali flavor.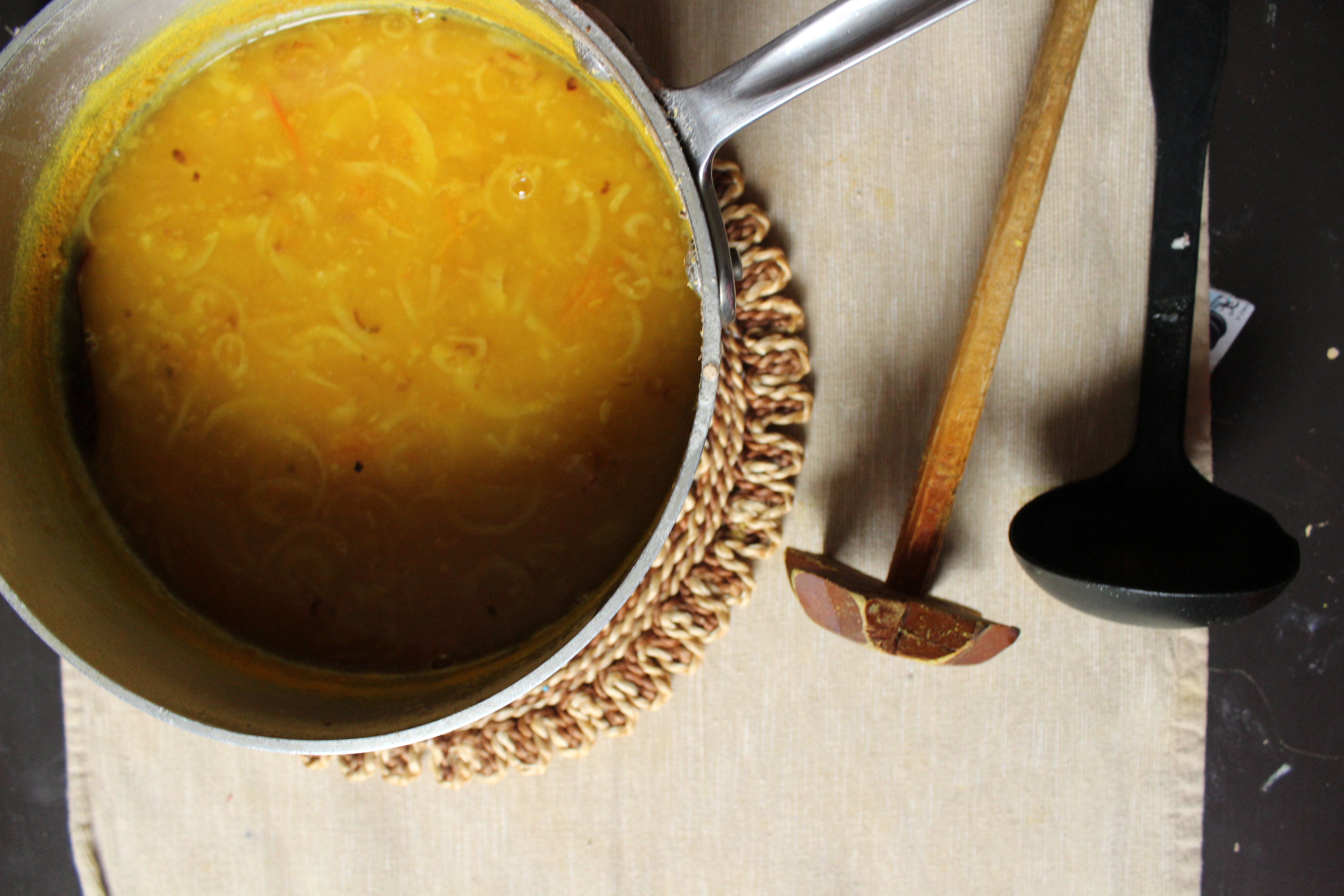 Ingredients:
1/2 cup split red lentils
3 cups water
2 cloves garlic
1 green (thai) chili
1/2 tsp ground turmeric
2 tsp salt, plus more to taste
1/4 cup diced tomatoes
2 tbsp olive oil
half a small yellow onion
1 clove garlic
1 pinch pach forom (optional)
small handful cilantro (about 1/4 cup, optional)
Directions
Rinse the lentils 2-3 times in cold water. Then, combine with water, garlic and chilli and bring to a boil over high heat (cut a slit into the chili pepper to let some of the flavor out). When it comes to a boil, lower the heat (otherwise it boils over like milk) and bring to a simmer. Spoon off some of the foam on top.
Add the turmeric, salt and tomatoes. Let simmer for about 15 minutes, or until lentils are cooked through. Optional: at this stage you can break up the lentils with a daal ghutni or an immersion blender (taking care to remove the chili and garlic) to give it a smoother consistency.
While lentils simmer, thinly slice the onion and fry until brown over medium heat. Mince the last garlic clove and add it to the onions for the last 30-45 seconds. Finish with chopped cilantro. Taste for seasoning.
Serve over rice.