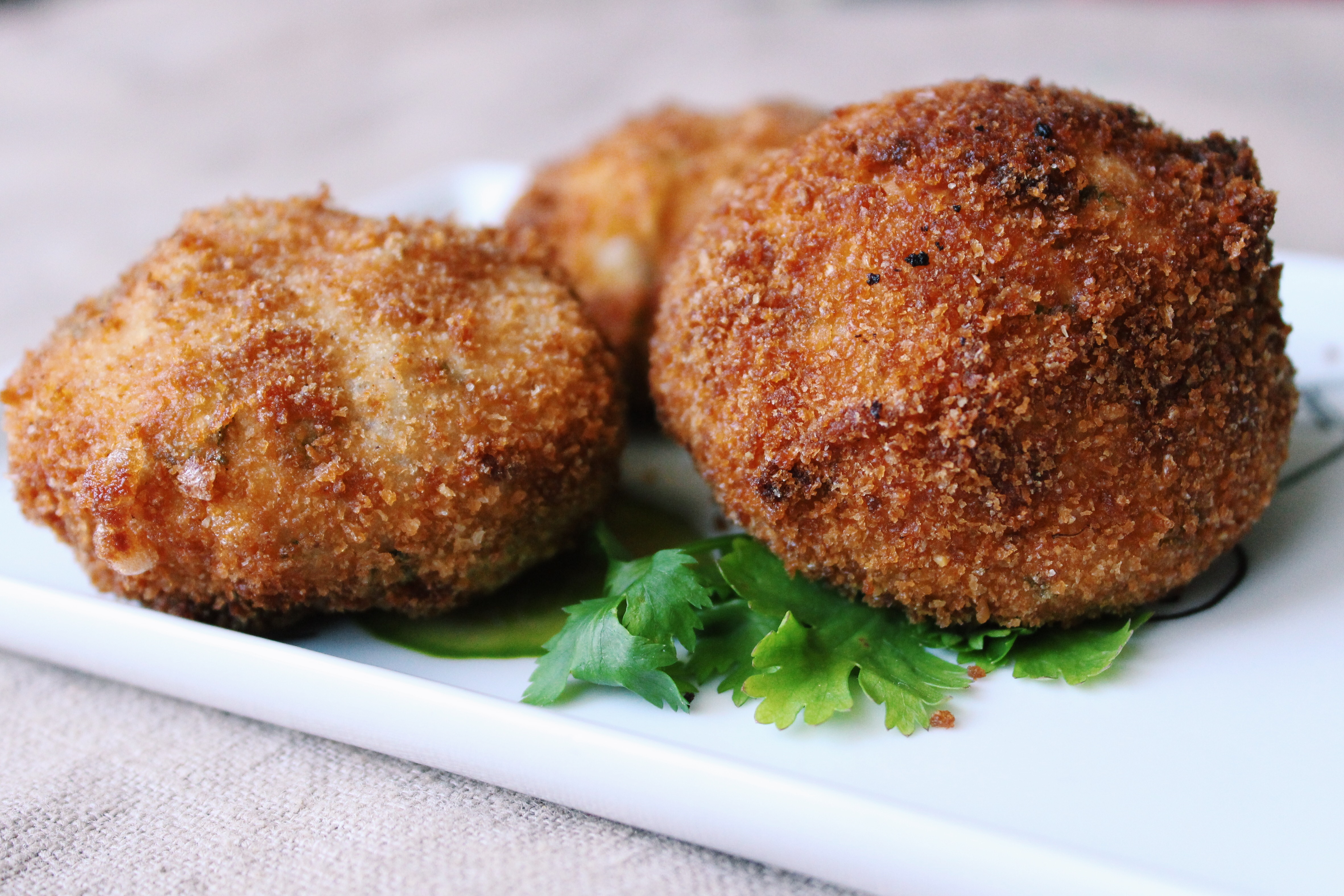 Traditional Bengali iftars are an exercise in how many different ways can we consume fried foods. Ground up lentils and herbs? FRY IT! Fresh sliced eggplant? BATTER AND FRY IT! Whole green chilis? FRY IT! Mashed potatoes? FRY. IT.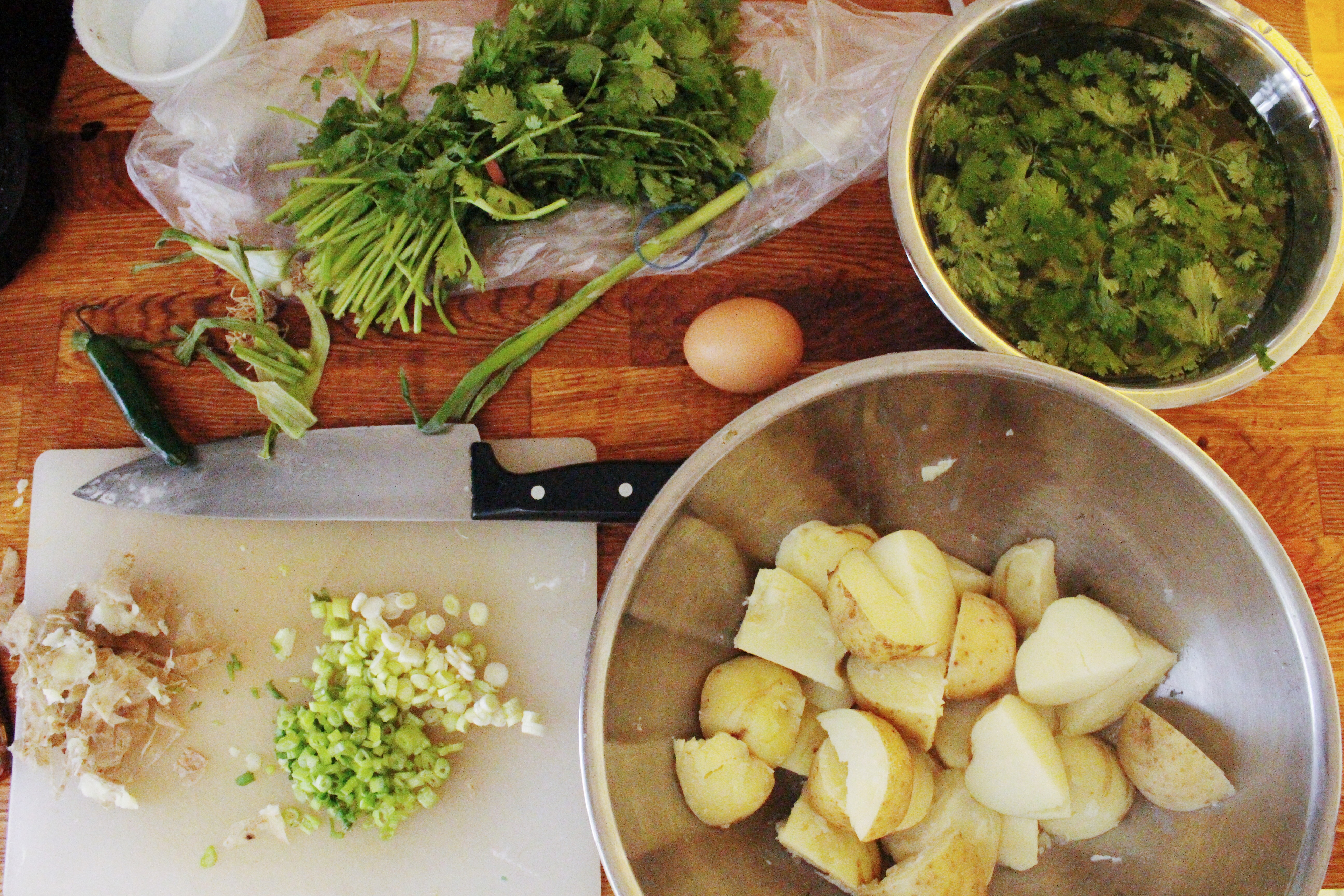 There's been a backlash by my generation against the fried iftars of our parents' generation:
"We're just doing broiled salmon and sauteed green beans for iftar."
"I'm doing a green smoothie for iftar."
"Every year I gain weight during Ramadan. No fried foods for me this year."
Yet when we go to the inevitable iftar dawat at our parents' or aunts' or grandparents', we're still gonna pop a couple of fritters on our plate while no one's looking. Not the whole deep fried green chilis – dear God no. I don't know WHO that appeals to. But we can pretty unanimously agree on the Aloo Chop. Any manifestation of a fried potato is right by my books. And when filled with tiny cubes of hard boiled egg, well it becomes a whole darn meal!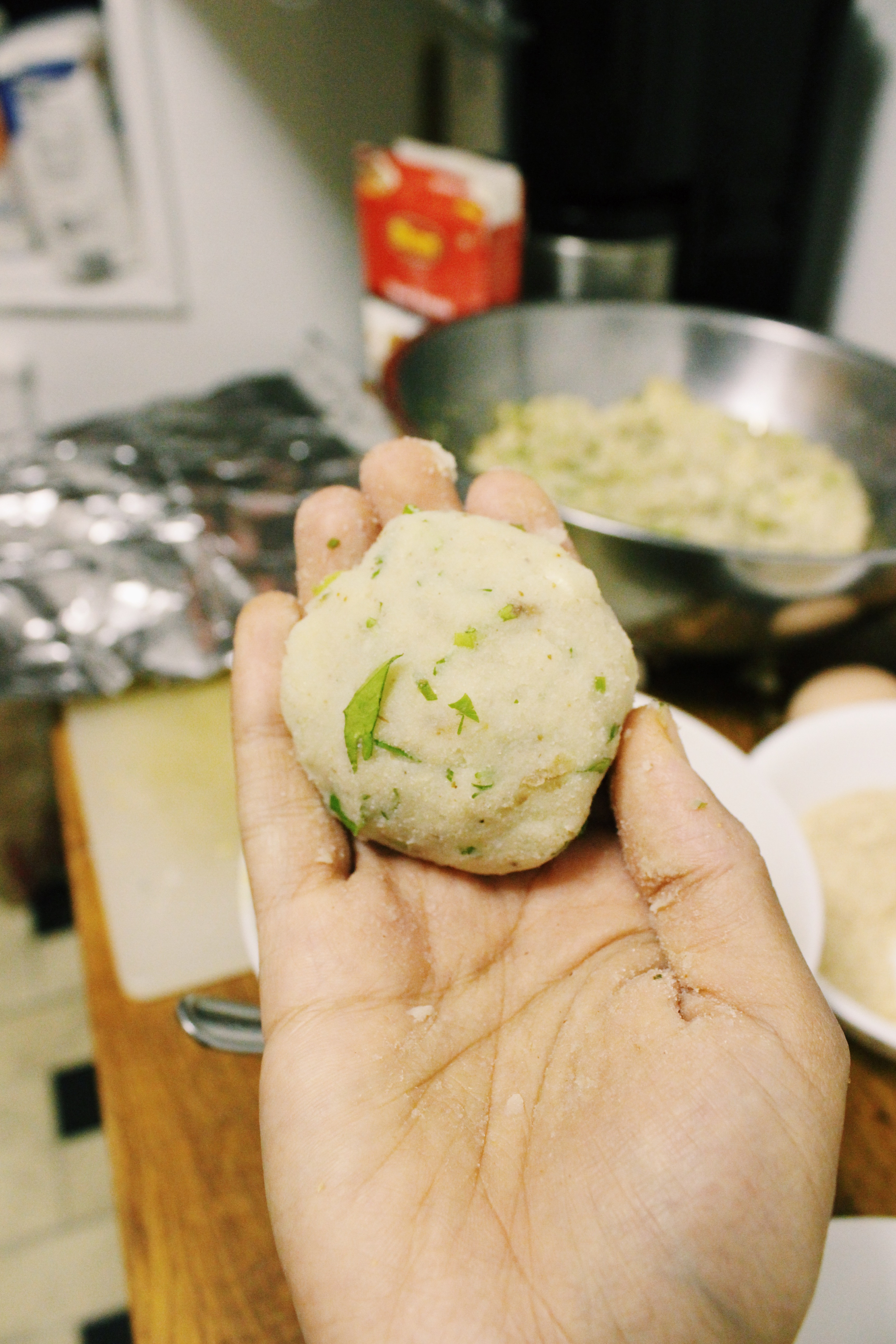 I justify it by compounding it with salad. Lots of greens and veggies. And water. I read somewhere on the internets that junk food is ok, as long as you drink lots of water afterward. =)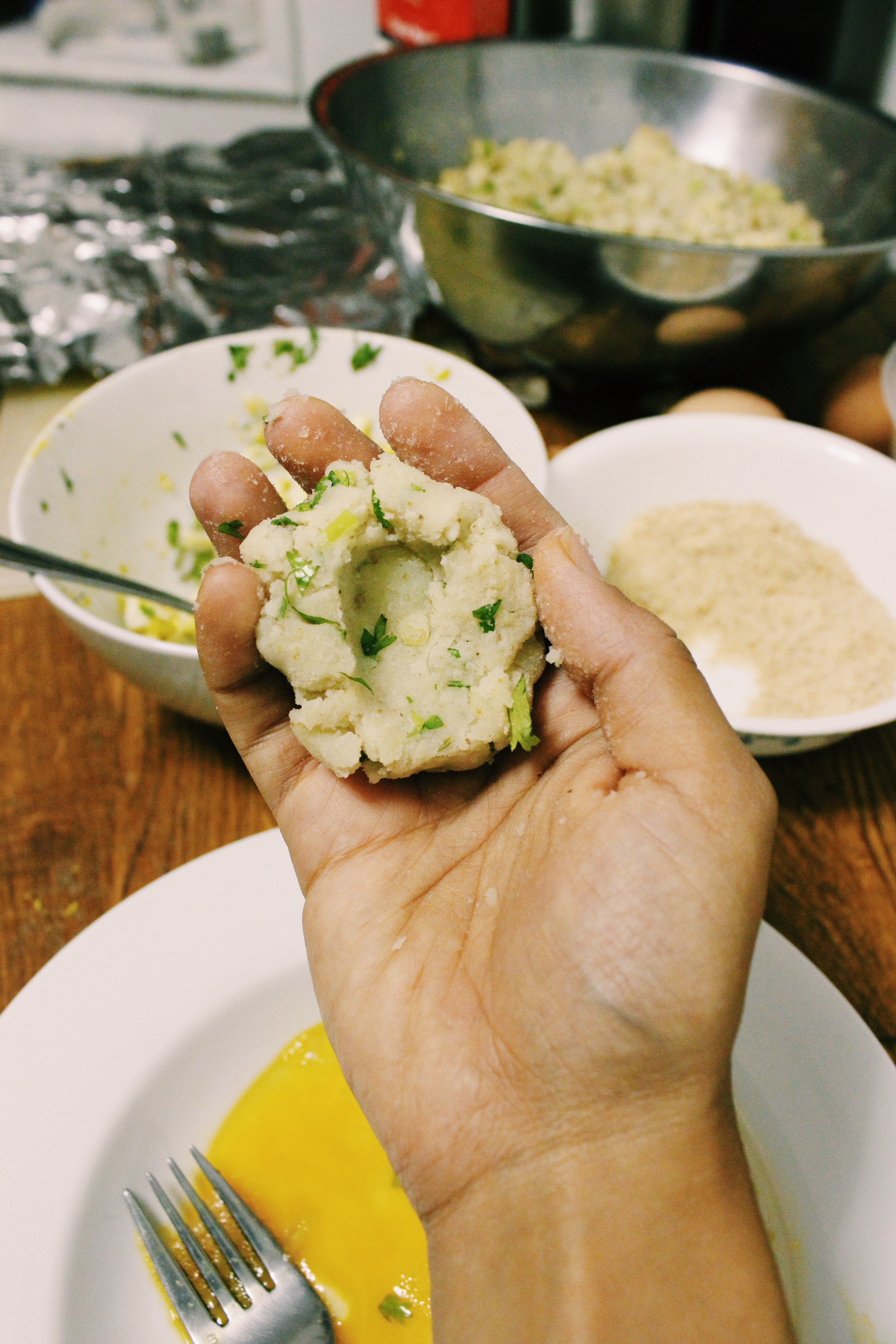 I went with Yukon gold potatoes, as they are more waxy than Idaho. I didn't add any butter or milk to the potatoes themselves, as I wanted them to hold their shape as well as they could while sizzling away in the hot oil.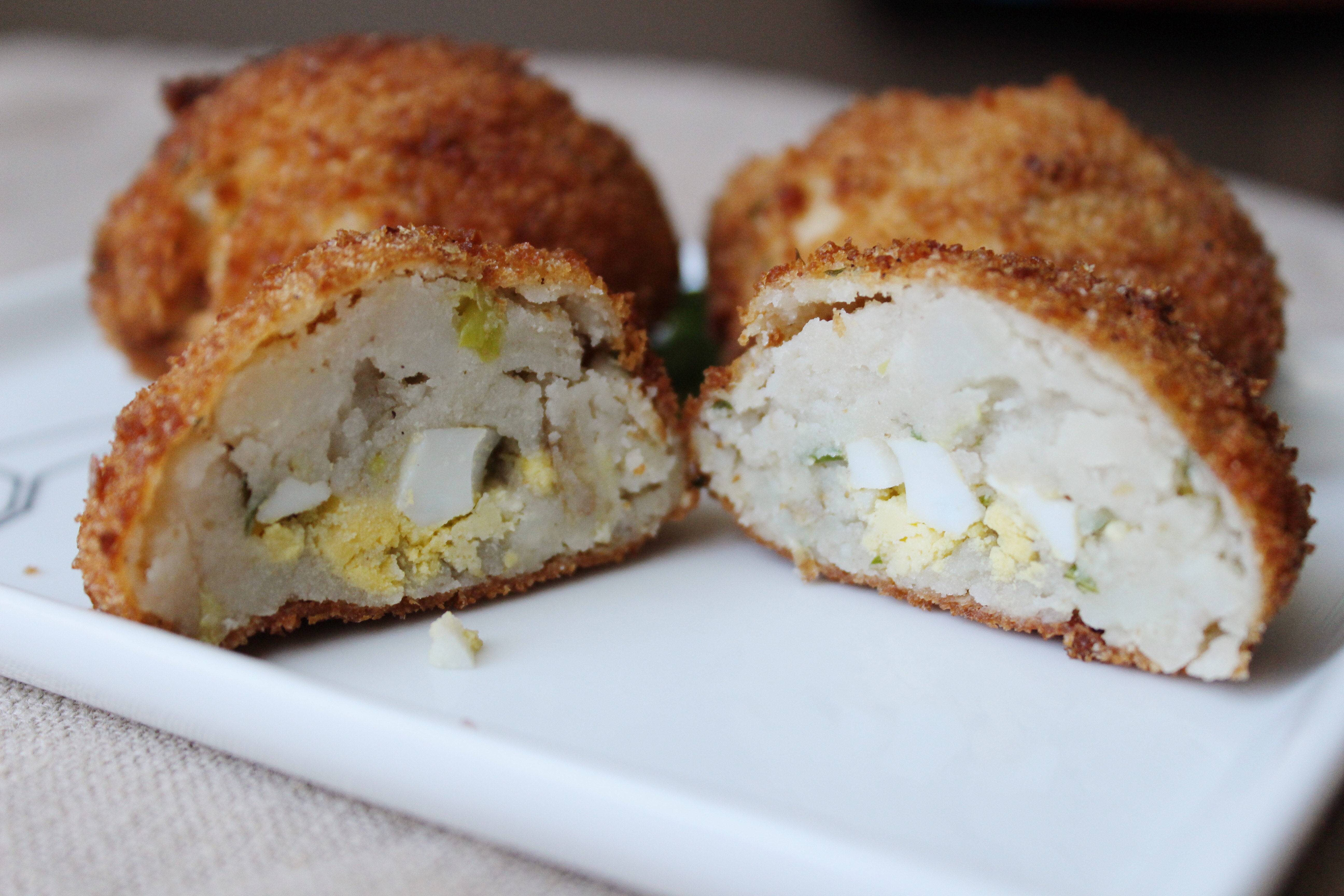 The best part is, they freeze beautifully. Just pop them in the a ziploc before the egg wash/breading stage, and fry them up whenever you want them. These take a little bit of time to prepare, but these are the things childhood memories are made of.
Ingredients
2 lbs yukon gold potato, quartered
1 tsp kosher salt plus more to taste
1 tsp chaat masala*
1/2 tsp ground cumin
4 scallions, thinly sliced
1/2 cup minced cilantro
1 green chili, minced (optional)
3 hard boiled eggs, chopped small
a squeeze of lemon juice (optional)
a dash of salt
a dash of cayenne pepper
3 eggs
2 cups seasoned breadcrumbs
vegetable oil for frying
Directions
In a large pot, bring 4 quarts of water to boil. Carefully lower potatoes and cook until tender: 10-12 minutes. I don't bother peeling them. I boil them skin on, then when cool to the touch, peel back the skins like my mom used to do.
Season the potatoes with salt, chaat masala and cumin. Taste for seasoning and add more salt if necessary. Mash with a potato masher. Add scallions, cilantro (all but 1 tbsp of it) and green chili is using**. Then get in there with your hand and incorporate very well. Set aside.
Season the diced hard boiled eggs with the remaining 1 tbsp cilantro, lemon juice, salt and cayenne pepper. Toss lightly.
Make balls with the mashed potato mixture by grabbing a handful, rolling into a ball, pressing in to make an indent (see picture above), and fill with a tiny bit of the egg mixture. Enclose the egg mixture fully with the edges of the potato ball. Set aside on a plate or baking sheet and continue making the rest of the balls. At this point you can freeze the balls and fry them off at a later time as needed.
Heat up oil (enough to come up 2 inches) in a small wok or saucepan to 325 to 350 degrees F. In a shallow bowl, crack eggs and beat lightly. In another shallow bowl, pour out the breadcrumbs. roll each ball in the egg, then in the bread mixture, then lower carefully into the hot oil. Do not crowd the pan. Fry for 2 to 4 minutes, until lightly browned. Remove from oil and onto a paper towel lined plate. Serve with Sriracha or Ketchup.
*Chaat masala is a tangy/salty/spicy spice mix that can bring any dish to life. Easily available at any Indian grocery.
**I wouldn't recommend adding the green chili unless you are a LOVER of spicy foods. I just have it listed as it is a traditional ingredient.