American Buttercream: butter, powdered sugar, milk, flavoring
Swiss Meringue Buttercream: egg whites, granulated sugar, butter, flavoring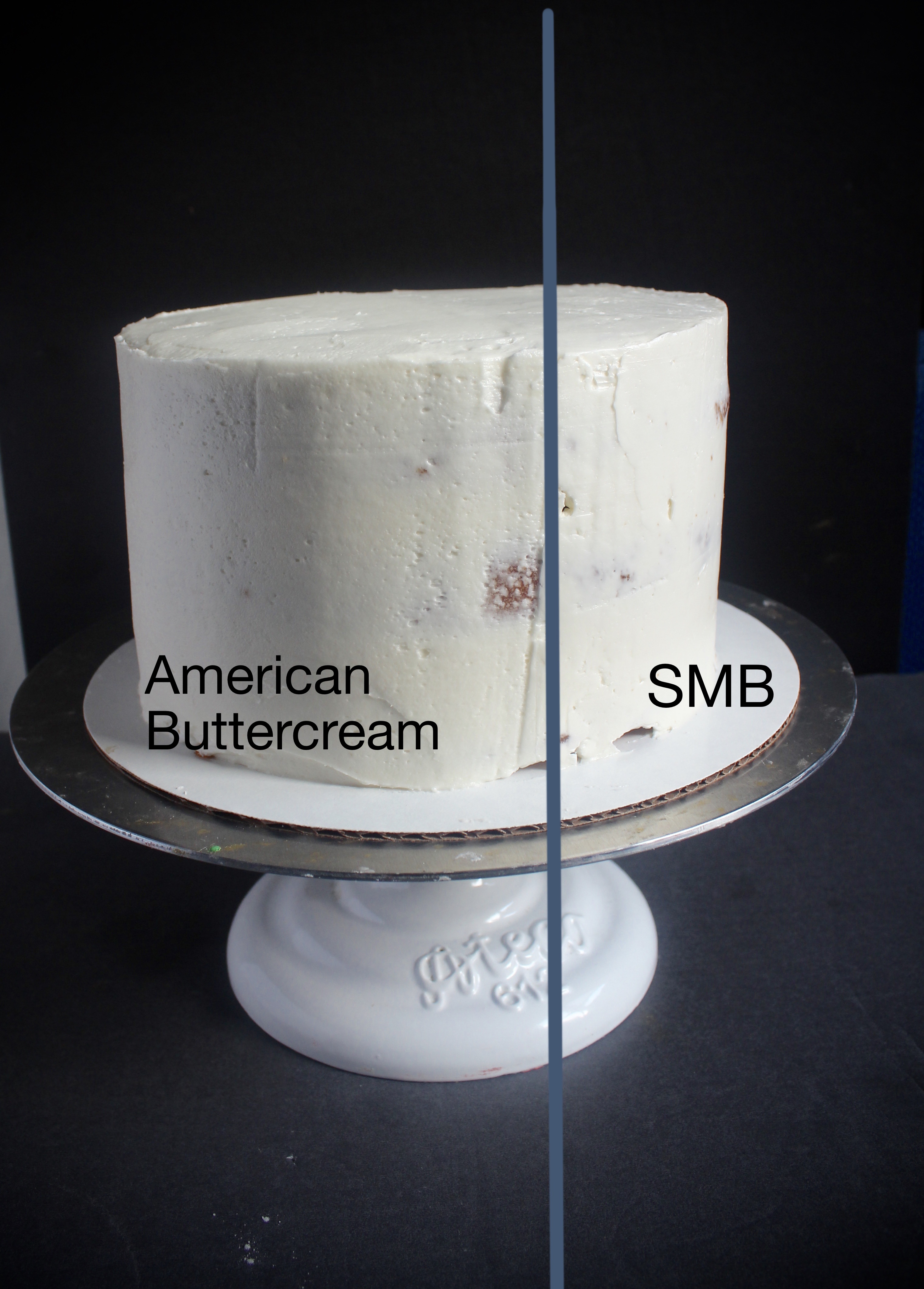 When I first start baking and cake decorating seriously, there were so many, "I'd never do that."
I'd never compromise on taste. That means no swiss meringue buttercream. No fondant.
I'd never waste time on tacky fondant figurines (somewhat holds – I'll make figurines but only tasteful ones).
I'd never make a bad cake (I once made a chocolate cake and forgot to add the sugar).
But I've come around on a lot of things. Example: expanding my frosting repertoire to include Swiss Meringue Buttercream. Hailed for being the King of Stability and frowned upon by many for lack of taste. It is not as sweet as the American Buttercream (AB) we are used to, and gets most of its structure from whipped egg whites rather than beaten butter/sugar, so that it's airy rather than creamy. But man, it is a cake decorator's dream. Just look at the picture above: the AB is so much more porous. Honestly, when I first thought up the idea for this post, I thought the difference would be much more pronounced. But I guess after frosting and smoothing dozens of cakes, I got the hang of it with both types!
To make Swiss Meringue Buttercream, you start with heating egg whites and sugar in a double boiler until the sugar dissolves. You then remove it from the heat and whip it in your stand mixer with the whisk attachment until the mixture cools to room temperature and has the consistency of a soft-peak meringue. You then add the butter, a little bit at a time, until it looks like a curdled slosh. Keep beating until it congeals (see picture). The result is a super smooth buttercream that spreads like a dream. And because it has the protein from the egg whites as a base, it won't just melt in a warm room like butter would. As long as it's done right. And boy have I done it wrong:
I once overheated the sugar/egg white mixture to the point that after 45 minutes of beating it in my KitchenAid it was not cooling it down. During that time my meringue doubled in volume, only to deflate. I still went ahead and added the butter. When after another 45 minutes it wasn't coming together, I stuck an ice pack to the side of the bowl. It worked – somewhat. The buttercream came together, but it didn't have the structural characteristics of a proper SMB. The rosettes that I piped with it melted on the way to the venue. It was 100 degrees. My fridge broke that week. A lot of things went wrong that week. =(
Another time I added the butter too soon and it wouldn't come together no matter what I tried.
Another time the butter I added was too soft.
You name it, I messed it up in that way.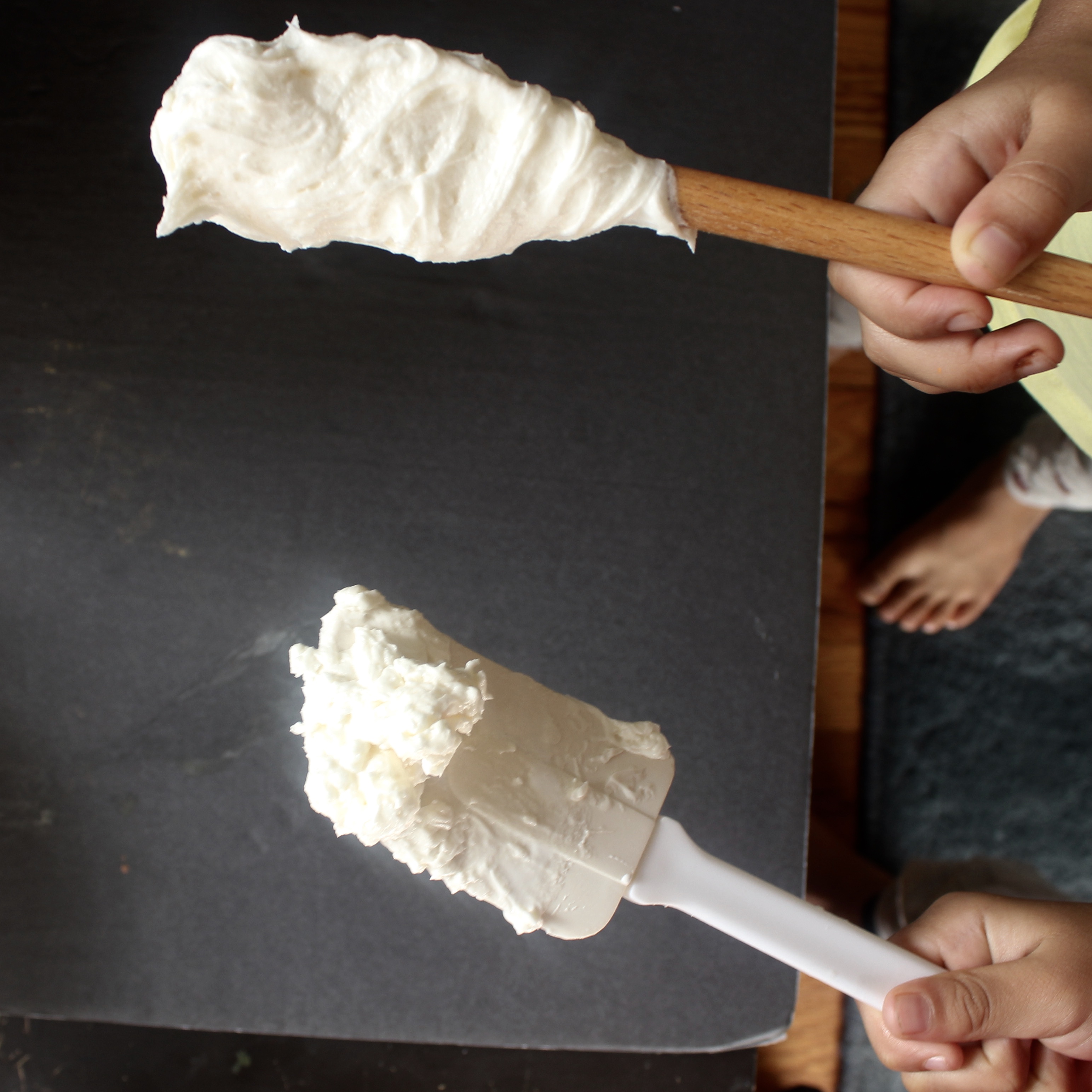 To correct for the less than desired sweetness, I like to add a syrup of some sort at the very end:
For caramel SMB: about half a cup of homemade caramel sauce
For strawberry SMB: about one cup strawberry syrup or to taste
For vanilla SMB: 2-4 tbsp corn syrup (to taste) and 1 tbsp vanilla extract
For chocolate SMB: 1 lb semisweet chocolate, melted and cooled slightly
This is the base recipe (from Smitten Kitchen):
Ingredients
4 egg whites
1 cup granulated sugar
26 tbsp unsalted butter, softened to room temp
Directions
In a small saucepan, bring 1 inch of water to simmer over medium low heat. In the bowl of your stand mixer*, combine egg whites with sugar. Whisk until combined. Place over the sauce pan and stir until sugar dissolves (you can feel it with your fingers – mixture should feel smooth).
Remove from heat and fit into stand mixer. With the whisk attachment, beat on medium speed for a few minutes, until mixture cools to room temperature AND doubles in volume. Then add the butter, 1 tbsp at a time. Allow the mixture to run at medium/high speed past the curdling point to the congealing stage. Once it comes together and resembles billowy clouds (your mixer will start to make a different sound), add flavoring. Continue to beat until all the flavoring is incorporated.
*You can make this with a hand-held mixer. Just be prepared for your arm to get tired from holding it up for 10-15 minutes =)