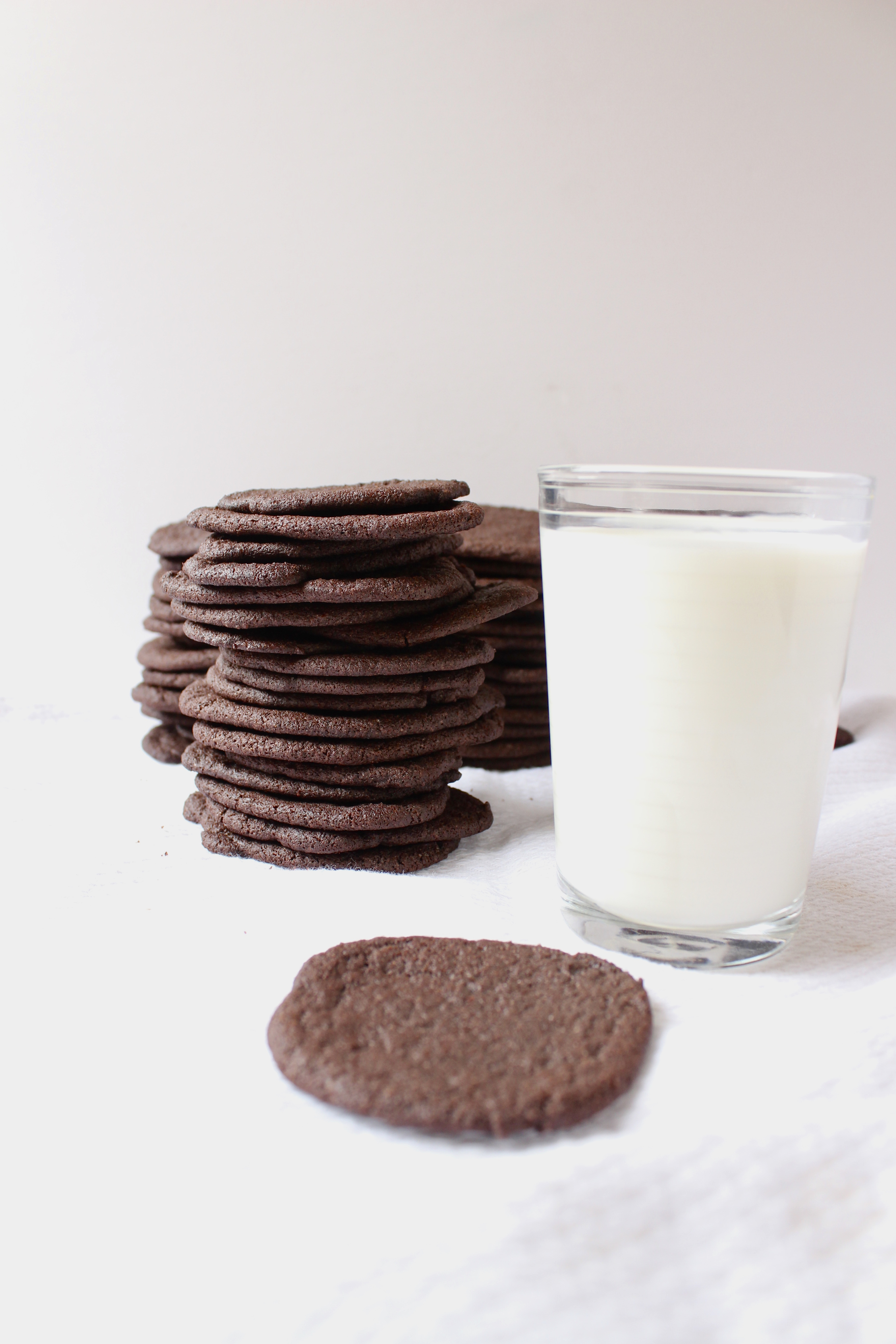 If ever you've craved a cookie so intensely chocolately, with little to meddle with it pure chocolate flavor (no nuts, no eggs, and a high cocoa to flour ratio), then this cookie is it.
I first made these about 1 year ago when I made my first ice box cake…for 50 people. I must have made 4 batches. Probably could have made less if I hadn't been snacking on them along the way.
These cookies mimic the famous Nabisco Chocolate Wafers that most icebox cake recipes call for. For some reason, they've been discontinued in store, and are only available online. Every time I attempt to purchase some, that little voice in my head goes "hydrogenated oils…preservatives" then I head to the kitchen to make my own. They are easy to make, hard to mess up, and I always have the ingredients on hand.

It's hard to tell when these cookies are done, since they are so dark. I usually just go by 10 minutes, as the recipe indicates. Since the cocoa is the predominant flavor, quality really matters. And unfortunately, it is one of those slightly fussy recipes in that it requires dutch-processed cocoa (cocoa powder that's been alkalized, making it less acidic than natural cocoa powder). You could try to use a natural cocoa powder, such as Ghirardelli (I wouldn't recommend Hershey's for these), but you may need to increase the baking soda. I haven't tried it yet, but if you do, please let me know!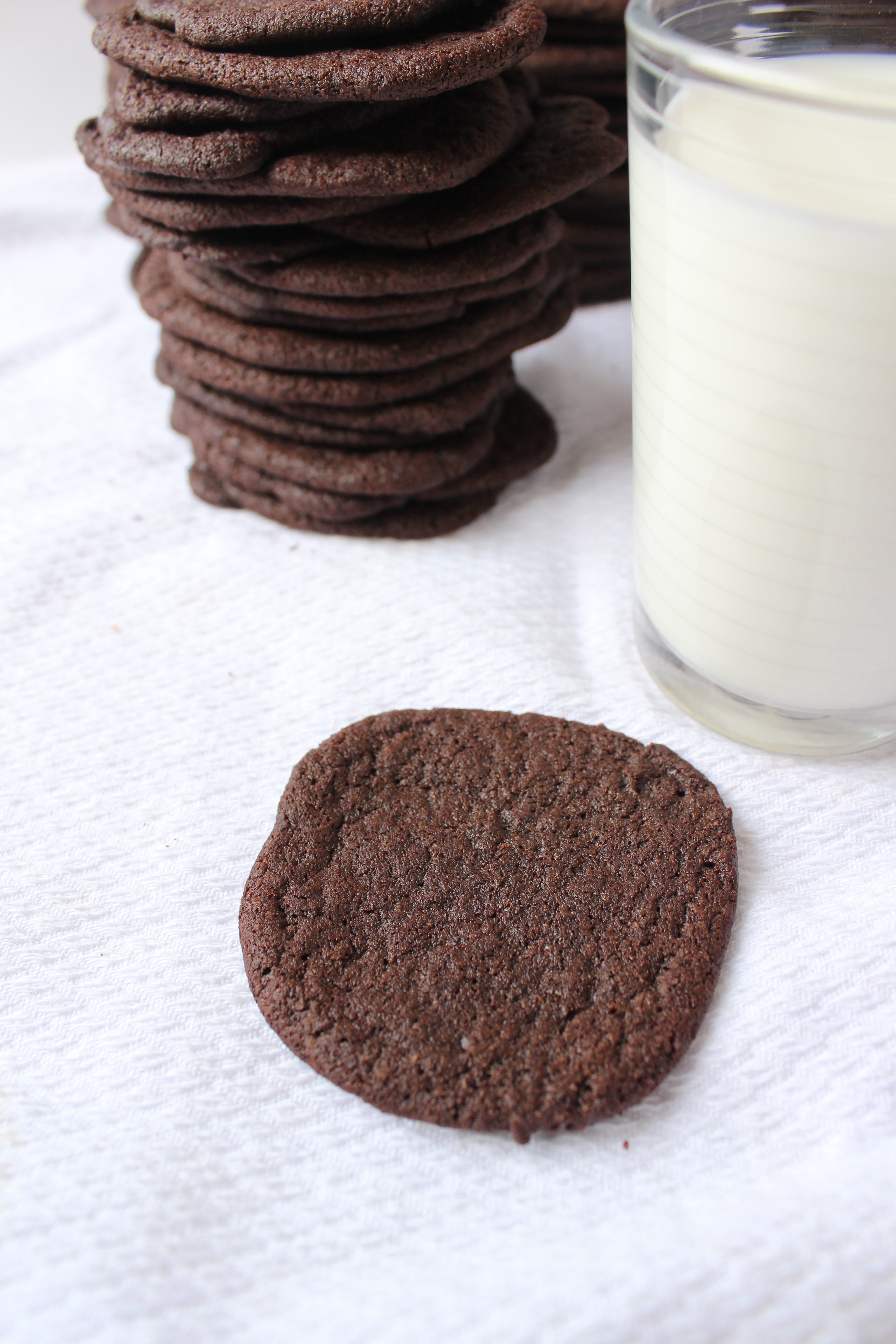 As these cookies cool, they become crisp, which is why they work so well in icebox cakes, and in this week's case, ice cream cake. More on that coming soon!
They absorb the moisture from the surrounding medium without getting too soggy. They aren't as heavy as say a brownie or a chocolate chip cookie, so you can satisfy your chocolate craving with a fraction of the guilt.
Recipe from Cooking Channel.
Ingredients
1/2 cup or 1 stick unsalted butter
3/4 cup granulated sugar
1/2 cup dark brown sugar*
1 tsp vanilla
1 cup flour
3/4 cup Dutch processed cocoa (such as Rodelle)
1/2 tsp baking soda
1/4 tsp salt
1/4 cup whole milk
Directions
In the bowl of your stand mixer, or in a large bowl using a handheld electric mixer, cream together the butter and both sugars for 2 minutes at medium speed. Add vanilla and beat until combined.
In a medium bowl, sift the flour, cocoa, baking soda. Add salt and stir to combine.
With the mixer running on low, slowly add the dry ingredients to the butter/sugar mixture. Stop to scrape down the sides of the bowl occasionally. Once all the flour's been added, add the milk and mix until combined.
Lay a piece of plastic wrap on a flat surface. Dump cookie dough directly onto the plastic wrap, in a log-like shape. Wrap up the dough with the plastic wrap and continue to shape into an even-width log. Refrigerate for at least 1 hour.
Preheat oven to 350 degrees F. Score cookie dough with a ruler 1/4in apart. Slice the log into 1/4in thick disks and place disks on a cookie sheet lined with parchment paper. Bake for 7 to 8 minutes. Refrigerate the remaining cookie dough. Then rotate baking sheet and bake for 2 minutes more. Allow to cool for a few minutes before transferring to a wire rack to cool completely.
Continue with remaining cookie dough. Wrap well and store at room temperature.
*I only had light brown sugar in stock, so I added half a tablespoon of molasses to substitute for the dark brown sugar.