There is no rhyme or reason to this cake. It is neither healthy, nor a proper dessert. It is simply for chocolate lovers. It is a glorious use of a bland, high water content vegetable that lends it's moisture to the crumb of this perfect snack cake. It's blandness acts as a perfect palette for all the wonderful cocoa and brown sugar flavor to absorb.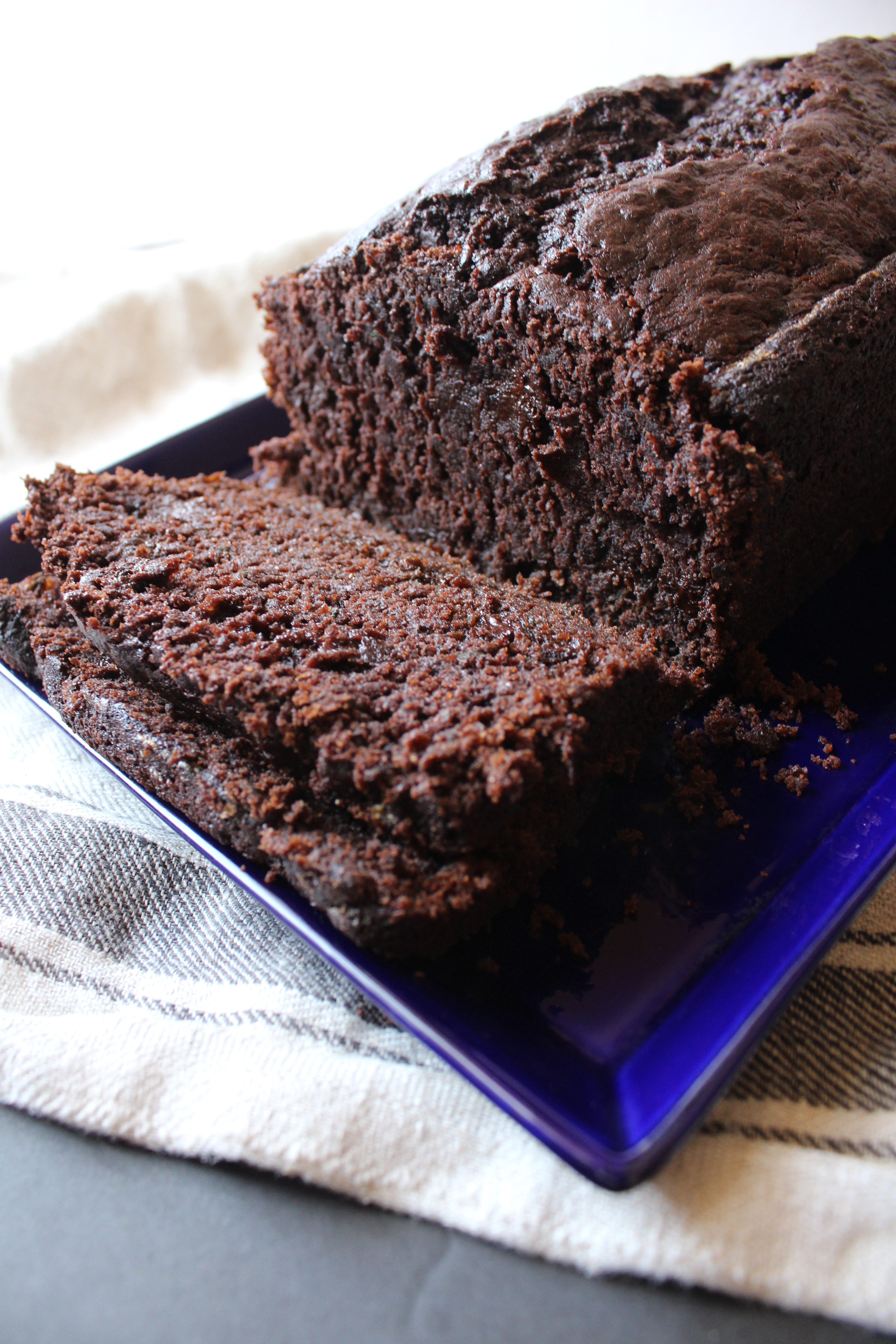 I've posted about chocolate zucchini cake before. This bread version is a bit heartier with whole wheat flour and almond flour – a little more substance to justify my classification of it as a snacking cake! I wasn't happy with any of the recipes I found online for chocolate zucchini loaf, so I made my tweaks, including adding chocolate chips, and voila! Perfection.
Ingredients
2 1/2 cups all purpose flour (or 1 cup AP flour/1 cup whole wheat flour, 1/2 cup almond flour)
1/2 cup dutch processed cocoa plus extra for coating chocolate chips(if using natural cocoa, swap the amounts of baking soda and baking powder)
1 tsp baking soda
1 1/2 tsp baking powder
1/2 tsp salt
1/2 cup sugar
1 cup brown sugar
2 eggs
12 tbsp melted butter
1 lb zucchini, grated
1/2 cup semisweet chocolate chips
Directions
Preheat oven to 350 degrees F. Butter and lightly dust a 9inx5in loaf pan with cocoa powder. Stick in the freezer while preparing your ingredients.
Melt butter in a saucepan over medium heat. Turn off heat and allow to cool down.
Wash and cut off one end of zucchini. Grate, not completely finely, but not in huge slivers either. Place a large sieve over a bowl and place grated zucchini there to drain while you prepare the rest of the ingredients.
Combine all the dry ingredients in a large bowl (everything except the eggs, butter and chocolate chips). Whisk to combine, breaking up any large clumps. Make a well in the center and add eggs and butter. Mix with a wooden spoon (Bengali alert: I used my hands to mix this batter!). Add all of the zucchini and stir until combined. In a small bowl combine the chocolate chips with sprinkling of cocoa (maybe 1/4tsp).  Toss to coat the chocolate chips with the cocoa. Add to the batter, gently folding in. Take the loaf pan out of the freezer and add the batter, spreading evenly across the loaf pan. Bake in preheated oven for 1 hour 10 minutes or until a toothpick comes out relatively clean.*
Allow to cool completely before attempting to remove it from the pan.
*It won't come out completely clean due to the moisture of this loaf. A few crumbs are ok. You just don't want it to come out with wet batter.