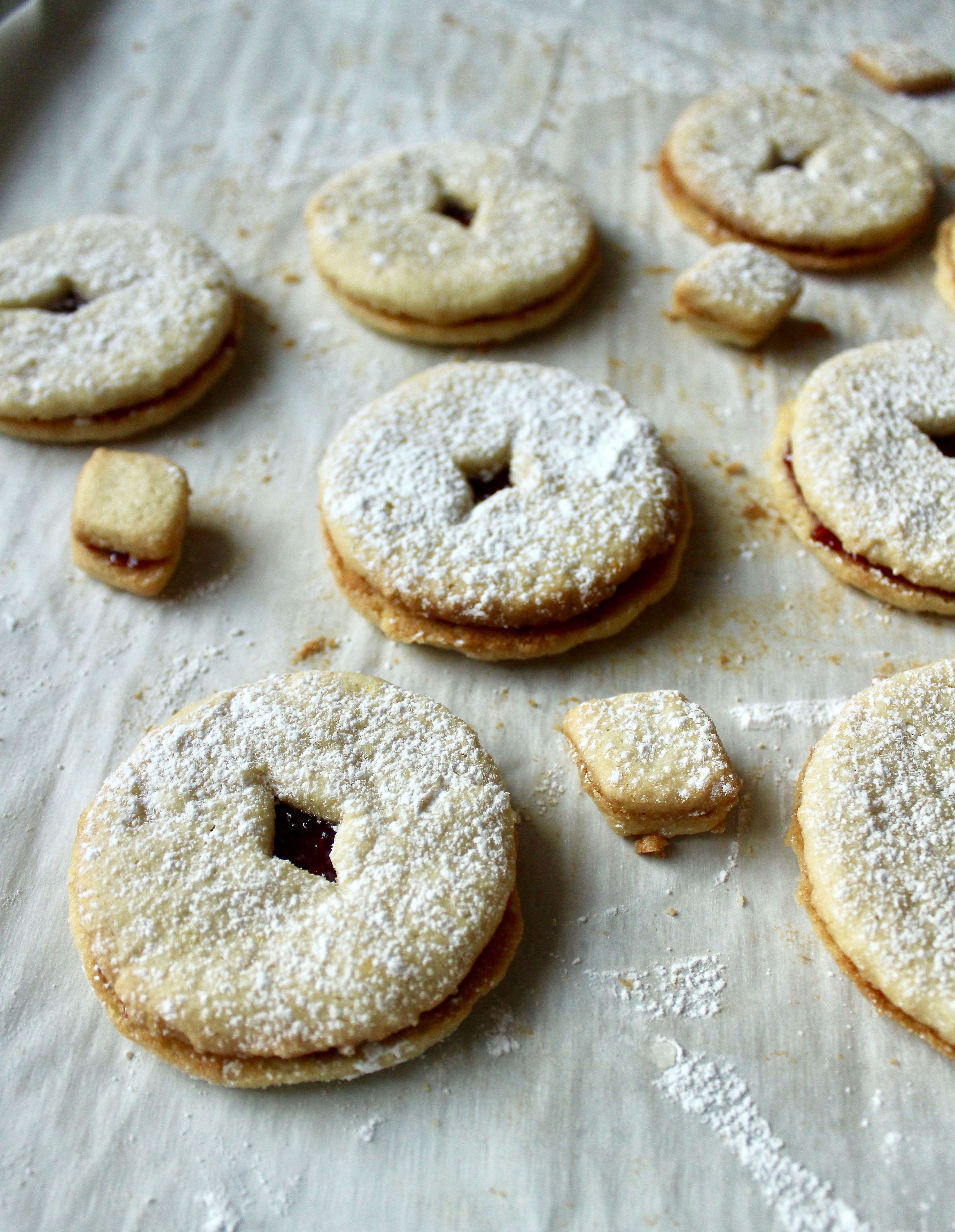 I don't know why I became obsessed with Linzer cookies this week. I probably saw one or two in my Instagram feed because of the holiday baking season, got lured in by the jewel like centers and fluffy snow-like confectioners sugar topping. So the research ensued, and I learned they are an Austrian/Hungarian cookie, traditionally made with some nut flour (almond or hazelnut) and filled with raspberry jam. I saw a few recipes that looked true to form, but when I saw my beloved Ina Garten had her version, and it was no frills, I thought I'd go that route. Big. Mistake.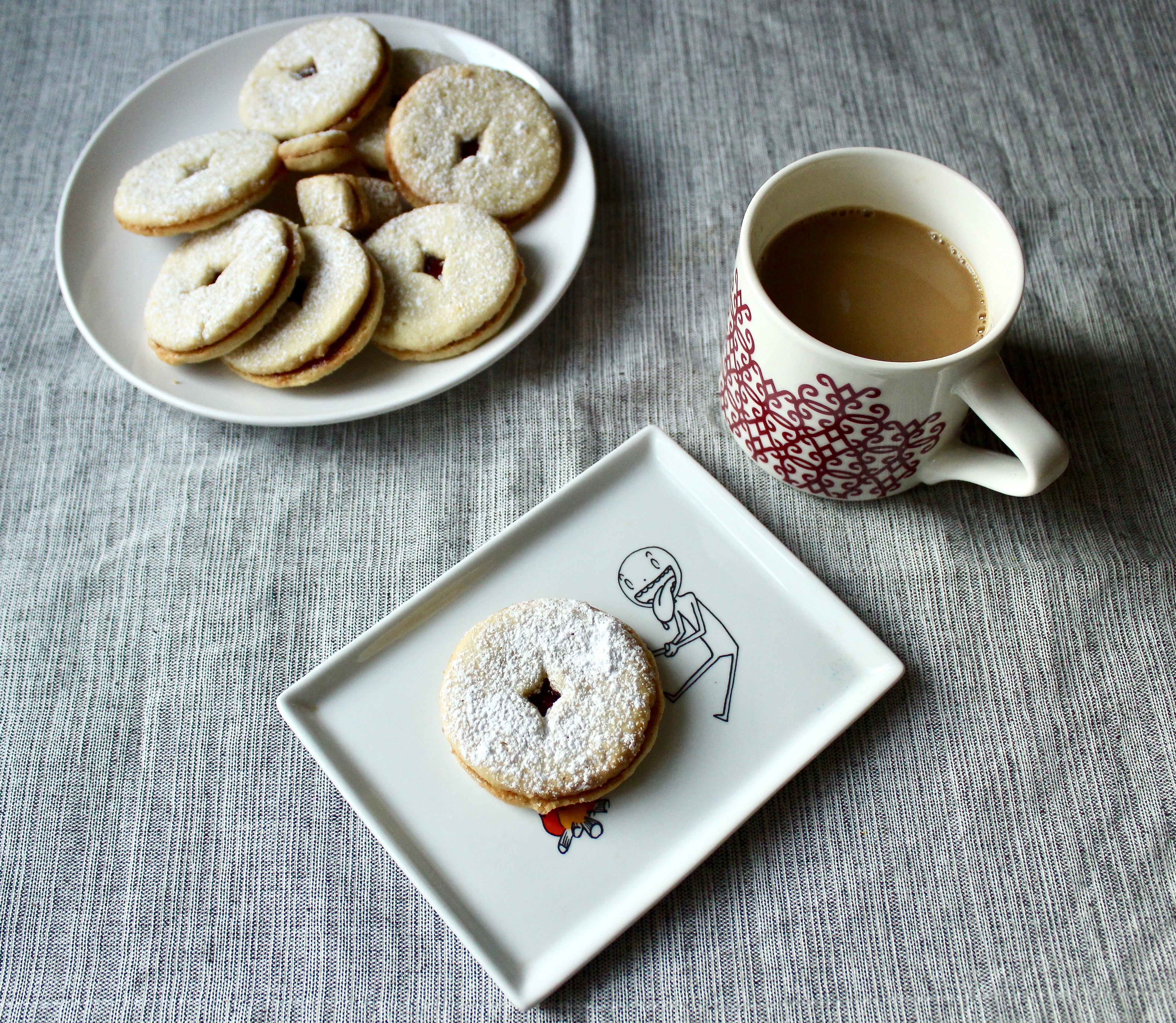 Very minimally flavored and sweetened shortbread dough – OK. That's fine. It will get sweetness and flavor from the raspberry jam and confectioner's sugar. No almond flour, or flavorings besides vanilla – all OK to try. But what I couldn't believe was the bake time. 20-25 minutes?! Of course, in following these instructions, I way over baked my first batch. So I went back to the recipe and watched the video in which she made them…in the video she declares a bake time of 10-15 minutes! How has no one caught such a glaring mistake?! After re-rolling the scraps and baking a second batch (for 10-12 min) the results were much better, but I still had an itch I needed to scratch. I had to try the traditional version – with almond flour and lemon zest.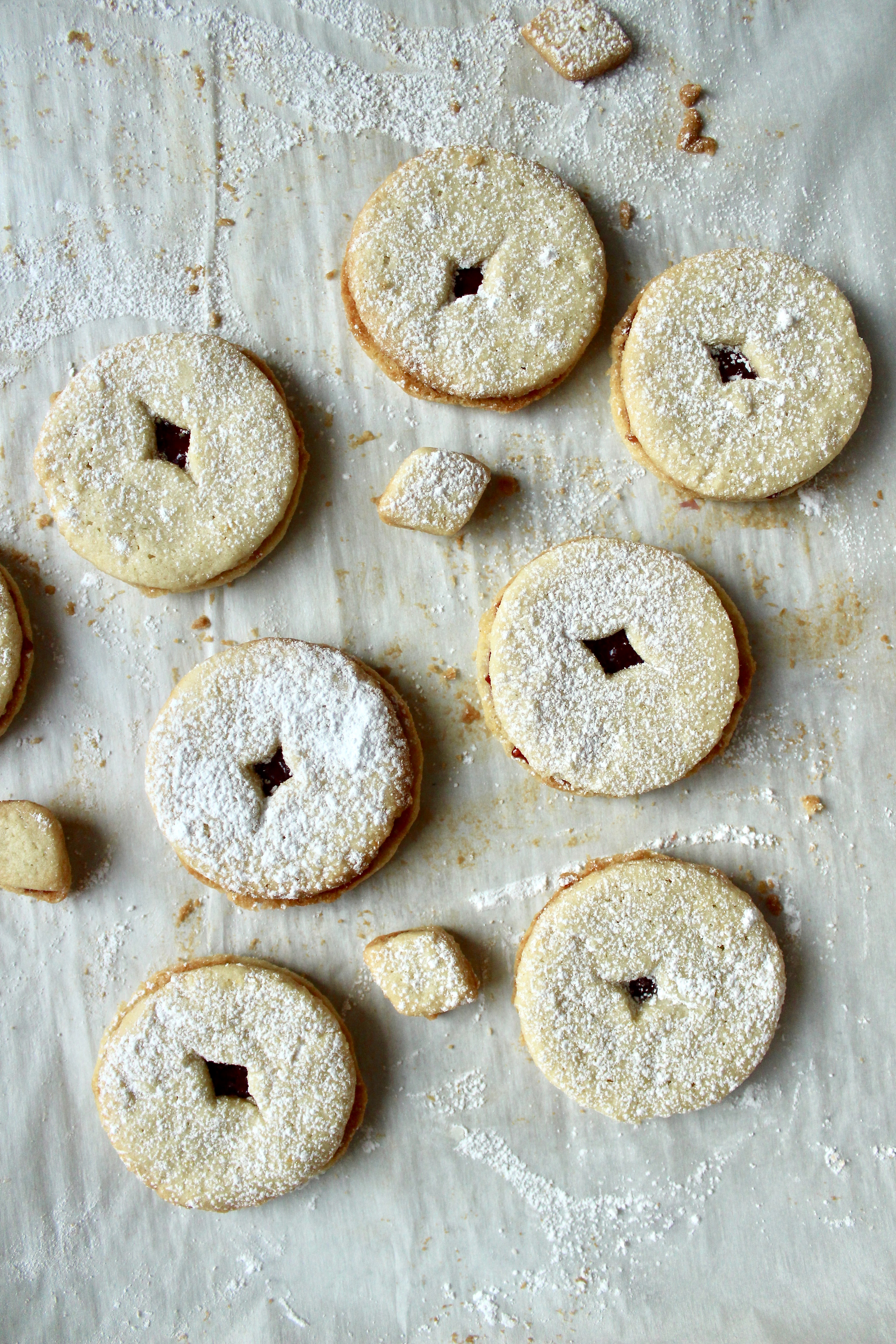 But thank you, internet, for your recommendations. The King Arthur Recipe was the way to go. And although it was a little difficult to handle, the final product was worth it. Delicate cookies with a zesty lemon flavor, crumbly almond texture. It was a cookie to match the aesthetic.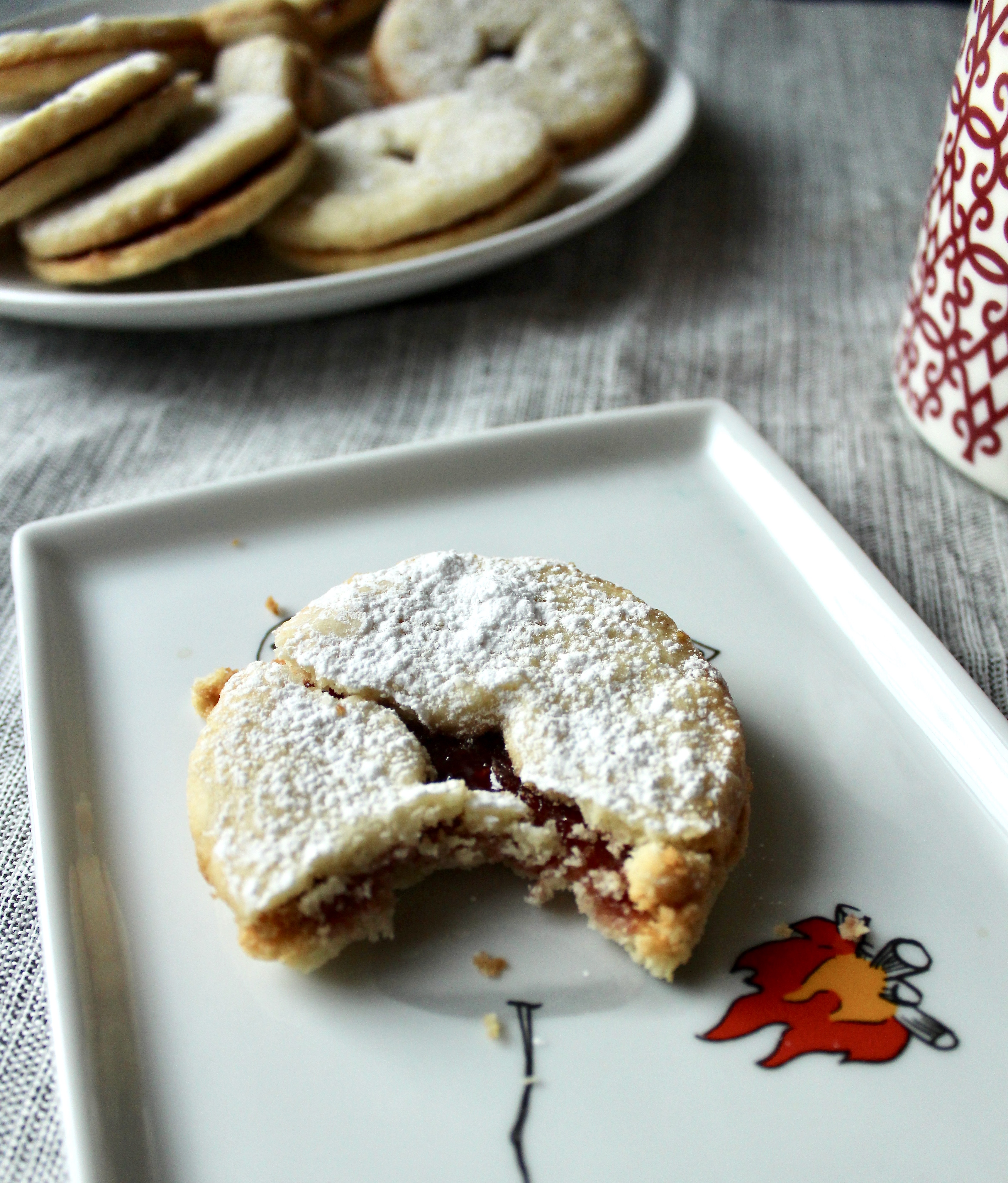 I hope you enjoy these cookies during this holiday season and beyond! Wishing everyone a joyous holiday, whatever you're celebrating, and a happy happy new year!
Recipe from King Arthur Flour.
Ingredients
3/4 cup unsalted butter
1/2 cup granulated sugar
zest of 1 lemon
1 large egg yolk
1 tsp vanilla extract
1 cup all purpose flour
3/4 cup almond flour
1/4 tsp fine sea salt
raspberry jam for filling
confectioner's sugar for dusting
Directions
Beat butter and sugar together in the bowl of a stand mixer, or in a large bowl using a handheld electric mixer, until well combined and light and fluffy, about 3 minutes at low to medium speed. Add egg yolk, then vanilla. Stop the mixer, scrape down the sides of the bowl, and beat until just combined. Turn mixer off.
Combine flours and salt in a bowl. Whisk to combined. With the mixer on low, slowly add the flour, stopping to scrape down the bowl occasionally. Stop the mixer when all the dry ingredients have been incorporated. Dump onto a large piece of plastic wrap and flatten into a disk.* Refrigerate for 30 minutes or until well chilled.
Remove dough from fridge, unwrap and place on a large piece of parchment paper. Place another large piece of parchment on top and roll out with a large (I use a French) rolling pin to spread dough to 1/4in thickness. Cut out rounds, about 2in diameter, and use a small heart or diamond cutter to cut out the center of half of them.** Slide the parchment paper and dough onto your baking sheet, and refrigerate the whole thing for 30 minutes.
Preheat oven to 350 degrees F. Remove sheet pan and use a small spatula or butterknife to remove scraps and center shapes. Set scraps aside to reuse later and leave center shapes on the pan. Bake for 8-10 minutes in preheated oven until edges just start to brown. Remove from oven, allow to cool, then spread flat side of full circle cookies with jam. Place a cookie with a cutout middle on top. Continue with the rest, including the small shape cookies, and dust the tops with confectioners sugar through a sieve.
*If you have a large 16x22in sheet pan like I do, do this in one batch. If you have anything smaller, like a quarter or half sheet pan, separate into two pieces, refrigerate and roll out separately.
**If you don't have small shaped cutters, use a small paring knife to cut out a simple shape, like a diamond.