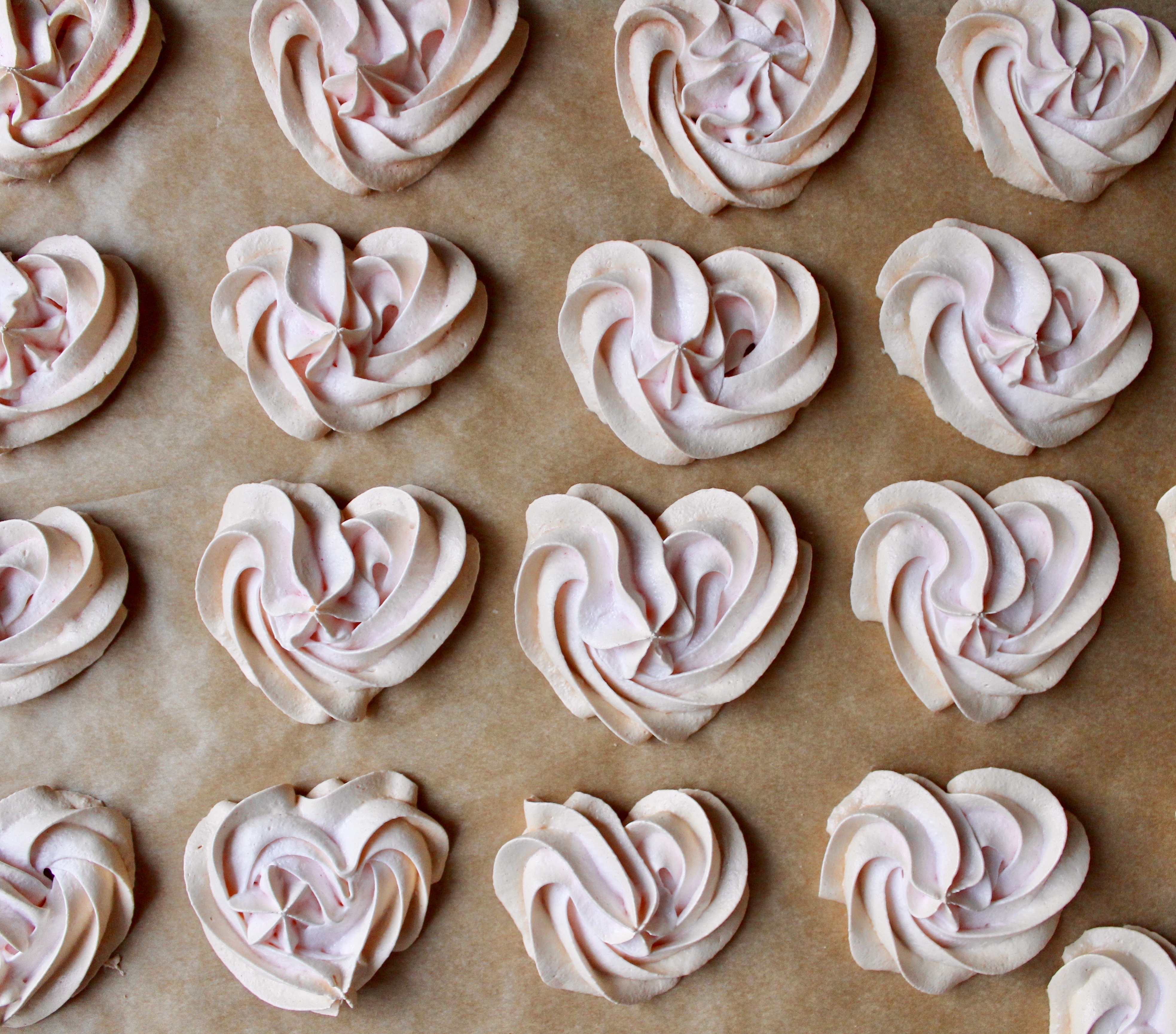 Just when you thought she couldn't produce another great recipe, she pulls one out just to prove you wrong. I'm referring to the OG Deb Perelman and a recipe from her new book, Smitten Kitchen Every Day. She calls them strawberry cloud cookies – they are essentially meringues flavored with a unique ingredient – strawberry powder, rather than the traditional vanilla extract. She dollops the meringue onto cookie sheets before baking for 30-35 min. I piped mine with an open star tip into heart shapes (it is February after all) and baked them for a shorter time, since they are flatter meringues.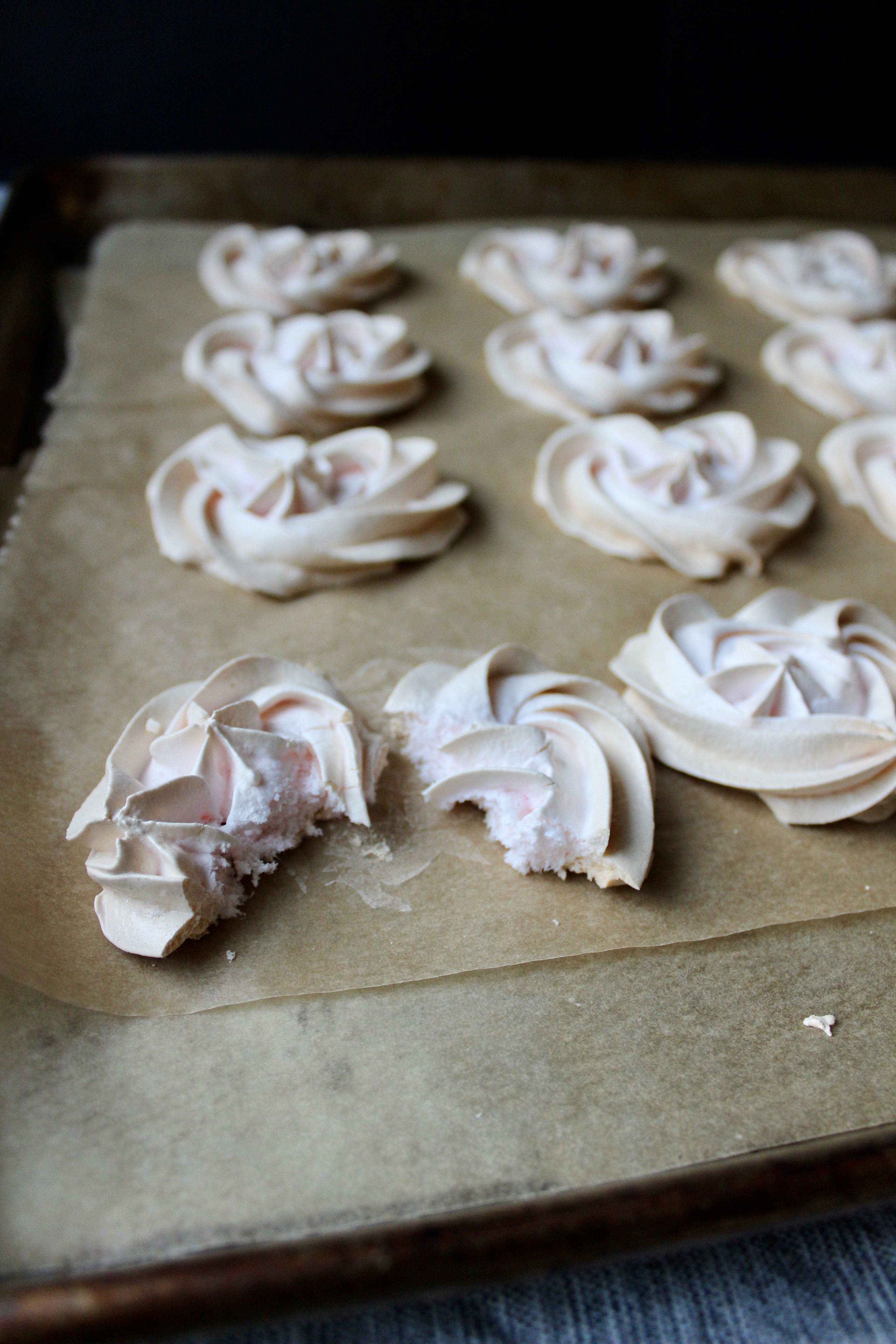 Of course I didn't hesitate to purchase the obscure strawberry powder as soon as I saw the recipe. It looks as good as it smells – bright pink, with an old school strawberry scent. It reminds me of the strawberry ice cream we would get from the bodega afterschool – except nothing artificial here. Just freeze dried strawberries blended into a fine powder.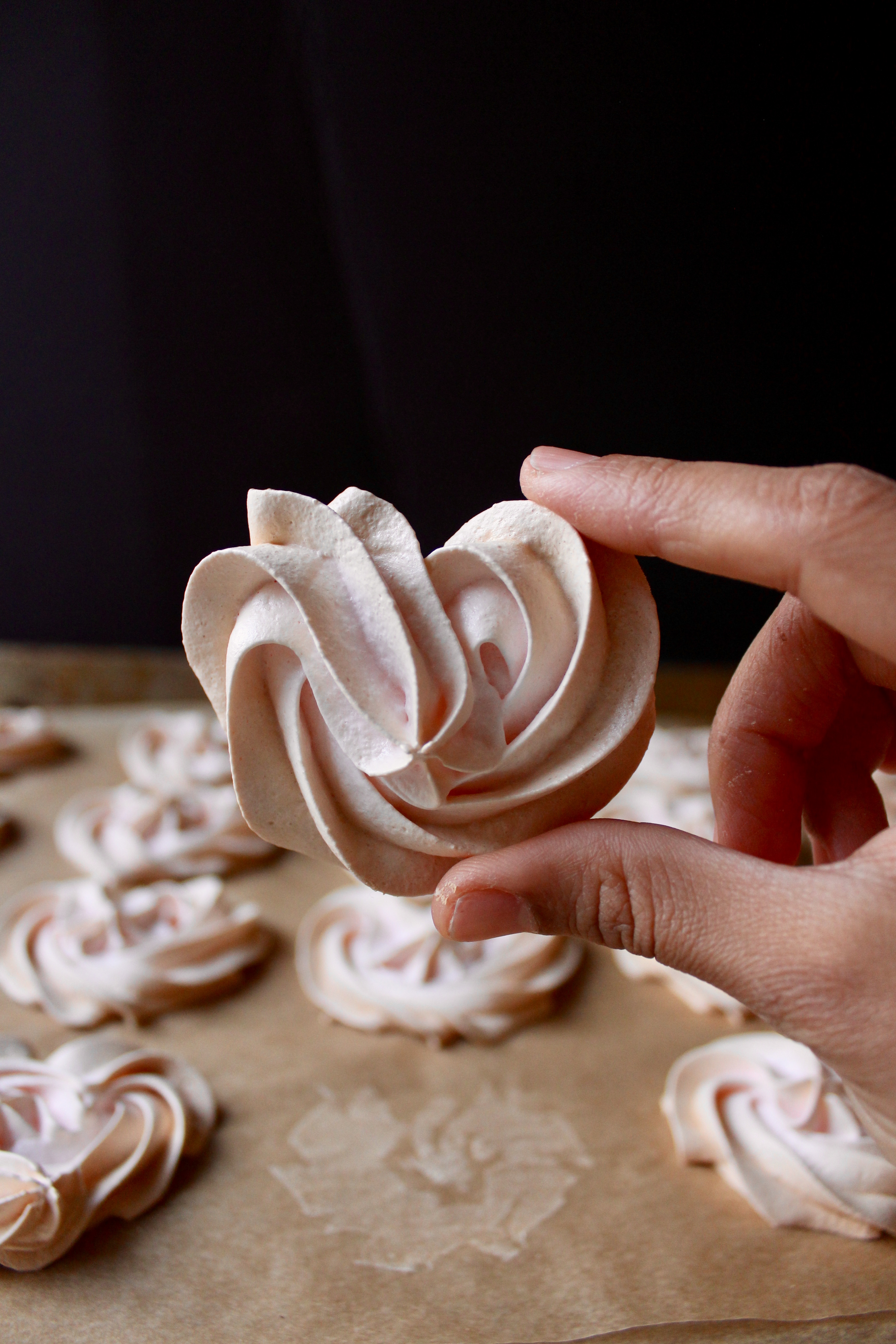 It gives the cookies a naturally pink hue, with a subtle strawberry flavor. I can't think of anyone who wouldn't want these in lieu of a box of chocolates for Valentine's Day.
Recipe from Smitten Kitchen Every Day.
Ingredients
2/3 cup granulated or superfine sugar (superfine preferred)
1/4 tsp fine sea salt
2 tbsp strawberry powder
2 large egg whites
1 tsp lemon juice
Directions
1. Preheat oven to 300 degrees F. Line a large baking sheet with parchment paper or a silpat.
2. In a small bowl, combine sugar, salt and strawberry powder. Whisk gently to combine.
3. In a large bowl using an electric handheld mixer or in the bowl of your stand mixer, beat egg whites at medium speed with the whisk attachment until thickened, streaks form, and when the beater is taken out, you see soft peaks (they fall back on themselves slightly). Reduce the speed to low and slowly add the sugar mixture. Continue beating until meringue is thick and holds stiff peaks. Stop the mixer, add the lemon juice, and fold in carefully.
4. Snip the end of a piping bag. Drop in a large star tip or #1M Wilton tip. Fold the top edge of the piping bag out, then place in a tall glass. Spoon the meringue into the piping bag, pushing down as best as you can (it's very sticky!). Twist the top of the piping bag closed, then start piping hearts directly onto the parchment – starting from the middle of the heart, up and out for the first arch, down for the vertex, then back up and around for the second arch, then releasing when you come back to the middle. Space them about half an inch apart. Continue until the sheet pan is full and the meringue is used up.
5. Bake in preheated oven for about 20 minutes, until the edges just start to get some color on them. Let cool. Store in an airtight container for up to 3 weeks.