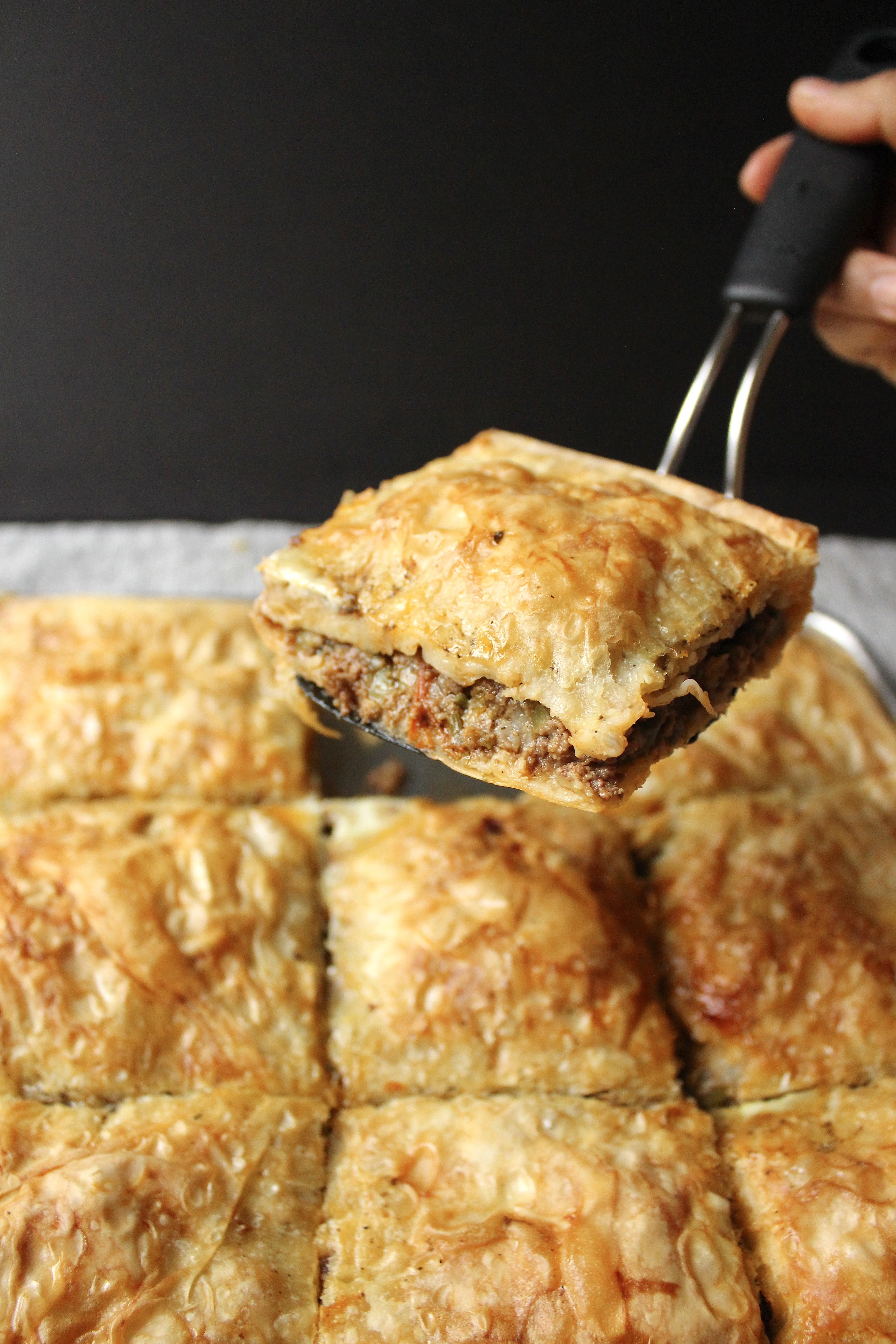 This is the story of how a typo turned into an entree. In Whatsapp group of fellow moms, coordinating the dishes of a potluck, someone offered up a Samoa cake. Misreading that for "Samosa Cake" many of the moms jumped at the prospect: "Samosa cake?! What's a Samosa Cake?! I want to try it!!". After clarifying the mix up, some ideas were thrown around as to what a samosa cake would look like. I immediately thought of layers of phyllo dough stacked with a samosa meat mixture, baked and cut in slices. When I looked up for recipes that would meet these requirements, I pulled together elements from a Borek recipe (Turkish layered meat pastry), an Egyptian meat pie, and the filling from a Yemeni Samboosa. There are cubanelle or italian frying peppers here for flavor, often seen in Turkish recipes. There's tomato paste from the samboosa recipe, an ingredient that is necessary for any red meat dish, in my humble opinion. And the whole layering and baking technique pulls from Egyptian meat pie recipe.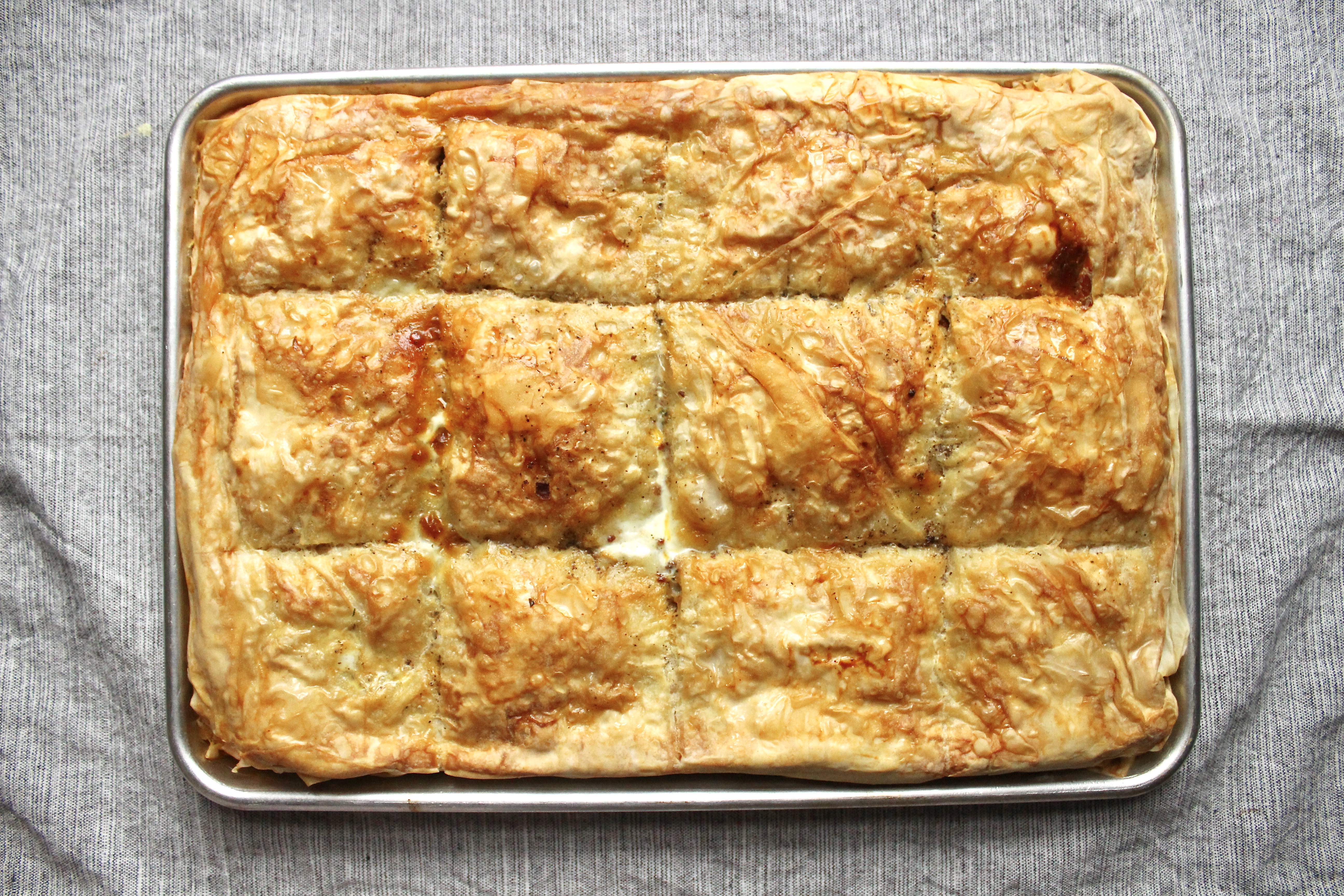 This is the result. Layers of phyllo + butter/oil brushed on, a generous 2 lbs of ground beef/lamb/pepper mixture, more phyllo, then a custard of milk and egg poured over. The great thing about this dish is you can prepare it all in advance, cover it in plastic wrap, and bake it about an hour and a half before you need to serve it. I made this in a jelly roll pan which I found to the optimal size and sheet given the size of store bought phyllo sheets. You can also do this in a 9×13 glass pyrex or similar baking dish, but you will just have to tuck the size in quite a bit. This was so delicious, absolutely worth the effort!
Ingredients
3 tbsp olive oil
2 lbs ground beef or beef/lamb mixed
4 cubanelle peppers, diced small
1 medium onion, diced
4 cloves garlic, minced
2 plum tomatoes, diced
1 tsp salt
3/4 tsp black pepper
dash cayenne pepper
1/2 tsp cinnamon
1 tbsp tomato paste
1/4 cup parsley, minced
1 package phyllo dough
1/2 stick unsalted butter, melted
1/4 cup olive oil
1 cup milk
1 egg
salt and pepper to taste
Directions
1. Defrost your phyllo in the fridge for 8 hours or overnight.
2. Make the filling: heat olive oil in a large skillet over high heat (for about 30 second). Add meat, and break up clumps with a wooden spoon. Once it starts to brown on the outside and loose the pinkness, add the peppers, onions and garlic. Saute until softened, about 10 minutes. Add tomatoes, salt, pepper, cayenne, cinnamon and tomato paste. Stir until well combine. Lower heat to medium and cook for about 20 minutes, stirring occasionally. If it starts to look dry or stick to the bottom, add half a cup of water and cook until it mostly evaporates. Finally, add the parsley and remove from heat.
3. Preheat your oven to 350 degrees F if you're going to bake it immediately. Melt the butter and combine it with the olive oil. Brush a thin layer onto a jelly roll pan or 9x13in baking dish. Wet and wring out the excess water from 2 thin dish towels. Take the phyllo out of the packaging and place in between the towels to keep them from drying out and breaking while you work. Place 3-4 sheets of phyllo onto your prepared pan. Brush with a thin layer of butter/oil. Repeat until you've used up about half of the stack of phyllo dough. Then drain the excess oil from your meat, and spoon the meat onto the dough. Spread out so you have a thin layer. Then continue layering the remaining phyllo in the same way: 3-4 sheets, butter/oil, repeat until the end.
3. Tuck in any over hanging sheets of phyllo. Then, using a sharp knife, score (don't cut all the way down to the bottom) 3 lines across and 2 lines perpendicular to them so you have 12 squares. Whisk together the milk and egg, season with salt and pepper. Then carefully pour over the prepared meat pie. Bake for 45-50 minutes, until the top is golden brown.
4. Remove from oven and let cool for 20 minutes before cutting and serving.