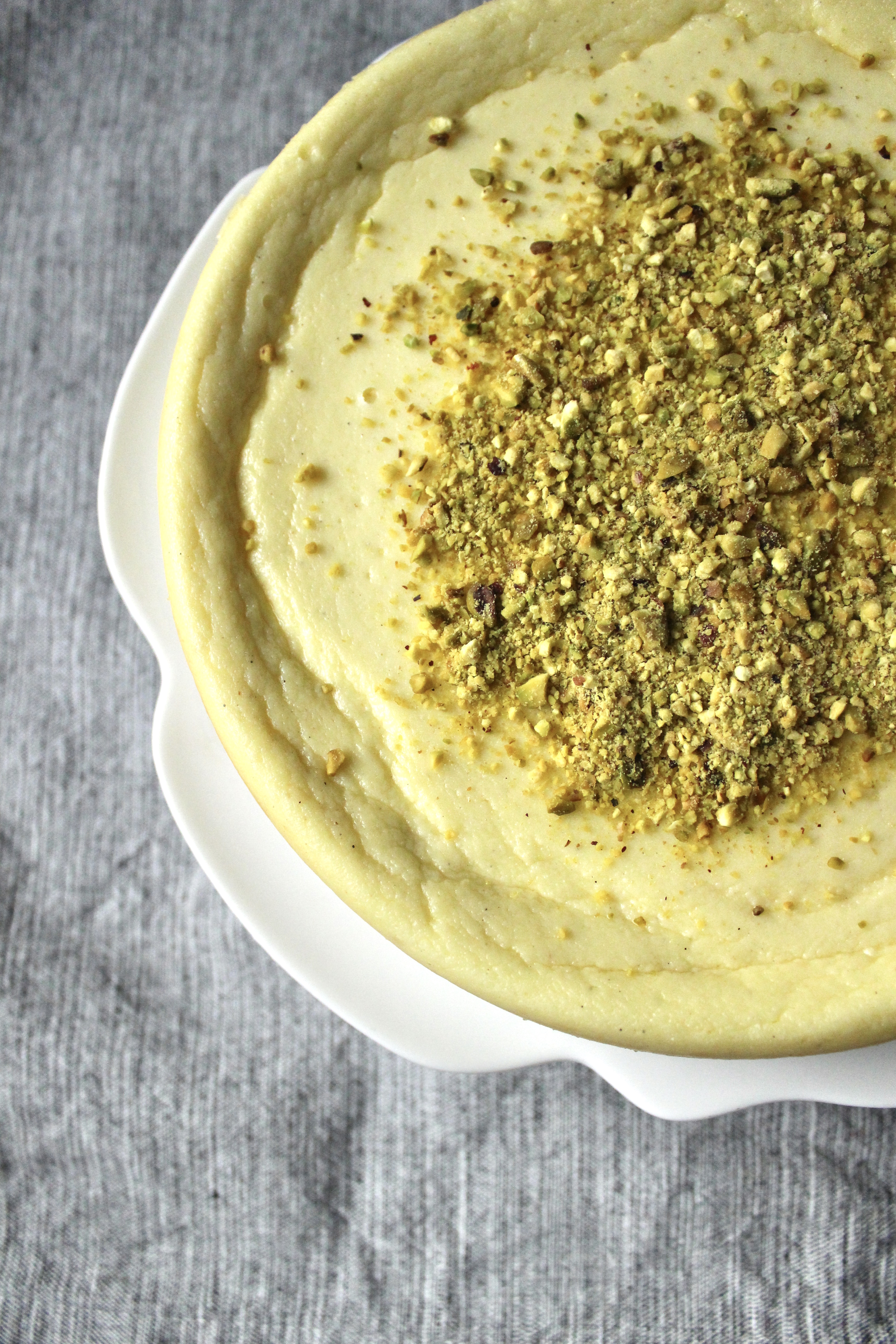 I had a lemon ricotta cheese in Sorrento that was a game changer. Compared to dense, tangy, NY style cheesecake (which is delicious in its own rite), this was so light, so brightly flavored with regional citrus, it was the most heavenly thing I had tasted during my 4 months in Italy (in addition to cinnamon gelato, rosemary potato pizza, and fresh ricotta calzone).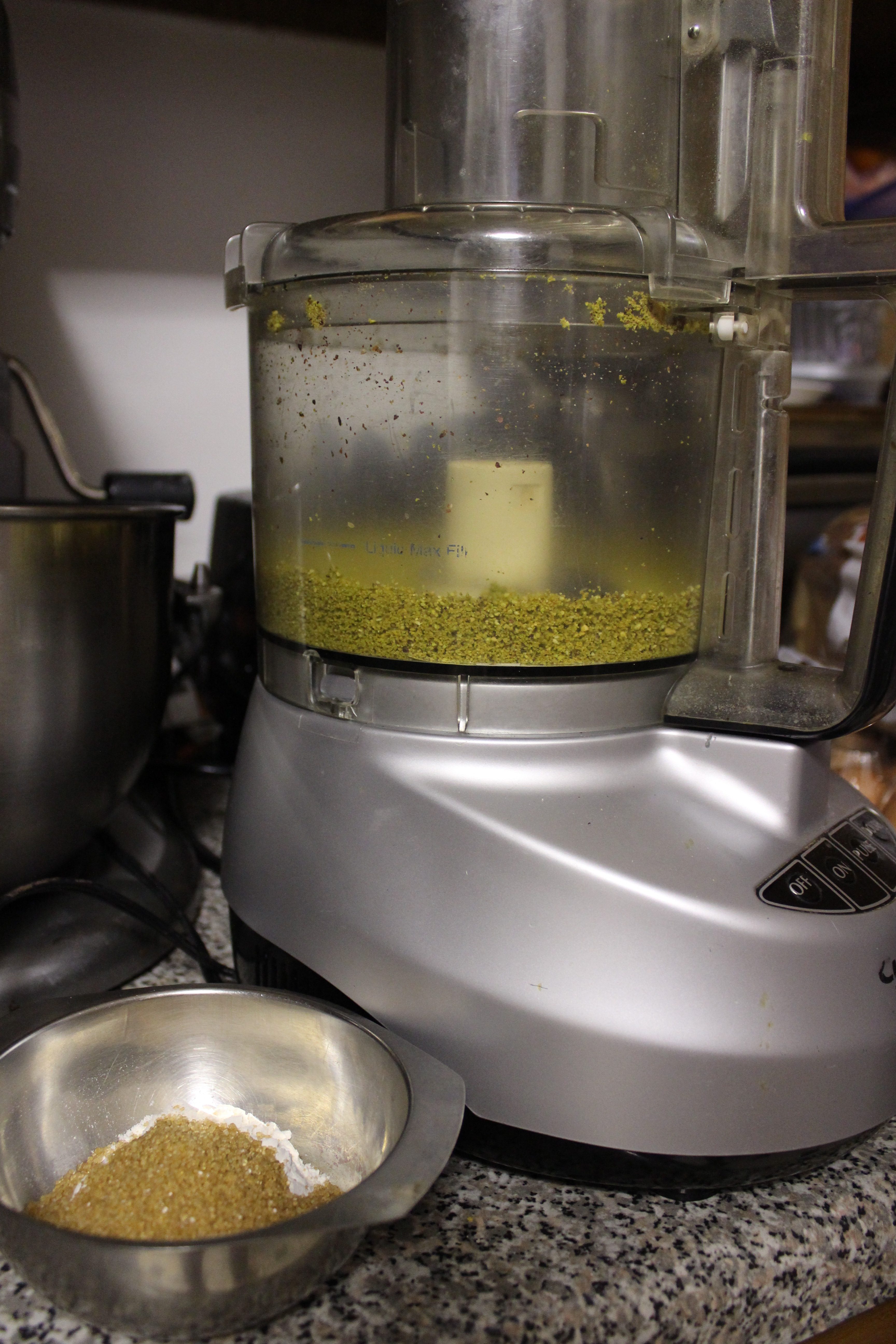 Musing on my recent rasmalai attempt, I reflected on the similarities between the traditional South Asian dessert and ricotta based sweets. Chana – the curds separated from the whey when milk is boiled and cut with vinegar – is essentially the same as ricotta cheese (ricotta might be a bit richer in that it's made with heavy cream as well as milk). So I decided to make a ricotta cheesecake with flavors that are distinctive to rasmalai: rosewater, cardamom and pistachio.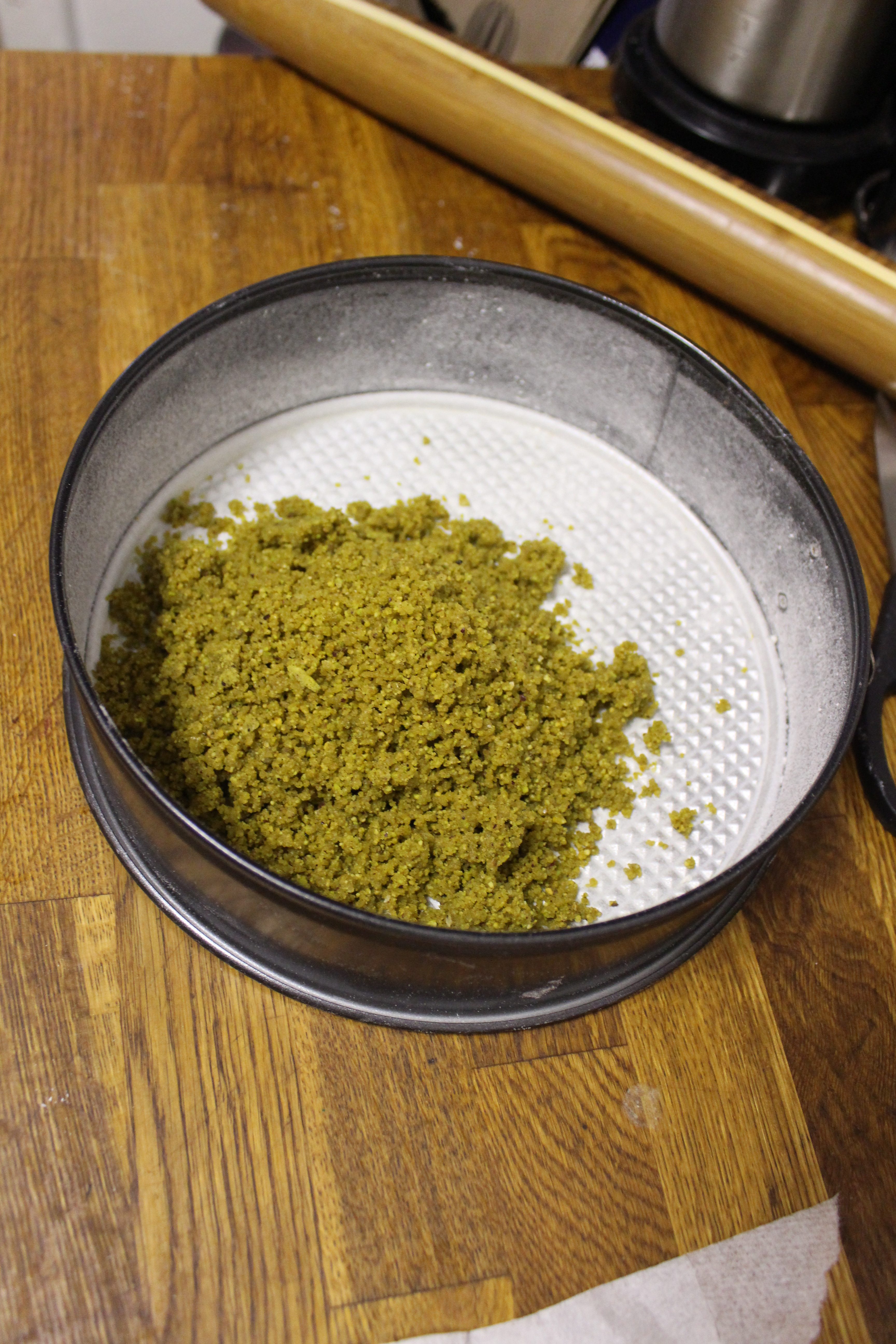 The result is a dessert that pleases young and old alike, old school and new school (read: hipster). Nostalgic flavors, subtly sweet, light spongey texture. It's a must for your next dinner party.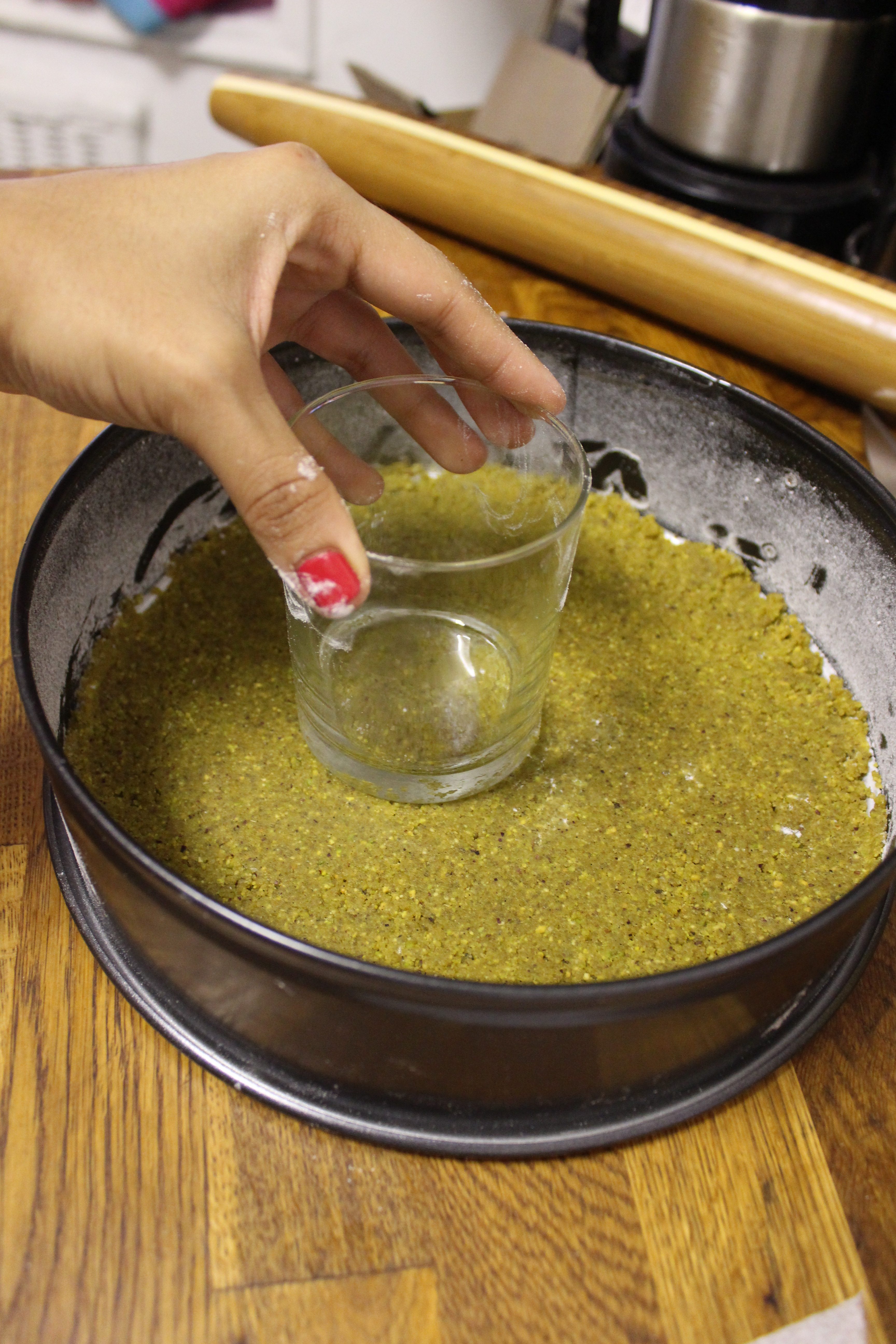 The original recipe doesn't say to bake atop a sheet pan, but I had a minor mishap when transferring the springform pan filled with wet batter to the oven: the sides started sliding up and off the base! I stopped dead in my tracks, lowered the sides down to prevent any further spillage, then covered the bottom and sides with aluminum foil, and placed on top of a sheet pan for easy transfer to and from the oven.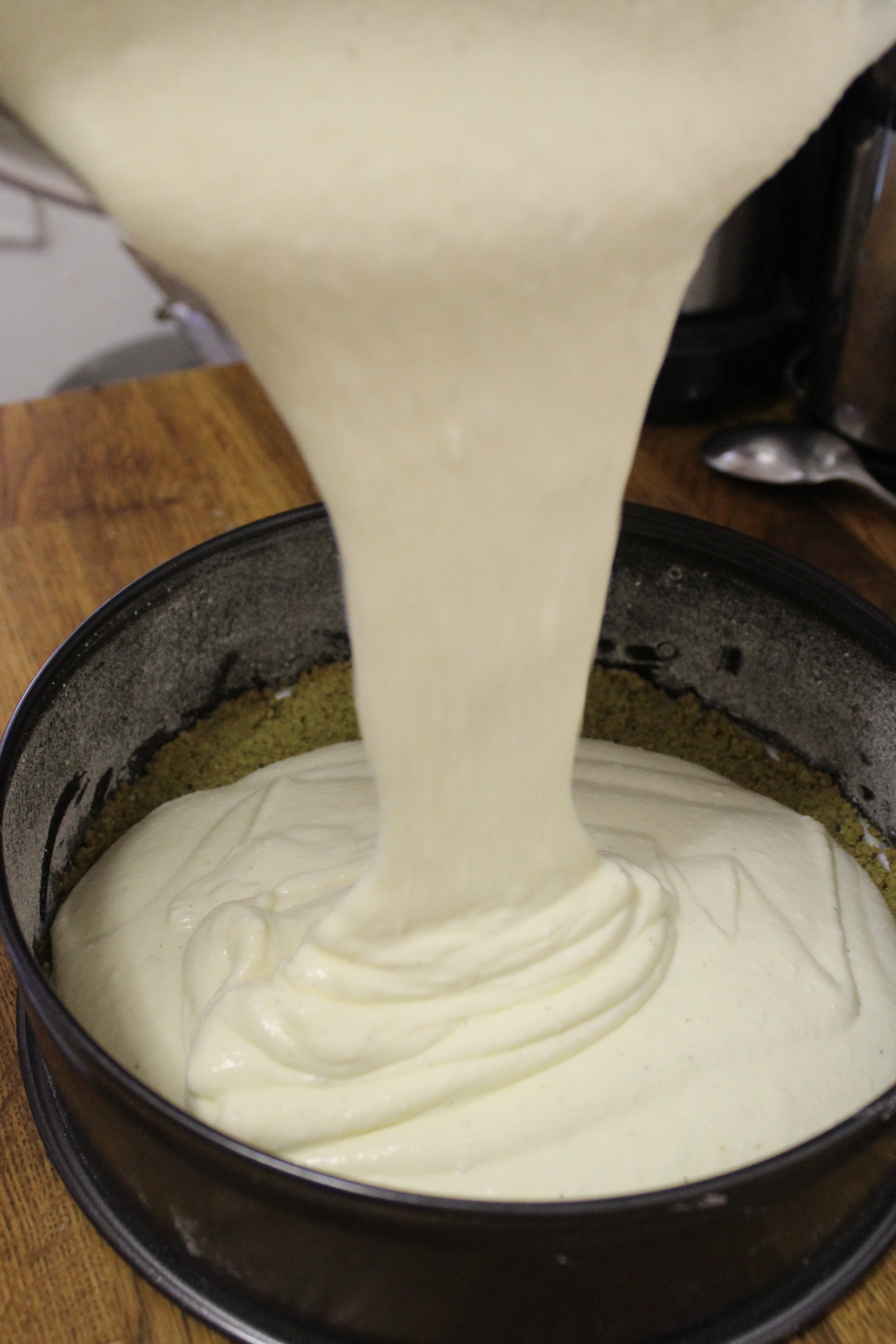 As a result, it took a little longer to bake, and in fact looked way too jiggly when I took it out, but I needed to get a move on! It set beautifully regardless and was the perfect moist, light spongey texture that a ricotta cheesecake demands.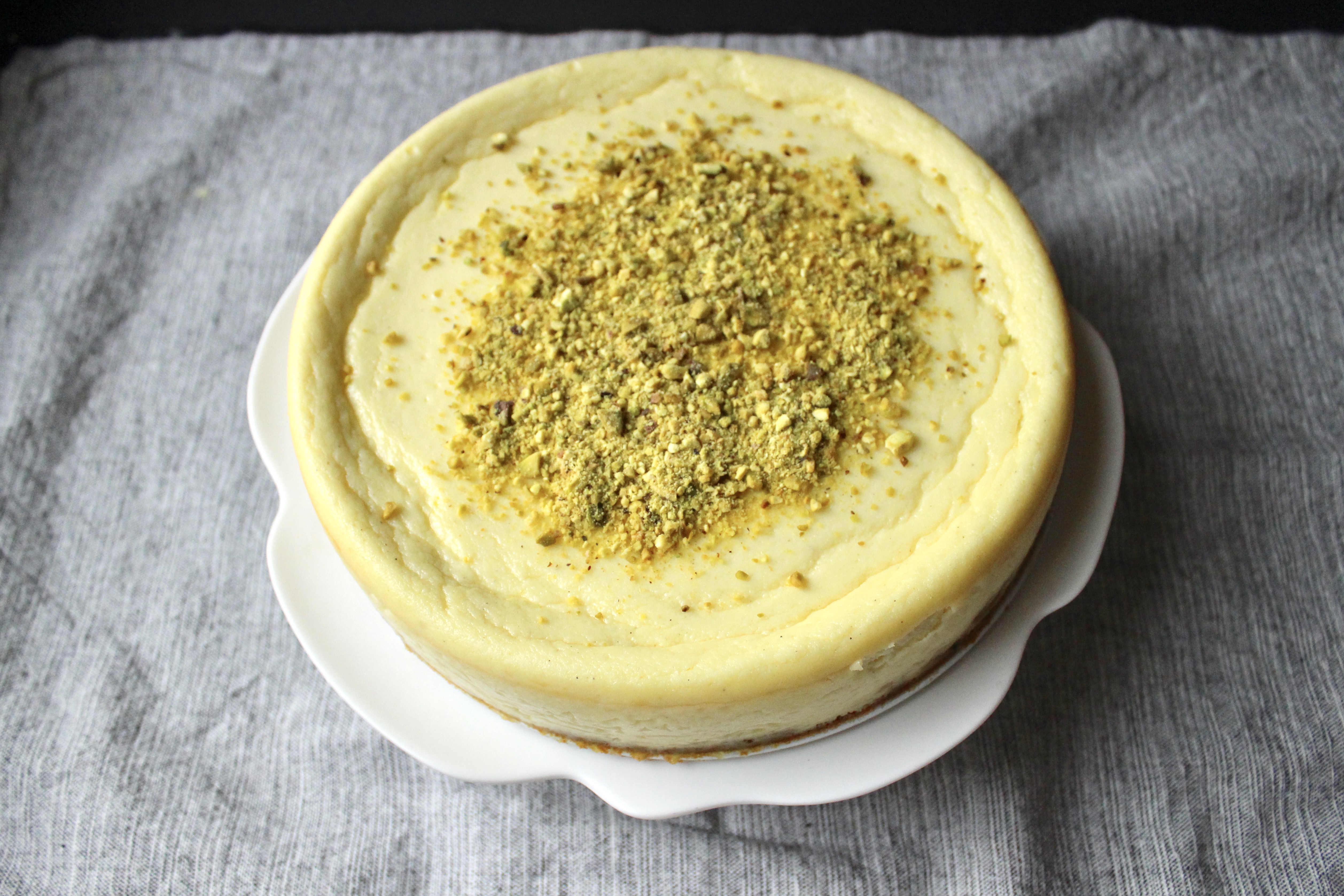 Recipe adapted from Once Upon A Chef.
Ingredients
For the crust
3/4 cup shelled raw pistachios
1/4 cup all purpose flour
3 tbsp turbinado or granulated sugar
1 large egg yolk
2 tbsp salted butter, melted (or unsalted butter plus pinch of salt)
1/4 tsp rosewater
3/4 tsp cardamom powder
For the filling
8oz cream cheese (Philadelphia brand)
3/4 cup granulated sugar
1/4 tsp kosher salt
32 oz ricotta cheese (not low fat)
3 large eggs
1/8 tsp rose water
1/2 to 3/4 tsp cardamom powder (depending on how fresh it is; the more vibrant green, the fresher it is)
Directions
1. Preheat oven to 325 degrees F. Grease and flour a 9in springform pan. Place a sheet of aluminum foil under the pan and going up the sides a bit.
2. In the bowl of a food processor, blitz the pistachios until finely ground (but don't overdo it or else it will turn in to paste). Add sugar and salt. Pulse to combine. Stop to scrape down the sides. In a small bowl, whisk together butter, egg yolk, rosewater and cardamom. With the mixture running, drizzle in the egg mixture until combined. Stop to scrape down the bowl and pulse a few more times. Dump onto the prepared springform pan, spreading out with your hands, and using the flat bottom of a drinking glass or measuring cup to level/smooth it out. Freeze for about 10 minutes, then bake in the preheated oven for 10-15 minutes. Remove from oven and allow to cool while preparing the filling. I like to place mine on a baking sheet so the transfer back to the oven once it's filled with batter is much easier.
3. In the bowl of a stand mixer using a paddle attachment or in a large bowl using a handheld electric mixer, beat the cream cheese with the sugar and salt for about 1 minute. Add ricotta and beat for an additional minute or two. Add the eggs, one at a time, until incorporated. Stop to scrape down the bowl occasionally. Add the rosewater and cardamom. Stop the mixer and pour batter into prepared springform pan. Place in preheated oven and bake for 60-65 minutes. The centers will still be quite jiggly, but the outsides will be firm and cracked. Take it out of the oven and allow to cool. Refrigerate until the centers are set (at least 4 hours).
4. Garnish with crushed pistachios, rose petals, or enjoy as is.