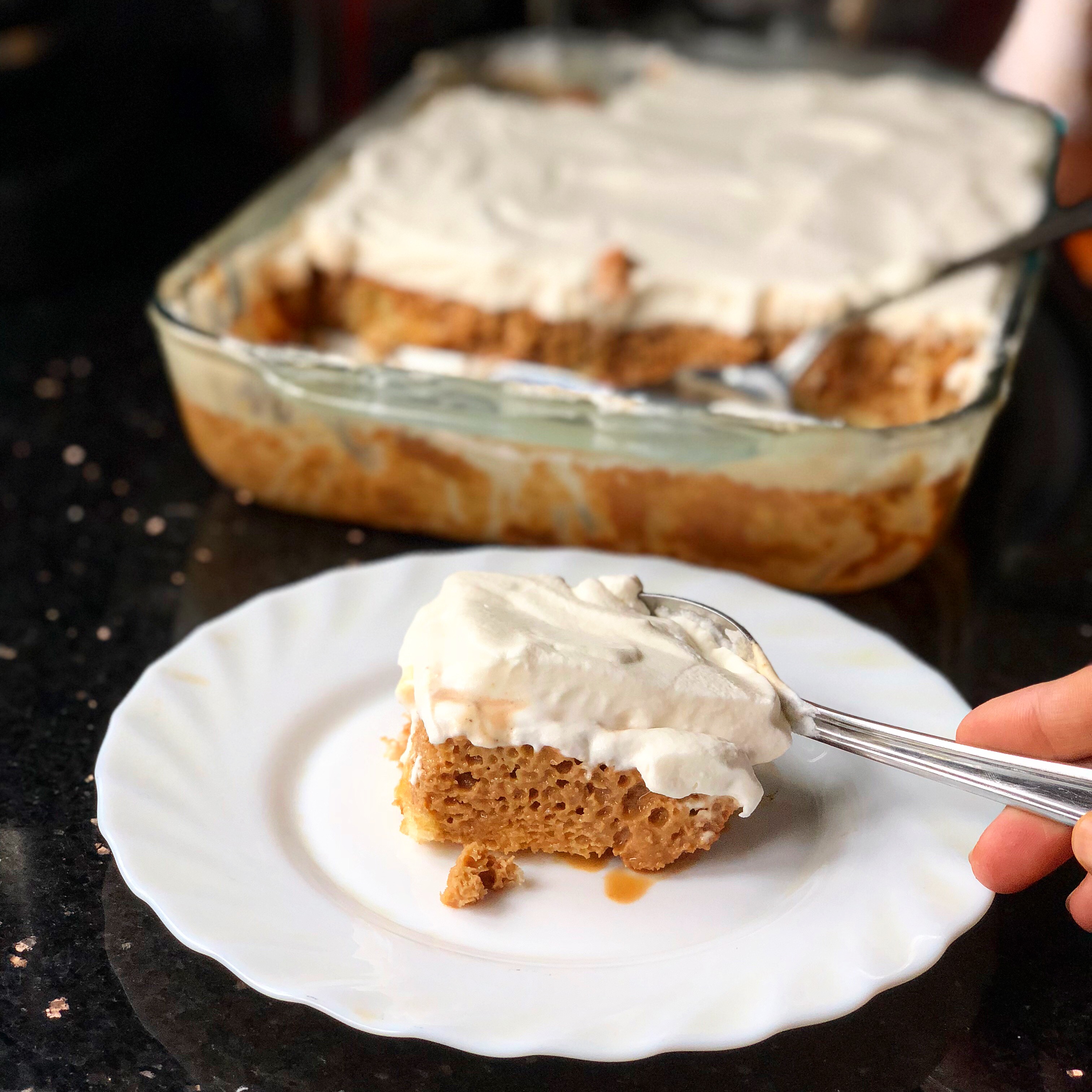 Most of you are familiar with chai – a spiced tea drink, made with some kind of milk. Most Bengalis I know and grew up with, didn't spice their tea, but steeped some strong black tea and cooked it down with milk, or evaporated milk, and sweetened to taste. This is called dood cha (translation: milk tea). My favorite childhood treat was dunking a piece of Wonder bread in my mother's milk tea. This dessert, an adaptation of tres leches, rekindles that memory. A sponge cake that is soaked in a steeped black tea milk mixture, and topped with whipped cream, recreates that childhood favorite in dessert form. I made it on a whim at my in law's place over the weekend so I don't have many pictures. I tried recreating it with PG Tips pyramid tea bags – and although tasty, did not have a strong enough flavor. Will share more pictures when I recreate it – in the meantime I need to buy up some loose tea of my own, since the tea bags just won't do in this recipe.
Ingredients
2 cups water
3-4 tsp loose black tea
1 cup all purpose flour
1 1/2 tsp baking powder
pinch salt
5 eggs, separated
1 cup sugar plus 3 tbsp
1/3 cup milk
2 tsp vanilla extract
1 can evaporated milk
1 can sweetened condensed milk
1/4 cup heavy cream plus 1 pint heavy cream
Directions
Preheat oven to 350 degrees F. In a medium saucepan, bring water to a boil. Add tea leaves (3 if you have strong tea leave, 4 if less strong. If unsure, start with 3, can always add more later) and reduce the heat so the tea gently boils, about 7 minutes.
In a small bowl, combined flour, salt and baking powder.
In a medium bowl using a handheld electric mixer, or in the bowl of a stand mixer, beat the egg yolks with 3/4 cup sugar until pale yellow. Reduce mixer to low and add milk and vanilla. Using a spatula, gently add in the flour mixture.
After the tea has boiled for a few minutes, add 1/4 heavy cream, 1 can evaporated milk and 1 can sweetened condensed milk. Keep the heat to medium low, and simmer for an additional 7 minutes. Taste it for flavor. If tea flavor is not strong enough, add 1 more tsp of tea and simmer for an additional 5 minutes. Turn off heat.
In a separate bowl, beat egg whites with the whisk attachment until soft peaks begin to form. Slowly add 1/4 cup granulated sugar so as not to deflate the egg whites, and continue beating until you form glossy, stiff peaks. Take 1/3 of the beaten egg whites and stir into the egg yolk/flour mixture. Take an additional 1/3 and fold into the batter carefully. Fold in the remaining 1/3 and pour the batter into an UNGREASED* 9×13 glass baking dish. Bake for 35-40 minutes until golden brown and toothpick inserted comes out clean.
Allow to cool for a few minutes, then poke holes with a toothpick all over cake. Strain the tea through a sieve into a glass measuring cup or similar vessel. Slowly and evenly pour the tea mixture over the warm cake. You might need to tilt to get the liquid evenly distributed.
Allow to soak for a few hours in the fridge or overnight. Right before serving, beat 1 pint of heavy cream with 3 tablespoons sugar until soft peaks form. Add vanilla. Do not overmix. Top cake with whipped cream and serve.
*Ungreased because in my experience, cakes that rely heavily on beaten egg whites for lift sink substantially after taken out of the oven when the baking pan is greased.