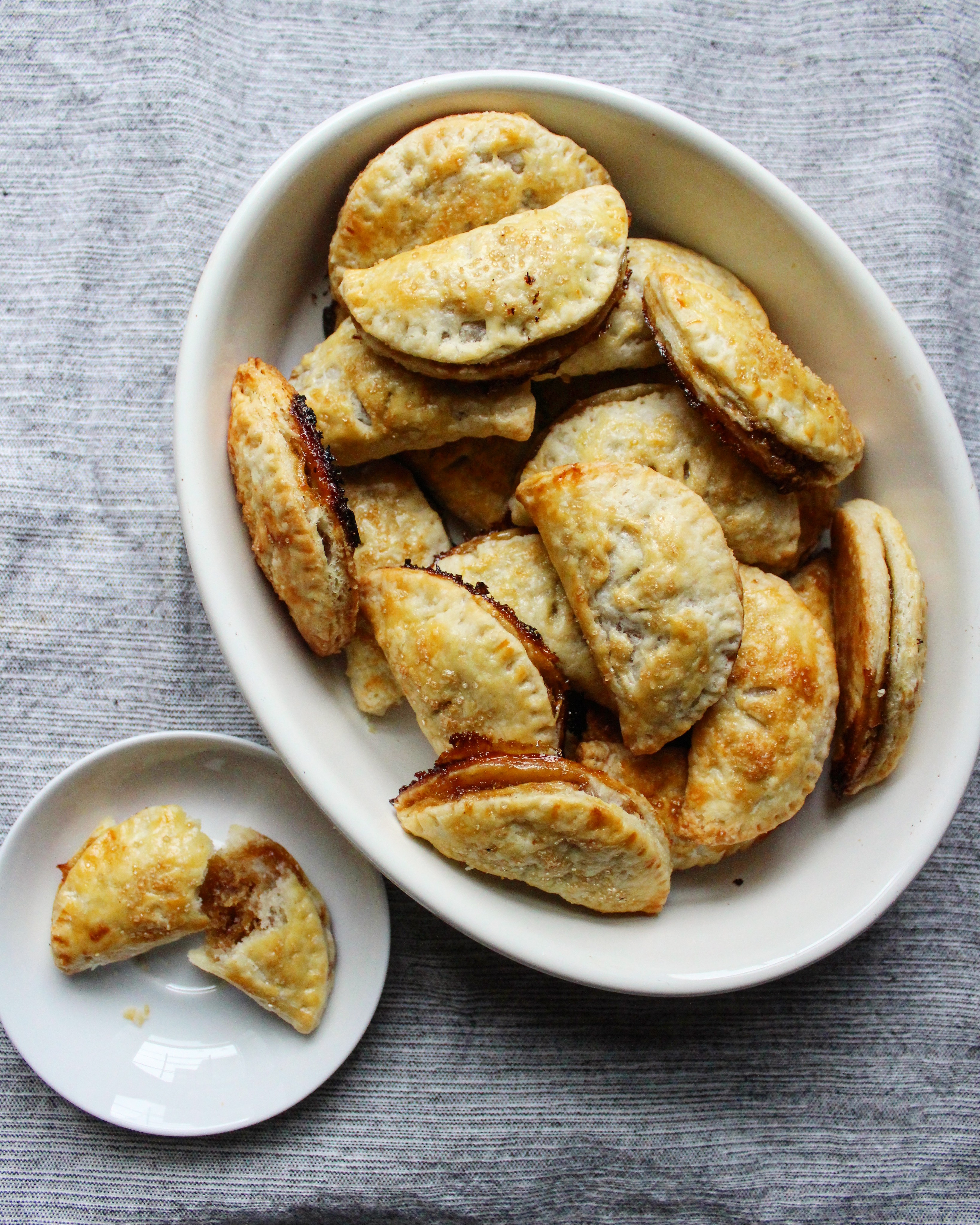 Pitha – a Bengali style sweet dumpling. Narkeler pitha – dumpling filled with coconut and date sap. Usually the dough is made with rice flour and water(?), filled with the coconut mixture, then deep fried. I never learned how to make pitha, but I did teach myself how to make hand pies.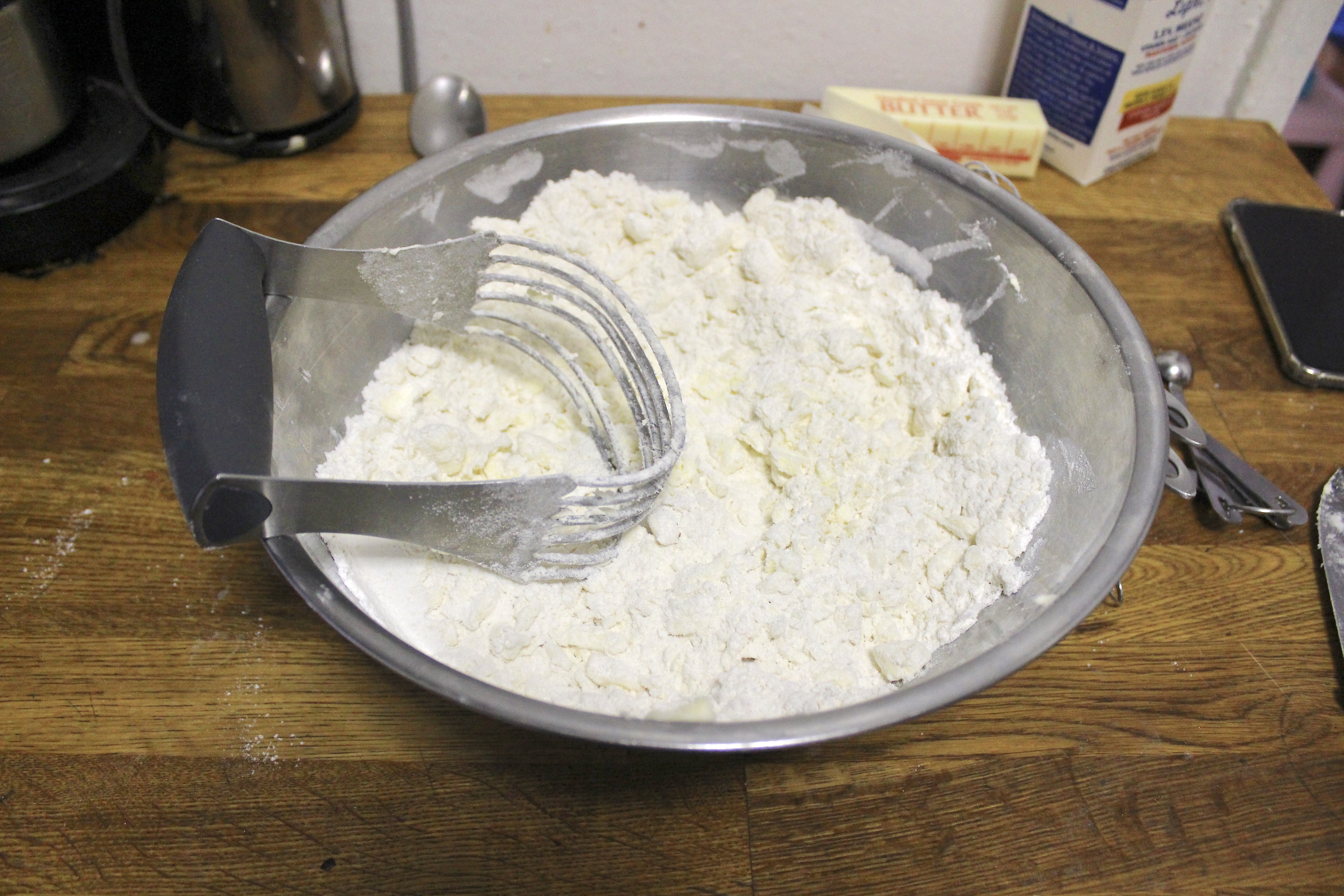 Cutting butter into dough, kneading, flattening, chilling, cutting, filling, baking. These are all things I've done many times over. This time, instead of a strawberry rhubarb filling like I usually make, I opted for a traditional Bengali filling.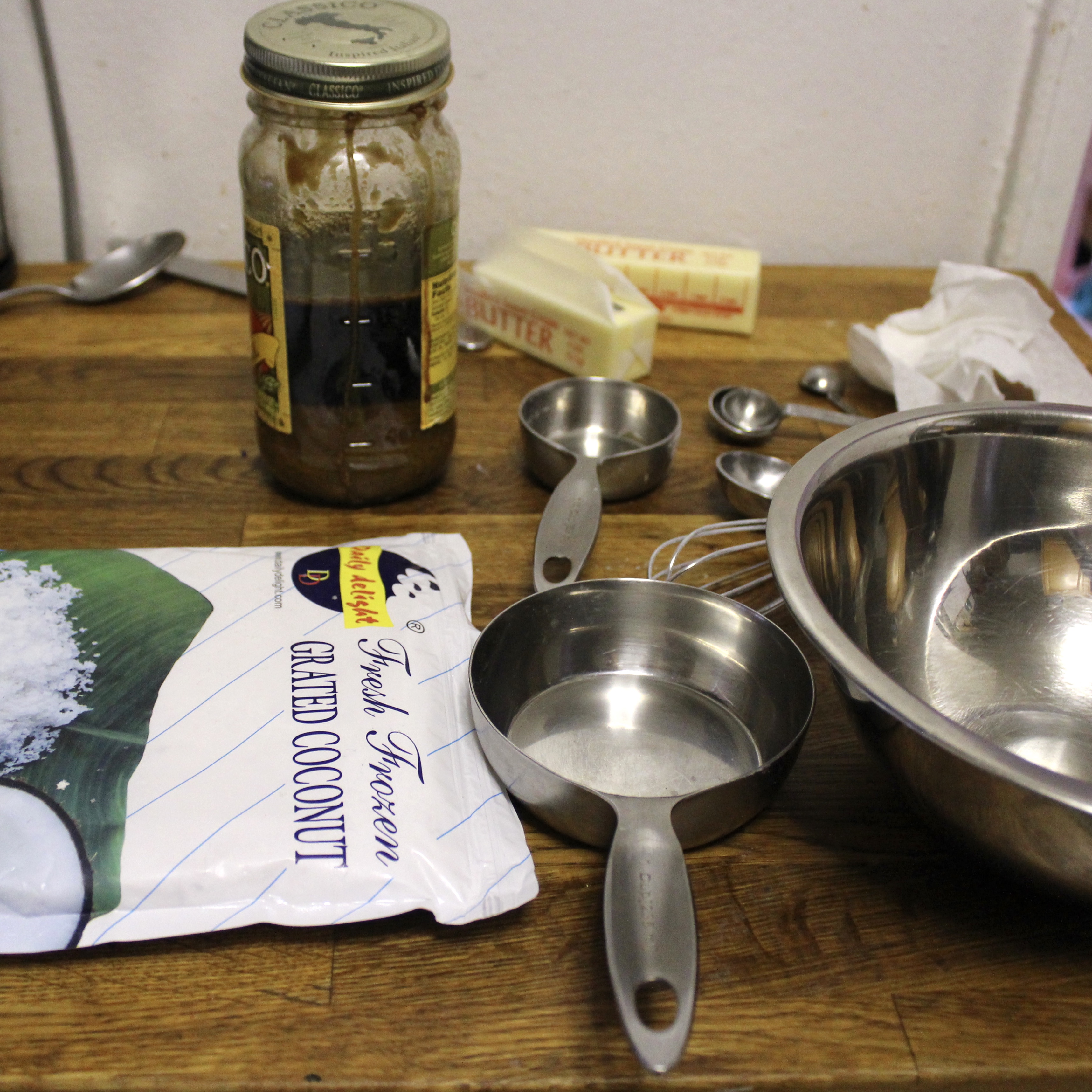 Date sap is a popular ingredient in Bangladesh. It's like molasses, but it has a distinct toffee like, almost bitter taste. If you go to an Indian or South Asian market, you'll find it labeled "Jaggery". It's available online as well. For more about jaggery, read this HuffPost article.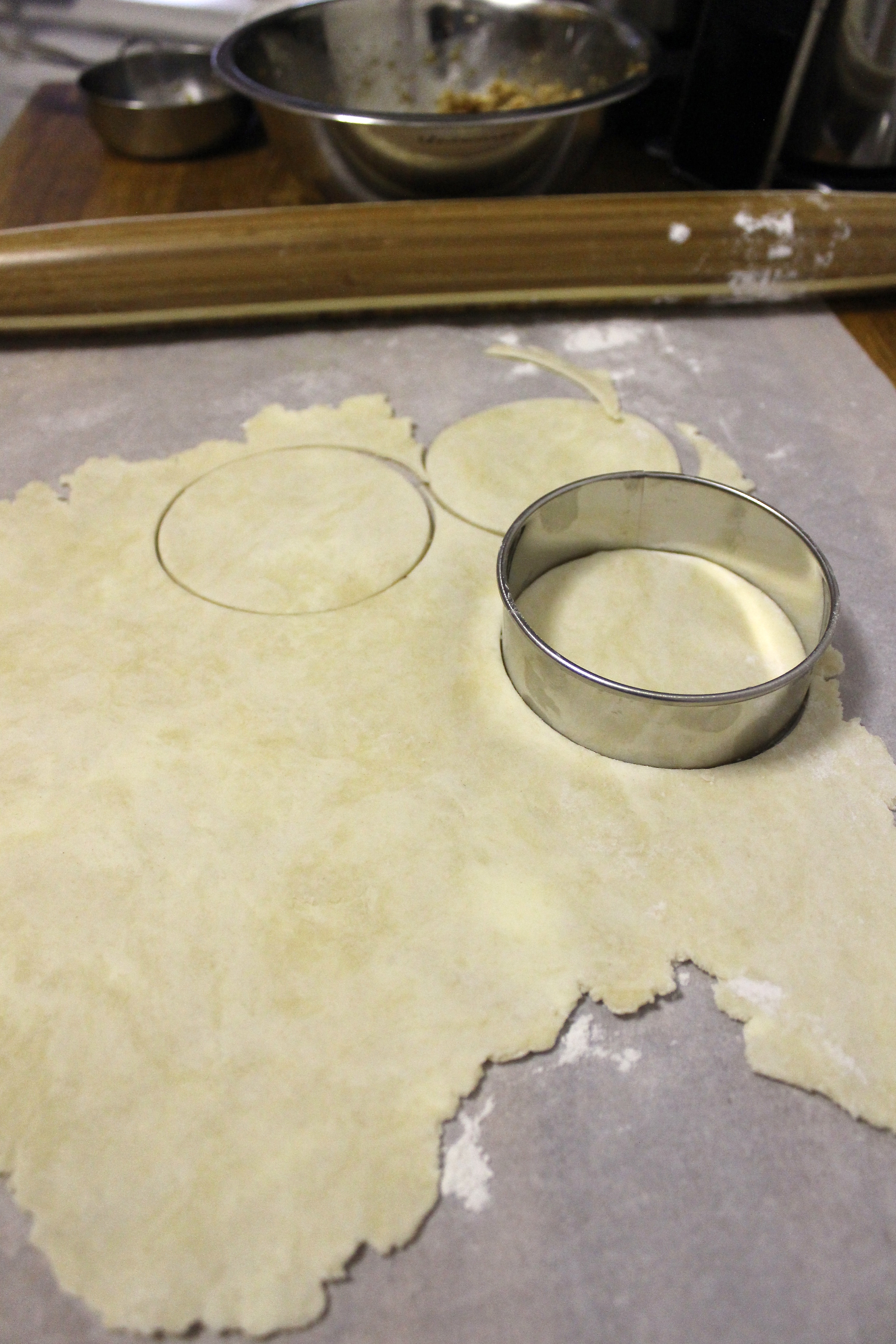 I'm fortunate to have my gur (jaggery) fresh from Bangladesh, from my brother's date orchards. So it is in syrup form. If you have the powder or block, just boil 1/2 cup water with the 1/2 cup gur until thick and syrupy. Then proceed with recipe.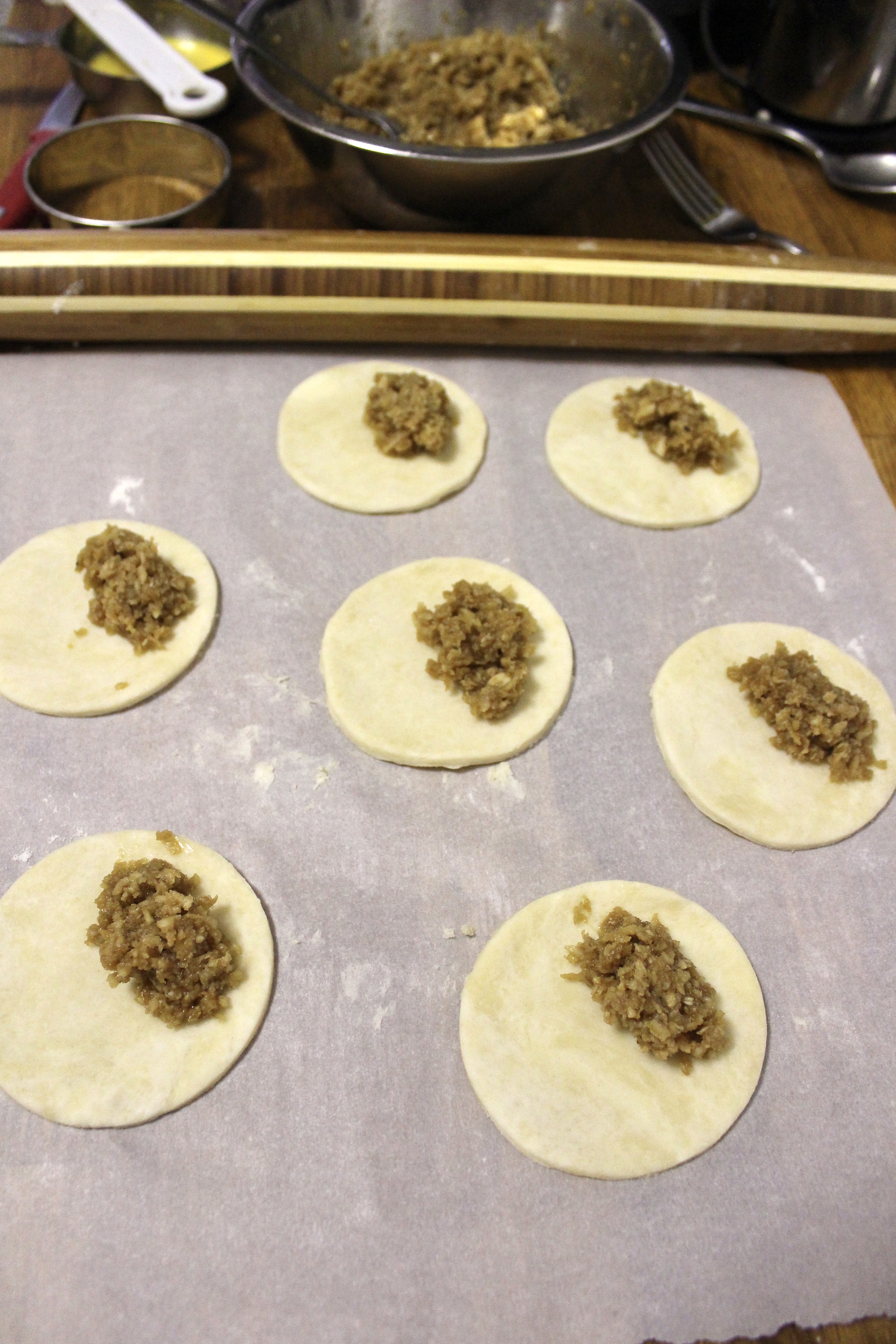 I'm quite happy with how they turned out…I've even inspired my mom to make pithas!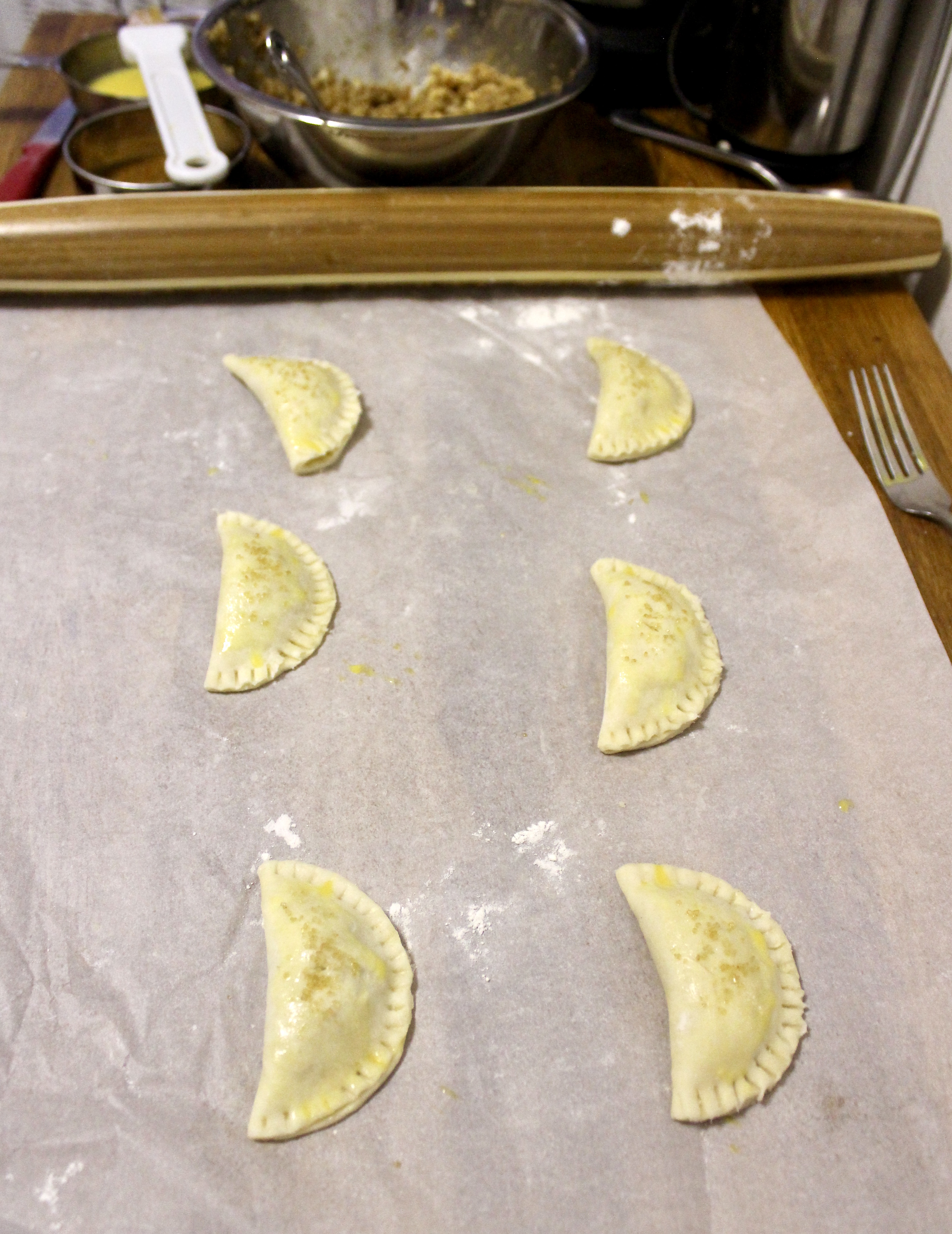 Hope you enjoy the recipe. Come back for more fusion foods and desserts soon inshAllah!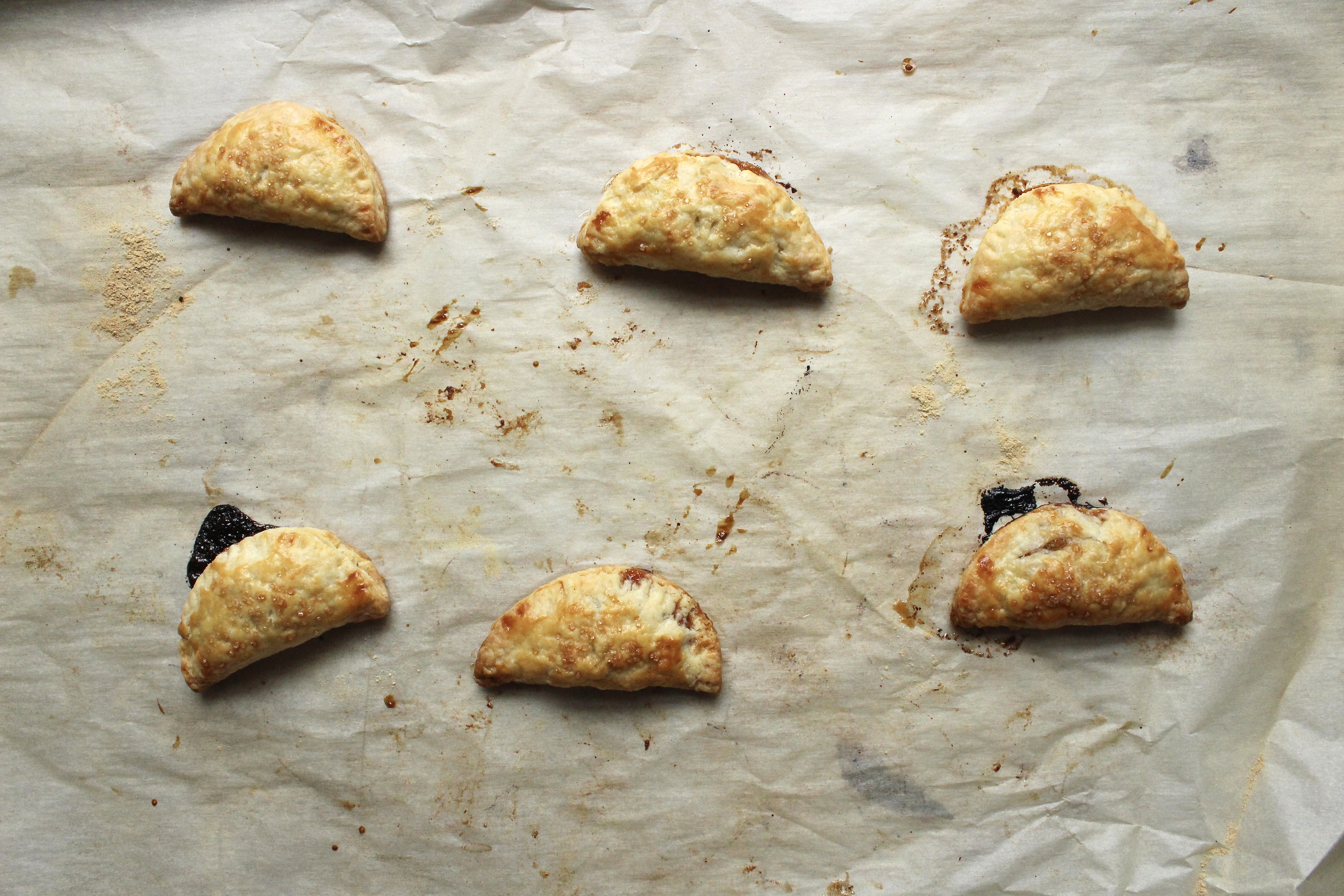 INGREDIENTS
3 3/4 cups all-purpose flour
1 1/2 tbsps granulated sugar
1 1/2 tsp salt
1 1/2 cups (3 sticks) cold, unsalted butter
1 cup cold buttermilk
2 cups GRATED (not shredded) coconut
1/2 cup gur (date palm molasses)
1 egg
DIRECTIONS
Make the dough: mix the flour, sugar and salt in a large bowl with a whisk. Add the butter and work with a pastry blender, fork or your fingers until you have pea sized bits of flour encrusted butter running throughout. Then, slowly add the buttermilk and mix with a spatula or wooden spoon to incorporate. When all the buttermilk has been added, knead a few times with your hand to get it in the shape of the ball. Divide the ball in four and flatten each into a disk. Wrap with plastic wrap and stick them in the fridge for at least 30 minutes.
Make the filling: combine the coconut with gur and mix until combined (I use my hands for this).
Preheat the oven to 400 degrees F. Cut out a large rectangle of parchment paper, apply flour on the surface and unwrap the dough directly onto it. Flour a long rolling pin and roll out the disk until 1/8 of an inch thick. Do this from the center to the outside edges, rotate the dough 45 degrees, then repeat until it is sufficiently thin. Cut out circles using a 3 3/4 to 4in round cookie cutter (and inverted tea cup might work). Remove the scraps and refrigerate to reuse. In a small bowl, beat the egg with a dash of water. Spoon a teaspoon of coconut mixture onto one side of each circle. Apply a small amount of egg wash around half the circumference, then fold over to seal. Crimp the edges with a fork. Brush the top with egg wash and cut a slit to let the steam out while they are in the oven. Carefully slide the parchment paper containing the hand pies onto a baking sheet and sprinkle the tops generously with sugar. Bake in the preheated oven for about 20 minutes. While those bake, work on rolling out the next quarter of dough and assemble the next two hand pies in the same fashion. I alternated by sticking the second batch in the oven as soon as it was ready and calculating the extra time required when the first timer went off, but it really browns best when there's only one baking sheet in the oven at a time.
Continue with the rest of the dough. Let cool a few minutes before moving onto a wire rack for complete cooling.