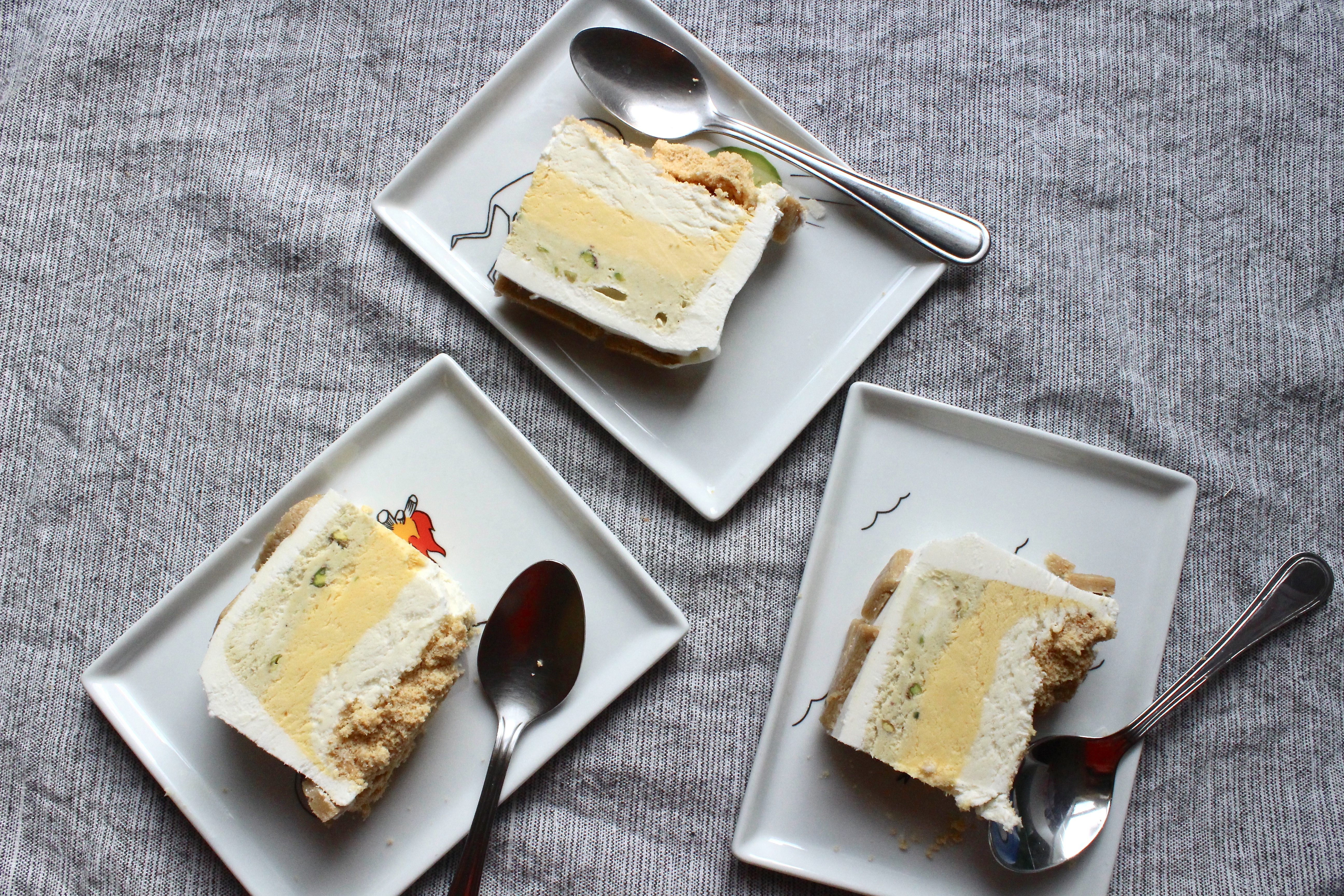 My husband and I were so different when we met. He like TV, I liked the arts. He liked iHOP, I liked (and still like) bougie NYC brunch places. He enjoyed test driving cars and playing video games. I liked boutique window shopping and baking.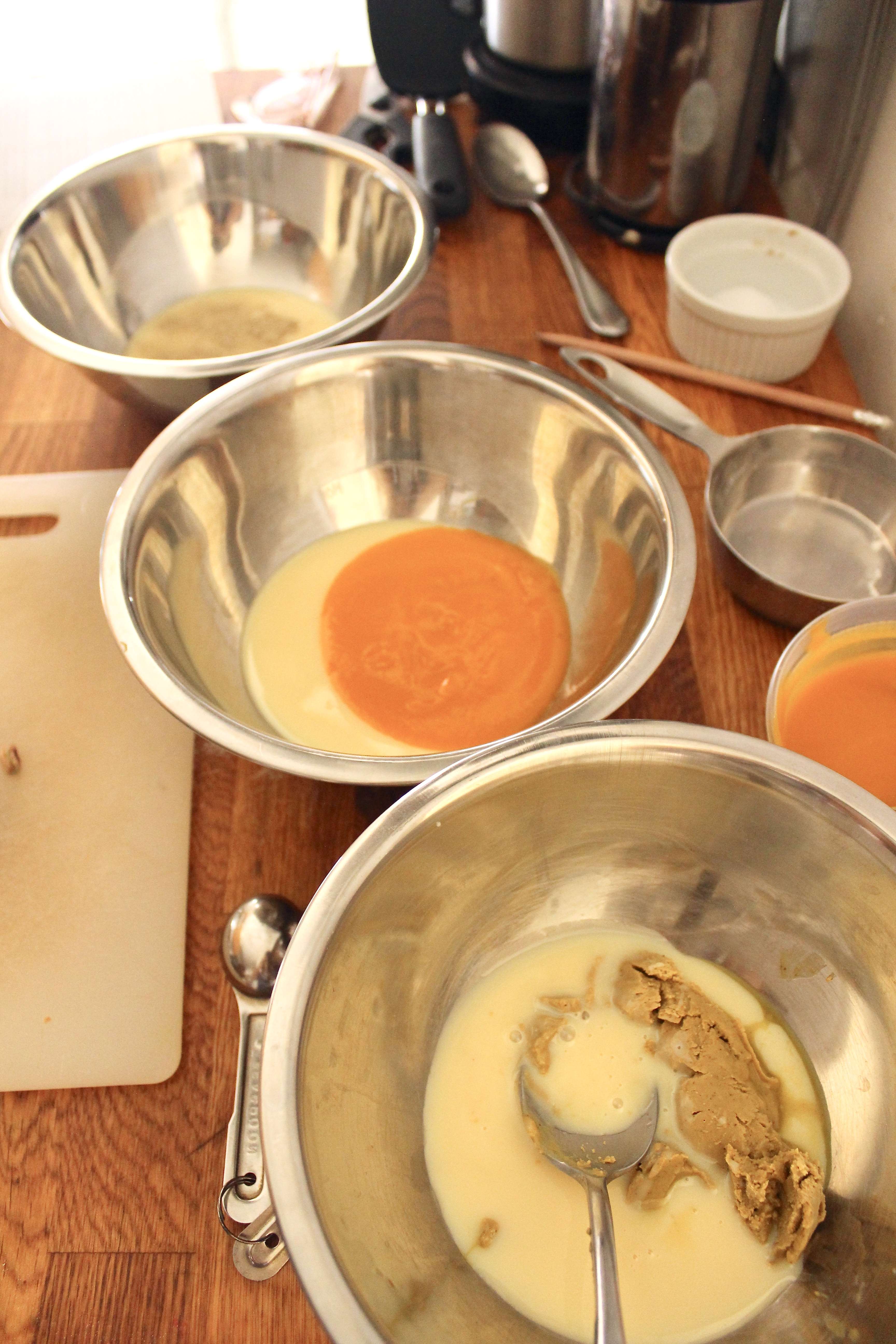 But as I soon realized, after graduating from a Liberal Arts school during an economic recession, all those culturally sophisticated preferences that my schooling groomed me to like, didn't mean a thing if I didn't know how to code, tackle a case interview, or have a connection to an employer.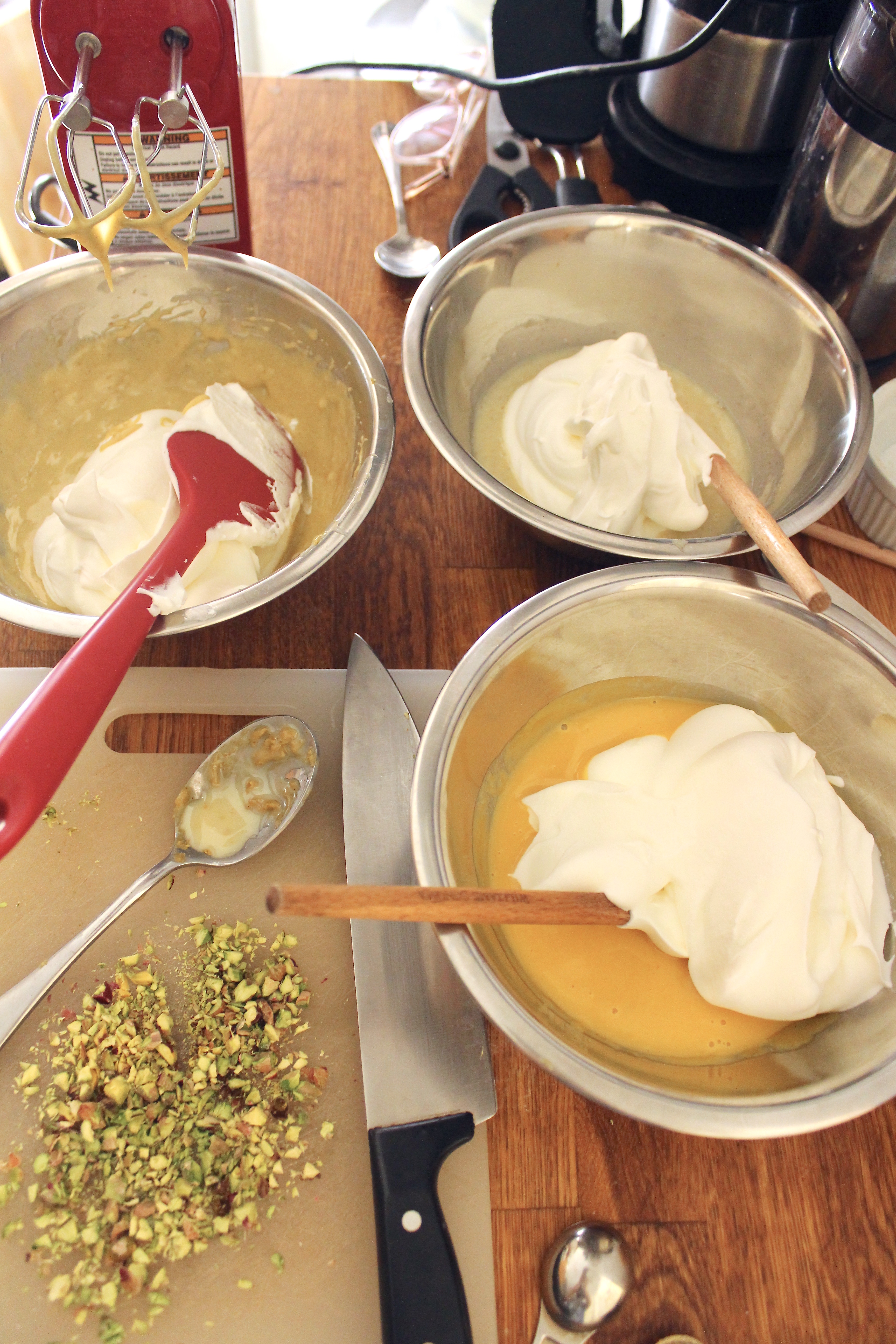 Fast forward 10 years we barely have time for ANY of those things. We did see a play last month after a few years. An Ordinary Muslim by Hammaad Chaudry. Very relatable. Makes you cringe in a way that's good – a lot of fruitful discussion post show.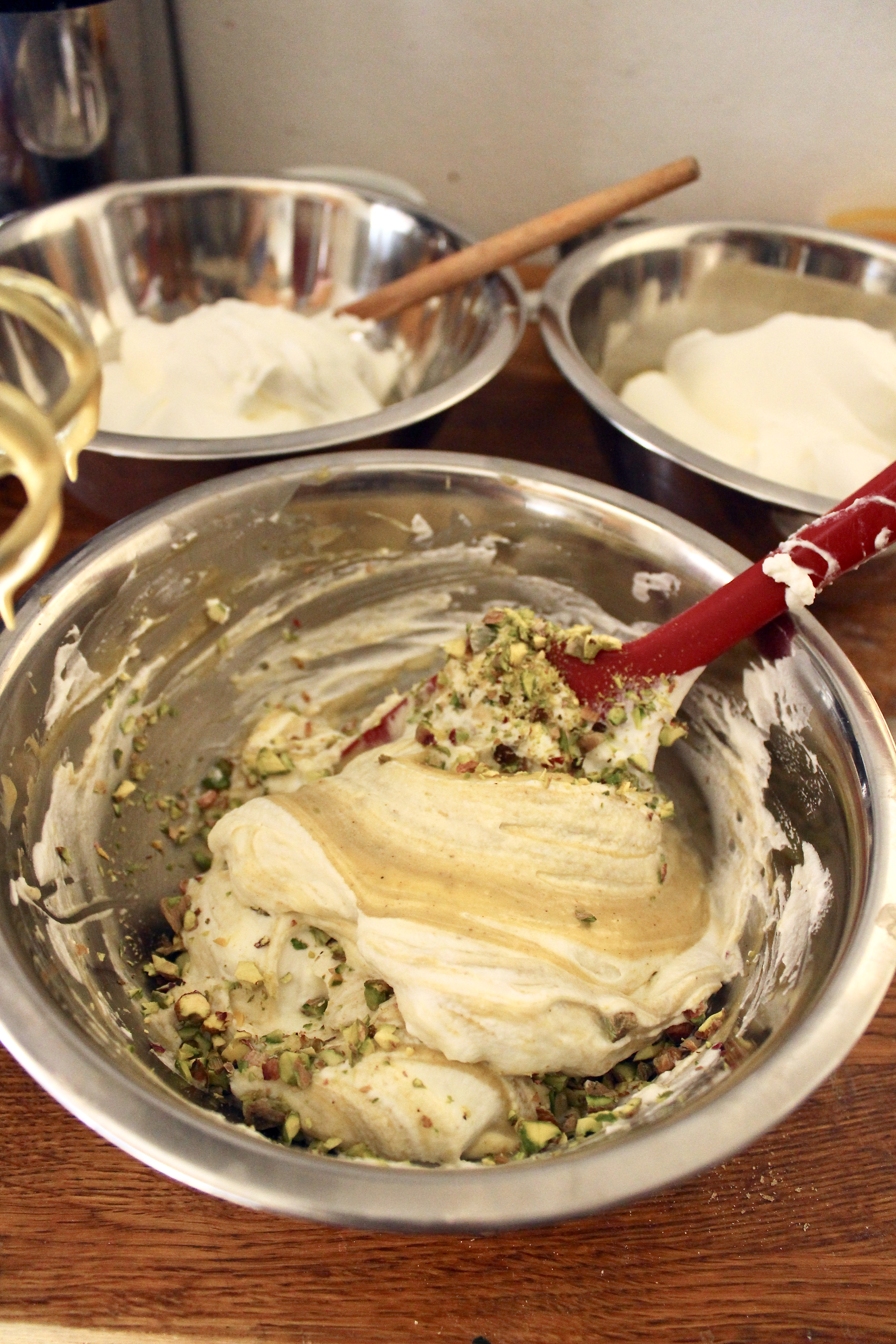 Most nights are spent studying for a certification, taking care of a sick kid, working on a business plan, cleaning, etc.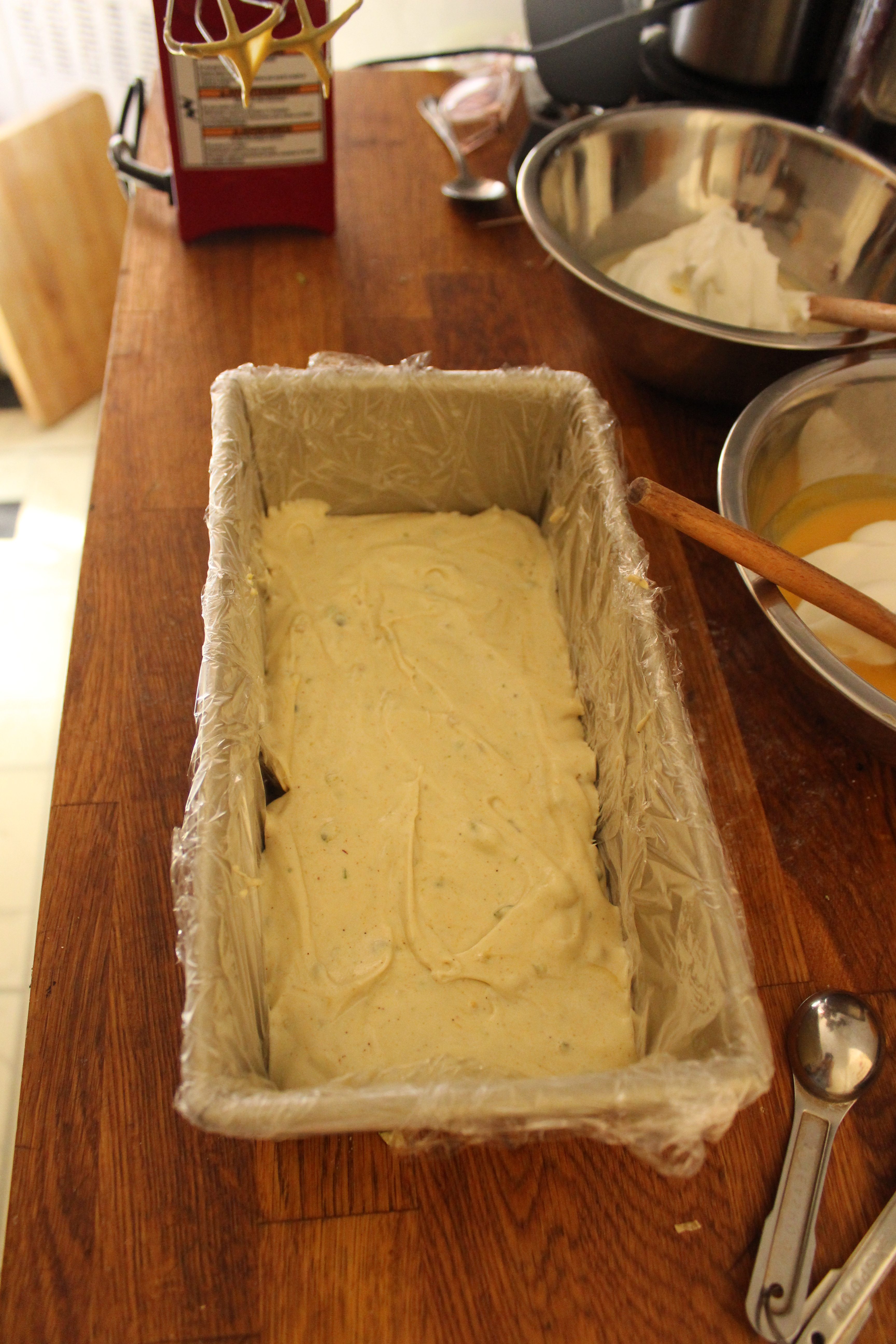 Anyway, the reason I brought this up in the first place is my husband's South Asian-ness. He exhibits Bengali traits in ways that I don't. Give him a choice between chocolate and mango, he'll choose mango every time. Quiz him on American pop culture and Bengali pop culture, he'll ace the latter (he did 2 years of schooling there, a few years in Libya where he was homeschooled, and a few in New Zealand). His Bengali reading and writing is also far superior to mine.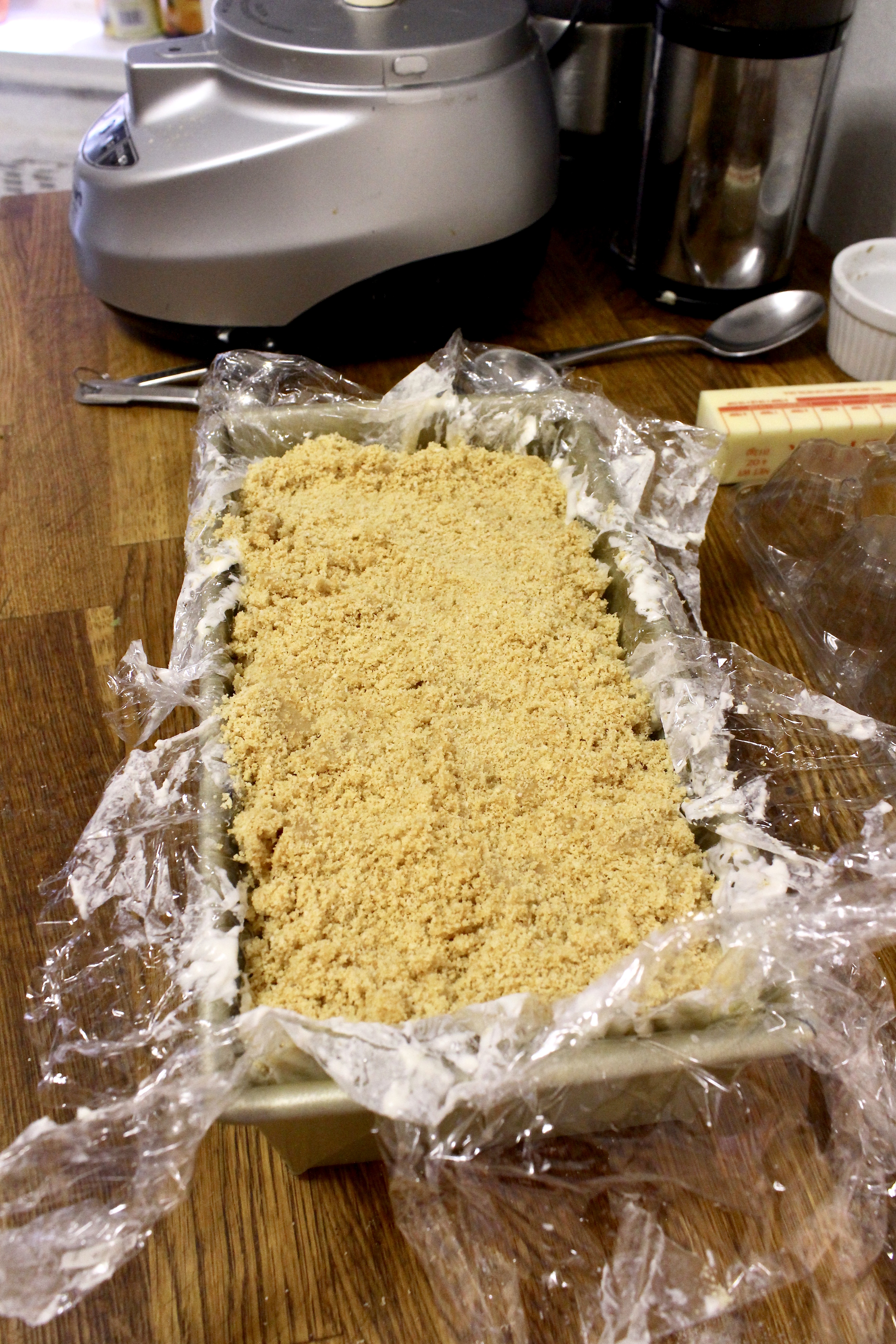 All this relates to his love of kulfi – the South Asian frozen dessert made from milk powder and various flavorings like mango, pistachio, and malai (cardamom & rose), eaten off a stick. I've never been crazy about it, but I thought for his birthday I'd try to make a frozen dessert capturing the flavors he loves.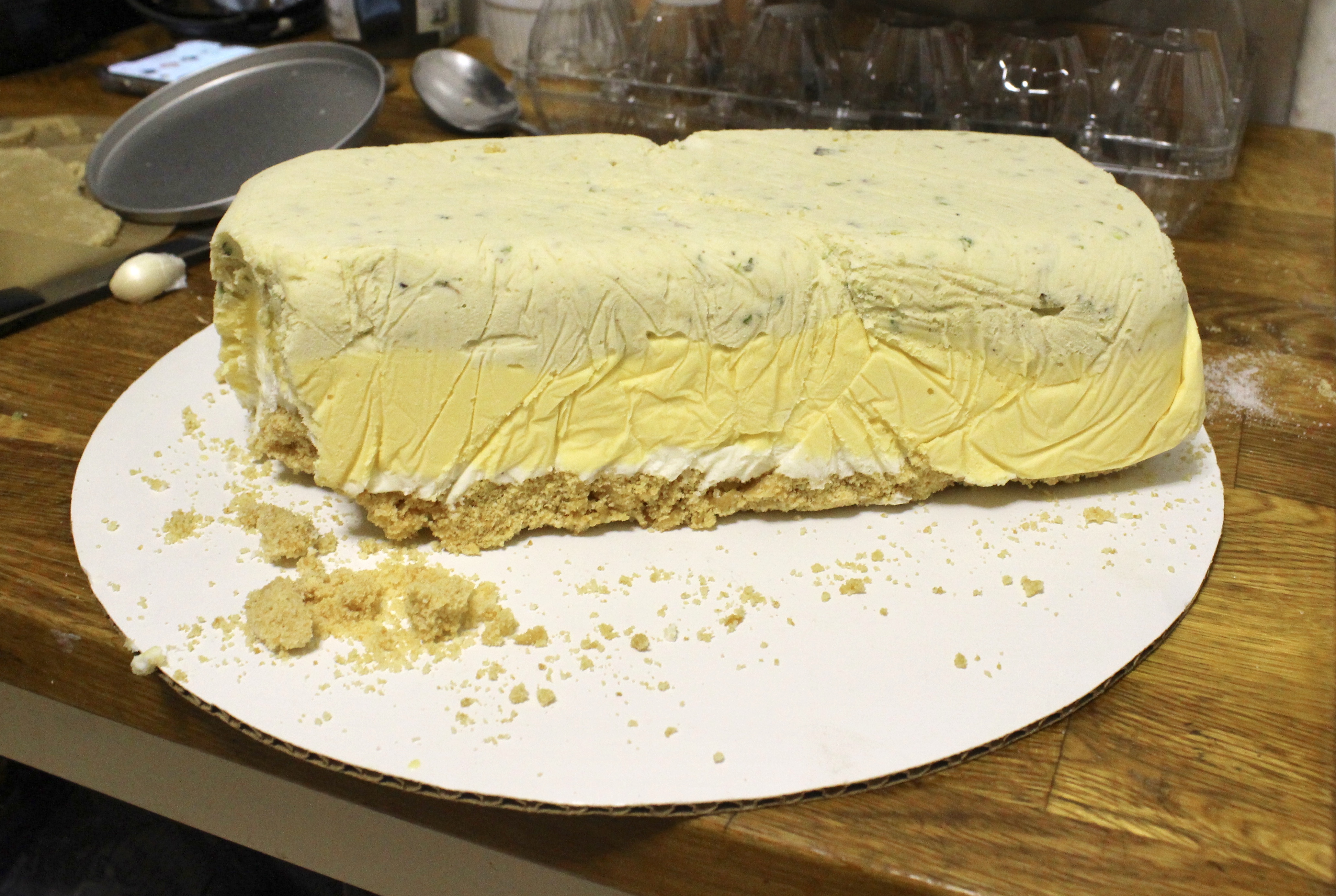 Ice cream might be one of those things we share a love for, even if we differ on our flavor preferences.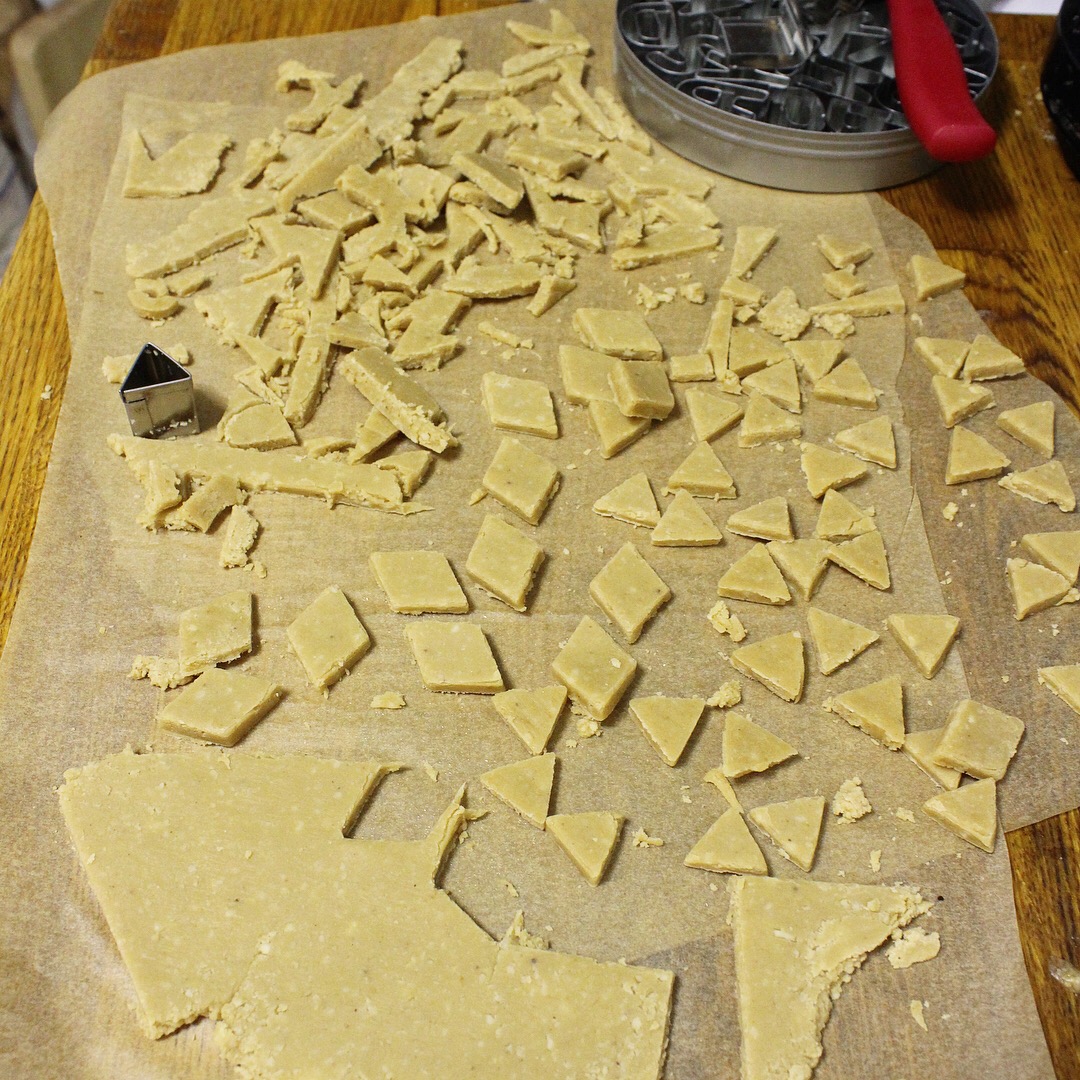 Here I stack three different flavors of no churn ice cream for a kind of Desi neapolitan ice cream cake. I made a base of crushed wafer cookies, that was a bit more crumbly than I'd like. And topped it with a malai flavored whipped cream.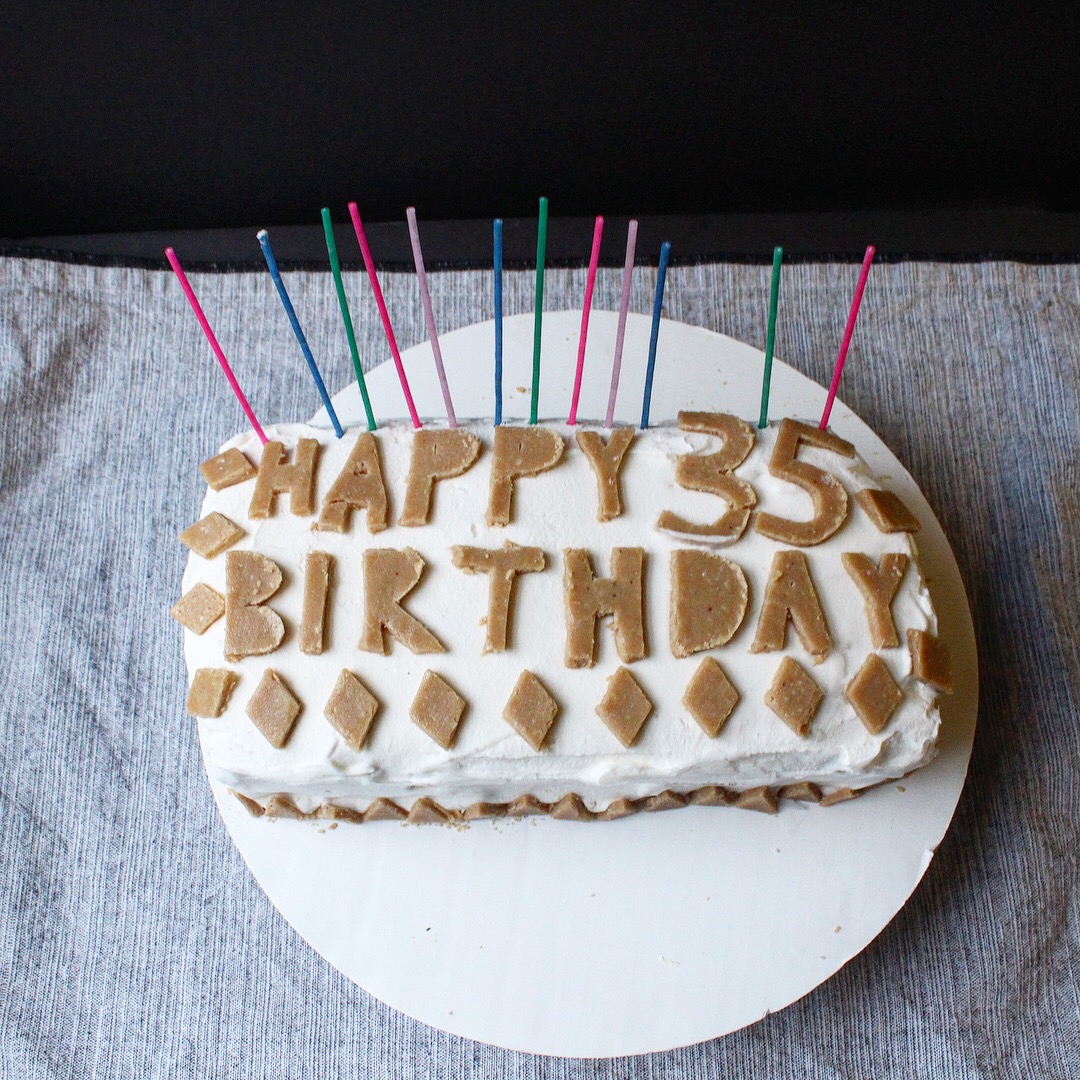 I decorated it with a cashew fudge, called kaju barfi or katli. It's almost like a marzipan, but made of cashew instead of almond. I was definitely thinking of Molly Yeh as I was decorating, since she so often decorates with marzipan. It was a bit more crumbly than I would've liked, probably because I couldn't get my cashew ground fine enough, but it's alright. The overall rustic appearance works, in my opinion.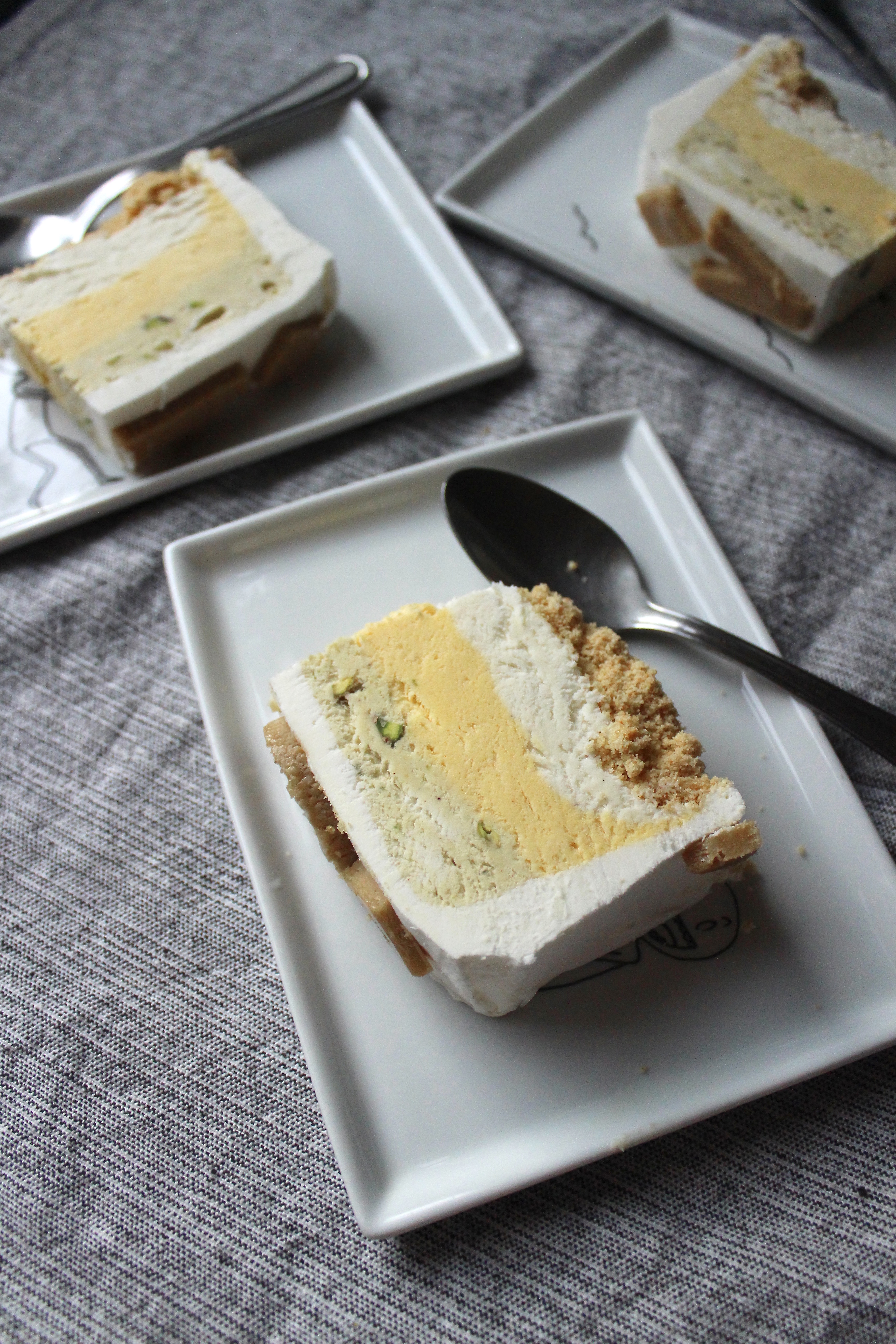 For the cashew fudge, or kaju barfi or katli, I used this recipe.
Ingredients
1 can sweetened condensed milk
1/4 cup pistachio paste
1-2 drops pistachio extract
1/4 cup chopped pistachios
1/3 cup mango pulp (the Indian kind, in a can, with sugar added)
1/2 tsp cardamom powder, divided
2-4 drops rosewater, divided
4 cups heavy cream, divided in 2
2-4 tbsp granulated or superfine sugar, divided
8oz wafer cookies or graham crackers
4 tbsp melted unsalted butter
Directions
1. Line a 9×4 or 8×4 loaf pan with plastic wrap. Freeze.
2. Divide the sweetened condensed milk evenly between three bowls. In one bowl, add pistachio paste and extract and whisk to combine. In another bowl, add mango pulp to the sweetened condensed milk and whisk to combine. Taste and add more mango pulp if desired. In the last bowl combined the sweetened condensed milk with 1/4 tsp cardamom powder and 1-2 drops rosewater. In a large bowl using a handheld electric mixer, or in the bowl of a stand mixer, combine 2 cups whipped cream with 1-2 tbsp sugar. Beat using the whisk attachment at a low speed, gradually increasing to higher until you have soft peaks.
3. Divide the whipped cream evenly between the three bowls. Fold into the sweetened milk mixtures carefully using separate spatulas. Add the chopped pistachios to the pistachio mixture at the end. Ladle one mixture into the prepared pan, spread to make an even layer, then gently ladle in the next mixture. Spread evenly. Gently add the final mixture. Wrap the ice cream with plastic wrap. Freeze while preparing the crust. Keep a cake board or plate in the freezer for when it's time to invert.
4. In a food processor combine the wafers or graham crackers until finely ground. Slowly pour in the melted butter until it starts to come together. Spread evenly over the ice cream mixture and press down with plastic wrap. Freeze until firm: 4-6 hours or overnight.
5. Whip the rest of the whipped cream with sugar, cardamom and rosewater to soft peaks. Remove plastic wrap from ice cream. Invert onto a cold cake plate or board, remove plastic wrap, and spread whipped cream all over. Decorate with cooled, cut barfi, or however you'd like.