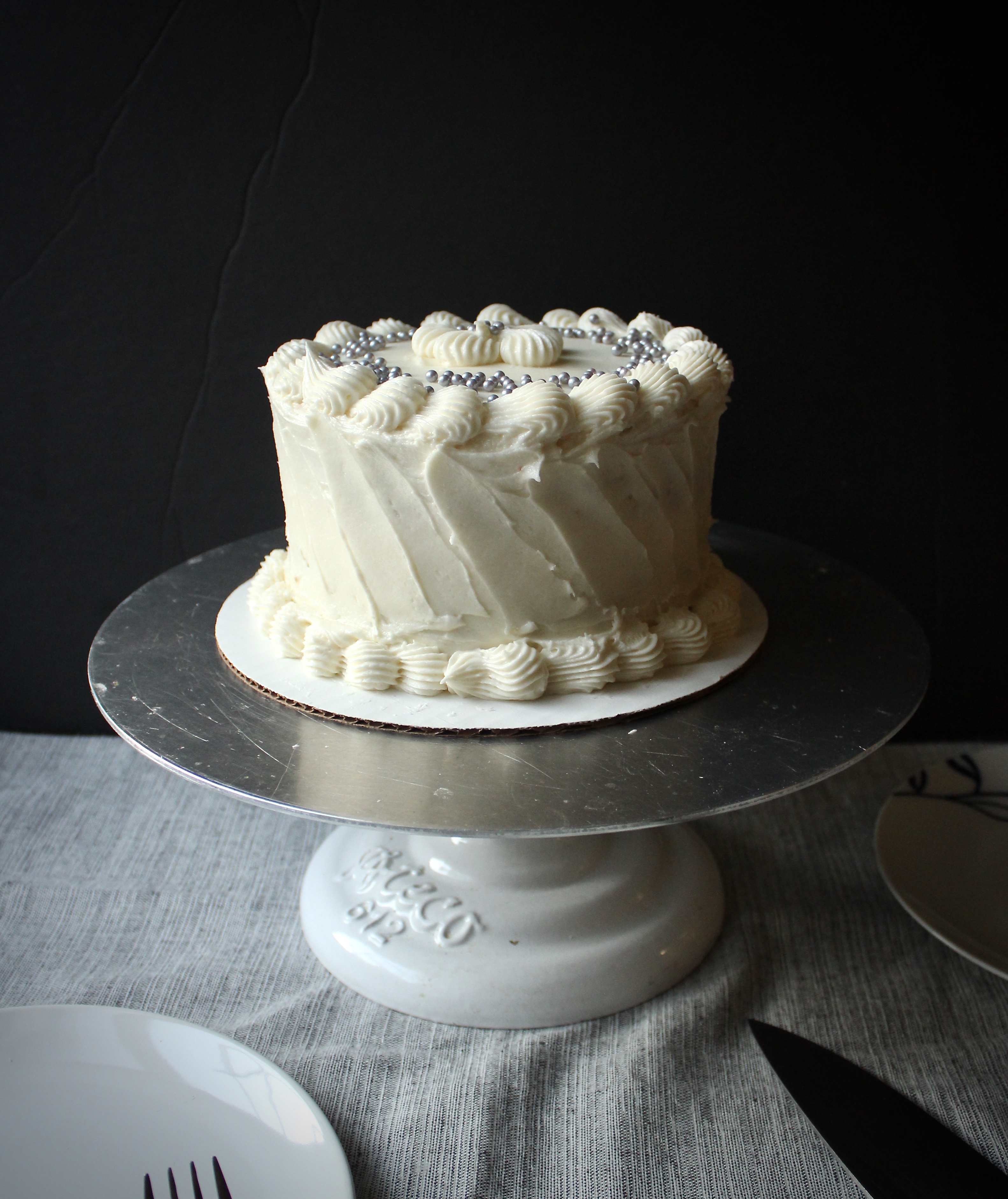 This cake was kind of born 2 and half years ago when I was tasked with feeding 100 people with a coconut cake. "Can it have pineapple filling?" my dear friend Jaf asked. YES, YES IT CAN!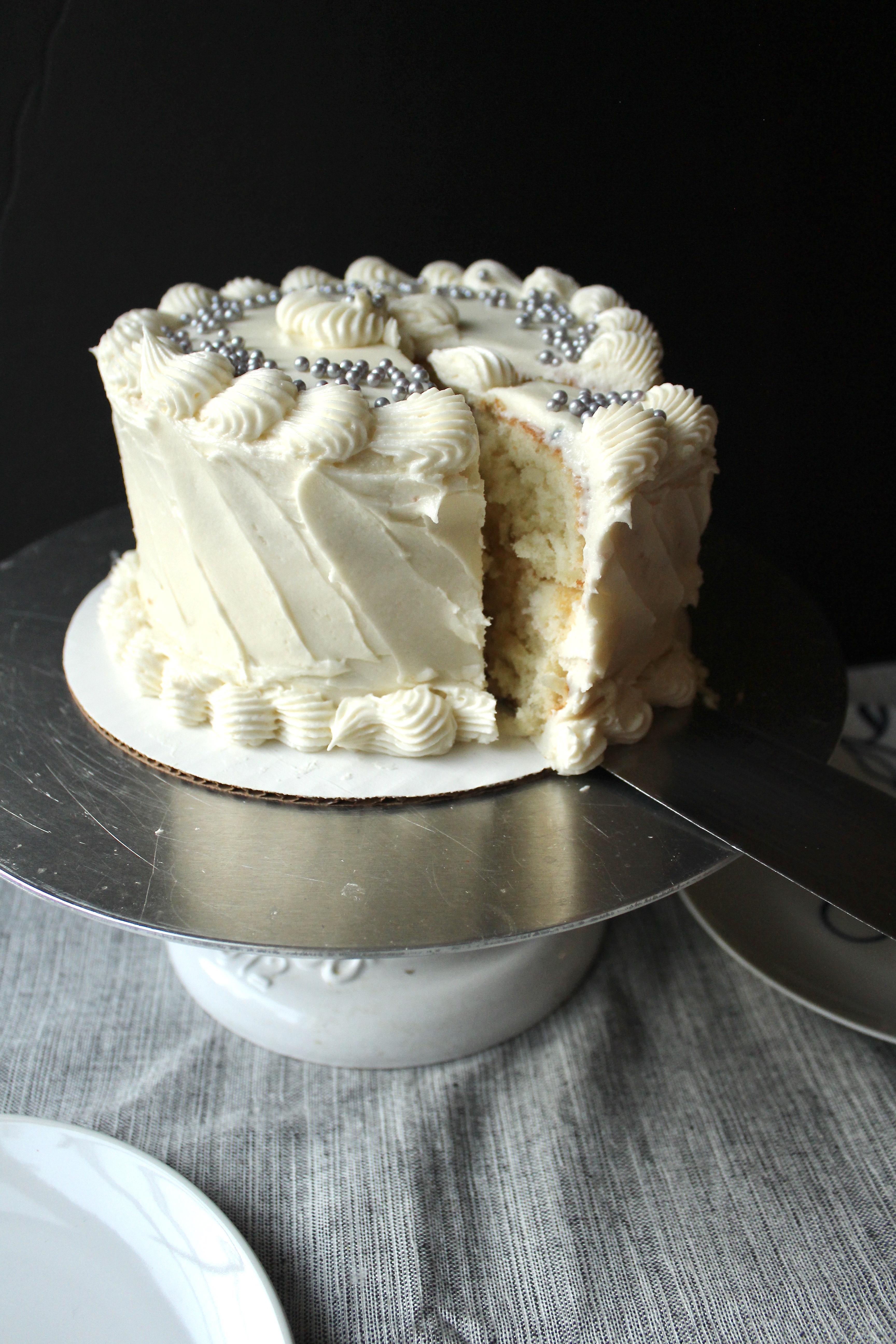 This cake is a delicious, crowd pleasing hit in its original version, but with this pineapple filling, it takes it over the edge. It's kind of retro, but the fruitiness balances out the richness and creaminess from the buttercream.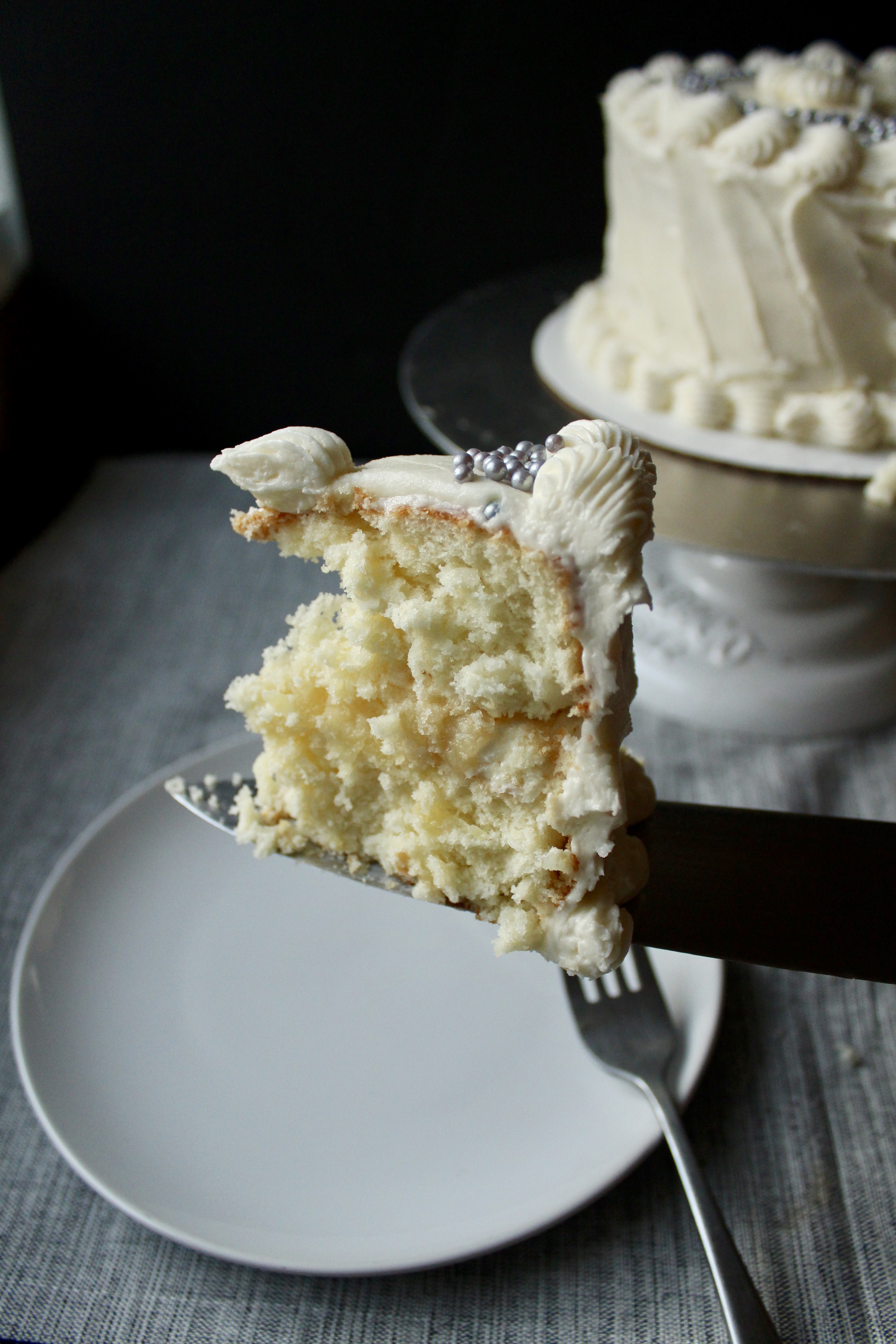 It's a little fussy, yes, with the beating of egg whites and the careful folding in, but the payout is worth it. It's the lightest, fluffiest, sweetest, nuttiest, flavorfullest cake you'll ever have. Ever.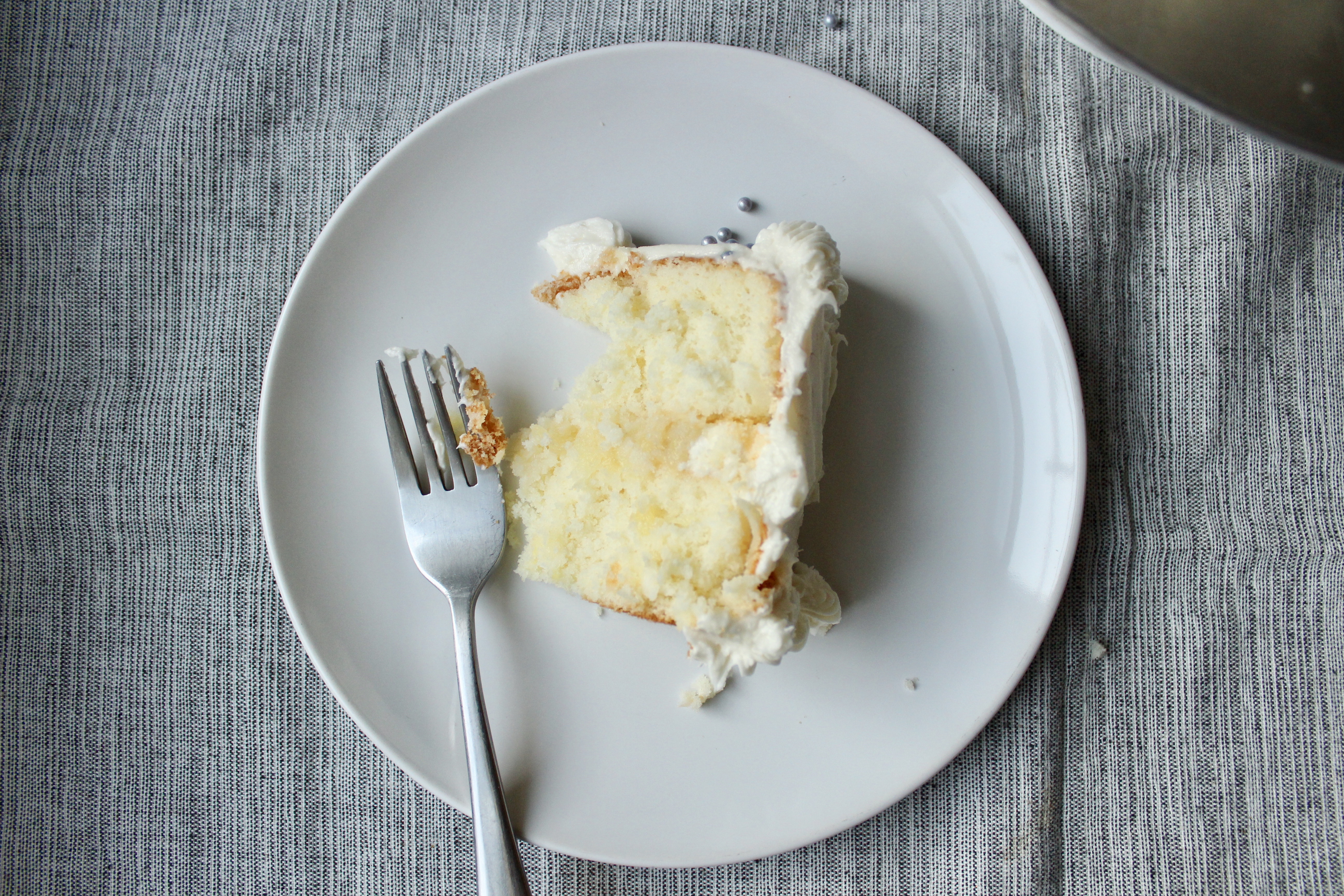 A retro cake deserves a retro look, so feel free to frost this simply, with swooshes of buttercream and toasted (and cooled) coconut flakes.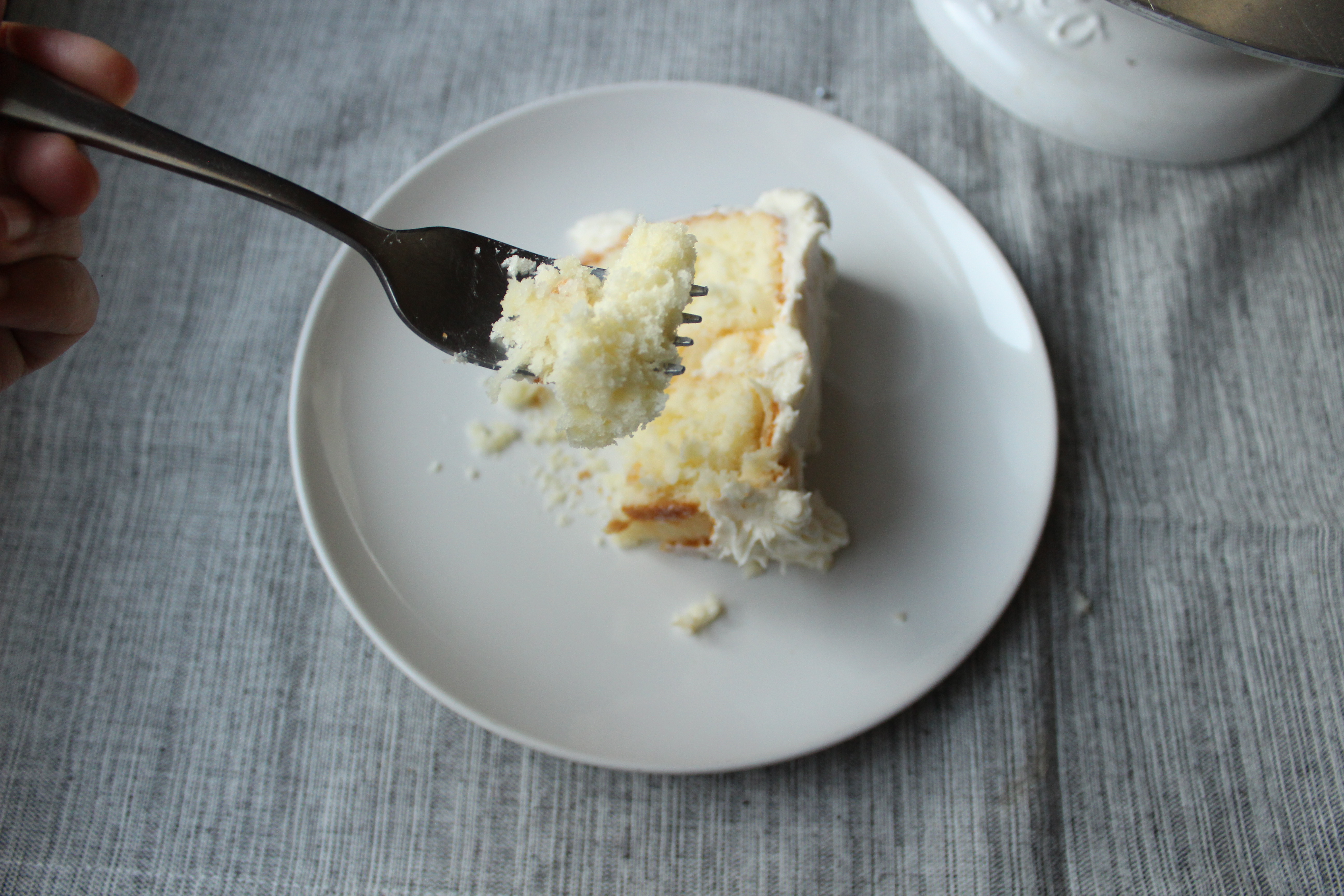 I've piped some old school borders here with Wilton's open star tip and some silver dragee accents.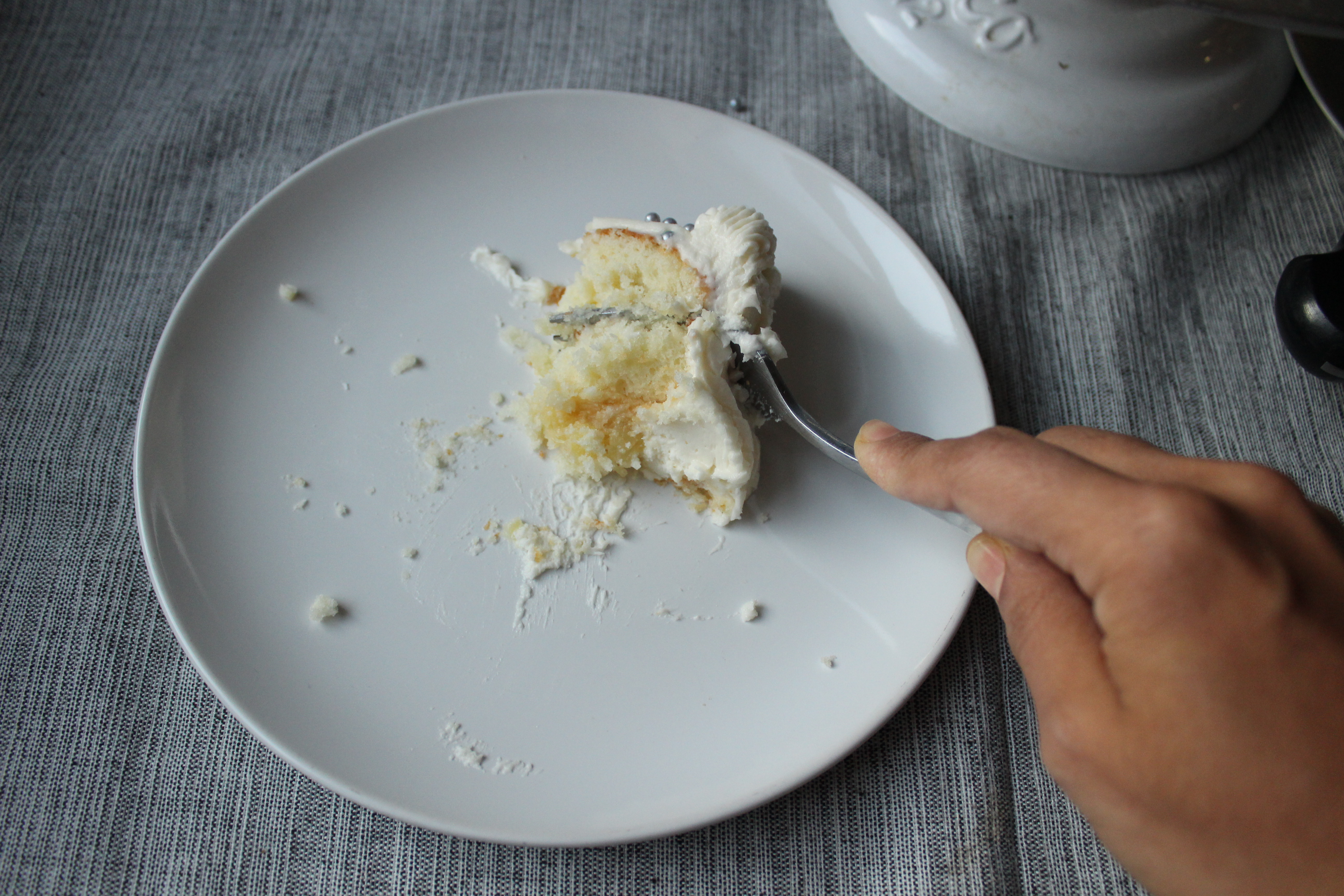 I haven't tinkered with the original recipe at all, except that I bake them in 8in cake pans as opposed to 9in. I like the look of taller cakes, but if 9in is all you have, feel free to use those, just decrease the bake time by a few minutes.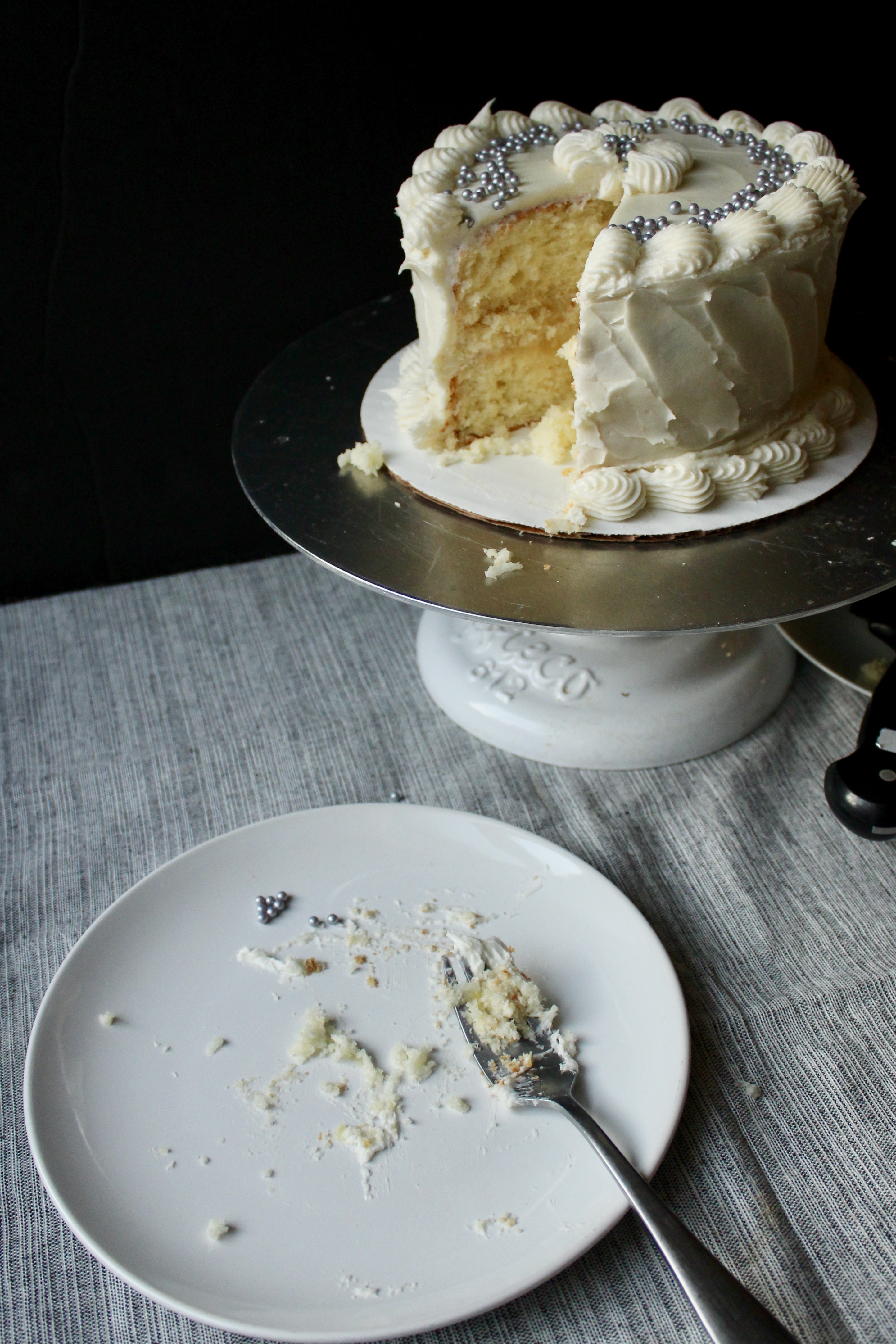 Cake recipe adapted from Taste of Home. Pineapple filling recipe from Genius Kitchen.
Ingredients
For the cake:
5 eggs, yolks separated from whites
2 cups sugar
1/2 cup (1 stick) unsalted butter, room temperature
1/2 cup vegetable oil
1 tsp coconut extract
1/2 tsp vanilla extract
1/4 tsp almond extract
2 1/4 cups cake flour
1 tsp baking powder
1/2 tsp baking soda
1/4 tsp salt
1 cup buttermilk, room temperature
2 cups flaked coconut (I like Baker's brand for this)
1/4 tsp cream of tartar
For the filling:
1/2 tsp kosher salt
1/2 cup plus 2 tbsp granulated sugar
3 tbsp corn starch
1 20oz can crushed pineapple in its juices
3 tbsp butter
For the buttercream
1 cup butter, room temperature
4 oz cream cheese, room temperature
4 to 5 cups confectioner's sugar, to taste
1 tsp coconut extract
1 tsp vanilla extract
1-2tbsp whole milk
Directions
Preheat oven to 325 degrees F. Grease 3 8in cake pans with non stick cooking spray. Place over a large sheet of parchment paper and draw circles around the circumference of each pan. Cut out each circle and place at the bottom of each pan. Spray parchment circles with non stick spray.
In the bowl of stand mixer or in a large bowl with an electric hand mixer, beat butter with 1 cup of sugar on medium low. After about 2 minutes, when butter and sugar is pale and fluffy, add oil and remaining sugar. When well combined, add egg yolks, one at a time. Stop occasionally to scrape down the bowl. Add coconut, vanilla and almond extracts. Stop the mixer.
For the dry ingredients: sift the flour, baking powder, and baking soda. Add salt and combine with a whisk. Add 1/3 of the dry ingredients to the batter, then 1/2 of the buttermilk. Add second third of dry ingredients then remaining buttermilk. Add remaining dry ingredients and flaked coconut. Mix on low until just combined.
In a large bowl, combine egg whites and cream of tartar. Mix on low, increasing to high, for about 4-5 minutes until beaters come out of the egg whites with stiff peaks.
Add 1/3 of beaten egg whites to the batter to loosen it up. Add half of remaining egg whites to batter and fold in with spatula, cutting down the middle, then scraping against the bowl and folding up and over the batter. Rotate the bowl slightly and continue until you can no longer see egg white. Add remaining egg white and fold until just combined.
Divide equally between 3 cake pans and bake in preheated oven for 25-30 minutes or until a toothpick inserted comes out clean. Let cool.*
For the filling: in a small to medium saucepan combine salt, sugar, cornstarch. Whisk with preferably a flat whisk until combined. Add crushed pineapple and stir to combine. Turn on the heat to medium high. Bring to a boil, stirring occasionally, for about 5 minutes until no longer milky white in appearance. When thickened, remove from heat and stir in butter. Turn out onto a plate to cool.
For the frosting: beat butter with cream cheese with the paddle attachment of your stand mixer, or in a large bowl with handheld electric mixer. Sift 4 cups sugar into a bowl. Add a little bit of sugar into the butter and cream cheese until well combined. After adding 4 cups of sugar, beat until light and fluffy. Add vanilla and coconut extracts. Scrape down the bowl occasionally. Taste the frosting. If desired, add final cup of sugar, sifted. Add milk as needed to thin out frosting. Give a final beat until it looks like buttercream.
Fill a large piping bag with buttercream and snip off 1/2in tip. Place a small amount of frosting onto a 10in round cake board. Place first cake layer onto cake board. Pipe a dam around the circumference of the cake layer. Spoon 2-3tbsp pineapple filling onto cake. Smooth it out. Place second layer, press down slightly. Repeat and decorate as desired.
*I usually invert onto 8in round cake boards lined with plastic wrap and freeze until reach to decorate. These cakes are super tender and work best for decorating when frozen solid.