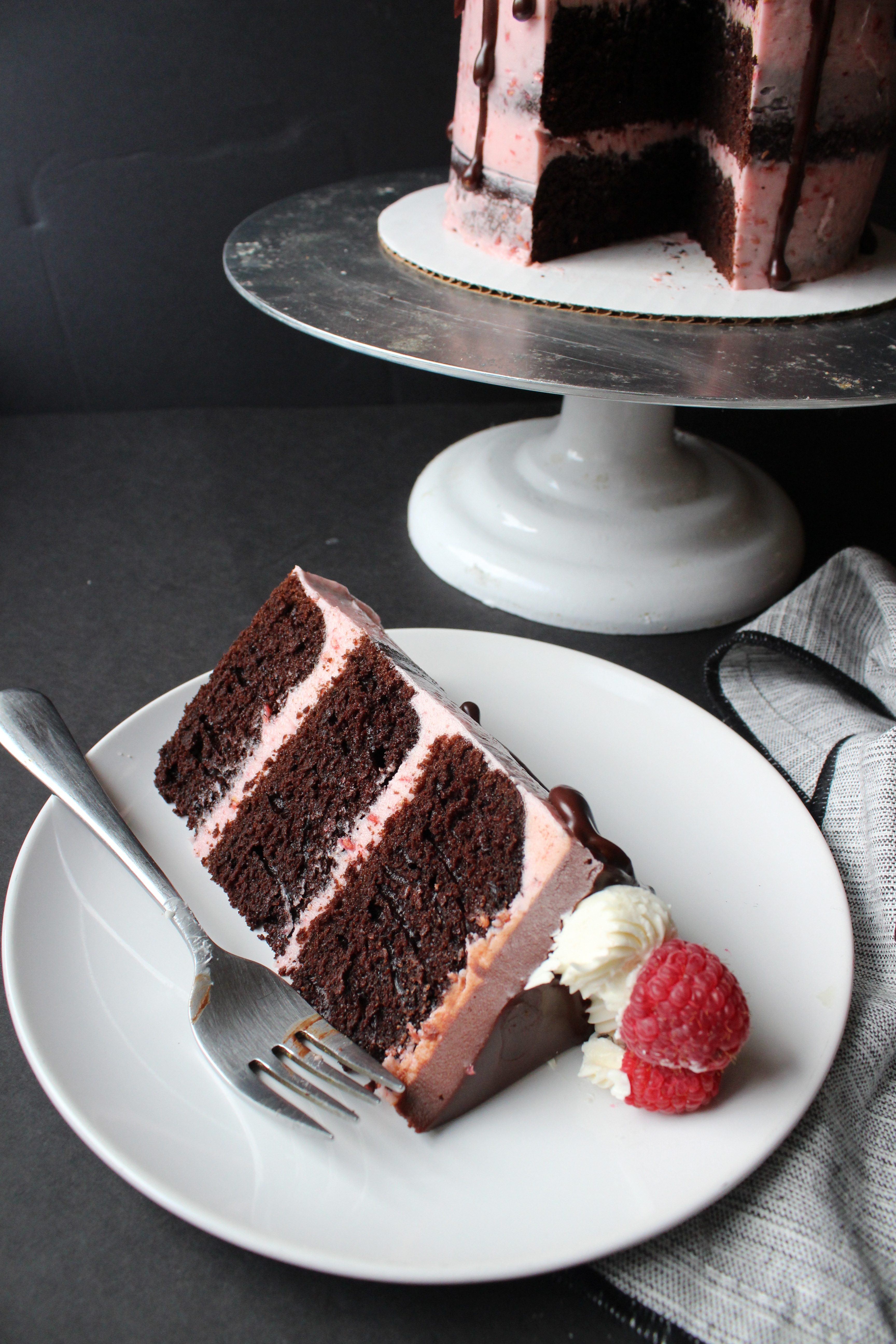 There are many a great chocolate cake recipes out there. Why, say you, post yet another? Take for example the great Beatty's Chocolate cake recipe that I made for many years. All the elements of a great chocolate cake: good quality cocoa, buttermilk, coffee. The problem is, they're quite big if you're making something for an intimate gathering. I've learned an 8in cake feeds approximately 20 people, and 9 feeds about 25. So, if you're looking for a small celebration cake for the family, this is the recipe for you. If you invest (~$20) in 3 6in round pans, you can have small, chic cakes any time. I always freeze my cake layers by inverting onto plastic wrap lined 6in cake board, then wrapping well with the plastic wrap. Small cakes can be kind of wobbly and difficult to decorate unless frozen solid. Then, let come to room temperature before serving.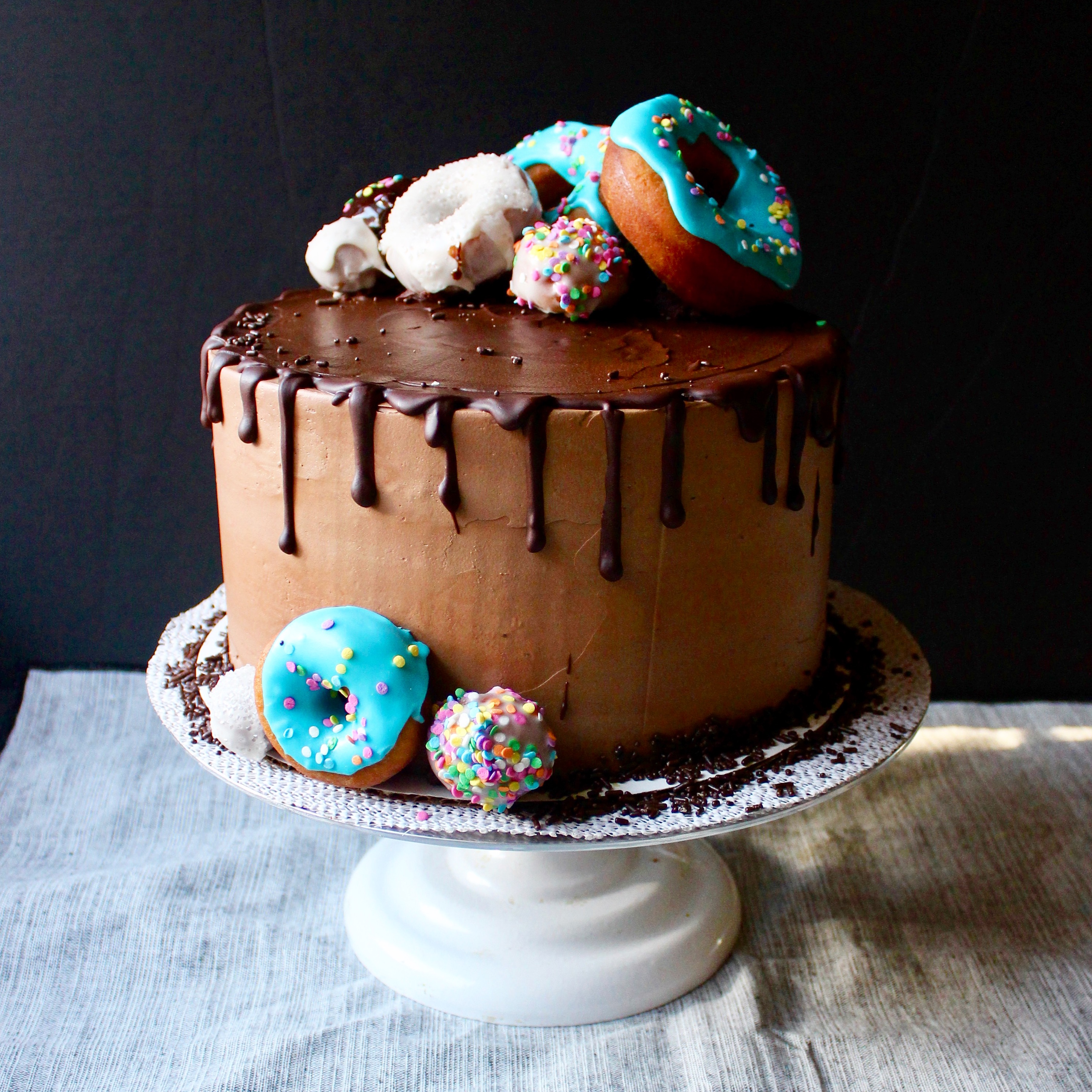 I also recommend using a good quality cocoa powder for your chocolate cakes. You don't have to break the bank. Rodelle from Amazon is really good quality for a reasonable price. You'll get 6 to 12 servings, depending on how big you cut each slice.
I always find the best chocolate cakes are the ones with coffee in the batter. The batter will be quite thin – don't let this worry you. It makes for a wonderfully aromatic and moist cake – doesn't taste like coffee or mocha at all.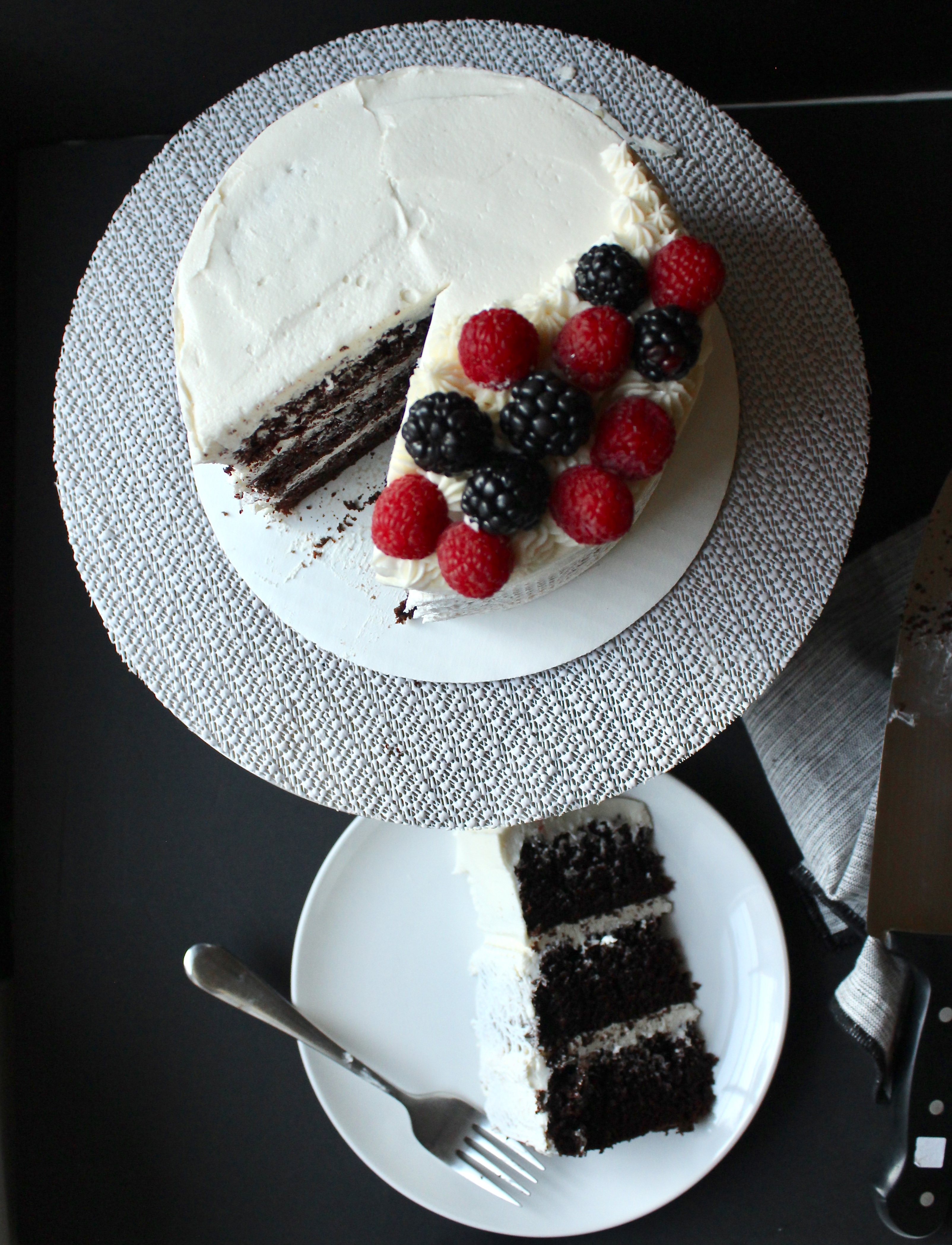 For the biggest chocolate fans, frost with a chocolate ganache, using a 1:1 weight ratio of chocolate to heavy cream. Otherwise this goes great with salted caramel, vanilla, chocolate or raspberry buttercream. Links to each below!
Ingredients
1 1/2 cups granulated sugar
1 3/4 cups plus 2 tbsp all purpose flour
3/4 cup unsweetened cocoa powder
1 1/2 tsp baking powder
1 tsp baking soda
3/4 tsp salt
1/2 cup vegetable oil
3/4 cup whole milk, room temperature
2 large eggs, room temperature
1 tsp vanilla extract
1 cup freshly brewed strong, hot coffee
Directions
1. Spray 3 6in cake pans with nonstick cooking spray. Place the pans on top of a big sheet of parchment paper and draw circles around the bottom of each pan. Cut out each circle and line the bottom of each pan with one. Spray the parchment lined bottoms of the pans with a bit more non stick spray.
2. Brew coffee. Preheat oven to 350 degrees Fahrenheit. Add sugar to the bottom of a large bowl or the mixing bowl of your stand mixer.* Place a sieve over the bowl and add the flour, cocoa, baking powder, baking soda. Sift into the bowl. Add salt. Whisk to combine.
3. In a large measuring cup or bowl, combine oil, milk, eggs and vanilla extract. With the mixer running on low, or by hand, slowly add wet ingredients to dry, stopping occasionally to scrape down the sides of the bowl. Finally, add the coffee, stirring slowly and carefully, until batter is combined.
4. Divide evenly between the three cake pans (I use a scale to determine this). Bake for 25-28 minutes in preheated oven or until a toothpick inserted comes out clean. Let cool, then remove from pan and slice off the domes before stacking and frosting. Frost with my raspberry swiss meringue buttercream, american buttercream, vanilla swiss meringue buttercream, chocolate swiss meringue buttercream, chocolate ganache or your choice of frosting.
*I do this step first because I've forgotten to add the sugar too many times.